I'm going to let you in on one secret to financial success. It's earning passive income. That is, making money while you sleep, taking a vacation, or even calling in sick. These passive income ideas will allow you to literally make money 24/7.
"If you don't find a way to make money while you sleep, you will work until the day you die."

-Warren Buffet
Chris Peach, the creator of this blog, first learned about blogging when looking for ways to earn passive income. Now Peach generates over $10,000 per month in passive income from this blog and his other online businesses.
I myself also earn passive income, but in a much different way than Peach. Instead, I generate passive income through investing in individual stocks, real estate, and many of the other ways listed below.
The great thing about passive income is there are so many different ways to earn it. In fact, I am going to share over 40 ways with you in this post.
Contents For This Post (Click to Open)
The Best Passive Income Ideas Right Now
There are literally hundreds of ways to make passive income, but I narrowed it down to the my top 40. If I thought something was far-fetched or really shady, I did not include them in this list.
Here are our the best ways to earn passive income, with my favorites mentioned first.
1. Real Estate Crowdfunding
Medium Challenge
Medium Reward
One of the most exciting options is real estate crowdfunding. One of the best places to get started is with Fundrise.
Fundrise is one of the pioneers in crowdfunded real estate. With their minimum investment of $500, you can start earning passive income through their different real estate projects.
Another great option for crowdfunded real estate is through Rich Uncles.
Rich Uncles starts at just $5 to invest in a real estate investment trust (REIT) for student housing. They also have many other investment options in real estate, but they do offer the lowest barrier of entry that we have seen.
If you are looking for more options and lower fees in real estate investing, I highly recommend Realty Mogul.
While Realty Mogul is one of the best places for investing in real estate they do require a $1,000 initial investment and you must be an accredited investor to invest in most of their products.
Definition: Accredited investors have an annual income of $200,000 (filing single) or $300,000 (filing married) or have a $1 million net worth excluding your primary residence. If you meet this mark, you are considered an accredited investor.
Real Estate: Debt vs. Equity Investments
With real estate crowdfunding, you either invest in debt or equity projects.
Debt investments put you in the shoes of the mortgage lender. You lend money to the property owner and they pay you back with monthly dividends. This option is safer than equity investing, but your potential income is less
Equity investments are like investing in stocks. You own a small stake in the project and you make your money when the property sells for a profit. So you might not make a lot of income in the first two or three years, but you can earn more in subsequent years as property values rise.
Although you can still earn more being an actual landlord, crowdfunding lets you invest in a market that would be off-limits otherwise.
Which platform you choose depends on whether you're an accredited investor or not.
Fundrise – $500 Min Investment
Accredited investor: No
Minimum investment: $500
If you're a non-accredited investor, Fundrise is one of the first places to look. This is one of the few crowdfunding platforms that are open to residents of all 50 states. And, you only need $500 to make your first investment into a Starter Portfolio.
Fundrise invests your money into debt and equity projects across the United States. If you pick their Starter Portfolio, they divide your income into debt and equity investments. You will earn regular dividends and profits from property sales.
With an account balance higher than $1,000, you can choose an advanced plan. These plans let you focus more on debt investments or equity investments.
See More: Fundrise Review – Crowdfund Real Estate for Non-Accredited Investors
Rich Uncles – $5 Minimum Investment
Accredited Investor: No
Minimum Investment: $5
Rich Uncles is another crowdfunding platform which gives you two different investing options. One REIT is for commercial property and the other is student housing.
The NNN Commercial REIT is only available to investors living in select states. If you only want a REIT that owns commercial property, take a look at this option.
Their Student Housing REIT is open to all U.S. residents and even foreign investors. This REIT invests in student dorms on large NCAA Division I campuses. It also has a low initial investment minimum of $5.
Definition: REIT stands for real estate investment trust. These are companies that own or finance income-producing real estate and trade on major stock exchanges.
Realty Mogul – Minimum Investment $1,000
Accredited Investor: Yes**
Minimum Investment: $1,000
The Realty Mogul platform is for accredited investors only. If you want to handpick which projects you invest in, come here.
Their investment options include multi-family residential, office buildings, industrial sites, self-storage, retail, medical buildings and hospitality establishments.
**They do offer two MogulREITs where you don't have to be an accredited investor
Investing in Stocks, Bonds and ETFs
Investing in stocks, bonds and ETFs are probably one of the most common ways to earn passive income. There are two different ways to earn passive income with stocks: Dividends and Appreciation.
The best place get started is with M1 Finance. With M1 Finance, you can trade most U.S.-listed stocks and ETFs for free.
There are two ways you earn passive income through investing in stocks, bonds and ETFs: dividends and asset appreciation.
Earning Dividends
Dividend-paying stocks pay a dividend at least once a year. You can think of it as a "paycheck" from the company where the shareholders own stock.
A great way to further increase your passive income is to reinvest the stock dividends to buy more shares of stock. This is compound interest where you "earn interest on interest" which also means your money is making money for you.
Also, when you reinvest you dividends, you begin earning even dividends on each dividend you reinvest. And, you earn more stock shares which also means you can earn more profit from asset appreciation. Now you can see why Albert Einstein labeled compound interest the 8th wonder of the world.
Asset Appreciation
Asset appreciation falls under the category of bigger risk, bigger reward.
After all, no investment is guaranteed to make money, which means it's also possible to lose money. However, when you do pick the right stocks, appreciation can pay out a lot of money.
Here's an example to help illustrate the picture.
Let's say you buy a stock at $50 a share. If the share price increases from $50 to $100, you will make $50 profit for each share you sell. For an initial $1,000 investment, that's a $1,000 profit if you sell all your shares. With this strategy, you don't reap the profit until you sell your shares.
Bonus – If the stock or ETF also happens to pay dividends, you also are earning steady passive income through the dividend payouts.
2. Index Funds
Medium Challenge
Medium Rewards
Index funds exemplify the motto, "If you can't beat them, join them."
Index fund investors usually have better investment returns than many professional investors. This is partially because they adopt a passive investing strategy of trying to match the broad market performance.
When you only try to match market performance instead of trying to beat the benchmark, you have fewer investing fees because you buy and sell shares less often.
When you still have to invest your first $1,000, index funds are a great starting point. With a single investment, you own partial shares of many companies. And, index funds require minimal research and have the lowest fund fees. When you buy in-house index ETFs or mutual funds, you won't pay trade commissions either.
Minimal fees mean more of your money invests in the market instead of making your broker rich.
You don't need any skill to invest in index funds. The minimum investment for an index ETF is the price of a single share. If a share costs $50, you need $50 to buy each share.
While it's easy to invest in index funds, there's still some risk. This is because the stock market can be volatile at times. While you may have short-term dips, the historic annual return of the S&P 500 is 7%. Long-term, your index fund holdings generate passive income from dividends and share price appreciation.
By investing in index funds, you track the performance of the fund's benchmark index. For example, an S&P 500 index fund tracks the performance of the S&P 500. If the index rises, you make money. If the index drops in value, your holding value drops the same amount. And, you earn dividends from the dividend-paying companies within the index too.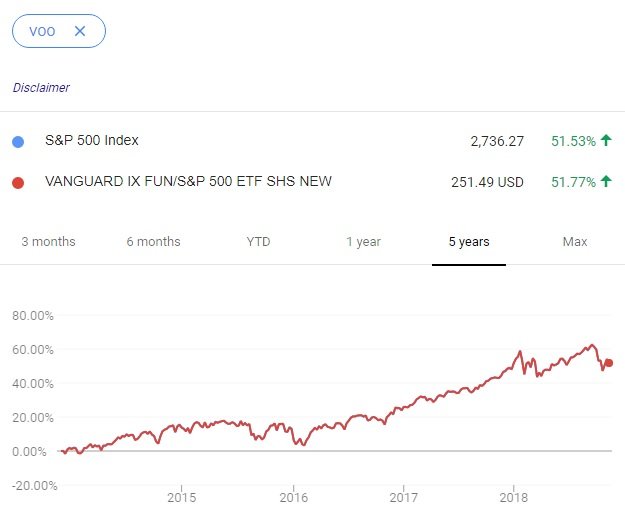 As you can see above, the Vanguard S&P Index ETF (Ticker Symbol: VOO) has a nearly identical performance to the actual S&P 500 Index. One reason why index funds slightly underperform the market is fund expenses. The annual fund fee for VOO is 0.04%. That's $4 for every $1,000 you invest.
There are index funds for the major U.S. market indices and also for foreign markets. Although each index fund instantly diversifies your investment as most funds hold between 100 and 3,600 different companies, you should pick index funds that invest in differently-sized companies to diversify your portfolio further.
For example, the S&P 500 is the 500 largest companies trading on the U.S. stock market. These companies are usually less risky and produce steady returns. But, you might have minimal upside growth potential. Small cap index funds invest in smaller companies with more growth potential but are riskier.
3. Individual Stocks and Bonds
High Challenge
High Reward
Investing in individual stocks provides the highest income potential. But, single stocks are riskier than index funds and sector ETFs. When you invest $1,000 in an index fund, you own tiny pieces of 500 different companies. But, if you invest $1,000 in Microsoft, you only own shares of Microsoft.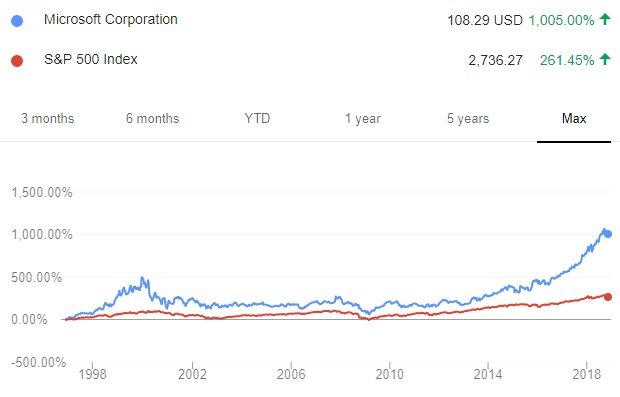 Since the 1990s, Microsoft has outperformed the S&P 500. But, if you bought shares of Microsoft at the height of the "Dot Com Bubble" in December 1999, it took until November 2016 (17 years if you're doing the math) to "break even." It only took the S&P 500 eight years to rebound.
If the company you invest in outperforms index funds, you look smart. But, not every company performs better than the broad index. If this is the case, your investment might actually lose money if the share price drops below your purchase price and never rebounds.
Because you can't predict how the market will react to a single company's performance, follow these rules:
Consider investing in individual stocks after you own a basket of diversified index funds
Never let one stock position exceed 5% of your total portfolio value
Own between 10 and 20 individual stocks (you can add these positions as funds allow)
When investing in individual stocks, asset allocation is very important. Never letting a single position exceed 5% of your portfolio minimizes your portfolio risk. If a stock's share price goes to zero, you only lost 5% of your total portfolio value instead of 50% if half of your money goes into one stock.
Consider Blue Chip Stocks That Pay Dividends
If you don't know where to start with investing in individual stocks, look at blue-chip companies. These are long-standing companies with a history of steady returns. It's not like investing in Amazon in 1999 when share prices were only $70 and they're worth $1,500 each today. But, you should experience minimal volatility and regular dividend payouts.
You might consider investing in dividend aristocrats. These are companies that have increased their dividends payouts each year for at least 25 years. Most of your passive income might come from dividends, but you can enjoy rising share prices too.
Investing Tip: There are so many great places to invest online, but I recommend M1Finance because they don't charge any fees, they don't charge commissions and there are no minimum deposits to open an account.
Hold Real Estate Stocks Too
Another small piece of your portfolio can be real estate stocks and REITs (real estate investment trusts). This is different than crowdfunded real estate we mentioned earlier.
You can invest in public companies that hold different types of real estate properties. For example, you can invest in niches you might not think about like public storage, cell phone towers, and billboard advertising companies.
Or, you can invest in the traditional real estate sectors like commercial real estate, multifamily apartments, and health care facilities.
If you're passive income-focused, consider investing in REITs over non-REIT real estate stocks. Most real estate stocks are REITs so this is easier than you think.
This is because REITs are required to distribute 90% of their taxable income to shareholders. That means you receive regular dividends. A REIT can be an individual company. Or, you can also buy a sector ETF or REIT index fund too.
REITs tend to perform well when their real estate sector is healthy. Also, low or stable interest rates help too.
The Best Places to Invest in Stocks
If you already have an online broker, you can trade individual stocks plus ETFs and mutual funds. But, you might be able to avoid broker fees when you use these platforms too.
Remember, the less you pay in trading fees, the more money you have to invest and earn passive income.
M1 Finance – Best for DIY
DIY investors should check out M1 Finance.
You can trade most U.S.-listed stocks and ETFs for free. This is a perfect way to buy index ETFs and your favorite individual stocks in the same portfolio.
I like M1 because I can buy partial shares of stocks for free. If you have $500 to invest and want to buy Amazon for $1,500 a share, you own one-third of a single share. With regular online brokers, you must have the full amount to buy a whole share.
Also, not having to pay $4.95 for each company stock or ETF you buy each trade also helps you save a small fortune.
Betterment – Best For Ease of Use
Many people are hesitant to invest because they don't know what to invest in.
Betterment handles those difficult investment decisions for you. Depending on your age and investing goals, Betterment invests your cash into a mixture of stock and bond ETFs.
As you get older, Betterment rebalances your portfolio to hold more bonds. Bonds have less income potential, but they're also less volatile. And, they pay steady dividends that you can use in retirement.
For instance, Betterment might invest in 80% stocks when your 30 and only 60% stocks in your 50s.
You only need $1 to make your first investment with Betterment. They offer IRAs and taxable accounts so you can keep all your investments here.
Learn more about Betterment's managed portfolios here.
Blooom – Best For Your 401k
If you have a 401k, you should be using Blooom.
The number one killer of your nest egg is hidden fees and Blooom created a way to check your fees and then pick the best funds to optimize your passive income while keeping fees to a minimum. In fact, the fees are freakishly low.
Blooom charges a flat fee of $10/month to manage your nest egg. Compare that to the average management fee of 1%, and you're saving over $800/year in fees on a $100k 401k balance.
You also have access to a financial professional to answer your various investing questions. You can see the full Blooom review here.
Acorns – Invest Your Spare Change
You don't have to invest large sums of money at once to earn passive income. Acorns makes it possible to invest small sums of money. They will round up your shopping purchases and invests the difference in index ETFs.
You can invest your spare change with an IRA or a taxable brokerage account. The best option depends on how soon you plan on touching your investments.
See more about Acorns with our Acorns App review to learn more about micro-investing.
Stockpile – Help Your Child Invest
You might like Stockpile as a way to help your child start investing. Adults and children can buy partial stock shares for 99 cents a trade.
Stockpile offers 1,000 of the largest stocks and ETFs, including every S&P 500 stock. So, your child can invest in common household names like Nike, Amazon, and Hershey.
If you want to invest in index ETFs, use a regular broker like Vanguard or Fidelity and pay zero trade fees. But, Stockpile is a cost-effective way to buy stocks. Most brokers charge $4.95 each time you buy or sell stock. With Stockpile, you save $4. This savings makes it possible to invest small amounts of money, recoup the trading fees sooner, and earn passive income.
Keep in mind, M1 Finance doesn't charge anything at all to trade most stocks.
Ally Invest – Best for Serious Traders
A full-service online broker is Ally Invest. If you make more than 30 quarterly trades or have a daily account balance greater than $100,000, you pay $3.95 per stock and ETF trade. If you're not a frequent trader, the regular fee is still an industry-low $4.95 per trade.
Ally Invest also offers several commission-free ETFs for domestic and international sectors. They also offer extensive research tools and probability calculators to help you make informed investing decisions. While free investing apps help you avoid pesky broker fees, access to better research can be worth the cost.
TD Ameritrade – Best for Experience
If you want a full-fledged online broker, TD Ameritrade is a solid option. One reason to choose them is their extensive research platform. Experience investors can use their "thinkorswim platform" for advanced charting and research tools.
But, TD Ameritrade is a perennial top choice for investors of any experience level. You can also trade 300 ETFs commission-free. It costs $6.95 to trade individual stocks and ETFs not on the commission-free list. You pay more per trade, but you get more research tools. If you value research, it can be worth the extra money.
4. Peer-to-Peer Lending
Medium Challenge
Medium Reward
Your other crowdfunding option is peer-to-peer lending. This is similar to your friend asking if they can borrow $50 and they pay you back with interest.
People use peer-to-peer loans for many reasons including debt consolidation, business loans, and medical debt.
Prosper – $25 Minimum Investment
Another peer lending platform to try is Prosper. If you live in one of the states that LendingClub doesn't accept investors from, you might qualify to invest with Prosper. Like LendingClub, you will invest in personal loans to borrowers who prefer to avoid a regular bank loan.
Annual returns with Prosper range between 3.6% and 8.3%. To help pick a wider basket of loans, you can use their auto-investing tool.
LendingClub – $1,000 Minimum Investment
The largest peer lending platform is LendingClub. You can invest in personal loans, debt consolidation, and auto refinancing loans too.
Similar to your credit score, LendingClub assigns each borrower a credit rating. Highly-qualified borrowers receive an "A" rating and pay the lowest interest rate. The riskiest borrowers have an "F" rating and pay a higher interest rate, but are more likely to default.
As a fellow LendingClub investor, loan defaults happen. It's important to diversify your holdings.
You can either invest in loans you pick. Or, LendingClub automatically spreads your investment across many open loan requests. You might prefer the automated investing option to save time and to help ensure you have a balanced portfolio that helps you earn a higher interest rate without recklessly investing.
You invest in each loan in $25 increment notes. To diversify from the start, LendingClub requires a $1,000 opening investment.
All loans are either 3 or 5-year terms. Unless the borrower pays the loan early, your cash is tied up for the duration of the loan. Historical returns are between 3% and 8% depending on the credit ratings of the borrowers you invest in.
For peer-to-peer investing to be worth the long investing horizon, you might decide to only pursue loans that can yield at least 5% annual returns. If you're closer to the 3% mark, a better option might be a CIT Savings Builder account that earns 1.75% APY and lets you make instant cash withdrawals.
StreetShares – Minimum Investment $25
StreetShares lets you invest in 12-month business loans for U.S. Veterans. This option is a good alternative to a 12-month CD as you can earn double the interest. All loans pay 5% interest. For every $100 you invest, you earn $5 interest as a quick example.
You only need $25 to start investing
SeedInvest – Invest in Startups
Do you like watching the show Shark Tank? With SeedInvest, you can invest like Mark Cuban and the other sharks. To be clear, this crowd investing option is high risk since you're investing in startup companies. Very few startups remain in business for more than five years.
It's like becoming a partner in a friend's business. If the business earns a profit, you make money. Until that day comes, your money might be sitting idle.
Make sure you read the businesses pitches and documentation to make sure the business model makes sense.
5. Park Cash at a High-Yield Bank
After investing, the next best place to earn passive income is the bank. You earn monthly dividends. And, you can quickly withdraw your cash when you find a better investment option.
Now that interest rates are finally rising, your deposits earn more interest than in recent years. Parking your money at the bank won't outpace inflation, so you still need to use some of these other passive income ideas to build net worth.
Open a High-Yield Savings Account
If you keep all your savings at a local bank or credit union, you need to reconsider. This is because most local banks still pay paltry interest rates of 0.10% or less. If you pay a monthly bank fee, you might pay more in fees than you earn in interest.
While you might still keep enough money in your checking account to pay your monthly bills, consider keeping your extra cash in an online savings account.
CIT Bank currently offers a high-yield savings account that pays 1.55% APY with $100 to start.
However, if you deposit at least $100 monthly, you will earn 1.75% APY with their CIT Savings Builder account. This is one of the highest interest rates you'll find for online banking.
6. Get a Bank CD
Bank CDs (certificates of deposits) are another staple of fixed income portfolios. If you're willing to commit your money for 12 months or 15 months, you can earn a higher rate than a regular online savings account.
You can get CDs with terms up to 60 months (5 years). These products are safer than investing in peer-to-peer loans for the same duration, but your interest can be far less.
One passive income idea to pursue is making a CD ladder. You might follow this example:
12-month CD: 2.60% APY
24-month CD: 2.65% APY
36-month CD: 2.70% APY
48-month CD: 2.75% APY
To start your ladder, you split your cash into different maturity dates. When a CD matures, you extend for the same length as your longest originally CD. With the above example, you reinvest your 12-month CD into a 48-month term. This way, one CD matures each year.
Longer-term banks CDs should earn higher interest rates than keeping your money in a savings account. These CDs can hedge you from dropping savings account interest rates. For example, online banks pay close to 2% APY today. If rates drop, your savings account earns less, but your CD continues to earn the same rate for the remaining term.
7. Fund a 529 Plan
Medium Challenge
Medium Rewards
It's a good idea to earn passive income for multiple long-term goals. One of your goals might be saving for college. If so, CollegeBacker makes it easy for you and others to give the gift of college.
After you open a 529 Savings Plan, you and family members can contribute to a child's 529 plan. Today's typical college grad walks across the stage with $35,000 in student loans to repay. That amount continues to increase with each new graduating class.
While you shouldn't stop giving consumable gifts period, it's a not a bad idea to give gifts that help children secure a better financial future. After all, 529 gifts might be one gift they remember you giving.
8. Invest in Bonds
As you near retirement, you find yourself investing more in bonds than stocks. That's because bonds are more stable than stocks in holding their value. More importantly, you earn regular dividends (aka a coupon).
The historical return for bonds is between 5% and 7%. That's just a little lower than the S&P 500 historical return of 7% with less market volatility.
To limit your investing risk, look for bonds with either an "AAA," "AA," "A," or "BBB" rating. Anything below these ratings, is considered a "junk bond." These bonds have higher yield rates, but the borrower is more likely to default. If the borrower defaults, you might not get your original investment back.
Buy Individual Bonds
Medium Challenge
Medium Rewards
Investing in bonds can be confusing to average investors because they trade differently than stocks. You can invest in corporate, municipal, and treasury bonds. It's possible to invest in individual bonds if you have their CUSIP number (it's similar to a stock symbol).
If you buy individual bonds, choose bonds with different maturity dates. You will receive your original investment back in different increments similar to a CD ladder. For instance, you might invest in bonds with a 1-year, 2-year, and 3-year maturity date. These bonds can also
However, for most investors, it's easier to invest in bond funds and ETFs. For example, Betterment automatically invests a portion of your cash into bond ETFs. These ETFs hold bonds from different issuers. And, they have different maturity dates and yield rates.
9. Buy Savings Bonds
Low Challenge
Low Rewards
Instead of buying U.S. Treasury bonds (aka Savings Bonds) from your broker for a fee, buy them directly from the U.S. Treasury Direct website. Electronic bonds start at $25 and paper bonds start at $50.
You can choose between EE or I Bonds. At the moment, I Bonds pay a higher interest rate. Interest accrues every six months. You can cash out the savings bond earlier, but it fully matures after 30 years. At this point, they stop earning interest.
Pro Tip: You might earn more interest with CIT Bank high-yield savings account.
Passive Income Idea: Get a Side Hustle
Another witty passive income idea is investing in yourself with a way to make money as a side job.
When you invest in other people's businesses, you rely on them to generate passive income for you. While this is a reliable income stream for countless investors, you have to split the profits with them.
When you invest in yourself, you can earn more profit. You have to exert more effort to begin earning a profit, but your reward can be more money.
There are many ways you can make money locally and online. These are some of our favorite ideas.
10. Start a Blog
High Challenge
High Reward
One of our favorite sources for passive income is starting a blog. The beauty of owning a blog is that you write or vlog about what interests you.
Chris Peach started Money Peach using Bluehost for hosting. For a few bucks per month, you can start your blog or website.
If you would like a step-by-step guide to starting your own blog or website on Bluehost, see how here.
Chris Peach will recommend you post on your blog at least once a week when getting started. Also, connect with other bloggers in your niche to help build your audience. Blogging does require a large time investment, but can also have a very large return on your small investment.
But how do I actually earn money blogging, right?
One of the fastest ways to earn money on your blog is with affiliate marketing. To learn more about affiliate marketing, Chris recommends taking a look at Michelle's course called Making Sense of Affiliate Marketing.
Learn from a Blogging Expert: Michelle earns $100,000+ each month from her blog. Learn her success secrets in her Making Sense of Affiliate Marketing Course.
**Chris Peach (founder of Money Peach) is actually one of the success stories from Michelle's course. Scroll down to see his results when he first took Michelle's course.
11. Buy a Blog
Medium Challenge
High Rewards
Maybe you have the money, but don't have the time to start a blog. You can buy an existing blog that already earns passive income. This way, you can spend more time focusing on creating content and less time trying to attract your first readers.
One place to buy existing domains is Flippa.
12. Launch a Vlog
High Challenge
High Reward
Video is another growing frontier where regular people like you and me can make money online. Just think about all the YouTube videos you watch on a daily basis. When video is a better way to get your point across, start a vlog on YouTube.
As you gain followers and get more views, you can begin collecting revenue from ads and affiliate links. Like blogging, it takes time to post a video. But once it's up, people can watch it as long as the platform remains active.
If you play video games, also consider launching your own channel on Twitch. Back in my video game days, I would read walkthroughs and watch what videos were available. Since then, video games have exploded in popularity.
**Chris Peach and his wife Andrea star on their own Vlog called Money, Sex, and Kids. They release 3 episodes per week on managing the money, the sex and the kids inside a marriage.
13. Host a Podcast
High Challenge
High Reward
Another savvy idea is starting a podcast. This is a fun way to interview guests. In the process, you help teach people something new. And, you can build a brand that helps you earn income from products you recommend on the podcast.
If nothing else, podcasting also gives you to chance to plug your own blog. You can publish your podcast to several different outlets so the whole world can hear it.
14. Dropship Products
High Challenge
High Reward
If you need a more immediate income stream, you might try dropshipping products. With this idea, you partner with a manufacturer to sell their products online. When somebody buys from you, the order information goes to the manufacturer. They ship the item from their warehouse and you never touch the product.
Dropshipping can require a small upfront investment. For example, you may have to rent warehouse space or buy inventory. Then, you use a storefront like Shopify to list your products online. People can buy from your online store. But, you can also sell on Amazon or eBay too.
After you get the business running, your primary duty is providing customer service to the buyer.
Bonus! Listen to how Steve Chou made $100,000 in his first year of business in the eCommerce space on the Money Peach Podcast.
15. Become a Facebook Coach
High Challenge
High Rewards
As a Facebook coach, you can teach others how to make successful social media ads. In the meantime, you can learn the latest tricks of the trade with the Facebook Side Hustle Course.
And, you might also be able to create Facebook ads for local businesses to earn steady active income too.
16. Rent House or Spare Room
High Challenge
High Rewards
Renting your house or spare room generates passive income too. Airbnb is one popular option. But, you should also list your property on VRBO too. These are the two most popular vacation property booking sites for travelers.
To make this a truly passive income venture, you can outsource the housekeeping to a property manager. They will handle the house cleaning, repairs, and special guest requests.
17. Own a Rental House
High Challenge
High Rewards
When you want to earn more than real estate crowdfunding sites like Fundrise offer, you can also buy your own rental house. You will need to be a landlord who's responsible for maintenance and vetting tenants. But, you can earn a higher rate of return because you're the primary investor.
Coach Carson (Money Peach Podcast Episode 73) finds great properties by walking his local neighborhood. Another option is to use Roofstock to find available houses nearby or in another state.
18. Fix and Flip Houses
High Challenge
High Rewards
If you have handy skills, you can fix and flip houses for a profit. You might prefer this option if you don't want to be a landlord. Flipping houses can be equally rewarding as renting.
You may also decide to rent your house until the property value increases enough to justify selling your property.
19. Invest in Raw Land
High Challenge
High Rewards
Another real estate passive income stream is raw land investing. This idea runs more along the lines of flipping houses. The one difference is that you flip unimproved land instead. You don't have to build or rehab a current structure. Instead, you buy land at a discount and sell it for a profit.
Listen to Mark Podolsky talk about raw land investing on Money Peach Podcast Episode 97.
20. Be a Rideshare Driver
Medium Challenge
Medium Rewards
You can also be a rideshare driver for Uber or Lyft. If you need to find extra money to invest, you can invest your rideshare earnings.
What's awesome about being a rideshare driver is you choose the hours you want to work. That can be nights and weekends. Or, mid-afternoon on a weekday.
21. Deliver Takeout Food
Medium Challenge
Medium Rewards
Being a food delivery person can be another exciting side hustle. Depending on the city you live, you can also deliver by foot, bike, or scooter. The two most well-known places to earn money through delivery takeout is DoorDash and UberEats.
Similar to rideshare drivers, you have flexible hours and can make money when you have free time. I recommend signing up for both of them so you have a greater opportunity to generate income.
22. Deliver Groceries
Medium Challenge
Medium Rewards
You can also be a personal grocery shopper with Instacart. As an in-store shopper, you only have to pack orders and don't deliver them. When you're a full-service shopper, you pack the orders and deliver them to the buyer.
23. Rent Your Car
Medium Challenge
Medium Rewards
When you drive your car, rent it to somebody else with Turo. This can be an easy way to cover your monthly car payments. Or, it puts that second car to good use that mostly sits in the driveway.
24. Advertise on Your Car
Low Challenge
Medium Rewards
Another way to make your car pay for itself is by placing advertisements on it. Carvertise is one place to apply. How much you make depends on your driving habits and where you live. If you live in a high-profile area, you earn more money.
Regardless of where you live, this can be a fun way to get free gas.
25. Start a Car Wash or Self-Storage Biz
High Challenge
High Rewards
Owning a business isn't the easiest passive income idea, but it can be one of the most profitable. Two businesses you might consider entering are coin-operated self-service car washes or public storage units. You might also choose to open a coin-operated laundromat too.
These businesses require the customer to perform all of the work. While you or a maintenance person needs to be around for property upkeep, these businesses virtually run themselves.
If you need to raise capital or don't have the time to do it yourself, consider finding a business partner.
Passive Income Idea: Shave Off Unwanted Expenses
When you have any debt with a 10%+ interest rate, it can be a better idea to use your extra income to repay these balances first. The money you save by not being in debt can exceed your passive income earnings for the same time period. Let's be honest, earning double-digit returns every year is difficult.
Even if you don't have any high-interest debt, you may benefit from a few of these hacks. This way, you have more disposable income to invest in these passive income ideas.
Also, reducing your monthly expenses means you don't have to earn as much passive income. Your ultimate passive income goal should be earning enough passive income each month to pay your monthly bills. Lower bills mean less pressure to earn more income.
26. Make a Money Plan
Medium Challenge
High Rewards
Do you want to manage the money better? If so, try Chris Peach's own Cash Flow Formula is a free mini course to help get started right now.
You will learn how to set up a cash flow plan that fits your lifestyle and works around YOU instead of you working around your money.
27. Refinance Your Debt
Medium Challenge
High Rewards
When you refinance your debt for a lower interest rate, you lower your monthly interest payments. Continue to make the same monthly payment. But, the interest savings now go to your principal (the amount you originally borrowed) instead. In turn, reducing your principal balance reduces how much interest accrues each month.
Lower Your Credit Card Interest Rate
Credit cards have some of the highest interest rates. If you have credit card debt, this is the first place to focus. Tally looks at your credit card balances. They will extend a lower line of credit so you can repay your balance sooner.
Learn more about how Tally works to save you money by lowering your high credit card interest rates.
Personal Loans and Consolidate Debt
Personal loan interest rates at Prosper start at 6.95% APR. If you currently have credit card interest rates of 20%, you can slice your interest rate by two-thirds.
Student Loans
You can also refinance your student loans for a lower interest rate. Credible compares the rates of 12 different lenders for private, federal, and Parent Plus loans.
They also compare lender rates for mortgage refinancing and personal loans too.
Home Mortgage Refinancing
The "normal" way of thinking for home loans is making the minimum monthly payment for 30 years. There are a few ways you can refinance your home mortgage to pay less home interest.
Chances are, your home mortgage is your loan with the lowest interest rate. But, when you're paying interest on a LARGE purchase for three decades of life, you can almost buy a second house with your interest payments.
Lenda shows you the best way to refinance your mortgage. If you're about to buy a home, you can get a new home loan from Lenda too.
28. Lower Your Monthly Bills
Medium Challenge
High Rewards
In addition to lowering your loan interest rates, you should also reduce your monthly spending.
You can also use Trim to effortlessly lower your monthly bills. Higher bills make it harder to fight debt.
I've personally used Trim to reduce my home internet and cell phone bill. I enter my account details and they apply the best discounts to my plan. And, they can also negotiate a lower monthly rate for your cable tv, electric, and car insurance bills too.
Finally, Trim will also cancel the monthly subscriptions you keep forgetting to call and cancel yourself. Simply, send a text message saying "Cancel _____" and Trim gets to work.
**We tried out Trim and did a review of it here.
29. Earn Shopping Rebates
Low Challenge
Low Rewards
Another favorite way to maximize your money is using cashback apps.
Depending on where you shop, you can get 40% back on your shopping total. And, you pay the exact same at checkout as those who don't use an app.
Plus, these all apps are all free to join.
Ebates
Ebates is one of the largest cashback apps.
They have a mobile app and a browser extension so you never miss a cash back opportunity. Personally, this is my favorite cashback app that my wife and I have been using for over five years.
Once a quarter, they send your earnings via PayPal or check. They also offer bonus cash when you redeem your balance for gift card rewards too.
You also get a $10 cash bonus with your first $25 purchase.
Honey
Honey helps you save money in two different ways:
Enters all discount codes at checkout to get the best price
Earn bonus cash back at online retailers
Amazon shoppers will also like Honey as they compare Amazon's prices to third-party sellers.
For the discount codes and Amazon comparison shopping, you enjoy instant savings. With the shopping rewards, you redeem your rewards for gift cards.
Paribus
Another way to effortlessly earn cashback is with Paribus. When prices drop on items after you buy them, you can get receive a price difference refund.
Paribus monitors price drops for over 25 retailers and also hotel rooms too. You can also receive compensation for late shipping arrivals too.
You might not like Ebates and Honey because you must activate a shopping session to get discounts. With Paribus, you register your email address and they automatically monitor your shopping activity for price drops.
Ibotta
Most cashback apps only give you cash rewards for non-grocery purchases. Ibotta lets you earn cash rewards with each supermarket visit too. All you have to do is activate the in-app offers and scan your grocery receipt.
You receive cash rewards for buying specific brand names like Pepsi or Starbucks Coffee. Other offers are "any brand" like buying milk, batteries, or fresh produce. You can earn rewards on every grocery trip.
What I like about Ibotta is their monthly bonuses. If you buy groceries weekly, you can get bonus cash for redeeming multiple offers each week or month.
And, you can redeem your rewards for PayPal cash or retail gift cards.
30. Credit Card Rewards Points
Low Challenge
Low Rewards
First off, all of us at Money Peach only recommend using a credit card under these two conditions:
Pay your balance in full each month before the due date
Don't spend more than you do when paying with cash or debit
When you follow these two rules, credit card points are an easy way to cushion your wallet. You can either earn cash back or travel rewards points. For instance, our rewards help pay for our annual family vacation.
Interested in travel hacking? Hear some tips from award travel expert Travis Sherry.
Passive Income Ideas: Outside of the Box Ideas
Depending on your interests, you might also enjoy earning passive income from these ideas too.
31. Complete Tasks Online
One popular way to make money online is using a "get-paid-to" site. These platforms pay you for what you already do online. You can either request cash or gift card payment. And, you can usually earn bonus cash by referring friends.
Swagbucks
One of my favorite micro-tasks sites is Swagbucks. You earn points by taking surveys, watching videos, and shopping online.
Another way to earn money is referring friends to join Swagbucks. Each of you earns $3 when a friend joins Swagbucks. For instance, you earn $9 if you refer three friends to join Swagbucks.
Besides the many easy ways to earn rewards points, Swagbucks has low redemption minimums too. You can start redeeming your points for gifts cards with a $3 balance. So, you can get a free gift card for each friend you refer.
Tip: Read Chris' brutally honest Swagbucks review to decide if this is the best idea for you.
InboxDollars
Another get-paid-to site is InboxDollars. You can make money from your many online activities. One fun and easy option is reading sponsored email. Shopping online is another easy way to earn cash. Active members earn up to $30 per day. That can be an extra $30 you have to invest and earn lifetime passive income.
32. Freelance or Start Your Own Biz
High Challenge
High Rewards
Many people have dreams of starting their own online business. What holds them back are the entry costs. If you sell a physical product, you have to buy inventory and pay shipping when a product sells. In other words, your profit margins low and the reward isn't worth the risk.
Instead, you can freelance online using your digital skills. Fiverr is one of the largest online freelance platforms. You can connect with clients to complete the following tasks:
Graphic Design
Jingles and Music
Website Design
Writing
Voiceovers
Do you have a golden voice? If so, listen to voiceover actor Carrie Olsen talk about her experience on Money Peach Podcast episode 96.
33. Take Surveys
Low Challenge
Low Rewards
Another quick way to make money is taking surveys. Most of us have pockets of free time throughout the day. Instead of playing a game app, take a survey instead. Survey Junkie is our favorite for taking surveys and is the quickest survey site to pay out in $10 increments.
34. Play Games Online
Low Challenge
Low Rewards
We all know the common perception about playing games online, it's a waste of time.
However, with Mistplay they actually pay you to play games. And, you earn bonus points for meeting your money goals.
Your points can then be redeemed for items such as Visa gift cards, Amazon gift cards, Xbox gift cards, Google Play, iTunes, Nintendo, PlayStation gift cards and more.
35. Write an Ebook
High Challenge
High Reward
Legend has it that everyone has at least one book in them they can write. If you have a story to tell, ebooks are one of the easiest ways to reach readers. This is because your book is digitally delivered. Anybody with an internet connection in any corner of the world can buy your book.
The largest ebook platform is Amazon Kindle Direct Publishing. There's a lot of initial work that goes with writing an ebook. But, once you publish it, you can earn royalties as long as people continue to buy your book. Kindle also offers a print-on-demand service where Amazon mails a physical copy of your book too.
As an extra piece of advice, pick an attractive cover design and hire a proofreader for a "second set of eyes." You can hire both of these experts on Fiverr.
If you're daring, you can also record an audiobook version.
36. Create an Online Course
High Challenge
High Reward
If you love to teach, online courses can also be lucrative. This can be a better option if you prefer speaking and producing videos to writing. Like ebooks, you will spend a lot of time creating the course. After the course goes live, students can buy your course. Periodically, it's a good idea to update old content and so your video remains relevant.
After your course is complete, start selling it on Udemy.
37. Design Clothing
Medium Challenge
High Rewards
Another way to earn passive income is designing clothing and home decor on CafePress. You open your own store and upload your designs. When you make a sale, CafePress prints and ships the items. That's what makes CafePress an attractive passive income idea.
38. Use Your Smartphone
Low Challenge
Low Rewards
It doesn't get much easier than making money than using the MobileXpression app. How much you make depends on how much you use your phone. While you won't get rich from this passive income, you only have to install the app to start making money.
Download the MobileXpression app here:
39. Find Missing Money
Low Challenge
Low Rewards
Do you love that feeling when you find a spare change in your pocket or some other random place? Missing Money can give you a similar feeling. And, the payout can be bigger.
It sounds surprising in this day, but companies lose track of people when they move. When companies or utilities owe you money and can't find you, the cash sits in a trust. By entering your personal information online, you can see if anyone owes you money.
You might be able to collect an old security deposit, safe deposit box contents, uncashed paychecks, and savings accounts or investments.
40. Participate in a Clinical Trial
Clinical trials can pay more than some side hustles in relation to how much time you spend. Each trial is different. If you qualify, you might participate in sleep studies or testing new medical treatments.
You can find legit clinical trials near you at ClinicalTrials.gov.
Also, did you know you can earn $400 extra a month donating plasma?!
Summary
Warren Buffet said, "If you don't find a way to make money while you sleep, you will work until you die"
Warren is exactly right. This is why passive income is so important and why so many people like yourself are looking for the right way to earn passive income.
As you know by now, there are numerous ways to earn passive income. We mentioned everything from real estate, to side hustles, to investing, to even donating blood plasma! The point to illustrate 40+ passive income ideas is to show you the possibilities.
So, what's it going to be for you today? Are you going to start very easy and take a few surveys? Or maybe you are ready to start your blog like I did. And if those aren't for you, then maybe you're looking to have your money earn money for you through real estate or DIY investing.
It's time to take action my friends! What's going to be your first step to passive income?