Trim App: Automatically Save More, Negotiate Bills, and Get Rid of Unwanted Fees
Product Name: Ask Trim
Product Description: Trim will analyze your accounts to find recurring subscriptions and determine where you can save more money. Trim will also cancel subscriptions, negotiate your cable bill, will work to find you better car insurance rates, and more.
Offer price: 0.00
Currency: USD
Ease of Use

Availability

Cost
In this 2020 Trim review, I show you exactly how the Trim app will automate your savings, cancel bills on your behalf for you, and get rid of unwanted fees "gray charges' on your behalf.
Now ask yourself this: do you you hate it when you look at your credit card statement and see charges for things you didn't even use? It could be a subscription box, meditation app, monthly massage package, or even your cable bill. 
This is where the Trim App comes into play. Instead of forgetting about the charges and paying them again a month later, Trim goes to work for you automatically. What's even better is you no longer have to spend time sitting on hold trying to cancel your subscription, only to be down sold later on.
Trim does all this for you and even a little bit more. 
To jump to any of the areas of this 2020 Trim App review, you can find the quick links here:
Then there's the "Gray charges".
Gray charges are deceptive and unwanted credit and debit card charges that occur as a result of misleading sales and billing practices–totaled more than $14 billion per year among U.S. cardholders, averaging roughly $215 per U.S. cardholder incurring these charges.
Did you know how much money you paid out in "gray charges" last year? A report by Aite Group explains how on average, consumers pay out $215 per year in gray charges alone.
Trim App Review: Saving Money on the Gray Charges
"Gray charges" aren't fraudulent charges. Instead, they consist of those often unwanted charges you may or may not remember having agreed to. Some examples of gray charges include:
Free trial subscriptions you meant to cancel but didn't
Service and luxury fees
Late fees
Unwanted auto-renewals
Payments on services you no longer use
And there are other fees that qualify as gray charges too. When Trim founder Dan Petkevich realized he was paying for a renter's insurance policy on an apartment he had moved out of a year earlier, he started looking into what other gray charges he had been paying.
Dan and his longtime friend, Thomas Smyth, sat down together to research what services that they were each unknowingly paying for, and the idea for Trim was born.
Listen to Interview with Trim Founder 
The two worked together to create a service software program that would search out members' gray charges and help them have more control over their finances.
To date, Trim has saved its members over $8,000,000 on unwanted fees and subscription costs.
How Does the Trim App Work?
The premise behind Trim is simple, yet genius. The company describes Trim as a "personal finance assistant". Here's how it works.
After you sign up for Trim, you enter your credit card and debit card information into Trim's secure system.
Since the company has the capability to work with over 15,000 financial institutions, it's highly likely Trim supports your bank or credit union. If your bank or credit union isn't on their list, simply email Trim's customer support center for help.
Once Trim has the information, the software analyzes the account history on each of the debit and credit cards you've shared with them.
The way the software is set up, it has the capability to recognize recurring payments. It already knows which merchants use recurring payments, so it can tell the difference between a subscription and a non-subscription daily or regularly occurring purchase, such as a coffee shop purchase.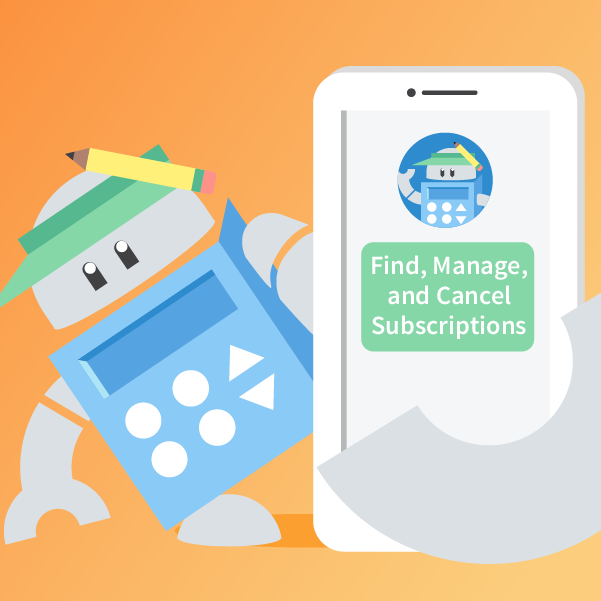 As the system recognizes recurring payments, it stores the information, allowing you to easily find, manage and cancel subscriptions.
The Trim system will also text you the information it finds and ask if you would like to cancel the subscription. If you do want to cancel, you can just text back "Cancel ____________" entering the name of the company.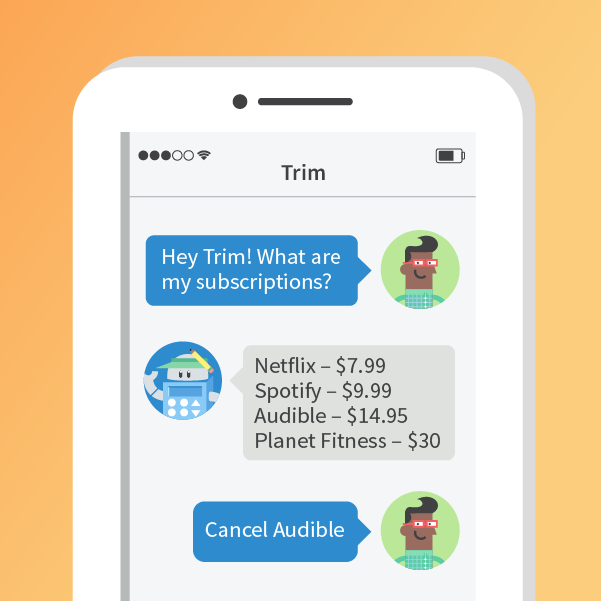 After it receives a cancel request, Trim will contact the company for you and get the subscription cancelled. They'll start by sending an email with your text authorization.
If the company doesn't respond, they'll continue to contact them through other methods such as a phone call or certified letter.
Trim won't stop working for you until the job is done, even with sometimes-difficult cancellations such as with gym memberships.
What Else Does the Trim App Offer?
The Trim program offers other useful features as well.  With just a quick text, Trim can show you what your balances are on the credit cards you've shared with them.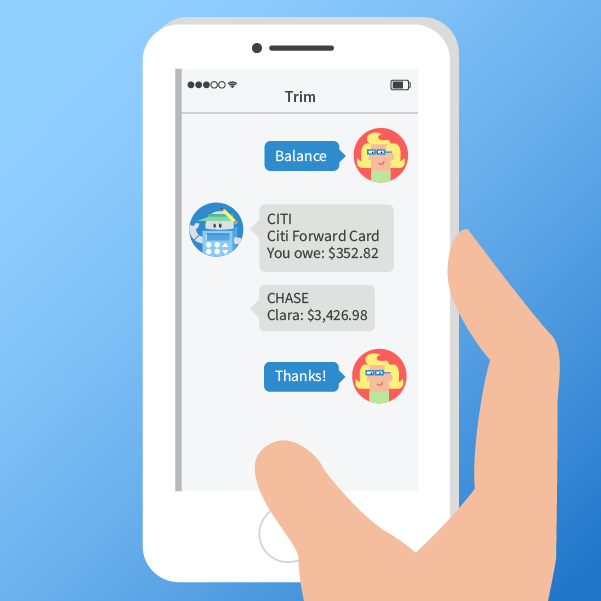 Helping Your Spending Habits
Trim can also show you how much money you have been spending on individual vendors or merchants. This will allow you to understand where you have been overspending and know where you can cut back.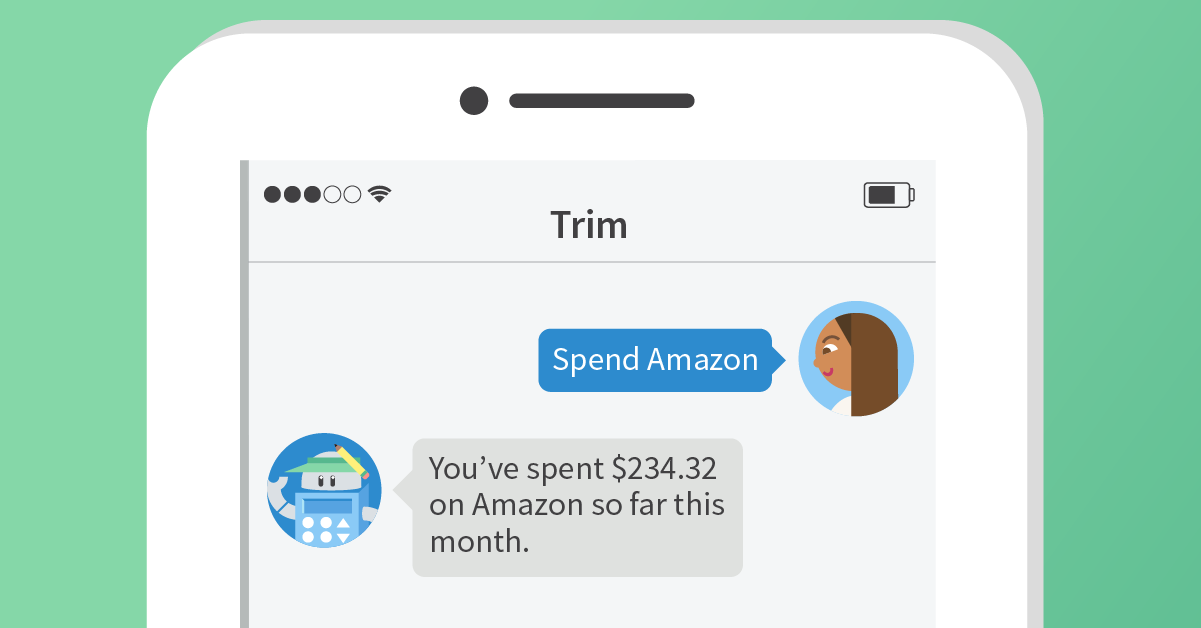 Trim even breaks down spending by category and specific merchants. If you're spending too much with Amazon Prime, they will be the first to let you know!
These features can help you manage your spending and stay within your desired budget even when you aren't using a traditional budgeting spreadsheet or budgeting program such as Personal Capital.
Trim's Price Negotiation
Trim's software program, Bill Negotiator, also has the capability to negotiate prices on recurring bills on your behalf. Trim will negotiate with any cable, internet, and phone provider to help lower your bill by up to 30%.
I love this because it is my least favorite part about cancelling or negotiating rates. You have to call, get put on hold, talk to a few people, and then finally cancel or downgrade. Quite frankly it's a massive waste of time, until now.
The Trim Bill Negotiator
The trim negotiator can save you big, like up to $50 off your cable bill!
Here's how it works:
Provide them with the information about your service provider account and current bill by either uploading or sending them a bill or their online platform.
Once they have that information they get to work saving you money! (P.S. You might hear from that company asking about why someone is calling on behalf of your account, this is totally normal.)
If they save you money, they take 33% of your total yearly savings.
Once you provide them with your bills or service provider credentials, they will negotiate savings on a regular basis moving forward.
Trim users can directly connect their Comcast, Time Warner, and AT&T accounts. Plus, they only charge if they actually save you money!
Trim's Goal Based Savings
In addition to all the other features of Trim, now users can set up automated weekly transfers into a high-yield savings accounts with Trim. Better yet, you can even designate a specific purpose or goal for each of your accounts. This makes it easy to set up your sinking funds within Trim!
Within each account you can set target amounts for your goals and track progress.
Trim's Debt Payoff
The new Debt Payoff program was created after users asked for hep with paying off credit card and other debt.
Trim's Debt Payoff program creates a custom month-by-month plan for users. Trim will automatically analyze debts and help you minimize the amount of money you spend on interested by allocating payments to your high interest debt first.
Better yet, Trim can also help negotiate the APR on your accounts!
If you need one-on-one help with your debt payoff plan, you can also talk with one of Trim's expert financial coaches.
Trim Helps You Understand Your Finances
Trim's dashboard is super helpful in helping you understand where your money is being spent on a long-term basis as well. They have a heat map view of your daily spending that spans several months! This is a great way to visually learn where you are spending money and identify trends before your  budget spirals out of control.
Plus, you can connect all of your financial accounts to Trim to give you a complete picture of your entire net worth. And it can help you set up a budget similar to Mint or Personal Capital. Trim makes it easy to manage all of your finances with their dashboard.
Trim's Personalized Recommendations
Trim will also help you make sure you have the best savings accounts and credit cards for your financial goals. They offer recommendations to ensure you get the best rewards with your specific credit score. Plus, they'll find the highest interest rate savings accounts to make it easy to save more money!
How Much Does Trim Cost?
Trim doesn't charge any sign up fees or monthly service fees to its members. And when it cancels subscriptions for you that service is free as well.
However, Trim will take a small percentage of the money they save you when they are able to successfully negotiate a lower monthly payment on a recurring bill, such as your internet or insurance bill.
The company makes money with the percentages they take from lowering your recurring bills and from third party partners such as credit card companies. This is how they are able offer the service for free to customers.
How Secure is Trim?
Trim promises bank-level security for its customers. They use 256-bit SSL encryption for the website as well as the server-side databases.
They also use two-factor authentication when you register for services, when you sign in from a new device or if your security token has expired.
Also, Trim promises not to sell or share your data with anyone, or use it for any other purpose without your permission. The company will only use your information to help you save money.
Trim App is Your Own Personal Finance Assistant
With all of the money being lost to gray charges for services that are no longer needed or wanted, it makes sense to consider "hiring" your own personal finance assistant and put the Trim system to work for you.
Although those sneaky recurring charges might seem like they won't make an impact on your financial goals, you might be surprised to know that you can potentially build a fortune with that seemingly small change.
In other words, don't discount the debt that can be paid off – or the wealth that can be built – from the money you might not even realize you are spending.
Stop giving your hard earned cash to companies that aren't giving you every dollar's worth of benefit for the services you pay for.
Instead, put systems such as Trim in place to help you capture every wasted dollar, and put each saved dollar to good use as you create a more secure financial future for yourself or your family.