***Updated on 7/9/2018
My latest savings hack using Ebates, Honey App, and Giftcard Granny has been added at the bottom of this post. Watch Now (Video)
What is Ebates?
Ebates is a company that has partnered with over 2,000 online companies to form an affiliate relationship with each of them. An affiliate relationship simply means Ebates and each online company have created a partnership where Ebates will refer you or I to buy something from them, and that company then sends Ebates a thank-you referral.
The good news: Ebates then splits the thank-you referral with you, and you earn Cash Back.
For example, at the time this post was published, JCPenney has agreed to send Ebates a thank-you referral of 12% Cash Back for whoever shops online at JCPenney via the Ebates website. Ebates then splits the referral commission with you or I (the online shopper) and we each earn 6% Cash Back.
It truly is a Win-Win-Win.
Win #1 – The Online Retailer: The online store is getting more of us to shop online at their stores.
Win #2 – Ebates: Ebates receives a thank-you commission for referring us to shop online.
Win #3 – You and I: Ebates splits that commission with us in the form of CASH.
What Does the Process Look Like?
Creating an account with Ebates is FREE and simple.
To create an account with Ebates, all you need is an email address or a Facebook account to get started. Once you create your account, you can shop online just like you would normally do, however now you can earn between 1% – 40% CASH BACK at over 2,000 online stores!
The Cash Back is truly Cash Back, meaning you will either receive a check in the mail or your money will deposited into your PayPal account. Remember, this is actual money, not a bunch of gift cards, points, or anything like that.
To get started, go to the eBates website to create an account. You will see a pop up here that looks like this:

This $10 bonus you're receiving is because I referred you to the Ebates site!
Just to be 100% transparent, Ebates will also send me a thank-you referral for referring you to their site.  However, you can also refer your friends and family to their website and earn the same thank-you referral as well!
I will explain more about this little side hustle later in this post.
How to Shop and Save with Ebates
Right now, the vast majority of Cash Back savings is online, however there are specific stores that offer in-store Cash Back as well.
Online
According to a recent study, nearly 80% of people now shop online. Eight out of ten people you know shop online, and since you're reading this post online, I am assuming you are one of them. This is why I see Ebates as an absolute no brainer – you're going to get cash back for doing what you're already doing.
Search Ebates First (Good Option)
Before you shop online, head on over to the Ebates website and you can search the 2,000+ online retailers to see if they have a partnership with Ebates. Once you find a store where you're going to shop, simply click on the button of that store.
For example, let's say you're going to purchase something from JCPenney and you go through eBates to get 6% Cash Back. You would click on the JCPenney icon below:

Once you click on it, you will be taken this the screen below to let you know your Cash Back is now activated:

You will then be automatically redirected to JCPenney's website to shop. This extra step took a whole 10 seconds which in return offers you Cash Back for doing something you were going to do anyhow – shop online.
Get the Ebates Button (Best Option)
Guess who is the king of buying something, bringing it home, and then finding a coupon for it after the fact?
….This guy.
Ebates most know we sometimes do this so they created a button we can add to the Google Chrome Browser. Now instead of having to remember to go to Ebates first, we will get a little notification on our screen when we arrive at an online store that is an affiliate (partner) with Ebates.
Example:
Andrea and I are big fans of Groupon because we LOVE getting a deal 🙂 Now, when we go to Groupon, this little pop up let's us know we will get an additional 6% back on anything we purchase via Groupon once we activate the Ebates Reward.

Note: You can get the button added by clicking here.
In Store
This is something that is newer to Ebates, but it's really cool! As of today, there are only 22 stores that currently offer in-store Cash Back, but you may as well know about it if you shop at any of those stores.
What you will need to do is add your debit or credit card to your Ebates Account. Then, before you shop in-store, check Ebates.com and see if that store has an in-store Cash Back option. All you will need to do next is click on "Link Offer".
Now, just make sure you use the same credit/debit card you added to your account when you checkout, and you will receive the same Cash Back as you would if you shopped online. Boomshakalaka!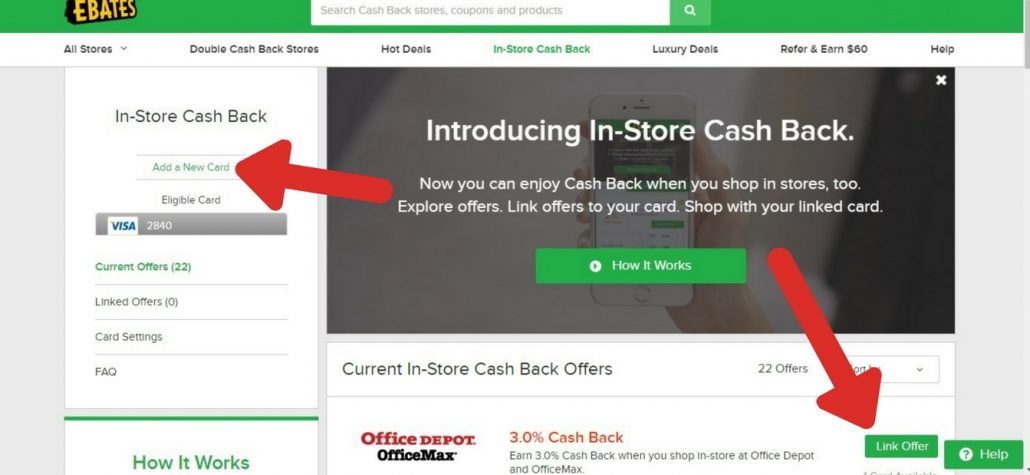 Daily Deals, Coupons, and Promo Codes
In addition to Cash Back, you can also use Promo Codes to get an even further discount. For example, when I logged into Ebates today, I noticed a one-day promo for Groupon in addition to my 6% Cash Back. You can see exactly what it looks like below.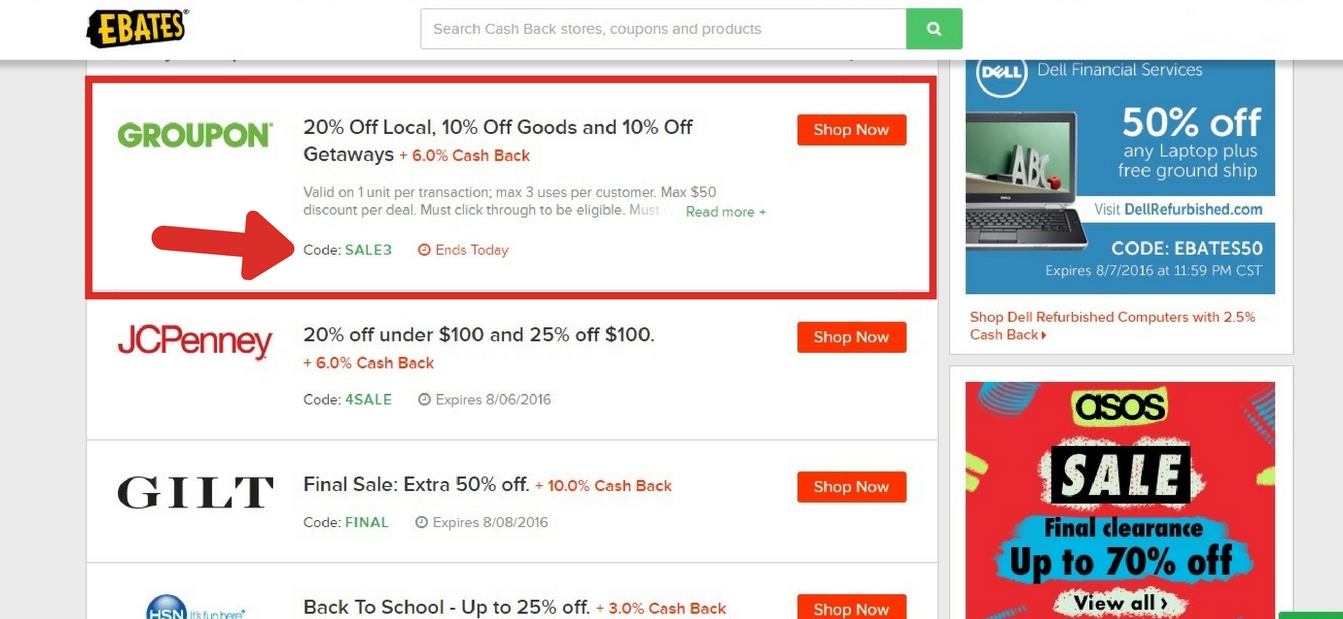 Now not only will I get my 6% Cash Back, but I will also receive an additional coupon/deal that is currently offered by Groupon. Plus, this saves me the time of looking around the web for coupon codes before I buy something online! Ebates makes it quick and simple.
When Do I Get My Cash Back?
Pay close attention here, because I want you to know exactly how it all works. Ebates is going to either send you a paper check in the mail or they are going to pay you via your PayPal account. They aren't going to send you a check for each and every little transaction you make in the form of Cash Back. Instead they have a payment schedule set up in advance. You can see it below:
| | |
| --- | --- |
| Purchase Period | You Get Paid On |
| Jan 1 – March 31 | May 15th |
| Apr 1 – Jun 30 | Aug 15th |
| Jul 1 – Sep 30 | Nov 15th |
| Oct 1 – Dec 31st | Feb 15th |
Can I Really Make Money with Ebates?
Yes! Ebates extends their referral program to any Ebates member who would like to share how to earn Cash Back while shopping online. Once you create an account with Ebates, you can invite your friends and family to join in on the Cash Back savings, and YOU will also receive a thank-you referral.
You can share Ebates with anyone via your Gmail contacts, by sending them an email, sharing on Facebook, or by copying your referral link and sending it out. If you have a website or blog, you can also add in the link and a small Ebates widget anywhere on your site.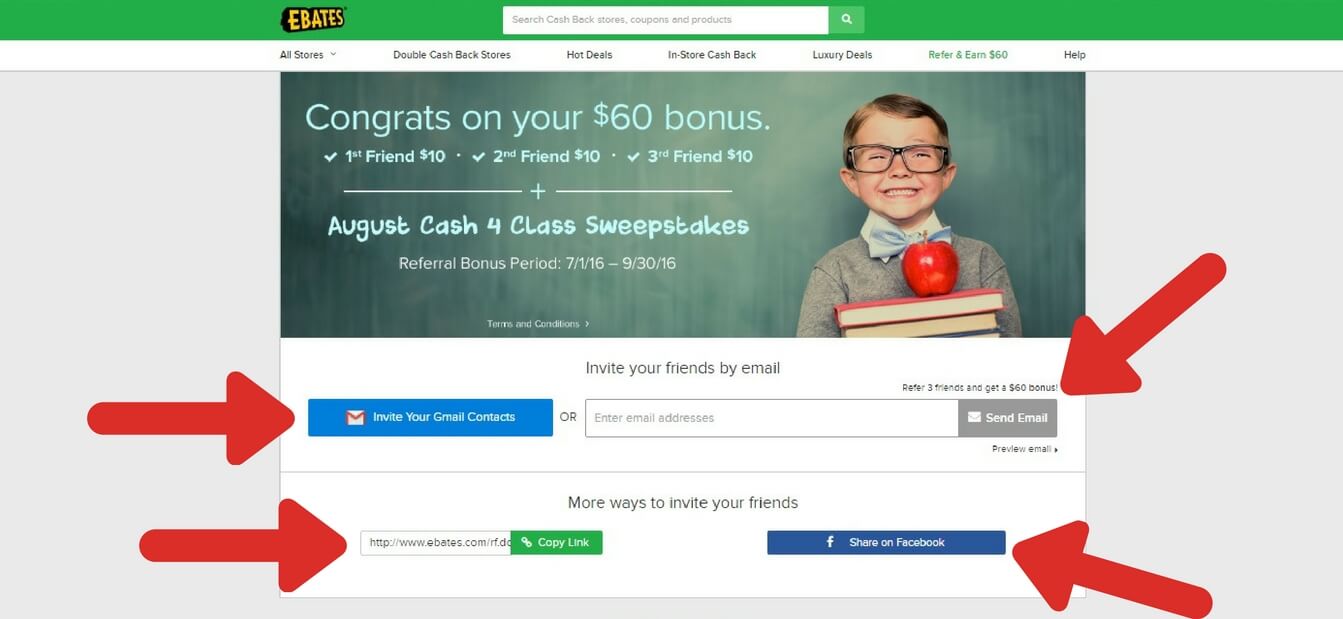 Side Hustle Alert!
Here's the really crazy part….this could be a little side hustle for you. Remember how earlier I showed you how this was a win-win-win. Well, I would also go as far as to call it a win-win-win-WIN!
Win #1 – The Online Retailer: The online store is getting more of us to shop online at their stores.
Win #2 – Ebates: Ebates receives a thank-you commission for referring us to the online store
Win #3 – You an I: Ebates splits that commission with us in the form of CASH.
Win #4 – Side Hustle: You can earn money by helping your friends and family save money while doing something they're most likely already doing – shopping online.
Here's what this looks like when you look further down the road: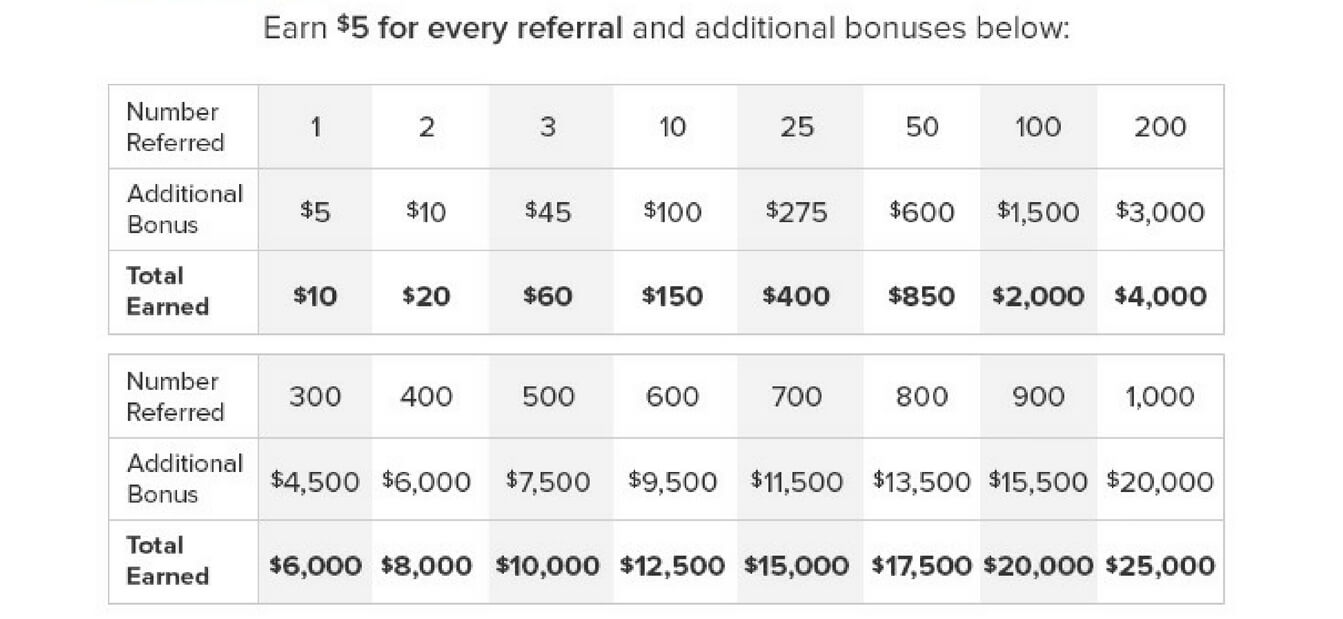 Chris Peach Pro Tip

Here's my BEST piece of advice for you: Try Ebates out for a few weeks first before you tell anyone else about it. I find a lot of value with Ebates because I know my friends, family, and you will save money by literally doing the exact same things you're already doing – shopping online.
I am 99.9% positive you're going to see the value in Ebates, but I would still highly recommend you actually try them out before you share this with a friend 🙂
Is Ebates 100% Perfect?
Of course not.
Whenever I do a review like this, I always look for the good and bad. If you ever read a review that doesn't point out the flaws, this should automatically be a red-flag alert!
However, finding the "bad" with Ebates was difficult. It's free, there isn't software you have to download or install, and the amount of effort to activate your Cash Back is effortless. I still dug into it and found a few things you could consider flaws:
Affiliates can come and go. You may shop one day and see 6% Cash Back and then a few months later the affiliate is no longer found on Ebates.
It's your responsibility to make sure you're getting your Cash Back. 99.9% of the time your account will be credited within 48 hours. If you don't see it in your account, it's your responsibility to notify them about via a form on their site.
You will only get your Cash Back payout once every 90 days.
You may spend more! You still must do a monthly budget and stay within budget. The reason why the retailers send Cash Back to you is because they know you will probably spend more if you see a reward (Cash Back ) attached to the product.
The Triple Savings Trick
If you want to get a little crazy, you can do what I have been doing and actually made this video to show you how to also.
I use Ebates, the Honey App, and Giftcard Granny all at once to save the absolute most money possible. When I arrive at the online retailer I activate my Ebates to get my CashBack activated. Then at checkout, I click on the Honey app to apply any available coupon codes. Once I know my final checkout price, I search GiftCard Granny for an online gift card at a discount (someone may be selling a $50 gift card for $42 to get rid of it).
This means I am getting the cashback discount, the maximum discount using any and all coupon codes, and then the discount at the end with a bargain gift card.
Triple Whammy my friend!
Frequently Asked Questions
Is there a Membership Fee?
No. Ebates is 100% free for anyone to use.
What if I return something?
Your Cash Back will then be reversed. However, it is important to note that if you are sending the item back only to exchange it, you must go back through the initial process of activating the Cash Back via Ebates.com or the Google Chrome Extension or Ebates may not be able to capture your rewards.
How long does the Cash Back take to show up in my account?
Cash Back will show up in 48 hours or less. However, in very rare instances the retailer will not credit Ebates your cash back until their 30 day return period has expired.
What if the Cash Back doesn't show up in my account?
Ebates has a "Help" Link which will ask you to fill out the store name, the date, and order number, so they can track down your Cash Back and get it resolved for you.
Is there an Ebates App?
Yes, for iPhone, Android, and iPad.
Does Ebates work outside the United States and Canada?
Yes. Just make sure the online retailer ships outside the U.S and Canada. Also, your Cash Back will come to you in whatever currency you set up as your initial payment method.
Lovin' this Save Money & Make Money Idea? Be a Friend & Send!
We all know someone who is currently shopping online, so why not help them get some Cash Back? If you found this post valuable, a quick way to let me know I'm doing a good jos is to share this on your favorite social media and help spread the word about saving money, making money, and making your money cool again!
Thanks so much for reading Money Peach,
-Chris Peach
---