How much extra money you have in your wallet largely hinges on the current price of gas. Between commuting to work, running errands, and taking your children to school, keeping gasoline in your car is an essential part of your daily routine. And if you're like me, you sometimes find yourself wondering, "How can I get free gas?"
Each month, my wife and review our monthly spending and determine where we need to spend less or more for the next month. One of our variable expenses is the cost of gas because the price per gallon and the number of miles we drive each month constantly fluctuate.
Although we can't control the price per gallon (wouldn't that be nice), we can still find ways to legally pay less at the pump. That's why we have implemented these tips listed below to get free gas with every fill-up.
Whether you're getting ready to take a cross-country road trip or looking to save money with your daily commute, paying less at the pump benefits your entire financial picture. You might even consider learning to get free gas as an indirect pay raise.
Legit Ways to Get Free Gas
There are a lot of websites that "promise" free gas. The only problem is that there are many fraudulent websites out there that only steal your money – not cool. However, you can follow these suggestions below to avoid those free gas scams.
1. Join Gas Station Loyalty Programs
Regardless of how you pay for your gas–cash, credit, or debit– scan your loyalty card before you pay; you can "double dip" and earn credit card rewards and loyalty rewards. Some programs give you an instant discount, usually three to five cents per gallon, while others accumulate reward points that can be redeemed for discounts or gas gift cards later.
Both gas stations and grocery stores offer gas rewards and you can occasionally get a bonus if you fill up on a particular day of the week. Many grocery stores also offer up to 2x – 4x fuel points if you purchase a gift card through the grocery store.
We recently stopped at the grocery store to get a movie theatre gift car on the way to the movie. We spent $50 for the gift card and ended up earning 200 fuel rewards points!
This translated into $0.20 off our next gallon up to 35 gallons, which earned us $7 worth of free gas at our next fill-up. Not bad for just grabbing a gift card on the way to a movie.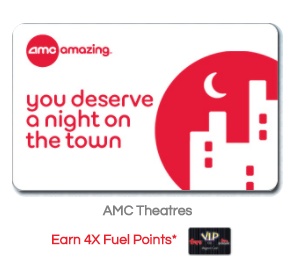 You can apply for a reward card in-person or you can apply online.
Other gas stations even offer a discount if you pay with cash because they don't have to include the credit card processing fees in the per gallon price when you pay with plastic.
2. Analyze Your Spending With Trim
The first step to take is to analyze your monthly spending and shift any unnecessary spending to your gas budget. Trim is a free digital assistant that monitors your spending, cancels unused subscriptions on your behalf, and re-negotiates your cable, phone and car insurance premiums to help you save money.
You might be doing your best to pinch pennies and still not even realize that you're overpaying for car insurance or still subscribing to streaming plans you haven't used in six months; that is until Trim takes an extra look on your spending habits for you.
With a single text message, Trim immediately begins working to save you money. As a result, you have more money in your bank account each month that can be used to buy gas.
3. Redeem Swagbucks for Gas Gift Cards
Swagbucks is a site that pays you to answer surveys, shop online, surf the web and test new products to name a few activities. You earn rewards points for every online activity that can be redeemed for gas station gift cards.
What makes Swagbucks so enticing is that you can get paid to do what you already do online. The only difference is that you go through Swagbucks to be rewarded for your efforts. Whether it takes you three minutes or fifteen, you can complete an activity on your computer or mobile device at school, work or home.
4. Take Paid Online Surveys
Another quick and easy way to get gas gift cards is taking online surveys. Many surveys take 15 minutes or less to complete, and you can double or triple your earnings by participating in multiple invitations each day.
While there are dozens of survey sites that reward you with cash or gift cards, put these sites at the top of your list because of their low payout thresholds and frequent survey opportunities:
5. Buy Groceries with Ibotta
Before we buy groceries, we activate product offers on Ibotta for items we plan on buying. After checking out, take a picture of your grocery receipt and your cash back is deposited in your account within 24 hours. Once your balance reaches $20, you can redeem your balance for cash or gift cards.
Current Deal: Get a $10 bonus by redeeming your first offer on Ibotta.
6. Get Discounted Gas Gift Cards
One of my favorite ways to save money on almost any online or in-person purchase is to buy discounted gift cards. Look for your favorite gas station on Gift Card Granny to buy gas gift cards. You can usually save up to 3% on the card amount and earn rewards points that you can redeem for free gift cards in the future.
7. Use Your Ebates Cash Rewards
Before I make an online I purchase, I activate an Ebates cash back shopping session to get up to 40% cash back on each purchase. Better yet, install the browser extension so you never miss a cash back opportunity–that's how I never miss a cash back opportunity!
You can also use Ebates to get additional cash back when you buy discounted gas gift cards online. Since you probably already shop online to save a trip to the store and gas money, Ebates is another way to put more money back into your pocket. You pay the same price for the product whether or not you shop with Ebates, so this is a legit way to get free money.
The only payment method for Ebates is a paper check or PayPal cash. Instead of going to the store and buying something you probably don't need, put your Ebates rewards in the bank account you buy gas with.
Current Deal: Get a $10 bonus by making your first Ebates purchase.
8. Pay With a Rewards Credit Card
One way I save money each time at the pump is with my cash back credit card and get 5% back when I pay at the pump. I make sure I pay the balance in full each month, and you should only consider this option if you pay your balance in full every month.
Debitize is the latest way to earn credit card rewards while allowing your credit card to behave just like a debit card. You make purchases on your credit card and Debitize automatically deducts the balance from your checking account to pay your bill in full each week.
You can learn more about Debitize on Episode 69 of the Money Peach Podcast.
Money Peach fans also get a $10 bonus credit just for trying Debitize.
9. Ask Your Local Charity
Some local charities and churches offer free gas vouchers for families with financial need. You might consider asking your local Salvation Army first.
Even if your local charity isn't offering free gas vouchers right now, they might be able to help you with other needs like utility bills or clothing. If so, the money you save in these spending areas can offset your gas purchases.
The vouchers will most likely be a prepaid gift card to a local gas station.
10. Apply for Government Assistance Programs
Depending on where you live, your local or state government might offer gas or public transit assistance. Taking public transit might not be as convenient, but a free bus or subway ticket means you don't have to pay for gas or parking.
The quickest way to see if you any local assistance programs exist is to contact your county's Health and Human Services department. A second suggestion is to look for services on 211.org.
Another way to see if there are any assistance programs in your area is to google "Your county name gas assistance programs." A quick search in my area listed government and charity assistance programs that offered financial assistance with basic household needs.
11. Look for Prepaid Gas Card Promotions
Retailers and brands also offer seasonal promotions to get prepaid gas cards, especially at peak travel times like summer vacation and the Christmas holiday. For example, you might get a prepaid card if you buy a set of car tires or spend $X at a certain store by a specified date.
Of all the national retailers, CVS is the most apt to offer prepaid gas cards. By checking their weekly circulars and signing up for their ExtraCare card, you should be notified of every new promotion.
Besides CVS, you might look for travel promotions from these types of retailers:
Hotels
Auto part stores
Oil change locations
Gas stations
12. Advertise On Your Car
Have you been sitting at a red light next to a car with a wrap advertising a local business on it? There's a chance that person is getting paid with free gas for renting their automobile real estate to that business. This is one side hustle idea any driver can benefit from because it's easy money.
FreeGasHelp.com gives you free gas when you place advertisements on your car. Before you can start earning gas gift cards, there are a few stipulations:
Must drive at least 1,000 miles each month
Vehicle must be in good cosmetic condition
Have valid auto insurance and good driving records
If you meet these three requirements, FreeGasHelp will send you the car magnets and signs to put on your car.
13. Enter Free Gas Sweepstakes
This free gas idea isn't a guaranteed success, but it can be well worth your time if you win. Gas stations and businesses run gas card giveaways to generate business. You might see commercials or in-store advertising to publicize the sweepstakes.
In other instances, you'll find out about the contest at the bottom of the store receipt. By taking a few minutes to leave feedback on your shopping experience, you can win gas gift cards. I recently went to a national auto repair store and their survey sweepstakes is free gas for a year.
One legit gas sweepstakes to consider is the daily GasBuddy giveaway. Every day, GasBuddy gives away a $100 prepaid gas card. Even if you don't win, GasBuddy is the easiest way to find the lowest gas prices in your city.
14. Open a New Bank Account
Some banks offer a cash bonus when you open a new bank account and either make a minimum initial deposit or enroll in direct deposit. The bonus will be deposited in your new bank account and you can use that money to buy a tank or two of gas!
15. Carpool
Carpooling isn't just an opportunity to spend more time with your friends or catch a few extra zzz's, it's also an easy way to indirectly get free gas. By not driving yourself to work every day, you can go longer between fill-ups. The longer your commute or the more expensive a gallon of gas costs, the more money you can save.
If you can't carpool, maybe you can take other steps to reduce your driving habits by riding your bike to work on sunny days or telecommuting when possible.
16. Drive a More Fuel Efficient Car
I'm not telling you to buy a hybrid or an electric vehicle, but you might consider making your next vehicle more fuel efficient. Although I sold my car for other reasons, I saw an instant savings at the pump because my replacement vehicle only needs regular gasoline instead of premium. At my local gas station, that's an instant 60-cent savings per gallon!
If you are ready to sell your car, keep fuel efficiency in mind for your new vehicle. My recommendation is to buy a good, used car with cash that gets decent mileage for its class. Never sell your current car to buy a brand new vehicle just because it gets 40 miles per gallon, you'll lose more in depreciation than you'll save in gas.
17. Drive Responsibly
Instead of being the next Mario Andretti, drive reasonably without rapid acceleration or deceleration. Also, make sure your tires remain properly inflated, keep your car properly maintained, and take any excess weight out of your car like that bag of sand you only need to keep on the rear axle in the winter time.
18. Check the Gas Receipt for Accuracy
Gas pumps are tested regularly for accuracy, but they can still become miscalibrated or display the incorrect price. Before driving away, compare your receipt to the pump's gauges for these three factors:
Total gallons pumped
Price per gallon
Total purchase amount
If there's a discrepancy between what the receipt shows and what the pump says, the cashier can credit you the difference or even refund you for the entire fill up.
19. Gently Shake the Hose
Maybe you've seen other people doing this trick already to get a few extra drops of gas. Before you put the nozzle back into its cradle, gently wiggle the hose and lift it up and down a time or two to get the residue in the hose.
Also, leave the dispenser in your tank a few seconds after it clicks off to get those last drops that rely on gravity to get into your tank.It will be less than a dollar of gas that you get from this hack, but it's better than letting it drip to the ground instead of going into your gas tank.
Avoid These Gas Scams
With millions of cars on the road every day, there are lots of people looking for ways to save money at the pump. That's why there are so many gas scams floating around the internet and your local community. These are some of the free gas scams that you might come across.
Secret Gas Codes
Back in the day – think 40 years ago, this trick might have worked but it was dishonest and illegal. Some websites claim you can pump the nozzle handle in a certain sequence or you can type a code into the pump keypad to get free gas. Of course, you pay for this secret code that can be used numerous times.
The only problem is that the code is false and you just got ripped off. But, at least you didn't break the law by stealing gas.
Swiping Your Driver's License First
This scam also floats around the internet alleging you can swipe your driver's license before your credit card to get $10 free gas. This is another myth and the pump will only give you an error because your license doesn't have a magnetic stripe or EMV chip that a card reader requires to turn on the pump.
Free Gas Card Websites
A website isn't going to give you a free gas card unless it's a legit online survey site like the ones mentioned earlier. There are many websites that claim to offer free gas gift cards once you sign-up or share the sites with your friends on social media.
Just don't do it. You don't know who you're giving your information to and what it will be used for.
Junk Mail
Your mailman might deliver a junk mail letter claiming you can get free gas. Unless this mail comes from a bank, car dealership, or store that you trust, this offer is most likely fake.
Remember that if a business or car dealership is offering free gas gift cards, you might be required to purchase something.
Even if a car dealership is offering a free gas card just for test driving a vehicle, you might find yourself driving away in a brand new car that you didn't intend to buy when you first drove to the lot. If this temptation is too much to refuse in-person, just don't go.
Telemarketers
If you're like me, you get a half dozen telemarketer calls each day trying to offer something. One of the offers might be for free gas cards, but you won't know all the details of how to get them unless you attend an in-person meeting or sign-up for a service that you must cancel before the free trial ends.
Unless you know the person calling you, avoid these offers to save yourself a headache.
Summary
Buying gas is an avoidable, recurring expense for most of us. That doesn't mean you still can save money at the pump. There are many legit ways to get free gas so you don't feel the financial pinch at the pump. While you won't get an entire tank of gas free every time, you'll still save money each month!
Do you have a free gas story from when you didn't know if you had enough to fill up your tank and got help? If so, what was it.
---