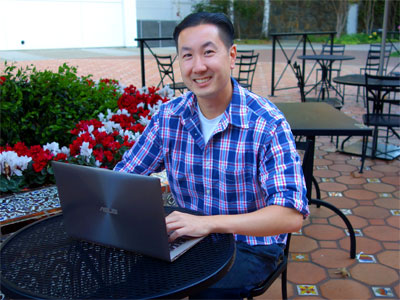 My Guest on the Show…
Steve Chou is one of the most brilliant guys I know.
I met Steve at a conference a few years ago and I have been impressed ever since. This guy is the epitome of hard work meeting opportunity and then combining it with extremely high-level thinking.
I asked Steve to come on the show to share his story of working a 9am-5pm job as an engineer while at the same time generating $100k profit in his ecommerce "side hustle" within his first year in business!
Fast forward to today, and Steve is now generating 7 figures inside both his ecommerce store AND his now very popular blog – "My Wife Quit Her Job".
Bonus: Out of all the guests we have had on this show so far, Steve was the first to share why or why not you should either start an ecommerce store (selling physical products over the internet) or start a blog like he also did and the why behind each piece of advice. Listening to Steve's answer was my favorite takeaway of the interview.
Behind the scenes: Steve and I have played basketball together before and he definitely has some skills on the court. However, just one week before this recording he tore his achilles tendon playing hoop and still agreed to do interview while completely laid up and even in some mild pain.
Are you enjoying the podcast?
If you do, would you be willing to leave a review for the show here? The more reviews the podcast receives, the more people will learn about it!
---
The Money Peach Podcast is brought to you by my #1 online program for showing you how to budget, how much to save, how to manage your debt payoff, when to save for retirement, what to teach your kids about money, and how to build a legacy to last beyond your lifetime.
If you find yourself continuing to live paycheck-to-paycheck and wondering where all the money went at the end of the month, it's time to finally make a positive change. Welcome to the class they forgot to teach you about money – Awesome Money Course.

Mentioned in this Episode
---
Bumblebee Linens (Steve's Online Store)
How to Create A Profitable Online Store
Episode 45 (Toni Anderson Success Story)
Episode 54 (Amanda Walker Nutrition Coach)
Episode 112 of MyQuitHerJob Podcast with Kyle Taylor
Recommended by Steve
---
Influence: The Psychology of Pesruasion by Robert Cialdini
The Art of SpeedReading People: How to Size People Up and Speak Their Language by  Paul D. Tieger
Show Notes
---
Meet Steve Chou [2:39]
The Story of Bumblebee Linens [5:37]
My Wife Quit Her Job .com [11:39]
How does Steve make money via his Blog [14:29]
What can people sell online? [16:23]
What are the results of Steve's students in ecommerce? [18:57]
How Steve grew his blog quickly and for cheap [21:42]
About Steve's Ecommerce Mini Course [26:56]
The Seller's Summitt – Steve's own annual conference [28:35]
---