You finished the class and now these books are taking up way too much room in your closet.
So where do you sell used textbooks fast and for the most cash? Where do you go to make make sure you're getting the biggest payout so you can quickly turn those old books into cash?
There are tons of great places to test out, but let's start with the top seven sites.
Top 7 Sites to Sell Your Used Textbooks
Most sites we found were sites that will buy textbooks directly. Many of them do this in order to re-sell the books on their site, while others buy the books for the purpose of reselling them elsewhere.
Each site we found has different payout levels, so I it's still important to research a variety of sites before deciding who you're going to sell your used textbooks to so you can maximize your profit as you sell your used books.
This process can be a little overwhelming, so here are the top 7 sites to start.
1. Decluttr
Decluttr makes selling your used textbooks super easy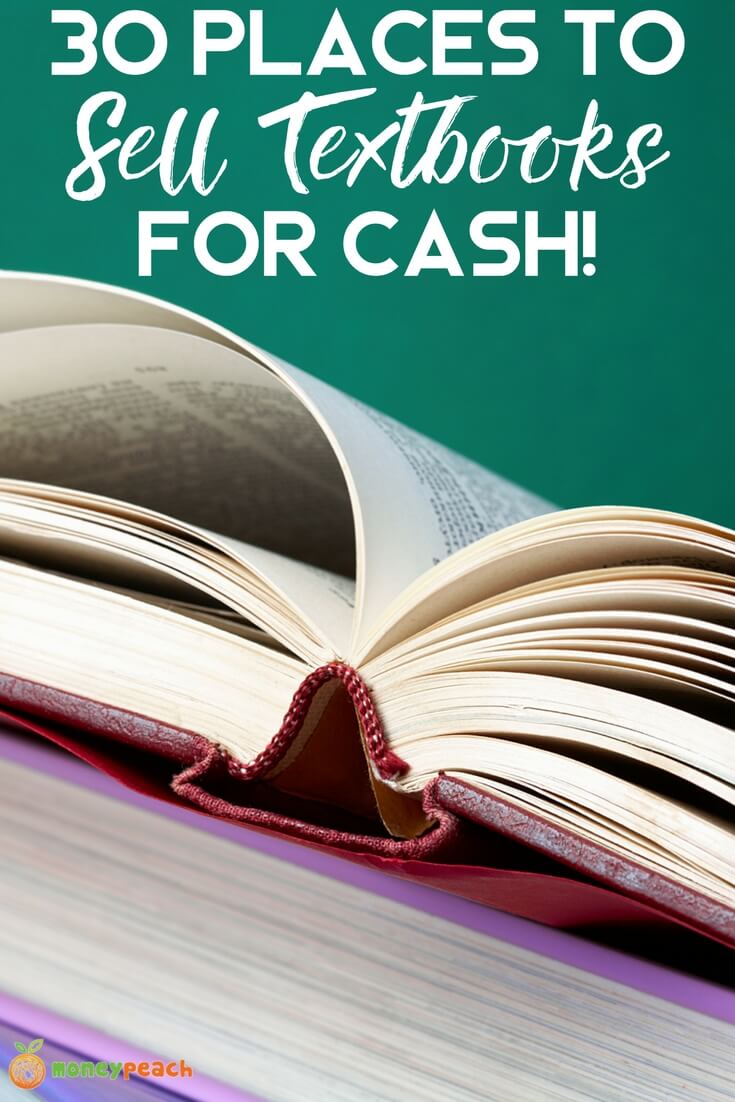 . With Decluttr you just go to their website, enter the barcode or ISBN number on the back of the book and they'll give you an immediate offer on each of the textbooks you want to sell.
Once you accept their offer to buy your books, they'll send you a free shipping label. You pack up your books into a box, attach the prepaid shipping label and either drop it off at one of thousands of locations across the country or you can give it to your UPS driver.
After Decluttr staff receives the textbooks they'll inspect them to be sure the condition of the books is as you stated when you entered the barcode.
Once condition is verified, they'll send you a payment in one of three ways (whichever you request): via a PayPal deposit, via a direct deposit into your bank account or via a check by mail.
Note: Decluttr also sells other items such as CDs, DVDs, video games, tech gadgets, Legos and more.
2. Amazon
You can also list your textbooks to sell on Amazon. Amazon will help you sell your textbooks in two different ways. You can sell your textbooks directly to Amazon (so they can resell them), or you can list your textbooks and sell them yourself to buying clients.
If you sell your textbooks directly to Amazon it will be easier and you'll likely get your money much faster.
If you sell your textbooks on Amazon by making them available to buyers on the marketplace, you may have to wait longer to get your cash as the buyers scout the various listings, however you'll probably get more cash for your books as well.
Quick Money Tip: Did you know you can also sell that old phone in your drawer? Right now BuybackBoss is the site guaranteeing the best payout for your used cell phone.
3. Textbooks.com
Textbooks.com has a super easy process for selling your books. You start by entering your ISBN or barcode number of the book/books you want to sell. They give you a quote and then you click accept to lock in the quote.

Next you ship your books to them with the free prepaid shipping label, and they pay you once they receive the books and find they're in the proper condition as stated.
Textbooks.com will pay you in one of two ways: either via PayPal, or they'll mail you a check. This company also has what they call a guaranteed cash back program.
Here's how the cash back program works: when you buy a textbook from them, and return it in good condition at the end of the semester, they'll guarantee to pay you cash of 50% of what you paid for the book.
Now, this could be a good deal, but it's always worth doing your homework before you decide to go this route as you may find it more lucrative to go with some of the other sites on this post.
4. Textbook Recycling
Textbook Recycling will give you a quote for your book after you enter the ISBN or barcode number. After you've accepted their quote, they'll send you a personalized, prepaid shipping label.
Keep in mind you are expected to drop your book off at one of Textbook Recycling's authorized shipping locations within three calendar days of the quote being accepted.
You also have two payment options with this site: payment by check, or payment via PayPal. If you choose payment via PayPal the standard payment time is 1-4 calendar days after your book has been checked in and processed.
If you choose to receive your money via check, you should receive your payment roughly 7-10 calendar days after your book has been checked in and processed.
The site states that during busier times, payments may take longer to receive. You can check the status of your payment on the site as well, but they do note that if you don't see a status on your account that your book is probably still waiting to be assessed.
5. Bookbyte
Bookbyte's selling process is easy, just like the others entered here: Enter the ISBN or barcode number, get your quote, click "Continue with Sale" if you're happy with the price, and then they'll give you instructions to print out your free shipping label.
The site says it takes approximately 4 – 14 days for them to receive and process your book once you send it. When processing is complete, they'll pay you in one of two ways of your choice: via PayPal, or they'll mail you a check.
6. Textbook Rush
Textbook Rush will give you a quote for your book that is valid for up to 20 days. They'll also send you a free prepaid shipping label if you accept their offer.
This company will pay you for your textbooks in one of three ways: via PayPal, via cash, or via store credit. I couldn't find anything on the site that indicates how exactly they pay you in cash.
So, do they send it in an envelope to your house, or what?
I'd recommend taking PayPal or store credit. Store credit could be convenient if you're still in school and will be needing to buy more books.
7. Barnes and Noble
Barnes and Noble has a subsidiary company called Sell Your Textbooks. When you enter your textbook's ISBN or barcode on the Barnes and Noble buyback site, they'll give you a quote.
If you accept the quote, they'll give you a prepaid shipping label with which to send them your book. After they receive the book and examine it, they'll pay you via PayPal or they'll send you a check.
They do make a note on their site that they are not responsible for any books lost during the shipping process, and suggest buying insurance or additional services at your post office if you want to ensure your book makes it safely to Barnes and Noble.
Other Sites Worth Mentioning
These other sites are not as well known but they are worth taking a look at. If you aren't in a rush and you want to make sure you're getting the most money for your books, these other sites would be a great fit.
8. Sellbackyourbook
Sellbackyourbook.com says it's paid out millions to sellers of used textbooks. This is always a good sign, right?
The process with this site is pretty similar to a lot of the other sites listed here: you get a quote for your book(s) after entering the ISBN or barcode number. Then you print out their free shipping label.
After you package up and mail the books, Sellbackyourbook will inspect them upon arrival. After confirmation of the condition being as stated, they'll process your payment – usually within 2 business days.
You can get paid either via PayPal or via a mailed check.
Note: the site does say that sending your shipment via the FedEx option will result in a faster arrival than if you choose to send it via USPS Media Mail.
9. College Books Direct
The College Books Direct website says that it has the highest cash back offers in the business. Whether that's true or not I can't say, but I think it'd be worth checking out.
Their simple process and easy-to-use website helps you get a price for your book quickly. They'll pay you via PayPal or they'll mail you a check.
Note: the site is pretty antiquated and doesn't give a whole lot of information about their process.
10. Cash4Books
Cash4Books will give you a quote for your books when you enter the ISBN number, give you a free shipping label, and pay you via PayPal or via check after they receive your book in its stated condition.
One cool thing about this site is that their customers have given them a 5-star rating review on TrustPilot. This says something about their company.
I checked over the ratings and there were mostly 5-star and a few 4-star ratings out of the nearly 2,000 ratings they had listed on the site.
11. AbeBooks
AbeBooks is a great place to buy textbooks, but they also have a buyback program where you can sell your textbooks to them.
Their site says they have the largest buyback catalog on the web, and it says they can usually beat the price your college bookstore will offer you for books as well.
They'll buy via the usual process: you enter your ISBN or barcode number, they'll make you and offer, and they'll give you a shipping label after you accept their offer.
Payments are issued between 1 and 3 days after they receive and process your books, and you can get paid via a check or via Paypal.
12. Faculty Books
Faculty Books will buy your textbooks and pay you in one of three ways: via Paypal, they'll mail you a check or they'll direct deposit your money into your checking or savings account.
As with the other sites you've got to enter your ISBN number to get a quote. Also, they require a $10 minimum in books in order to accept your sale.
One cool thing about Faculty Books is that along with a free prepaid shipping label, they'll send you a free box and packaging materials if you ask for them. You've got to ask though: they don't send them out automatically, with the exception of the free shipping label.
13. Powell's
Powell's is a large online and brick-and-mortar bookstore that's been around for over 40 years. When you go to their online store (you can also bring your textbooks into their store locations) you can enter your textbook's ISBN number and get an immediate quote.
They'll cover shipping, and they'll send you your payment via PayPal, or you can choose to take a Powell's store credit instead.
Note: there's a statement on the site saying their buyers are very particular about the condition of the books. In other words, they want used books that are in really nice shape.
14. Half Price Books
Half Price Books is a brick-and-mortar store that will consider buying your used textbooks if you bring them into one of their store locations.
If they accept your particular textbook and you like their offer, they'll pay you cash on the spot. In some cases you can get a store credit instead of cash, and payouts for store credits are often higher than cash offers.
Taking the store credit could be a good way to go if you see things you'd like to buy at Half Price Books, such as other books, video games. Etc.
15. Student2Student
Student2Student is a site that helps you hook up with students on your campus in order to sell your books.
You create an account on the site, list your book and wait for a buyer. There are no listing fees, no shipping, no credit cards to deal with, etc. Just wait for a buyer, set up a time to meet and exchange your book for cash.
This site could be a great way to sell your books fast and easily, right in your own college neighborhood.
As with Craigslist and other sites like this, keep safety rules in mind when you're meeting up with potential buyers.
16. Chegg Books
Chegg Books will make you an instant offer on all of your used textbooks. After you accept their offer you'll be sent a free shipping label.
Although this might seem like an inconvenience, there are usually dozens of UPS store locations all over most larger metropolitan areas.
The site states it usually takes 10-15 days from when you ship your books until the time of your electronic payment. This might seem like a long wait but most sites will take awhile to pay you due to shipping time and assessment time to determine the quality and condition of your books.
Note: with Chegg Books you need to drop your books off in a box with your shipping label attached to your nearest UPS store.
17. First Class Books
First Class Books will make you an offer on your books and then send you a free United States Postal Service shipping label. If you send two or more books worth a total of at least $50, they'll send you a free FedEx shipping label.
The site states that books are usually processed within two days of receipt, at which time they'll send your payment either via Paypal or they'll mail you a check.
Note: there is a $25 minimum buyback order. Also, they expect the books to be in "good" condition or better; i.e. no water damage, missing or torn pages or covers, no stains or mildew, an intact spine and binding, and minimal highlighting.
18. Sell Back Books
Sell Back Books is another site that will buy your books directly from you. This site will include a prepaid shipping label at no cost to you, however they only pay via check or via direct deposit to your bank account.
From what I could see there is no PayPal option available with this site. The site also says you have to be sure to include a printed copy of your buyback information with your shipment.
Quotes are good for 7 days only, so be sure to ship your items as soon as possible when using this company.
19. Valore Books
Valore Books will buy your used textbooks in a similar fashion to all of the other sites here. They are very clear on their site that they want books in good condition. Any book with severe damage, excessive highlighting, tampered ISBN numbers or fraudulently sold books will be rejected.
Valore Books will pay you via a check or via PayPal. The company will also send you a free, prepaid shipping label, however they do ask that your books be shipped within 14 days.
20. CKY Books
CKY Books works the same as most other companies mentioned here: You enter the ISBN or barcode of your books and get your quote.
Once you accept the company's offer, they'll send you a prepaid shipping label with which to send in your books.
After they receive and assess your books, they'll pay you either by mailing a check or by making a deposit to your PayPal account.
Books are required to be in "good general condition" or better according to their website. Any books with major defects (water damage, binding damage, odors, damaged pages or covers, etc.) will not be accepted.
21. Textbook Buyer
Textbook Buyer has a very basic site that may look archaic, but it works basically the same as most other sites. You enter the ISBN number on the books, get a quote, send them in and get payment.
From what I can gather, Textbook Buyer pays via check only. The website says it is their policy to try and mail payment checks within one day of receiving and processing your book or books.
Best Sites for Comparing Prices for Your Used Text Books
Some sites help you to sell your book by populating a list of vendors that will buy your particular textbook from you. This one-stop shopping for selling your textbooks can make your sale much easier.
However, some sites may take a commission for helping you sell your books – although many of the ones I checked with don't. Be sure to read the fine print of the terms and conditions before making a deal with any book buyback site.
22. Bookscoutr
Bookscoutr helps you sell your textbooks a bit differently. As with Decluttr, you go to the Bookscoutr website and enter in the ISBN number of your books.
But instead of making you an offer for each book, Bookscoutr compiles a list of all their available vendors who are willing to buy your book, as well as what each vendor is offering to pay.
Once you accept an offer from one of Bookscoutr's vendors, you get a free shipping label, ship off your book and get your money.
Bookscoutr will then pay you via PayPal or via a mailed check.
Note: if you choose to have a check mailed from them it'll take several days longer than a PayPal payment due to processing of the check and mail time.
23. Bookfinder
Bookfinder will also help you get offers from multiple book buying vendors. Once you enter in the ISBN or barcode number, you get a populated list of which vendors are interested in buying your textbook and how much they're willing to pay.
After you accept their offer, you receive a free shipping label from the vendor you choose. The Bookfinder site doesn't say anything about how payment is made, but it does say that if you have any questions about your transaction that you need to contact the vendor directly.
This statement leads one to assume that all payments will be made according to each vendor's individual payment process.
24. Campus Books
When you sell your textbooks via the Campus Books website, they'll help you compare offers from dozens of different vendors.
A couple of things they mention on their site that are good to be aware of, however the one thing I saw all of their vendors do is they will send a free prepaid shipping label for you to ship your books to them.
Also, they mention that their vendors generally pay via PayPal, a check in the mail or by offering store credit.
It might be a good idea as you sort through offers to ensure you can get a check or PayPal payment from each vendor so that you don't get stuck with a store credit you don't want or won't be able to use.
25. Blue Rectangle
Blue Rectangle is another site that will show you offers from multiple vendors who may want to buy your textbooks.
They'll give you a free shipping label with which to ship your books, and you'll get paid via PayPal or via a check.
Sell Your Textbooks to Individuals or in Other Ways
You can also sell your textbooks via some other sites and/or groups that work a bit differently. The list of places below didn't necessarily fit into the above categories, but still potentially provide good options for selling your used textbooks.
26. Textbook X
Textbook X will help you sell your textbook to other individuals, but they'll also give you an "instant offer" price to buy your book directly.
You can be pretty sure the instant offer will be lower than what you could sell it for directly, but you will get your cash right away.
Also, Textbook X does take a commission when you sell your book to other individuals: 15% of the selling price plus a $1.50 additional fee. However you also get a shipping credit from them to help offset shipping of your book.
27. eCampus
eCampus is a marketplace (similar to eBay) that allows you to list your textbooks for sale on their site. They allow both individual sellers and volume vendors to offer textbooks for sale.
eCampus will take a 15% commission on each sale, and you'll be responsible for shipping the book to the buyer, so keep that in mind and include a shipping cost when pricing your book in order to get the most money you can.
Note: eCampus does give a small shipping reimbursement as well, so that's something.
28. eBay
eBay allows you to sell textbooks just like you can sell anything else. Note that when you sell via sites such as eBay you've got to wait for a buyer and that you are responsible for coordinating shipping, etc.
It's important when selling on eBay to keep in mind they do have listing and selling fees. You'll have a bigger profit if you remember to calculate in your listing, selling and shipping fees when you are setting your prices and shipping options for the books you sell.
29. Craigslist
Craigslist is another popular site where you can sell your textbooks directly to individuals, and usually in your area too. They actually have a books section under their "for sale" category.
This section contains all types of books but there are often plenty of textbooks to choose from as well. There are no listing or selling fees with Craigslist, which is nice.
Good photos, a great description and a competitive price are all key when selling stuff on Craigslist. Keep safety tips in mind when meeting with a seller, such as meeting in a public place and telling someone where you'll be and when you expect to be back.
Also, it's a good idea to accept cash only when selling to strangers on Craigslist, unless they have some type of an item for trade that you may want.
30. Letgo
Letgo is steadily becoming Craigslist's biggest competitor. At least in my neck of the woods, I'm finding that Letgo is growing in popularity big time.
The site works just like Craigslist, but it's easier to use in some ways. Check out the site by visiting the link above and you'll see what I mean.
Like Craigslist, Letgo also lets you sell for free, with no listing or selling fees.
31. Facebook
With Facebook you can just give a shout out to your followers when you have a textbook for sale, or you can list your books on a buy/sell group in your area.
No listing or selling fees with Facebook, and you can often make a sale pretty quickly, especially if you have a lot of followers that are current or soon-to-be college students.
Selling Your Textbooks Offline
If you would rather sell your textbooks in person, you do have two great options to choose from.
32. Campus Bulletin Boards
Most colleges have some type of campus bulletin board, either an online version or an actual bulletin board.
You could try that route for selling your used textbooks. If you're willing to price them just a bit below what the college bookstore is selling a particular book for, you might be able to get some pretty quick sales on your used textbooks.
33. To Your College Bookstore
And, of course, you can always sell your textbooks right back to your college bookstore. Although you might not get as much money for them as you would by selling them directly to an individual, you will get a fast (usually immediate) offer.
The convenience of selling your textbook quickly might be worth taking a lower price.
Key Takeaways When Selling Used Textbooks
Remember as I've talked about before to check out multiple options for selling your books before deciding on a particular company or site.
Some routes might pay more than others, such as selling a book directly to a fellow student versus using a buyback site.
The more money you get for your used books, the more cash you have available for buying the books you need for next semester, paying off student loans or doing whatever else you want with the cash you earn by selling your used books.
Taking convenience into account as well as price is important too. You might find you can make more money by selling your books outright, however if you're pressed for time it might be worth it for you to simply box the books up and ship them to the highest paying buyback vendor.
If it doesn't look like you're going to make enough money for your books, you can also donate your books.
As we've shared here, there are many options for getting cash for those used textbooks. Do yourself a favor, declutter those closets and get some cash for your used textbooks while they're still being used!
How about you? Have you ever sold your old college textbooks? If so, what route did you use to sell them and what was your experience?
Thank-you for reading and please tell us your story in the comments section.
---