In this Swagbucks review, I will show you how you can legitimately make about $20 – $50 extra per month through Swagbucks. If you're looking to get rich or replace your full-time income, you may want to look somewhere else. But, you like the idea of making a few extra bucks per month, Swagbucks may be a great fit.
If you're ready to join Swagbucks now, you can get $5 bonus when you use my link.
Swagbucks Review 2020: Many Ways to Make a Few Extra Bucks This Month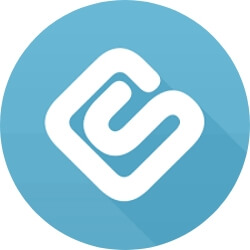 Name: Swagbucks
Description: Swagbucks is a website that pays people for sharing their opinion when they shop, answer surveys, watch shows, discover new products, search the internet, play games, and test out mobile sites. When you perform tasks, you are rewarded with "Swagbucks", which can be exchanged for gift cards (Amazon, Walmart, etc.) OR cash via PayPal gift card.
Sign Up Bonus

Getting Started

Earning Potential

Reputation
Summary
The Breakdown of Swagbucks
Pros
7 different ways to earn money
Reputable – 40 million users
Can get paid out in gift cards
Can get paid out in cash via PayPal
Sign up bonus
Cons
$25 minimum to cashout
Sometimes you will spend more money to make less money
---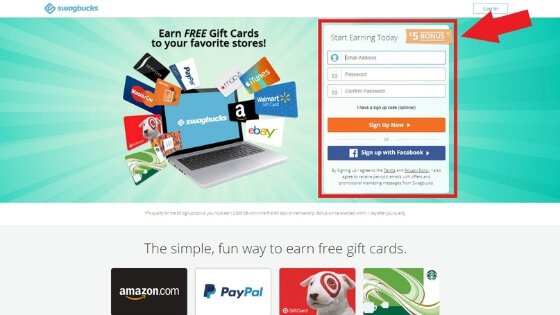 What is Swagbucks?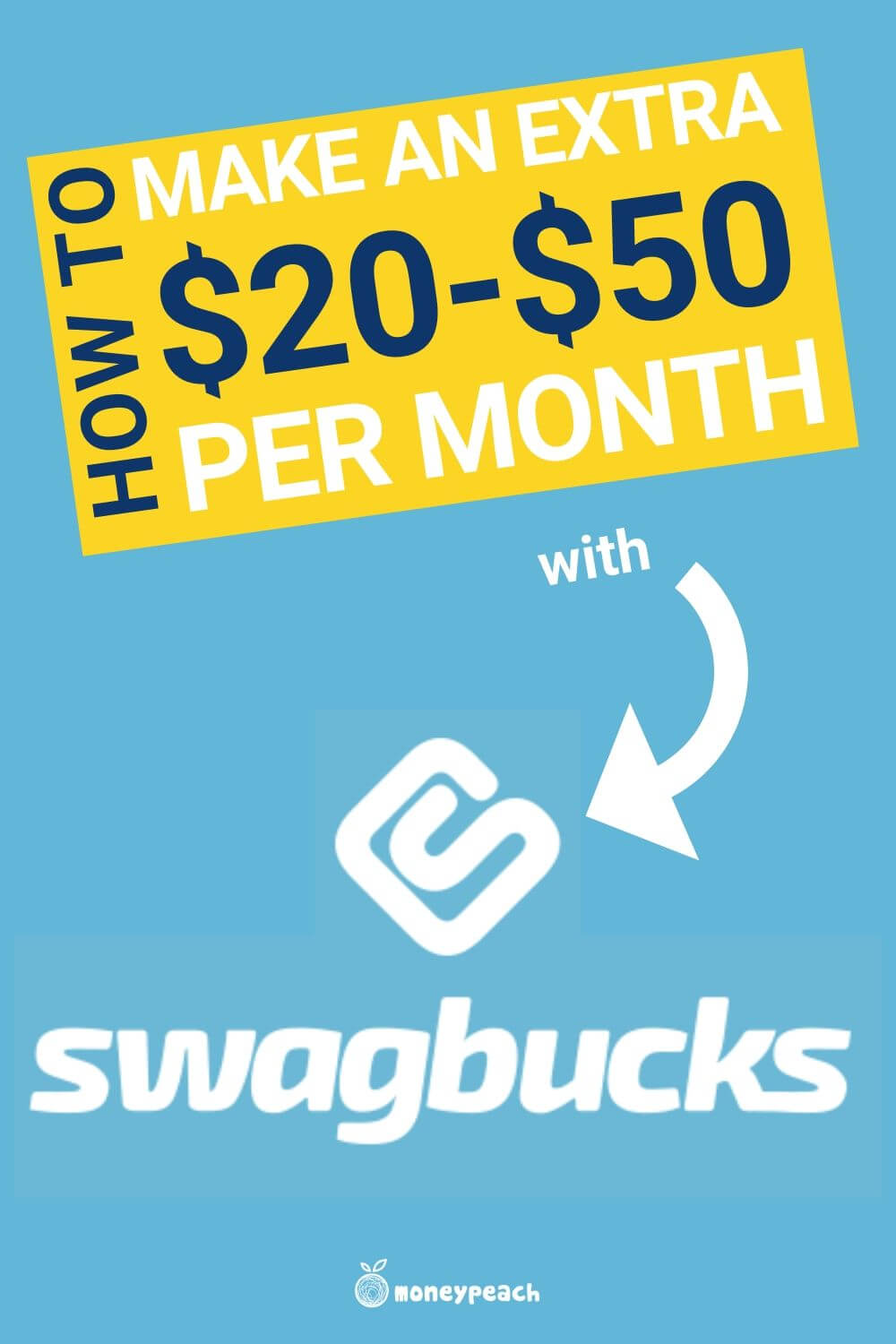 Swagbucks was founded in 2008 by a company called Prodege. Prodege was founded in 2005 and has a Better Business Bureau rating of A and a Trust Pilot rating of 4.3 out of 5. 
Prodege as a separate business operates to help brands boost engagement with customers. They founded Swagbucks in 2008 with the goal of rewarding users for online activity.
Since its inception, the company has paid out over 407 million dollars to their over 40 million users. In fact, their website says they give out 7,000 free gift cards every single day.
When you complete certain activities on the site, you are able to earn rewards. You can read more about the specifics of earning in the next section.
How Do I Make Money on Swagbucks?
Swagbucks will give you rewards points for completing a number of various activities on the site. Here is some information regarding the various ways you can earn points using Swagbucks.
1. Earn by Referring Others to the Site
If you ask friends, family members and acquaintances to sign up for Swagbucks, and they do, you'll get paid. For each signed up and active referral, you'll get 500 points.
For the record, a "point" on Swagbucks is worth 1 cent. So, 300 points, for example, equals $3. Now, the $3 sign-up bonus only applies if the person you sign up earns 300 points before the first of the following month.
Note: Using this link from Money Peach, you will get a $5 sign-up bonus.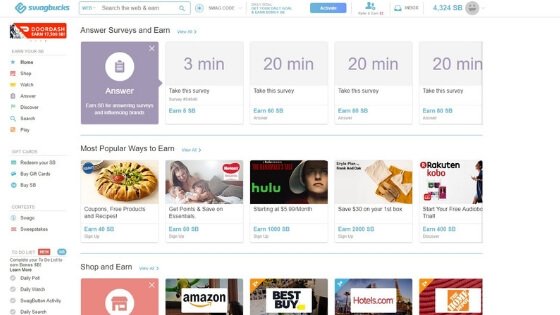 So, if you refer your best friend to Swagbucks and she signs up on the 15th of the month, she's got to earn 300 Swagbucks (SB) points within 15 days if you want to get your bonus.
Additionally, you'll get paid ten percent on all SB points that any referral you make earns. So if your BFF earns 1,000 SB points next month, you'll earn 100 SB points because you referred her.
Referring others to sign up can be a good way to earn SB points. It can result in some true passive income. If you are great at selling stuff, you could end up with a lot of referral revenue from Swagbucks
2. Earn Points by Taking Surveys
One of the main ways Swagbucks pays members is by having them participate in surveys. The surveys you find on the site can take anywhere from a minute to several minutes.
The surveys seem to pay relatively handsomely compared to other activities on the site. One of the things I like about Swagbucks' survey section is that they tell you up front how long you should expect the survey to take. They also tell you how many SB points you'll earn for taking each survey.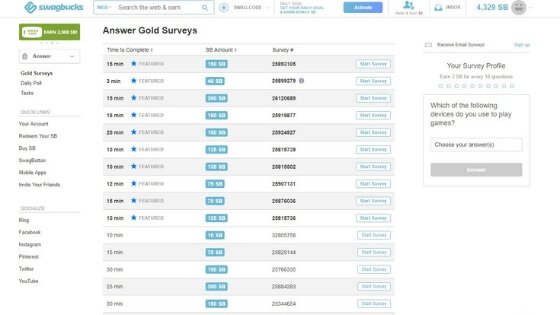 Note that regarding the surveys you do need to qualify to get full pay. Most surveys are searching for opinions from certain demographic groups.
So, you might get part way through a survey and find out you don't qualify or fit their demographic.
3. Earn Points Playing Games 
Swagbucks has three games you can play for free that will earn you SB points:
Swag Jump
Swag Memory
Swagasaurus Run
You can also play other games on Swagbucks and earn SBs, but those games are accessed through the GSN (Game Show Network). Note that you might have to purchase online coins to play some of those games. Read the fine print carefully.
4. Earn by Watching Videos
Yes, they will pay you SBs for watching videos. When you browse through the videos, you'll get thumbnails showing you how long they are and what they pay.
The videos usually consist of a series of short videos, but they'll let you know the total watch time before you start.
If you like watching videos anyway, this could be a good alternative to YouTube and other channels. At least with Swagbucks you earn some money.
5. Earn When You to Shop
On the homepage you'll find thumbnails for shopping deals as well. They might offer to pay you $5 for purchasing a $50 item, for instance.
This option for earning, however, can be risky. If you're continually buying stuff you don't need you could put a big hole in your pocket.
Don't be tempted to spend on something you really don't need or want just so you can earn some SBs.
6. Earn for Taking Advantage of Deals or Trying New Products
Swagbucks will also pay you points for trying new products or services. For instance, you might get 100 SBs for trying a service like Personal Capital for 30 days.
Or, you might earn SBs for trying a product they send to your home.
Note that many of these services and products may cost you money if you don't cancel within the specified time period. Read the fine print and keep track of the products and services you try.
Cancel within the trial period if you're not interested in continuing with the product or service.
7. Earn by Searching the Web
Swagbucks will also reward you with points when you search the Web. Note that you have install the Swagbucks search bar to earn while searching. Note that not all searches will pay you points.
If you're on the Web a lot and do a lot of research, this could be a good way to earn. If you're just searching for the purpose of earning points, you can probably find better ways to earn.
So, what happens after you earn your points doing one or more of the above activities? How do you get your cash? What else can you get besides cash? I'll talk about that next.
How Do I Get Paid from Swagbucks?
So, after you get a certain number of points on Swagbucks, you have the ability to cash the points out. When you cash them out you can choose four different options for your points:
You can get a deposit into your PayPal account
They have a number of gift cards you can choose from
You can use your SBs to enter into sweepstakes they hold
They have a number of charitable organizations you can donate your earnings to
So, the options for getting paid are attractive. Everyone likes cash, don't they? And if you'd rather have a gift card, you've got a number of store options to choose from, including:
Walmart or Target
Amazon
Starbucks
PayPal or Visa
eBay
Lowe's or Home Depot
Sam's Club
Macy's
Olive Garden, Outback Steakhouse and Texas Roadhouse
And more. If you make the gift card choice, there's pretty much an option for everyone.
Choosing to enter sweepstakes (they're called "Swagstakes" on the site) can be profitable too. You could win a variety of prizes including more SBs, gift cards and other items such as electronic items.
And lastly, you can choose to have the monetary value of your SBs given to your favorite charity. All good options for the points you earn.
Who Can Join Swagbucks?
Anyone 13 years or older can join Swagbucks. The rewards program is currently available in the following countries:
The United States and its territories
Germany
Ireland
France
Australia
Canada
Spain
Portugal
UK
New Zealand
India
If you live in one of the above-mentioned countries and are at least 13 years old, you're eligible to join. Note that if you're considered a minor you may have to have parental permission to join.
Does it Cost Money to Join?
It's totally free to join Swagbucks. And it's free to earn points in most cases as well. Note that where you're required to spend money to earn (i.e. the shopping activities) you will have to spend money in the form of buying something.
Is it Worth it to Join Swagbucks?
Well, that's the gist of the program. So, what do you think? Is it worth joining? I won't make that decision for you, but I will summarize the pros and cons of the site.
What I Like About Swagbucks
One of the things I like about Swagbucks is that it's an organized site that makes it easy to find ways to earn. For instance, on the left sidebar of the home page, you'll find your "to do" list. The "to do" list lets you know of easy ways to earn points.
Also on the homepage, you'll find dozens of activities, along with the points you can earn by completing them. The site does make it easy to find ways to earn.
Because it's so easy to earn, you can easily work the site in your spare time. You can earn SBs while you're watching TV, waiting for an appointment or just have a half hour with nothing to do.
And, the rewards are good. Who doesn't like PayPal money? The gift card selection is pleasing as well.
I also like that you can start earning Swagbucks as young as 13. This could be a great way for teens to get some extra cash. That being said, there are some downsides to the site, in my humble opinion.
What I Don't Like About Swagbucks
The fact of the matter is that you just don't get paid very much for the activities you complete on the site. With one exception: the rewards can be handsome IF you're buying something.
That, at least in my mind, kind of defeats the purpose. When I'm searching for online income, I want to MAKE money, not spend money. So yeah, I may have earned $3 on that $30 item I purchased, but I had to spend $27 to get it!
Unless you're committed to being disciplined about not buying things you don't need, it can be tempting to take advantage of the shopping deals they have on Swagbucks.
Also, the end of the day the hourly wage you get paid for completing activities on Swagbucks may not be worth it for you. Earning money with Swagbucks cannot be your full-time job -it's much better to utilize Swagbucks for extra spending money throughout the month versus making rent.
I would estimate you can make an extra $20 – $50 per month with Swagbucks depending on what activities you choose to do.
My Recommendation
I like Swagbucks for what it is — a platform where you can earn a few extra bucks each month by participating in some of the activities they offer. However, I have read too many reviews out there that claim you can make a lot of money with Swabucks, and that is just not the case.
Just do the math — if they have paid out over $400 million to 40 million users, then on average each user has only made $10. 
But, that means you can also spend time on your phone making money versus the alternative of browsing social media for free. Also, Swagbucks does offer more than just taking surveys which is why it attracts so many users. However, if you're looking for the best site for just surveys, then I would recommend Survey Junkie. 
The verdict: Swagbucks is a great way to earn $10 – $50 per month from your phone or desktop.