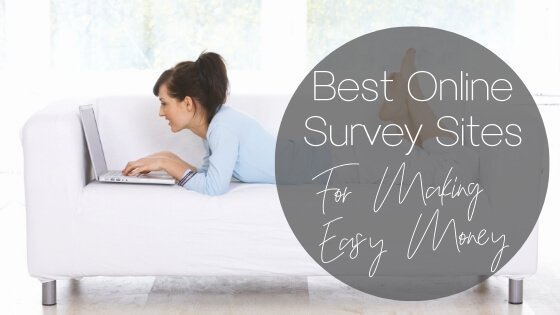 Online surveys are a great way to earn extra money throughout the month for very minimal effort. You are not going to get rich by any means, but you will have the opportunity to earn money to pay for gas, have a date night, or even create extra spending money throughout the month.
There are a ton of survey companies out there, but only a few of them are actually legitimate companies. Therefore, I have scraped through dozens of these survey websites to personally test and review each one of them. The following are the absolute best online surveys we could find and test for you.
Survey Junkie is one of my favorite survey sites and in my opinion they have the most user-friendly site for surveys. In addition to being extremely user-friendly, I also love their transparency.
They state, "you're not going to get rich from taking surveys". However, you can get started for free, take their surveys at anytime, from anywhere, on any device, and earn cash for your next tank of gas, a night out at a restaurant with friends, or for side-hustling your way to saving money and paying down debt.
After taking a survey, you will earn points to redeem for either cash into your PayPal account or e-gift cards. Open to those living in the U.S., Canada, or Australia.
You will earn points, AKA Swagbucks, for watching promotional videos, participating in polls, taking surveys, buying products, playing games, and searching the internet through their own search engine. If you spend a few minutes a day doing these activities, you can earn enough points to be redeemed for Amazon Gift Cards, cash via PayPal, or prepaid cards from Visa.
To get started, Opinion Outpost will send you a quick little survey to learn more about you. Basically, they want to know what you like and/or dislike, so they only send you surveys that are relevant to you.
Once you're all set up, you can start completing surveys and will be paid out in the form of CASH (via PayPal) or via Gift Cards to brands like Amazon and iTunes. You can wait for surveys to come to you or you can login to Opinion Outpost when you have some free time and start completing surveys at a time that's convenient for you. Only open to people living inside the United States.
Pinecone Research is one of the most popular surveys among survey members and is one of the top-rated survey sites by the survey panel industry. The only way to sign up for Pinecone Research is though an invitation from an existing Pinecone member or from a trusted website.
You will be sent unique and thought provoking online surveys via email on a variety of different topics. Each survey will take 15-20 minutes to complete and once you've submit a completed survey, you will be awarded 300 points, which is equivalent to $3.00 USD ($3.00 Canadian and £3 in the U.K.) and you can cash out at any time.
You have the option of payment via a check in the mail, PayPal, Amazon gift cards, or merchant-specific gift cards (iTunes, Wal-Mart, and Starbucks to name a few)
Bonus: In some instances, Pinecone Research may send you a product to test and occasionally will let you keep it after your review!
This company will pay you in the form of Amazon Gift Cards, iTunes Gift Cards, and Starbucks Gift cards just to name a few. In order to earn these rewards, you need to fill out their online surveys they are actually pretty entertaining.
This company will actually pay you in the form of VISA Gift Cards, Amazon Gift Cards, iTunes Gift Cards, or even a Kindle Fire. If you want any of these rewards, they are going to either send you out a scanner or you can download an APP on your smartphone. Your job is to scan the barcode of the items you purchase each week with your app or handheld scanner which is then reported back to the survey company. In addition, they also have online surveys you can take to earn rewards as well.
Inbox Dollars is a rewards club that pays you in cash for completing a variety of online activities. This can include searching the internet, filling out surveys, printing off coupons, and shopping online. My feeling is this; if you are already doing these things, you may as well get paid for it, right?
As an entirely take on the "Nielsen family," you earn rewards points by sharing your internet activity instead of your tv viewing habits with Nielsen Digital Voice. And, you'll be invited to special survey opportunities throughout the year.
There are no guaranteed rewards, but you will be entered in the monthly $10,000 cash sweepstakes and can enter other monthly giveaways as well.
Panel PayDay is an all-in-one survey site that helps you find the best opportunities on a variety of survey sites. You can earn up to $75 in cash or gift cards depending on the survey's payout method.
Take surveys, open sponsored email, watch videos, and look for rewards codes with Vindale Research. All surveys pay cash that can be delivered via check or PayPal. You must be at least 18 years old and a resident of the U.S., Canada, Australia, or the United Kingdom.
For daily survey opportunities, visit EarningStation. You will also earn rewards points by watching videos, redeeming coupons, and signing up for offers (Express Deals). Points can be redeemed for PayPal cash or gift cards.
Bonus: Visit EarningStation at least once a day at least 10 days in a row to earn a cash bonus!
SurveySavvy offers two different earning opportunities:
Online surveys
Behavioral research
By sharing your internet activity with the SavvyConnect behavioral research software, you can earn money even when you're not taking traditional online surveys.
All payments are sent by check to valid U.S. mailing addresses.
If you don't have a desktop or laptop to install SurveySavvy's research software, MobileXpression lets you share your internet activity from your phone or tablet plus paid surveys. Rewards points can be redeemed for cash, gift cards, merchandise, and weekly prize drawings.
You must own either an iOS smartphone or tablet and be at least 18 years old to join. MobileXpression is also available for Android.
One of the largest survey sites is Ipsos i-Say which is often quoted in national news reports. You earn points with every survey and are automatically entered into a prize drawing too. Your points can be redeemed for gift cards or PayPal cash.
Answer surveys and read emails to make money with Panda Research that pay up to $25 per task. You might like Panda Research because they send payment by PayPal on the 1st and 15th. Only U.S. citizens are allowed to join.
PrizeRebel is a pure online survey site. Earn points for every completed survey that can be redeemed for cash in the form of Visa debit cards or PayPal. You can also redeem your points for 300+ gift cards or Bitcoin.
YouGov asks your opinion about consumer brands and current political events. You earn points with daily survey invitations and polls to redeem points for cash and gift cards. Membership is open to U.S. and Canadian residents at least 14 years old.
As its name implies, GlobalTestMarket is a survey site open to citizens from over 40 countries. You will earn points or sweepstakes entries for each completed survey for gift cards or PayPal cash.
Toluna is another large survey site that doubles as social media platform. When you're not taking surveys, you can interact with other Toluna members to earn more rewards points. Your rewards points can be redeemed for cash, gift cards, and merchandise.
Bonus: Another fun way to earn points is to test product samples.
You might only receive a few survey invitations each year with American Consumer Opinion, but you can earn up to $50 per survey and only take 10 minutes to complete. And, you might be invited to test products. Rewards points can be redeemed for PayPal cash.
For ladies only, Surveys4Moms features surveys that parents will enjoy answering about consumer products that ladies and mothers use. Once your rewards balance reaches $20, you can request payment by PayPal.
Adults and teens can participate in OneOpinion surveys and product testing opportunities. The rewards points you earn can be redeemed for PayPal cash or Visa debit cards. Membership is open to anybody at least 13 years old that lives in the U.S., Canada, or Western Europe.
With VIP Voice, you earn rewards points to enter auctions and sweepstakes to win. As you answer more surveys, you will qualify to enter more lucrative giveaways. If you prefer guaranteed rewards, VIP Voice probably isn't the best option for you.
Most OpinionPlus surveys only take between 10 and 15 minutes to complete. OpinionPlus also has a relatively low redemption threshold as you'll get paid monthly via PayPal when your rewards balance is at least $10. To join, you must be at least 13 years old and have a PayPal account.
Feel like an all-star with SurveyAllStars when you take a survey with one of their partners. Depending on the survey partner payout method, you will either earn cash rewards or points. You can take as many surveys as you want each day.
CashCrate is another site that lets you earn rewards points for the following activities:
Online surveys
Product testing
Online shopping
Playing games
Referring friends
You must be at least 13 years old to join and all rewards are paid by check on the 20th of each month.
ClickPerks is a flexible site to earn and redeem rewards points. You can earn points for online surveys, reading emails, shopping online, and performing web searches. Rewards points can be redeemed for cash, gift cards, and merchandise.
MySurvey lets you take online surveys and polls from your computer or mobile devices. Rewards points can be redeemed for gift cards or PayPal cash. Membership is open to U.S. residents at least 16 years old.
Opinion Bureau pays you rewards points to take surveys and answer opinion polls. Points can be redeemed for gift cards and PayPal cash when your balance reaches $10. Membership is open to most countries.
A mobile-only platform, LifePoints lets you participate in surveys, daily challenges, quizzes, and personality tests to earn PayPal cash or gift card rewards. LifePoints is only open to U.S. residents at least 14 years old.
Bonus: Look for "Boost" opportunities to earn bonus points
Mindswarms is 100% video surveys that you record with your webcam or smartphone. You answer seven questions in less than ten minutes and earn $50 for each survey. All payments are made via PayPal and membership is open to everybody in the world.
iPoll pays you rewards points for answering surveys about products and services you use. Rewards points can be redeemed for PayPal cash and gift cards. Plus, you'll be entered into the $10,000 quarterly cash giveaway too.
ParentSpeak is an online community where parents can connect to give and receive advice through forum discussions and be rewarded for sharing their thoughts with paid surveys. Most initial surveys pay $1 and follow-up surveys pay up to $50. You will receive a mailed check for your rewards.
A survey site exclusively for U.S. teenagers between 13 to 18 years old, TeensEyes collects teens' opinions on consumer brands with a monthly survey. Rewards points can be redeemed for cash or gift cards with annual earnings limit of $600.
KidzEyes is one of the very few survey sites open to children. With their parents' permission, children ages six to twelve in the U.S. can take a monthly survey to earn rewards. You can request payment by PayPal or check when your balance reaches $10.
Survey Spot lets you complete online survey and exchange your rewards points for one of the following rewards:
PayPal
Amazon gift cards
iTunes gift cards
Airline miles
You'll also be automatically entered into the quarterly $10,000 prize drawing.
You will earn rewards points for each survey you complete on OpinionSquare to redeem for cash, gift cards, or prizes. All members are also entered into the monthly $100,000 cash giveaway! Open to U.S. and Canadian residents.
Earn up to $5 per survey with Valued Opinions. Some of the rewards options include gift cards to Amazon, Macy's, and Target. Only U.S. residents can join and the minimum age to join is 13 years.
The entire family can participate in paid surveys with PanelPolls! Rewards points can be redeemed for PayPal cash or gift cards. You might even be invited to a local in-person focus group for an even larger reward!
Sharing your opinion on ClearVoice Surveys about products and services you use on a daily basis. Possible rewards include:
Amazon gift cards
Payoneer prepaid debit MasterCard
Dining Dough gift cards
Membership is open to U.S., U.K., and Canadian members once you earn $10 in rewards.
Crowdology is a growing survey site. Most surveys take between five and ten minutes to complete. Your two rewards options are PayPal cash with an $8 rewards balance or Amazon gift cards with a $10 minimum balance for U.S. residents at least 18 years old.
What can be cooler than taking surveys for Google? Surveys might ask your opinion about Google marketing campaigns, consumer brands, and even location-based merchant surveys. For your effort, you will earn Google Play credits that can be redeemed for any prize in the Google Play Store including books, movies, music, and Android devices.
Besides its online store, Amazon also owns the MTurk survey site that pays you in Amazon credit or cash. Most of these surveys are university research studies. In addition to surveys, you can also get paid to complete online micro-tasks like data entry, transcribing audio, and performing web research.
Influence future products and services with Consumer Opinion Institute. You will receive up up to two surveys by mail and one online survey invitation each month that take up to 20 minutes to complete. Depending on the survey, you will either earn cash or prizes.
MindField Online will invite you to participate in opinion surveys and focus groups. Some of the potential rewards include PayPal cash and Amazon gift cards. You must be at least 15 years old to join and live in the U.S.
Get paid to test and offer your opinion by testing apps and websites. UserTesting will pay you $10 via PayPal for every 20-minute you produce as you complete a series of tasks and verbally express your opinion. To become a tester, you must be at least 18 years old and own a PC, Mac, Apple iPhone or iPad, or Android phone or tablet.
U.S. Latinos can take surveys that want to hear the Latino voice. You can expect one or two surveys each month and will be paid via check when your balance reaches $15.
Mobee pays you to mystery shop with their smartphone app. Find a local mission once you walk into a participating store and answer between five and ten questions about your experience. Most Mobee missions take about five minutes to complete and you will be rewarded with gift card and prizes for your effort.
Earn Amazon gift cards by taking paid surveys and testing various products, apps, and websites with TestSpin. You must be at least 13 years old to register. For tax purposes, you can only earn up to $600 in rewards each year.
Surveys On The Go is an app-based survey site to take surveys with your smartphone. You will receive a notification when a new survey arrives and you will be paid via PayPal. Any U.S. resident at least 16 years old can join.
Calling all medical professionals! Healthcare professionals from all over the world can take opinion surveys and focus groups to shape the medical industry. You will earn points with each activity and can cash them out for PayPal cash.
CVS customers will receive a few survey invitations each year about their CVS shopping experiences. Your opinion will can influence their products, services, and philanthropy. In exchange for your time, you will earn ExtraCare savings and prizes.
Frequently Asked Questions
How Do I Get Paid or Earn Gift Cards?
You will normally earn points which you will later redeem for cash via PayPal or e-gift cards to top online retailers such as Amazon, Wal-Mart, iTunes, and Starbucks. In my experience, you will get paid the quickest by setting up your PayPal Account with the survey site to get your rewards instantly.
How Much Time is Required?
On average you can expect to spend 10-15 mins per survey.
What Kind of Surveys Will I Fill Out?
When you sign up for a survey site, you will be asked a few questions to get a feel for what kind of surveys would most likely interest you.
How Often Will I Receive Surveys?
This depends on how often you fill them out. If you are someone who fills out every single one you receive, then you can expect to receive up to 3 per day. If you are someone who is hit or miss, you will only receive periodic survey requests. The more surveys you complete, the more money you will earn.
I Need to Make Extra Money, What Do You Recommend?
If you are looking to hustle right now to make some extra cash, I would sign up for several of them. They are all free to join, you can opt out at anytime, and you will also have much more opportunity to earn money from home during time you would otherwise spend surfing Facebook, Twitter, Instagram, and watching television.
If You're Lovin' the Content, Your Friends Will Too!
Whether you're looking to earn extra cash this month for a date night, a tank of gas, a new shirt, or simply want some extra money to throw at debt, then online surveys are going to fit in perfectly for you! If you think a friend or family member could benefit from hitting up a few paid surveys this week, please share this with them!
Making money awesome one day at a time,
-Chris Peach
---
https://www.moneypeach.com/wp-content/uploads/2018/01/Best-Online-Surveys-Sites-FI.jpg
315
560
Josh Patoka
https://www.moneypeach.com/wp-content/uploads/2016/06/moneypeachLOGOhomepage.png
Josh Patoka
2018-01-17 10:57:52
2018-05-07 18:15:31
The 52 Best Survey Sites for Making Extra Money