Have you heard of companies paying you to take surveys? I'm guessing you have. There are dozens of them out there. But are they legit? Not always.
Some companies want you to pay them before they pay you. Others have this never-ending circle of questions you answer, and in the end you're not even paid.
If you've heard of survey companies, you may have heard of Survey Junkie. But is this a survey site worth your time?
I'll do an in-depth review today about how they work. I'll share all of the details you need to know so you can decide for yourself if they're legit. You'll know if it's a real way to earn extra cash or not.
Survey Junkie Review
Name: Survey Junkie
Description: Survey Junkie is one of the most trusted sites among all survey companies. They currently have over 3 million active users and a TrustPilot rating of 8.7/10.
Quality of Surveys

Earning Potential

Mobile Optimized

Amount of Time Required
---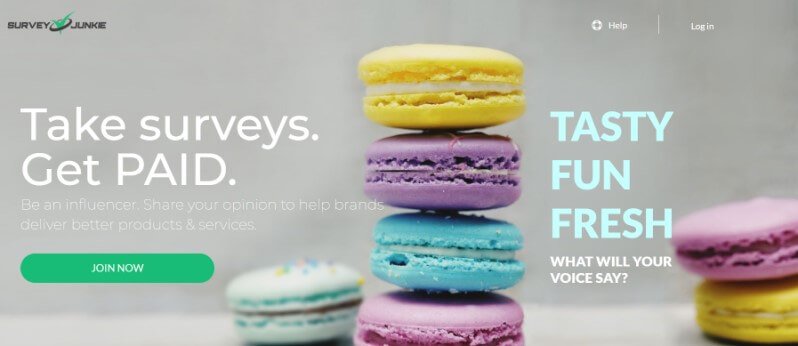 What is Survey Junkie?
When you go on the Survey Junkie website you won't find a lot of information about the company. However, it does say that they have over 3 million members.
I did some digging and found out they've been around since 2013. They were founded in Glendale, California. "Share your voice. Influence change. Get paid." This is their tagline.
It sounds good enough. I mean, any good company will want to know its users opinions. It helps them shape their products and services.
If something's not selling, it's nice to know why. What better way to get that information than from customer surveys?
However, customer surveys take a lot of effort to put together. Why not use an outside company specializing in customer opinion to help you out?
And most people will not give a company their time for free, so it makes sense to offer payment. Survey Junkie isn't alone in paying people for their opinion.
But are they one of the "legit" companies? Yes. However, there's more you need to know before joining.
How Do I Sign up for Survey Junkie?
Signing up for Survey Junkie is easy. Just click the "Join Now" button on the home page. Next, you will create an account using either a Facebook or Google+ to sign up. If you don't have either, you can use any email address.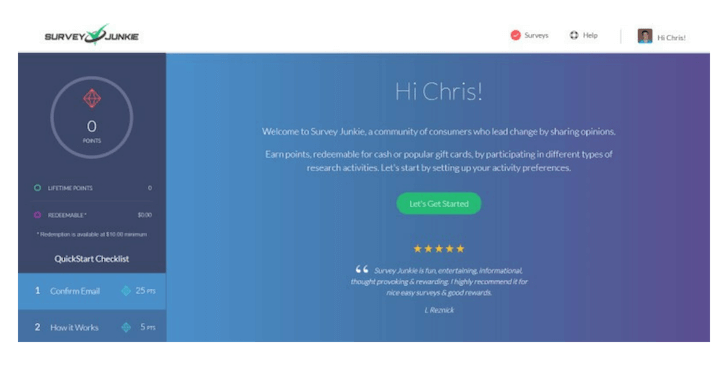 After that they'll ask you a few demographics questions. Questions about:
Your household and its members
Current income
And your lifestyle
It might seem weird that they want to know this stuff, but it's important for matching you up with surveys. Companies using Survey Junkie want to survey their target audience.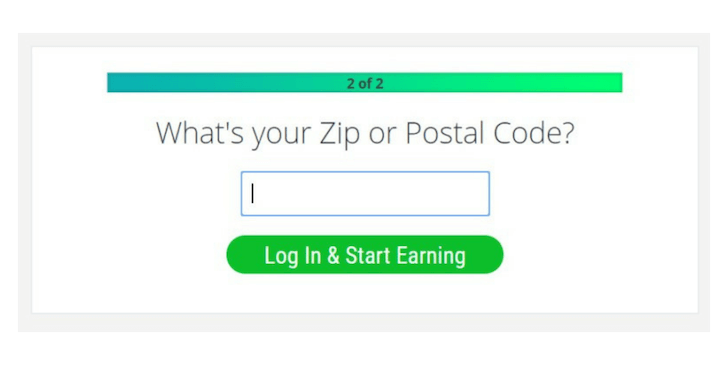 Survey Junkie uses the information you give them to match you with surveys based on your lifestyle. This process helps you influence brands you use the most.
After you answer the demographics questions you'll get a list of available surveys. Survey Junkie will also email you available surveys going forward as well.
Bonus: You will earn points for completing your profile fully.
**You have to be at least 13 years old to join Survey Junkie. Also, you need to be a resident of the U.S., Canada or Australia.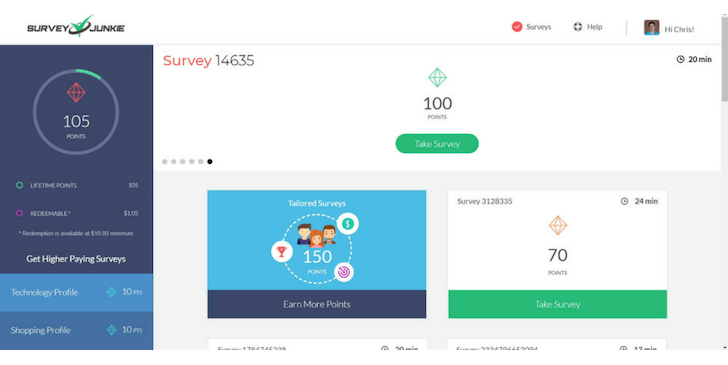 What Are the Surveys Like?
The surveys you'll receive vary in content and length. Some will be super-short, like 5 minutes, while others will take up to 30 minutes.
When you receive the surveys in your email, they'll tell you how long the surveys take and how many points you'll earn by taking them.
This is nice because you can choose to do the surveys you have time for. And you can do them in your spare time.
You don't have to set aside an hour or two if you don't want to. It's easy to earn points while you're watching TV or waiting at an appointment.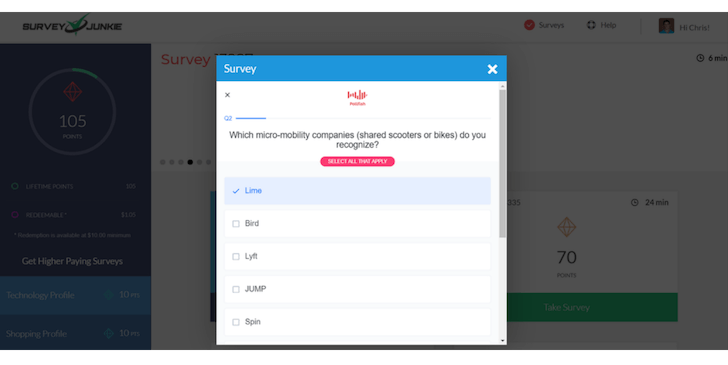 Another great thing about Survey Junkie is that there are plenty of surveys to choose from. Some companies will only send surveys once or twice a week.
However, Survey Junkie typically sends out several per day. That equates to more chances to earn points (i.e. money).
The content of the surveys they send you will vary as well. One survey they might ask you if you've tried a particular product. The next day you could receive a survey about your habits in a certain area. One survey I was sent asked "How many times a week do you go out to eat?"
The questions are pretty easy and you'll be able to answer most off the top of your head.
Other Ways to Earn Points with Survey Junkie
Besides taking surveys, there are other ways to earn points with the company. Here are some of them.
Join a Focus Group
Survey Junkie might ask you to join a focus group. These groups typically pay more than surveys do. They are informal settings where people share their opinion.
Refer Friends
You can earn points by referring friends to Survey Junkie too. Survey Junkie will give you a referral code friends can use when they sign up. If they use your code, you get points.
Test Products
Occasionally – very occasionally – Survey Junkie will send you an opportunity to test a product. Sometimes you'll get paid to test the product.
Other times your payment is just being able to keep the product itself.
Other Actionable Items
Survey Junkie will email you about other actions you can take to earn points too. You'll see a number of points with a green button on the email if you can earn from it.
But How Do I Get Paid from Survey Junkie?
This is the real question we all want answered, right?
It's simple – you'll earn points for every survey you complete with Survey Junkie. As I mentioned, the emails will tell you how many points you get for the survey before you start.
Or how many points you'll get from taking other actions. After you've earned 1,000 points you can cash out. 1,000 points is equal to $10 in cash or gift cards.
You will get your payment in 1 of 3 ways:
By PayPal transfer (available in all countries)
Via a store e-gift card (available only for U.S. members)
A direct transfer to your bank account via Dwolla (U.S. members only)
They have a number of e-gift card choices available if you like that option. Walmart, Target and Amazon are some of the more popular options.
Pro Tip: If you choose the PayPal option you'll have to cash out all of your points. Therefore, if you want some in a gift card and some in PayPal, choose the gift card option first. Then transfer the rest to PayPal. Keep in mind that you need 1,000 points minimum to make a transfer.
How Much Money Will I Make with Survey Junkie?
Let's be honest; you're not going to replace your full-time income with Survey Junkie. However, you can make a few extra bucks each week.
The exact amount you earn depends on the types of surveys you take and on how many you take. Whether you take advantage of other opportunities like focus groups makes a difference too.
If you work regularly, you could make enough in a year to cover an extra expense like a vacation. Or your Christmas gifts. However, you won't get rich with Survey Junkie.
Is Survey Junkie Legit?
The Verdict: Survey Junkie is a legitimate way to earn side cash but not a full-time income.
Survey Junkie remains to have one of the highest ratings among survey companies. In fact, Survey Junkie does have an TrustPilot rating of 8.7/10 with over 3 million active users.
Although, it isn't a great ideas to use them as a primary source of income, it is a great way to utilize spare time to bring in some extra cash. If you like to shop, it's also a great way to earn free Amazon gift cards.
However, if you're really looking to replace your income, I'd suggest checking into some other options.
There are plenty of other side hustle options out there where you can earn real income to eventually replace your full-time job.
Side Hustles for Earning Serious Cash
The number of side hustles out there is nearly endless. There are SO many options and I recommend finding the perfect side hustles for you by following the directions below.
1. Make a List of Your Talents
What are you good at? Can you write? Are you detail-oriented? Do you have a knack for cleaning and organization?
Write down a list of all of the things you're good at.
3. Make a List of Your Interests
Next, make a list of things you like to do. This list might be different than the one above, or it might be the same.
For instance, maybe you like being around kids but you've never babysat before. Or maybe you like cleaning cars. Maybe you like helping others.
Write down five or ten things you like doing.
4. Make a List of Coordinating Side Hustles
Now that you know what you like to do and what you're good at, make a list of side hustles that fit in with those likes and talents.
If you're good with kids you could put babysitting or tutoring on the list. Are you a good writer? Put "freelance writer" and "resume' writer" on the list.
If you like doing lawn care you could work mowing lawns or raking leaves. You get the idea. But in case you don't, here are some valid side hustle ideas you can take and make your own.
Side hustling can help you earn serious money. In fact, Peach and his wife were able to pay off $52,000 in consumer debt in just 7 months, in large part thanks to his side hustle of cleaning pools.
So, don't write off side hustling as a waste of time. In fact, it can be life-changing like it was for Peach and his family.
Here are some side hustle ideas to get you started.
Bonus: You can also see our full list of the best side hustles here.
Offer Services to Friends, Family and Neighbors
There are dozens of services you could offer to those you know. Some ideas are listed below.
Lawn Care and Maintenance
Do you like caring for lawns? You could mow lawns for people. Or you could rake leaves, shovel snow or do light landscaping jobs.
If you keep your services basic the tools you'll need will be minimal. A lawn mower, leaf blower, shovel and compost bags should do it.
You could offer to do basic landscaping such as trimming bushes too.
Child or Pet Care
Do you like kids? Or Pets? Why not offer child or pet care services? People often need help in the child care arena.
This might mean daytime care while parents work or nighttime care for an evening out. It's not unusual to make $10 per hour or more caring for kids.
Another option would be to offer tutoring services. Kids often need help with reading, math or other subjects.
Not a big kid fan? Why not care for pets. There are several options you could choose from as far as which services to offer:
Caring for pets when owners are at work or out of town
Dog walking
Doggie doo-doo cleanup
Advertise your services to neighbors and loved ones with pets. You could post your services on a professional site like Care.com too.
Handyman Work
Are you good at basic household and/or auto repairs? Why not start a handyman business. Many people are too busy to fix things around the house.
Others just don't have the knowledge or skill. Make a list of the services you offer. Give a basic idea of rates, too. Or mention that price depends on the job.
Advertise to neighbors and loved ones or on Craigslist.
Cleaning and Organization
I for one would LOVE to have a more organized house, garage, etc. If you've got a knack for cleaning and organizing, you could use it to make some serious cash.
Some popular times people like to take advantage of "big" cleaning or organization services:
In the spring
In the fall
Before major holidays
(Hint: you could offer decorating services too). You could always offer services by the week or month too.
Come in and do basic dusting, vacuuming, bathroom cleaning, etc. Charge by the hour or by the job.
These are just some of the ideas for services you could offer to people you know. How about checking out these other side hustle ideas?
Get an Online Job
There are dozens of jobs you can do online working for companies or individuals. Here are some ideas.
Work as a Customer Service Rep
Do you like helping people? Do you have a PC, Internet access and a headset? Why not work as a customer service rep?
Companies everywhere (think Amazon and UHaul) are hiring work-from-home customer service reps. You train via an online manual and you're ready to go.
Qualifications include good customer service skills, good problem solving skills and responsibility. These jobs often come with a variety of available working shifts too.
That means you could find day or night hours.
Do Data Entry
Data Entry involves inputting information into a document or site. It's basically typing. Companies hiring data entry techs need people with high typing speed and accuracy.
One nice thing about data entry work is that it's easy. You're basically just copying information to another spot. I find it a quite calming job. Just you and your keyboard.
However, the speed and accuracy part is of vital importance. Data entry work can often be done at all hours too. This means you can do the job when it's convenient for you.
Search online sites like Indeed or Craigslist for data entry jobs from home.
Transcription Jobs
You might enjoy being a transcriptionist from home. Transcriptionists take recorded information and type it into a computer. There are two basic types of transcriptionists:
Both positions require some training – the medical transcriptionist more so. Look for valid online sites to find work-from-home transcription jobs.
Now onto some side hustles that give you a bit more flexibility.
Own Your Own Online Business Side Hustles
There are other ways to make money that are more flexible. However, these do involve managing your own business.
You'll need to keep track of income and expenses. A time may come where you need to manage staff. But the freedom that comes with controlling your income is exhilarating.
I've been doing my own business side hustles for six years now. And I can honestly say it ROCKS working for yourself.
YOU control your income. And choose your clients. YOU choose your working hours. YOU choose your rate of pay.
And you choose how big your business grows – or doesn't. Here are some online side hustles you can do as a business owner.
Start a Virtual Assistant Business
A Virtual Assistant (VA) helps business owners with a variety of tasks. Some of the things they help people with include:
Calendar and time/appointment management
Social media management
Bookkeeping
Data entry
Website management
Web research
And more. Basically, as a VA is an assistant you works for you only online.
If you're good at helping people this could be a great business for you. Check out our article on How to Become a Virtual Assistant for more information.
Start a Graphic Design Business
You could work from home as a graphic designer too. While intricate graphic design work often requires a degree, there are basic graphic design jobs too.
For instance, you may be able to make money uploading designs to CafePress. CafePress takes your design and sells on t-shirts, home decor and more.
Some of the items they sell include:
T-shirts and sweatshirts
Coffee mugs and water bottles
Phone cases and laptop covers
Tote bags and blankets
And more. What's really cool about this side hustle is that CafePress handles all of the shipping and customer service.
Once you upload your design, you're done. I would recommend marketing your designs after you upload them. However, all of the work of creating and shipping the product is done by CafePress.
They'll just send you a commission check when your items sell.
Consider Website Design
Not interested in designing t-shirts? You could use your graphic design skills to help people design websites. We live in a world where people everywhere are starting blogs.
And companies need to update/freshen up their websites. If you've got a knack for design, you could start your own website design business.
Write a Book or Create a Course
Do you have valuable information you can share with others? You may as well get paid to do it. It's relatively cheap to create an e-book or online course.
And you can make it a "one and done" kind of a deal. You write your e-book, publish it on Amazon and share the link via social media.
Or, you create a valuable course and advertise the course on a website or Facebook. The key to success here is to create valuable, relatable content.
The content has to fill a need. For instance, Peach's Awesome Money Course teaches people how to take control of their money in a powerful way.
Peach shares the exact steps he and his wife used to get out of serious financial troubles. Yes, he makes money when people buy the course. But more importantly, he helps people.
Do you have an idea for a course or e-book that could really help people change their lives? If so, get working on production and start making money by helping others.
Sell Photos Online
Do you have a gift for photography? Companies like Shutterstock will pay you when the photos you upload to the site get bought on commission.
Blog and website owners look for photos to use for articles and website design. If they choose your photos you get a commission.
Note that there are certain technical parameters the photos have to meet. See the Shutterstock or other photo site for details.
Takeaway
At the end of the day, yes, you can make money with Survey Junkie. It's a legit site that can help you earn cash in your spare time.
The tasks you'll do to earn are typically easy and often quick. However, as I mentioned, you won't make life-changing, pay-off-your-debt, reach-financial-independence money.
If you're looking for life-changing money, consider the other options mentioned here. Like they did for Peach and his family, they truly could change your world.
You probably have goals, dreams and plans for the extra money you want to make. It's time to start achieving those dreams. Pick up a side hustle and use the money to reach your financial goals.