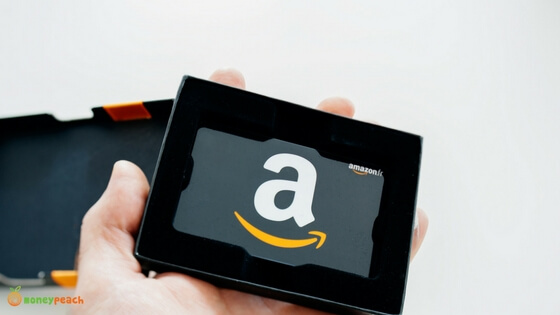 Today we are able to buy just about everything on Amazon. From groceries, to movies, to clothing and even cars, Amazon has everything you will ever need.
Which makes getting free gift cards to Amazon just about as good as cash, right?
So then, how do you truly get free Amazon gift cards?
I know what you're thinking – nothing in life is truly free. Fair enough, but what if there were companies out there that reward you with Amazon gift cards for extremely simple tasks? Even better, what if there were companies who would pay you in free gift cards to Amazon for doing things you're already doing?
Personally, we do very well each year with free gift cards from Amazon. In fact, I generated over $4,000 over the past twelve months in Amazon gift cards. And 100% of that went to things we were going to spend cash on anyways.
Now, are you going to read this and start making thousands of dollars in gift cards? Not a chance unless you create a blog like this one and have thousands of readers each month.
But, if you're looking to make $100 or more dollars every month in free Amazon gift cards, then let me show you how.
We will start off with earning gift cards through taking online surveys and then show you how to
Contents For This Post (Click to Open)
How to Get Free Amazon Gift Cards: Best Online Surveys
One of the easiest ways to get your hands on free gift cards from Amazon is through online survey sites. Most of these sites are similar, however they do differ in how and when you can "cash out" your gift card.
Survey Junkie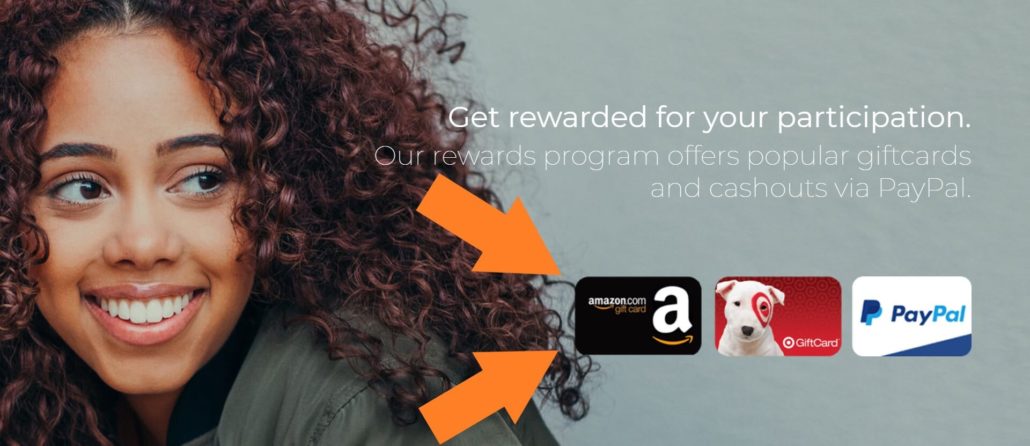 My number one choice is going to be Survey Junkie. I love this site because out of all the survey sites, they are by far the most user-friendly.
For every survey you take, you will generate points once completed. A typical survey will pay out 100 – 200 points and once you have 1,000 points, you can cash out for a $10 Amazon Gift Card. With Survey Junkie, every 1,000 points is equivalent to $10.
I also have a full Survey Junkie Review here if you would like to see exactly how it works.
Another reason why I really love Survey Junkie is they go beyond just Amazon gift cards.
In fact, at the moment you can redeem the following gift cards:
Groupon
iTunes
Sephora
Target
Walmart
Starbucks
You can get your gift cards instantly (digital gift card) or you can just get the cash value from the points via PayPal. As you can tell, I am a huge fan of Survey Junkie for a reason.
Swagbucks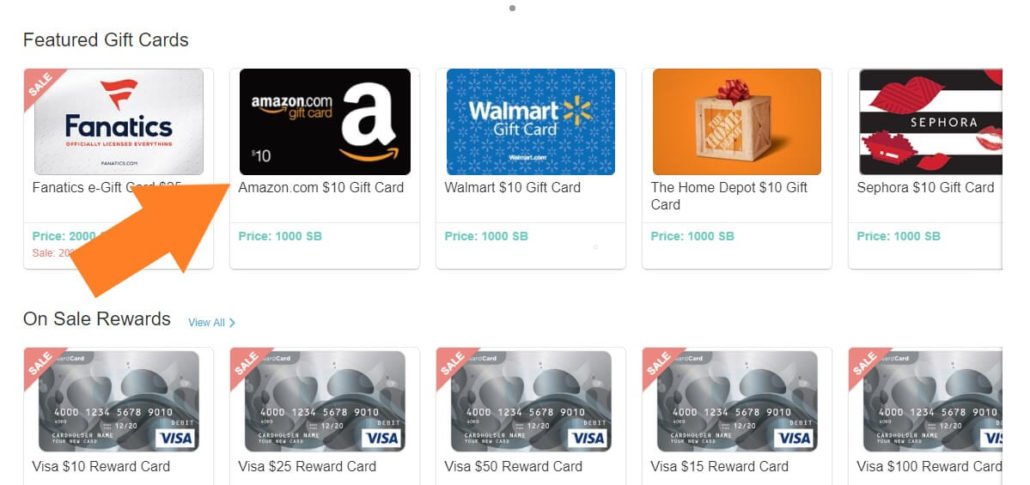 Swagbucks is one of the most flexible ways to get free Amazon gift cards because you have several different ways to earn rewards points:
Online surveys
Free product trials
Watching videos
Playing games
Shopping online
Performing web searches
As a new Swaggernaut, you will also have the opportunity to earn a $5 sign-up bonus that you can redeem for hundreds of gift cards including Amazon.
Another reason Swagbucks earns a top spot on this list is the low point requirements. Amazon gift cards are available in denominations as small as $3 during a Swagbucks promotion. With other online sites, you may have to accumulate at least $10 or even $20 in rewards before you can cash out.
We also have an step-by-step review of Swagbucks here to learn more.
Beyond Amazon gift cards, you can also redeem for plenty of other gift cards as well. Here are a few of my favorites:
Walmart
Fanatics
Home Depot
Sephora
PayPal
Starbucks
Target
Visa Gift Card
iTunes
Swagbucks is one of the original survey companies with a Trustpilot rating of 8.3/10.
InboxDollars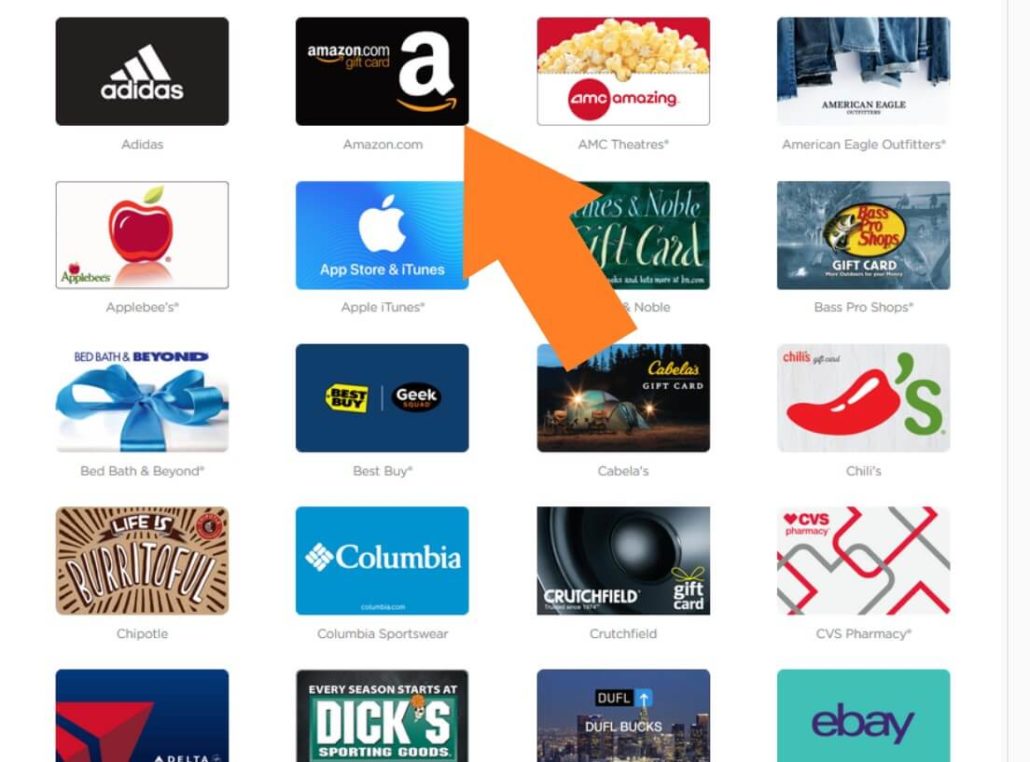 Another way to earn Amazon gift cards by doing what you already do online is with InboxDollars. You earn cash rewards for completing surveys, shopping online, testing products, and watching videos or playing games online.
Once your rewards balance reaches $30, you can redeem your balance for an Amazon gift card, cash, or other retail gift cards.
To learn more, here's an Inbox Dollars breakdown showing all the good and bad before you get started.
Need cash instead of Amazon gift cards? Then you need to start looking for some side hustle ideas.
PrizeRebel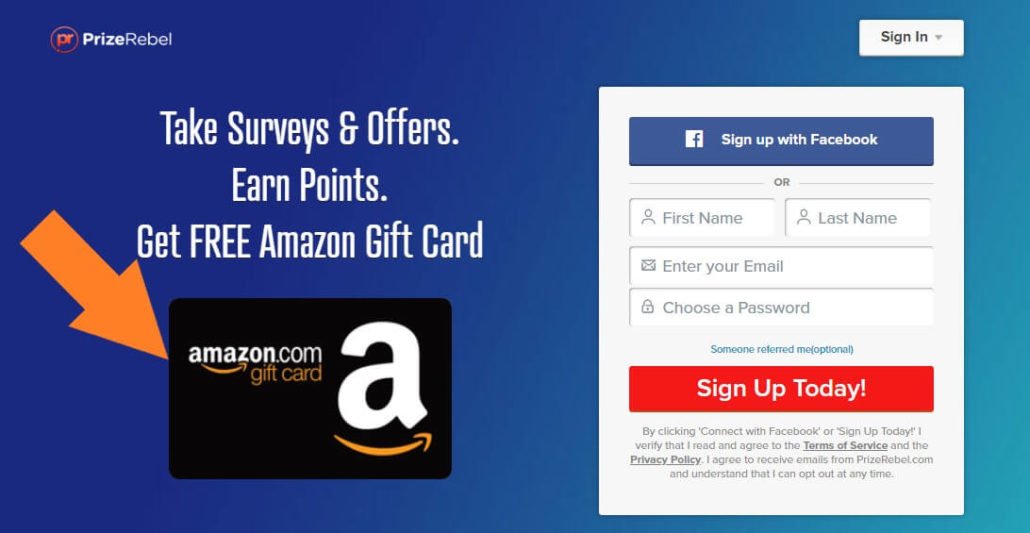 I really love PrizeRebel right now for many reasons. One is that they have been around a long time. In fact, PrizeRebel has paid out over $17 million to over 8 million members since 2007. To say they are one of the pioneers of the online survey space would be an understatement.
They of course have Amazon gift cards to cash out, but they also have over 500 other gift cards to choose from! Usually I will add a list below, but I'll let you put your imagination to work since there are over 500 places to shop!
Also, the smallest Amazon gift card they offer is only at $2. PrizeRebel can be used by anyone living in the U.S., Canada, Great Britain, and Denmark.
National Consumer Panel
Another way to get Amazon gift cards by scanning receipts is with National Consumer Panel. Once a week, you scan the barcodes of all the items you buy with the smartphone app. If you don't have a compatible smartphone, National Consumer Panel will send you a handheld scanner.
You can also take online surveys to earn bonus points. As a loyalty bonus, NCP rewards you with more points per scan by becoming a long-term panelist by sharing your purchase history on a regular basis.
You can redeem your points for Amazon gift cards, cash, or merchandise. As an additional bonus, you will also get free cash sweepstakes entries by scanning your barcodes too.
Opinion Outpost
Opinion Outpost is another one of the best online survey sites that lets you redeem your points for the following rewards:
Amazon gift cards
iTunes gift cards
PayPal cash
Another reason to consider joining Opinion Outpost is for their quarterly $10,000 cash prize drawing. You earn a free entry for each survey you complete plus earning rewards points.
Membership to Opinion Outpost is only open to U.S. residents.
MyPoints
MyPoints is the sister site to Swagbucks mentioned earlier in this article. You will get paid to take surveys, play games, watch videos, and shop online. Joining MyPoints in addition to Swagbucks helps ensure you capture the best earning opportunities and point redemption rates as both sites still operate independently of each other.
GlobalTestMarket
GlobalTestMarket is one of the very few surveys sites that lets international panelists take surveys for Amazon gift cards. Since 2016, members have redeemed more than $30 million in rewards by sharing their opinion on consumer brands, restaurants, automobiles, current events, and many other topics.
Ipsos I-Say
Ipsos I-Say is another large, long-standing survey company and I-Say is their online survey site. Users of I-Say can live in the United States, Canada and the U.K.
The great thing about I-Say is you can actually cash out your gift cards starting at a $5 balance.
And, just like most other survey sites, you will earn points for taking online surveys. One hundred points is equivalent to $1, therefore you will need 500 points to claim your first Amazon gift card of $5.
I-Say will also digitally deliver all of your gift cards. And similar to Survey Junkie, Ipsos-iSay will allow you to choose beyond just Amazon gift cards. Here's just a sample of what other gift cards they have to offer:
Home Depot
Sephora
Gap
Banana Republic
Old Navy
XBOX
Target
Playstation
Walmart
Starbucks
Visa Gift Card
Free Amazon Gift Cards: For Playing Games
Are you someone who already loves playing games online or from your phone? If so, you may as well get paid in real money or with Amazon gift cards. The ones listed below will pay in Amazon gift cards, but we have a whole list of games that will pay you in cash, cryptocurrency, or other gift card retailers.
Appdown
Do you like to play games on your smartphone? Appdown pays you to try the latest and greatest games, plus you earn bonus points by referring friends and sharing your victories on social media. Membership is open to over 100 countries and Appdown works on Android and iOS devices.
If playing games online is something you love doing, here are the top sites that pay you play games online.
AppNana
Test apps and games on your phone or tablet and earn rewards points (nanas) that can be redeemed for Amazon gift cards or paid apps. The testing opportunities are always changing and you can uninstall the app after the trial period if you don't like it and still keep your points. AppNana is available for Android and iOS devices.
Many of the other get-paid-to sites only pay you a few points per day to watch videos, but you can earn up to $5 a day–enough to earn a $5 Amazon gift card every day!
Get Free Amazon Gift Cards: For Shopping
If you don't want to take online surveys, no problem! Did you know you can earn cash back when you shop online? Or, did you realize not only could you be saving tons using some of these apps, but they will also pay you in Amazon Gift Cards for sharing it with others?
Honey App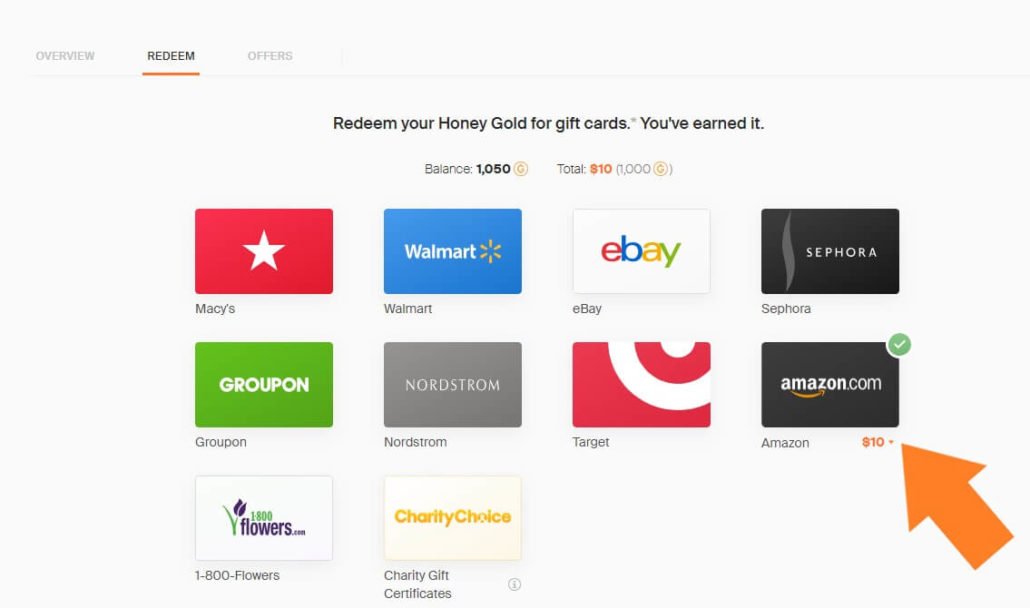 Honey is my absolute favorite find when it comes to online shopping. Before Honey, I would get to the checkout and then open up another tab and Google "promo codes". Then I would go back and forth and test dozens of the ones I found to see if they worked or not.
Finally, the Honey App solved that problem for us. Honey is a extension for any major website browser and will automatically scour the internet and test all found promo codes. Once it's done, it applies the one the saves you the most money!
Here is a full review of the Honey App with screenshots of it in action here.
But what about the free Amazon gift cards, right?
It's simple: Your friends are going to think you are amazing for showing them this little online shopping hack. For each friend you refer, Honey will pay you $5!
You can then cash out for Amazon gift cards (or other gift cards) in increments of $10 and they are all sent to you digitally.
Ebates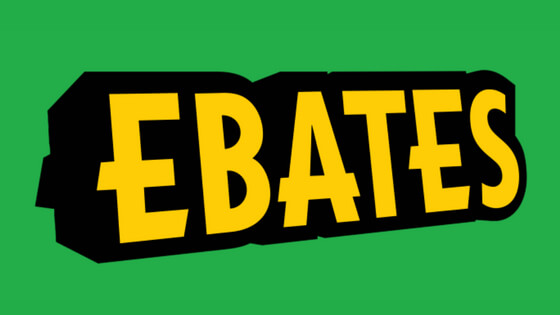 Ebates is one of the most popular online shopping portals. You can shop online directly with the store, or you can go through the eBates portal to save lots of money in the form of cashback.
What I love about eBates is not only can you save on purchases through Amazon, but you can also be paid out in the form of Amazon gift cards! And remember, it does not cost you a penny extra to shop through the Ebates portal. In fact, they have made it so simple for you by creating an eBates browser extension that will work in all major web browsers.
Ebates also has cash-back for in-store shopping as well. Here is a full rundown of how eBates works and how to make the most of your cashback options.
Shopkick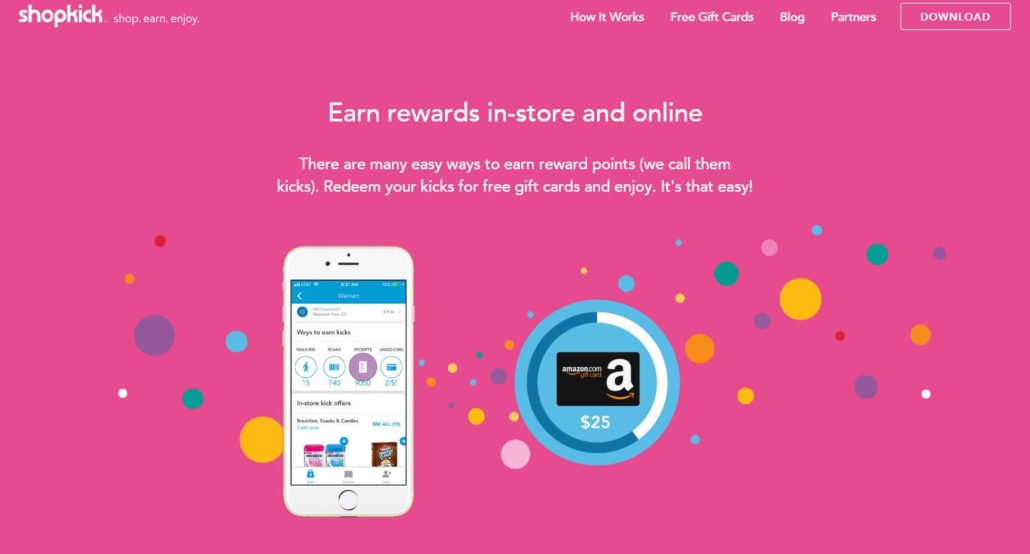 Shopkick is another free app that will pay you in points for shopping in both stores and online. The points you earn are called "kicks" – hence the name Shopkicks. 
Beyond just shopping online or at a store, Shopkick will also rewards you for:
Scanning barcodes on selected products
Purchasing something with a linked card
Purchasing and submit a receipt
Just visiting online stores
Viewing online products
Watching videos
You can start redeeming Amazon gift cards starting at $5.
Get Free Amazon Gift Cards: For Scanning Your Receipts
This one is so easy because I know all of us have receipts. However, before you throw them away, you can use any of these apps below to upload your receipts. And those receipts can be exchanged for free Amazon gift cards!
Ibotta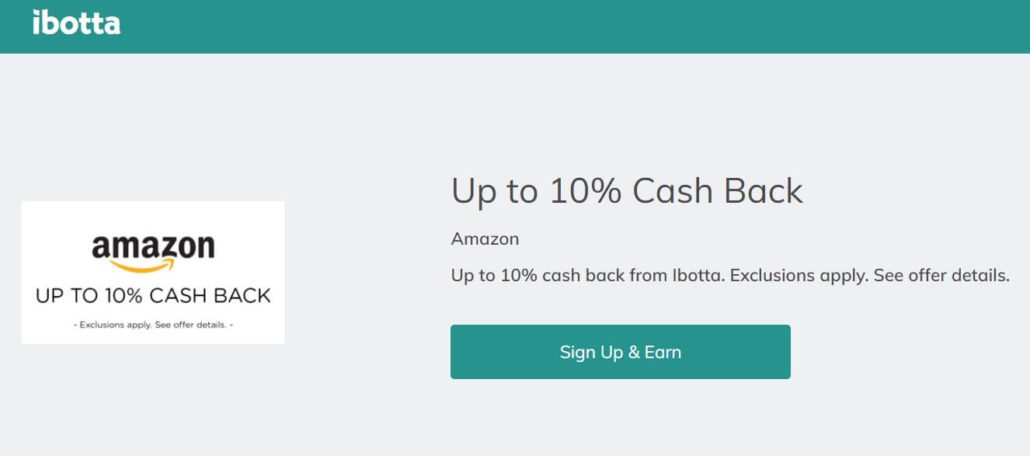 Ben Franklin once quipped that death and taxes are the only two certainties in life. I think he forgot about the necessity to eat. Without food, we're as productive as a car with an empty gas tank.
Ibotta can be one of the easiest ways to get free Amazon gift cards because you don't have to do anything extra besides activating offers and scanning your grocery receipt at any major grocer or discount store like Kroger, Walmart, and Target. You can get cash back on specific brand items and any brand.
My wife and I use Ibotta each time we go to the grocery store and always save at least 50 cents. When your balance reaches $20 you can request payment by PayPal, Venmo, or gift cards.You will automatically earn $10 bonus cash by redeeming your first offer.
Receipt Hog
Receipt Hog has you simply take a picture of your receipt after shopping and send it to them. It can be anything from groceries, to clothes, electronics or even buying gas. After you send them a pic of your receipt, they will reward you with "coins". Those coins can then be traded in for Amazon gift cards or even cash via Paypal.
Punchcard
Before you throw your paper receipts away, take a picture of it with the Punchcard app. You will earn rewards points that can be redeemed for Amazon gift cards. For every six receipts you scan, you get a free spin on the prize wheel to win a bonus reward.
Gce during commercial breaks and the regular programming.
Get Free Amazon Gift Cards: From Other Gift Cards?
Yes, there are sites out there that will buy up your old gift cards you're not using and pay you in Amazon Gift cards. If you have a gift card from somewhere you know you will never use, you may as well "cash" them in for one from Amazon.
Gift Card Granny
By buying gift cards on Gift Card Granny and reading Granny's newsletter, you earn rewards points that can be redeemed for free gift cards. Even if you don't have enough points for a gift card yet, you can still buy Amazon gift cards at a discount to save a few dollars.
Beyond just Amazon gift cards, you can sell your unwanted gift cards or purchase gift cards for a huge discount. Recently, I sold my unwanted gift cards I no longer wanted and found gift cards to my favorite restaurant at a 55% discount.
Get Free Amazon Gift Cards: From Amazon
Reload Your Amazon Gift Card Balance
If you have at least $100 to buy an Amazon gift card directly from Amazon, you can get a $5 reload bonus. Think of this hack as a buying a prepaid debit card. You will be spending the money at Amazon regardless so it's worth getting a $5 bonus of free money.
Promote Amazon Products
This idea takes some additional hustle but is one of the few ways to earn continual income. By becoming an Amazon Associate, you can earn Amazon cash by recommending products on your blog or YouTube channels. When somebody makes an Amazon purchase through your referral links, you earn a portion of the sale.
It only takes 15 minutes to create a blog and earn Amazon gift cards indefinitely as people visit your website to find answers to their questions.
Sell on Amazon
Whether you want to sell your unwanted items or you like to flip items you find at local garage sales or thrift stores, Amazon is the largest online marketplace for new and used products. While you can get paid in cash, Amazon gift cards are another payment option.
It only takes a few seconds to list a product, so what can you list right now?
Amazon Trade-In
Use Amazon Trade-In if you want to avoid the hassle of actually selling your items to people. Did you know Amazon is willing to buy back your old tech devices, video games, and books; even if you didn't buy them on Amazon? You simply mail your items to Amazon with a prepaid shipping label and they reward you with Amazon credit!
Amazon Mechanical Turk
Amazon Mechanical Turk is Amazon's online survey and micro-task site with academic studies, data entry, audio transcription, and internet research jobs. Most tasks only take a few minutes to complete and you can get paid via direct bank deposit or Amazon gift cards. You must be a U.S. citizen at least 18 years old to join.
Get Free Amazon Gift Cards: The Other Ways
These ways listed below are also great, but they aren't among the top ways mentioned above. They are worth looking at, but only after you tried out everything above.
MySurvey
MySurvey lets you take online surveys and polls from your computer or mobile devices. Rewards points can be redeemed for Amazon gift cards and more. Membership is open to U.S. residents at least 16-years old.
CashCrate
CashCrate is another get-paid-to site that pays you to complete a variety of online activities from online surveys to playing games to shopping online. You can redeem your points for Amazon gift cards after earning $20 in rewards points.
TopCashback
TopCashback is an online shopping portal that gives a cashback on every online purchase you make through their shopping portal at over 4,000 online stores. Unlike other cashback portals that have minimum reward thresholds, you can request an Amazon gift card regardless of your balance amount. By requesting an Amazon gift card, you also get a 3% redemption bonus.
instaGC
Do you want $1 Amazon gift cards? With instaGC, you can redeem your points in $1 increments for Amazon gift cards. You can earn points by taking surveys, watching videos, shopping online, and surfing the web.
InstaGC is open to residents in the U.S., Canada, U.K., Europe, India, and Japan.
Recyclebank
Help protect the environment and be rewarded for recycling and learning about sustainability with Recyclebank's online learning modules. Amazon gift cards are occasionally available as a reward in addition to gift cards to local businesses.
MobileXpression
If you're okay with sharing your mobile browsing history for market research, you can install the MobileXpression mobile app and earn rewards points for your mobile surfing activity. You can redeem your points for cash, gift cards, or merchandise. Being an active user also gives you free entries into the weekly sweepstakes to win cool prizes.
Toluna
Toluna is another large paid survey community that lets you take surveys, test products, and interact with other Toluna community members to earn rewards points. While non-Amazon gift card rewards start at a $10 balance, the smallest Amazon gift card option is $50 making this one of the more time-consuming ways to be rewarded with a gift card.
American Consumer Opinion
With American Consumer Opinion you can answer surveys, test products and new advertising, and participate in focus groups to earn points you can redeem for Amazon gift cards. The most lucrative surveys pay up to $50 and most surveys only take 10 minutes to complete. Membership is open to the entire world, but you'll only receive a few survey invitations each year and it's a good idea to join another survey site to consistently receive survey invitations.
OneOpinion
OneOpinion pays you points for surveys that can be redeemed for Amazon gift cards. The minimum redemption requirement is a bit high at $25 (25,000 points) however membership is open to the U.S., Canada, Western Europe, and Australia making OneOpinion one of the few ways to get Amazon gift cards if you live outside North America.
Microsoft Rewards
By making Bing your default search engine and creating a Microsoft Rewards account, you will earn rewards points that can be redeemed for $5 Amazon gift cards. You can also take daily quizzes and shop at the Microsoft Store to earn additional rewards points too.
TestSpin
Earn up to $600 a year in Amazon gift cards when you participate in TestSpin surveys and focus groups. Each survey pays up to $10 and focus groups pay up to $30. You can redeem your points (itcoins) in $10 increments for Amazon gift cards and membership is open to multiple countries.
AppKarma
YouTubers that like to upload video reviews of mobile apps and games need to check out appKarma to earn 50% more points. Even if you don't have a YouTube channel, appKarma will still give you gift cards to test apps and games on your Android and iOS device.
iRazoo
iRazoo puts a unique twist on the traditional "get-paid-to" site earning model. You will earn rewards points for these activities:
Surveys
Testing apps
Watching videos
Playing games
Completing offers
GiftHulk
Earn coins for doing what you already do online through GiftHulk. You earn points each time you take a survey, watch a video, play a game, or surf the web. In addition to entering the regular prize drawings, you can also redeem your points for Amazon gift cards.
Valued Opinions
Valued Opinions pays up to $5 per survey and you also get paid to open sponsored emails. Amazon gift cards are one of the many reward options available and the balance will be transferred to your Amazon account within 24 hours. Only U.S. residents at least 13 years old can join Valued Opinions.
Questions You Probably Have
Are Amazon Gift Cards the Best Reward?
Since you can buy just about anything on Amazon, a gift card can be easier to redeem than PayPal cash or other gift cards. Chances are Amazon is your #1 choice for online shopping. Sometimes, you get a redemption bonus by getting a gift card instead of cash!
While you can spend PayPal cash virtually anywhere online, you can skip a step in the redemption process by transferring the money from your PayPal account to your bank account before you have enough money to cover an Amazon purchase. As soon as you receive your Amazon gift code, you can redeem it on Amazon and the money is in your Amazon account ready to spend.
Who Can Get Free Amazon Gift Cards?
Each rewards program has different membership requirements. All of these recommendations are available to U.S. residents; certain programs only offer Amazon gift cards to U.S. residents and only offer to cash payments to international participants.
You might also have to be at least 18 years old to join, but many of these recommendations also let teens at least 13 years old join with parental consent.
How Long Did It Take to Earn a Gift Card?
Most activities only take 15 minutes or less. Some apps work in the background and reward you for your activity with no additional effort required after you sign-up and install their app on your computer, phone, or tablet.
Can I Join More Than One Platform?
Yes, and I recommend it. So many of the ways mentioned above involve already things you're doing. I'm sure you can scan a few receipts and I am positive you have shopped online. I bet if you had an extra hour per week you could take an online survey. The more things you try, the more things you can buy again on Amazon.
Are Online Surveys the Best Way to Get Amazon Gift Cards?
That answer depends on what you enjoy doing. Online surveys are the most common way to earn gift cards because you only need 10 to 15 minutes at a time, but they aren't the only way. As you can tell from this list, it's possible to earn gift cards for doing anything you already do on a regular basis. You need to find the tasks that you enjoy most and pursue them. After that, join the website with the highest payout per task or best redemption options to maximize your effort.
What is the Smallest Available Gift Card Amount?
Some programs offer Amazon gift cards as small as $1, but others can be as high as $25. The average minimum reward amount for most programs is $5, and you usually don't get a discount for "banking" up you points for a higher award amount. In other words, you will pay 500 points for a $5 card and 2,500 points for a $25 card; not 2,000 points for a $25 card.
Personally, I prefer using platforms with smaller balance amounts because it means I can cash out sooner and maintain a constant momentum of getting a gift card on a regular basis! If you don't frequently visit a website, it can take almost a year to get a $25 gift card, and you're more likely to give up and not earn anything at all.
How Are Amazon Gift Cards Delivered?
Most gift cards are digitally delivered via email within 24 hours of your request. Some websites still have the option to mail your gift card if you prefer a physical gift card instead.
The Takeaway: This Isn't Really Hard Is It?
As you can see, there are so many different ways to get free gift cards to Amazon. Instead of doing just one thing, you should try a mixture of them to maximize your opportunities.
Start by taking a survey while you're waiting at the doctor's office. Then shop online or in-store through one of the portals mentioned above. After shopping, take a picture of your receipt to earn even more gift cards and then reload your gift card to earn even more.
Simply take a look at the list above and ask yourself, what am I already doing?
Next, just add in some of the things mentioned above to your daily routine and before you know it you'll have a few hundred dollars worth of free Amazon gift cards!
---