If taking online surveys isn't new to you, then you may have already heard of Survey Junkie. But you also might be asking, is this a survey site worth your time? I was once thinking the same thing, so for this Survey Junkie review I personally used the platform to make a few extra bucks and this is my honest review.
Survey Junkie Review 2020: Getting Paid to Take Surveys


Name: Survey Junkie
Description: Survey Junkie is one of the most trusted sites among all survey companies. They currently have over 10 million active users and a TrustPilot rating of 4.5/5.
Quality of Surveys

Earning Potential

Mobile Optimized

Amount of Time Required
Summary
The breakdown of Survey Junkie
Pros
$10 minimum threshold to cashout
Simple dashboard
Get paid cash via PayPal gift cards
Can choose the length of survey before taking
High ratings among their over 10 million members
Cons
Can only take surveys
You may not qualify for many surveys based on demographics
---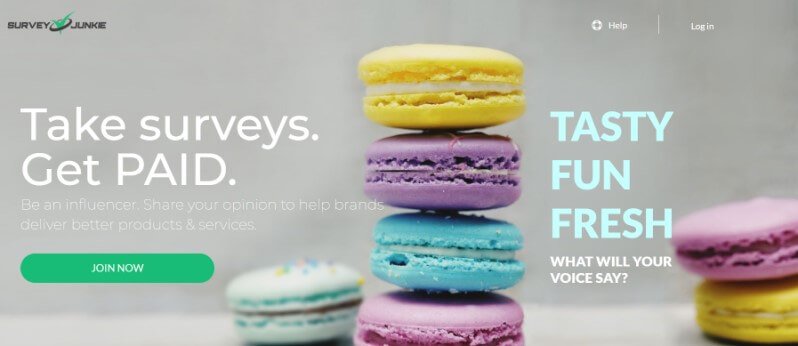 What is Survey Junkie?
Survey Junkie was founded in Glendale, California in 2011 and currently has over 10 million active members. They're mission is "Share your voice. Influence change. Get paid." 
This naturally makes sense for a company dedicated to partnering companies with people just like to share your honest opinion about different products or services. Your feedback helps them decide on what products and services should be offered and how to improve the ones that are lacking.
If something's not selling, it's nice to know why. What better way to get that information than from customer surveys?
And most people will not give a company their time for free, so it makes sense to offer payment. Survey Junkie isn't alone in paying people for their opinion.
But out of all the survey companies I have seen, Survey Junkie has the highest Trustpilot rating of 4.5/5 with over 14,000 reviews. As someone who has done many reviews for different survey companies, no one else has the high ratings and reviews like Survey Junkie.
How Do I Sign up for Survey Junkie?
You can simply sign up for Survey Junkie here.
Signing up for Survey Junkie is easy. Just click the "Join Now" button on the home page. Next, you will create an account using either a Facebook or Google+ to sign up. If you don't have either, you can use any email address.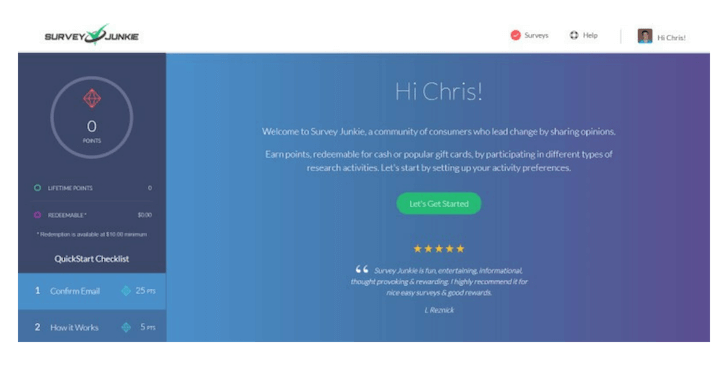 After that they'll ask you a few demographics questions. Questions about:
Your household and its members
Current income
And your lifestyle
It might seem weird that they want to know this stuff, but it's important for matching you up with surveys. Companies using Survey Junkie want to survey their target audience.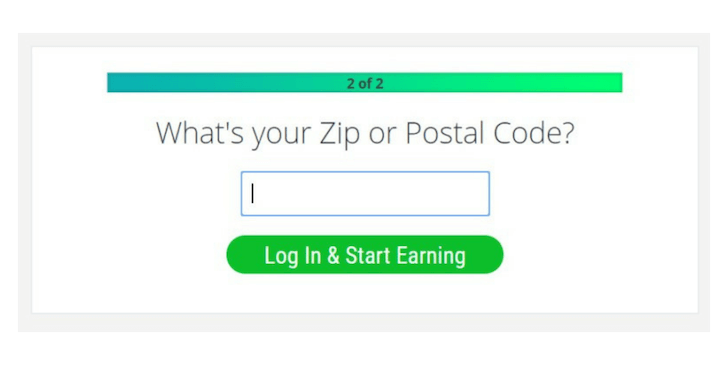 Survey Junkie uses the information you give them to match you with surveys based on your lifestyle. This process helps you influence brands you use the most.
After you answer the demographics questions you'll get a list of available surveys. Survey Junkie will also email you available surveys going forward as well.
Bonus: You will earn points for completing your profile fully.
**You have to be at least 13 years old to join Survey Junkie. Also, you need to be a resident of the U.S., Canada or Australia.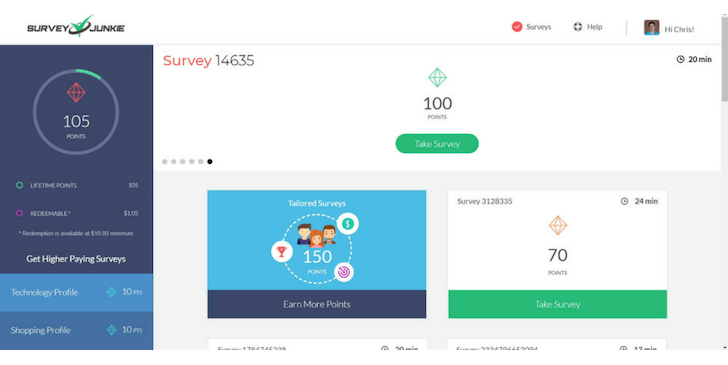 What Are the Surveys Like?
The surveys you'll receive vary in content and length. Some will be super-short, like 5 minutes, while others will take up to 30 minutes.
When you receive the surveys in your email, they'll tell you how long the surveys take and how many points you'll earn by taking them.
This is nice because you can choose to do the surveys you have time for. And you can do them in your spare time.
You don't have to set aside an hour or two if you don't want to. It's easy to earn points while you're watching TV or waiting at an appointment.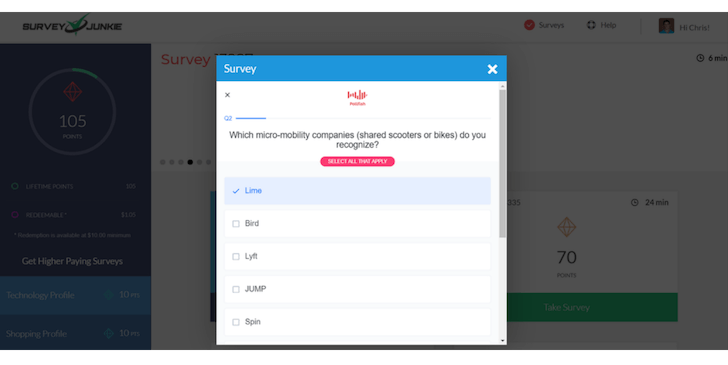 Another great thing about Survey Junkie is that there are plenty of surveys to choose from. Some companies will only send surveys once or twice a week.
However, Survey Junkie typically sends out several per day. That equates to more chances to earn points (i.e. money).
The content of the surveys they send you will vary as well. One survey they might ask you if you've tried a particular product. The next day you could receive a survey about your habits in a certain area. One survey I was sent asked "How many times a week do you go out to eat?"
The questions are pretty easy and you'll be able to answer most off the top of your head.
Other Ways to Earn Points with Survey Junkie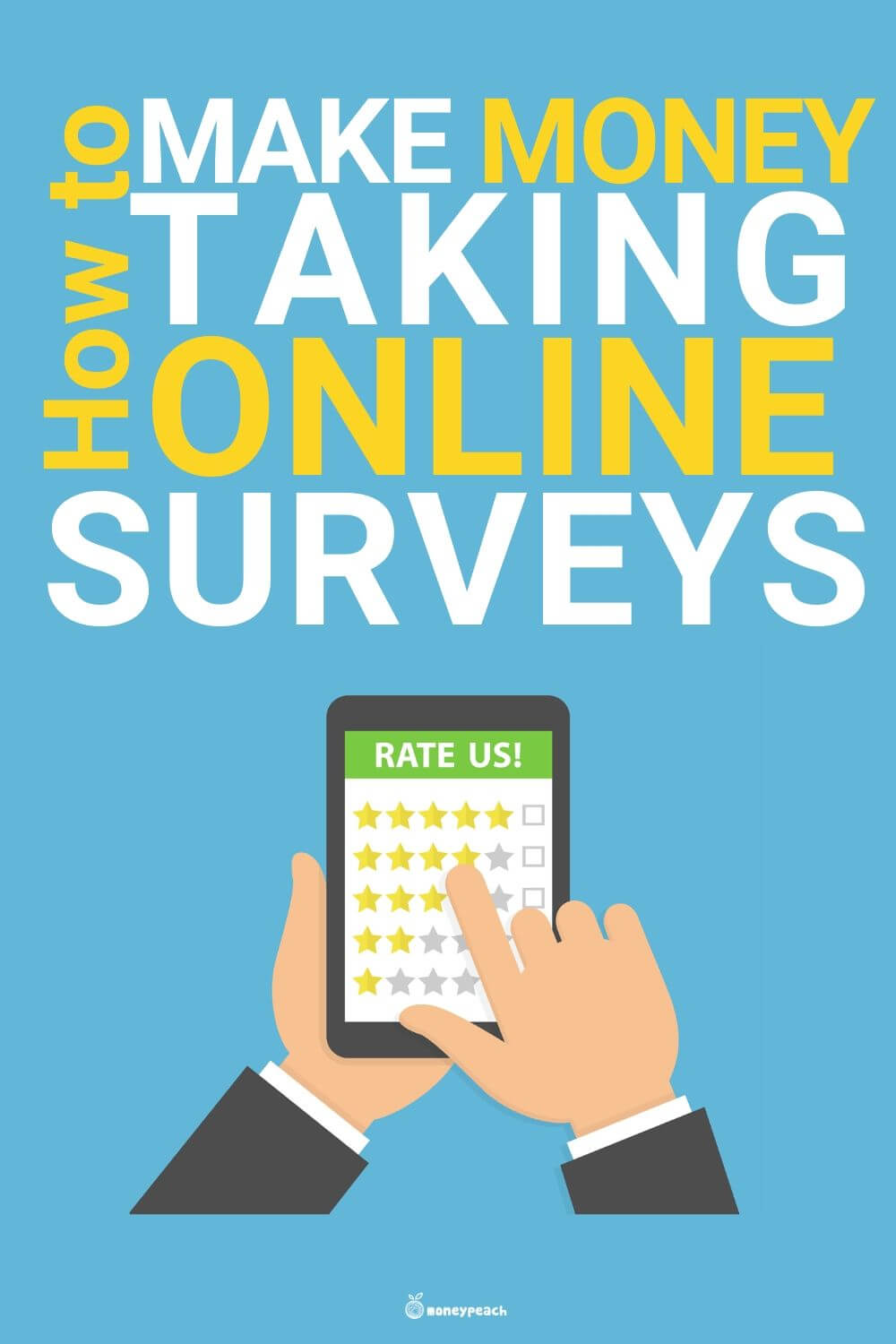 Besides taking surveys, there are other ways to earn points with the company. Here are some of them.
Join a Focus Group
Survey Junkie might ask you to join a focus group. These groups typically pay more than surveys do. They are informal settings where people share their opinion.
Refer Friends
You can earn points by referring friends to Survey Junkie too. Survey Junkie will give you a referral code friends can use when they sign up. If they use your code, you get points.
Test Products
Occasionally – very occasionally – Survey Junkie will send you an opportunity to test a product. Sometimes you'll get paid to test the product.
Other times your payment is just being able to keep the product itself.
Other Actionable Items
Survey Junkie will email you about other actions you can take to earn points too. You'll see a number of points with a green button on the email if you can earn from it.
How Do I Get Paid from Survey Junkie?
This is the real question we all want answered, right?
It's simple – you'll earn points for every survey you complete with Survey Junkie. As I mentioned, the emails will tell you how many points you get for the survey before you start.
Or how many points you'll get from taking other actions. After you've earned 1,000 points you can cash out. 1,000 points is equal to $10 in cash or gift cards.
You will get payment in 1 of 3 ways:
By PayPal transfer (available in all countries)
Via a store e-gift card (available only for U.S. members)
A direct transfer to your bank account via Dwolla (U.S. members only)
They have a number of e-gift card choices available if you like that option. Walmart, Target and Amazon are some of the more popular options.
Note: If you choose the PayPal option you'll have to cash out all of your points. Therefore, if you want some in a gift card and some in PayPal, choose the gift card option first. Then transfer the rest to PayPal. Keep in mind that you need 1,000 points minimum to make a transfer.
How Much Money Will I Make with Survey Junkie?
Let's be honest; you're not going to replace your full-time income with Survey Junkie. However, you can make a few extra bucks each week. When I say a few extra bucks, you'll make up to $20 extra per month.
Note: I have read reviews of people making up to $200 per month taking surveys with Survey Junkie, but I would expect that at all. Yes, there may be a few, but it's definitely not common.
The exact amount you earn depends on the types of surveys you take and on how many you take. Whether you take advantage of other opportunities like focus groups makes a difference too.
If you work regularly, you could make enough in a year to cover an extra expense like a vacation. Or your Christmas gifts. However, you won't get rich with Survey Junkie.
What I Like About Survey Junkie
Out of all the different survey options out there, Survey Junkie is the simplest I have seen. Some of the other survey sites have way too many ways to try and figure out how to earn points and it can be overwhelming. With Survey Junkie, there is only one thing you can do — take surveys.
I also like how they offer a $10 minimum cashout threshold. Most other survey companies will make you get to a $25 threshold which means you spend a lot more time before you get paid.
 Lastly, I like how Survey Junkie has the option of PayPal gift cards because you can easily turn PayPal credit into cash in your bank account.
What I Don't Like About Survey Junkie
As far as survey companies go, there isn't much to dislike about Survey Junkie. I actually had to do some digging to find a reason to put something here I didn't like (honest review), and I did notice they have a B rating with the BBB. Last year at this time they did have an A+ rating, so that was one red flag I did see.
Also, per some of the users we have spoken with, you may not qualify for some of the surveys based on your demographics
Is Survey Junkie Legit?
The verdict — Survey Junkie is a legitimate way to earn up to $20/month from your phone.
Survey Junkie remains to have one of the highest ratings among survey companies. In fact, Survey Junkie does have an TrustPilot rating of 4.5/5 with over 10 million active users.
Although, it isn't a great ideas to use them as a primary source of income, it is a great way to utilize spare time to bring in some extra cash. If you like to shop, it's also a great way to earn free Amazon gift cards.
However, if you're really looking to replace your income, I'd suggest checking into some other options.
There are plenty of other side hustle options out there where you can earn real income to eventually replace your full-time job..
Final Recommendation
At the end of the day, yes, you can make money with Survey Junkie. It's a legit site that can help you earn cash in your spare time.
The tasks you'll do to earn are typically easy and often quick. However, as I mentioned, you won't make life-changing, pay-off-your-debt, reach-financial-independence money.
If you're looking for life-changing money, consider the other options mentioned here. Like they did for Peach and his family, they truly could change your world.
You probably have goals, dreams and plans for the extra money you want to make. It's time to start achieving those dreams. Pick up a side hustle and use the money to reach your financial goals.