Today I'm bringing my friend Laurie to the blog so she can share her story about getting into and getting out of debt. Take it away Laurie!
At one point my husband and I were in over $60,000 of consumer debt.
Rick and I both grew up with pretty tough financial circumstances. As children of divorced families, money was tight. We both watched our moms work hard to try and make ends meet. Sometimes ends would meet and sometimes they didn't.
Money Messages from Childhood
I remember the day my little brothers and I sat in the living room with my mom, watching her cry. I was 11. My brothers were 8 and 4.
The bank account was empty and the cupboards were empty. I mean really empty. At the time, my mom used welfare to support our family while she learned to drive, to type and learned other basic office skills so she could go back to work. However, the welfare check wasn't arriving for three more days.
That memory was etched in my mind forever. I decided that day I would never go without in my adult life. And I didn't. I got my first real job at 15 and used the money to buy clothes, to go out to eat and to do whatever I wanted to do.
Marriage and Money
When Rick and I got married we never talked about money. We both knew we didn't want to live lives of sparsity like we had as children, so we started to spend. We bought a big house. Then we had our first child and bought two new cars. Then we bought an even bigger house.
We added three more kids and were officially living the "normal" life. You know the one. The one where the fancy house and the new cars and all of the "stuff" you own comes with payments. But, it seems okay because "everyone" is doing it?
Living the Life of "Normal"
Fifteen years later, we were still living the paycheck-to-paycheck lifestyle. We looked good on the outside, but our financial situation was a mess on the inside. Rick had just been laid off in 2010. When he got a new job seven months later, it was only at 75% of his previous pay.
I was a stay-at-home mom, so Rick's was the only income we had. When he got his new job, we decided we'd just make up for the lack of income by putting extra costs on the credit cards. But, only until his income increased back to the level he was at when he got laid off. Personal finance management at its worst.
Something Had to Give
Two years after he started his new job, we sold our house in suburbia for a home in the country. We yearned for the peaceful life that had somehow evaded us in the suburbs. In the country, there was no one around to care about what we drove or what brand of clothing we wore. We started to look at life through a new lens.
After two months of reveling in the peace and quiet that comes with country living, we figured it was time to take a serious look at our finances. We were sick of living so tight and wanted a change. After we totaled our numbers, we saw the truth in big, bold letters: we had tens of thousands of dollars in consumer debt.
As an added "bonus" to our debt problem, it turned out we had literally nickled and dimed ourselves into all of this debt. There were no cars or recreational items to sell, no designer clothes, or fancy furniture. Regular dinners out, a bloated grocery bill, and a simple living-beyond-our-means for an extended period of time created our financial mess.
The Debt Payoff Journey Begins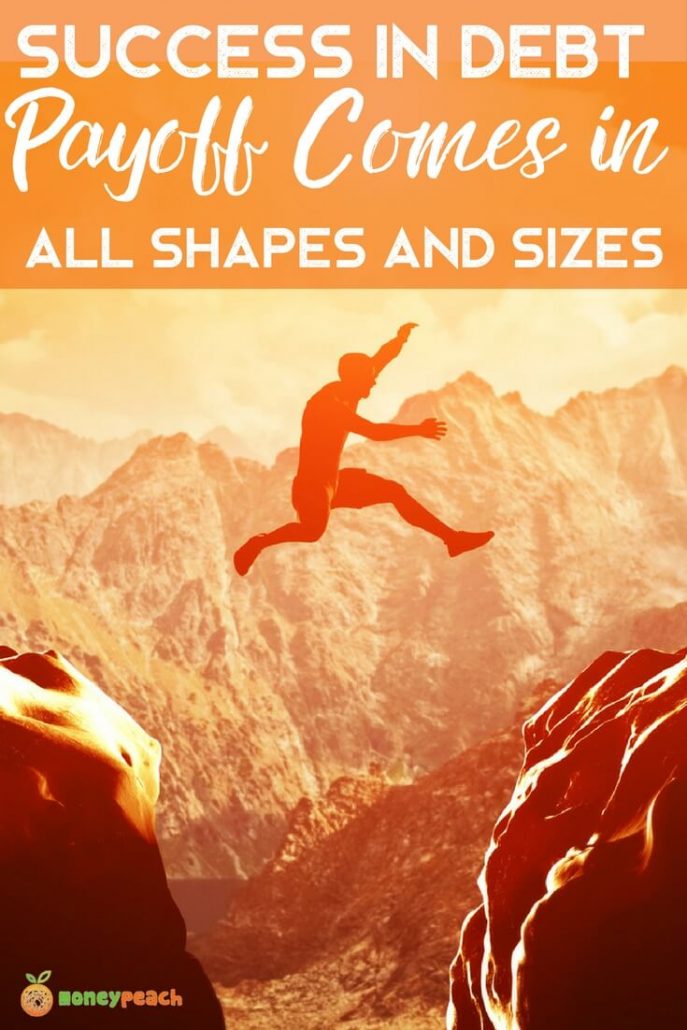 Together, we made a plan to pay the debt off by following a budget and putting extra money toward debt where we could. However, the going would start out slow since our debt-to-income ratio was high: nearly 70% at its highest.
As we were paying down our debt, the normal "emergencies" of life would also try to slow us down even more. After enduring a few family emergencies and a major car accident, our debt creeped right back up.
Now our consumer debt was even higher than it had been at the beginning of our journey: $60,336.08 to be exact. We were scared – real scared.
Bankruptcy?
We talked about bankruptcy but decided to give paying off our debt one more go. At the time, we were between $1,000 and $1,500 short every month – could we really do it?
We stopped caring what other people thought about the cars we drove and the clothes we wore. We started caring about providing financial security for our family instead. We'd imagine what would happen if we had to tell the kids we'd lost the house. Or what would happen if we didn't have enough money for food.
We used fear to stop from spending the money we shouldn't spend. This motivated us to improve our financial situation.  
The first year was all about making the minimum payments. There was no room for extra payments. We were grateful to make the minimums and pay our bills on time. This only happened because Rick worked overtime and I found side work. I continued to stay home and home school our kids, but I also worked to find side hustle jobs in the blogging world to bring in extra income.
The Results
It's been nearly three years now since we started a second time on our journey to get out of debt. We've paid off thousands in consumer debt and thousands on our mortgage. Our consumer debt isn't gone yet, but we've definitely made a huge dent in it.
We continue to cut expenses where we can by doing home improvements ourselves, saving money on groceries, and keeping entertainment expenses to a minimum. We analyze our expenses on a weekly basis, and keep detailed track of our assets and liabilities every single month.
Some days the long journey feels discouraging, but we find it helps us stay motivated to be able to look at the amount of debt we started with and see how far we've come. We also use continuing education to keep us motivated, like this recent Money Peach podcast episode on reaching massive goals.
If you're deep in debt like we were and feeling like there's no way out, please don't give up. You can make it work. Don't worry about getting debt free like "everyone else" does – just start moving toward the finish line and don't quit. You'll get there!
I host a FREE weekly workshop called "Stop Living Paycheck to Paycheck…And Just Live".
I want you to grab a spot inside this workshop and let me walk you through:
Creating your cash flow plan
Getting started with your first savings plan
Paying down your debt FAST
Building wealth one day-at-a-time
It's step-by-step, easy to follow, and something I promise you will get a ton of value from. I would absolutely love to see you there!