Would you like to know why car payments suck? New numbers were recently released showing the average purchase price for a new car went up to an all-time high of $32,352. No one has liquid cash available to shell out $32k on a car, so the numbers also show the amount borrowed on new cars hit an all-time high of $28,381. In the end, borrowers are dragging around a $482/month payment at 4.5% for 67 months – a new all time record! Super.
At the same time, 70 percent of Americans are living paycheck-to-paycheck. People are barely scraping by and they can't remember the last time they actually had a little fun with their money. I get letters all the time asking what I would do if I were in their shoes. The majority of the time, it's simple: Get rid of your car (payment).
We may not realize our cars are killing our financial plan, but I am here to tell you this:

Car Payments Suck.
Period.
Car Payments are Not a Way of Life
We often believe they are because of how we are trained to think about car payments. We are taught to simply ask "How much down and how much a month?"
Poor people ask "How much down and how much per month?" Rich people simply ask "How Much?"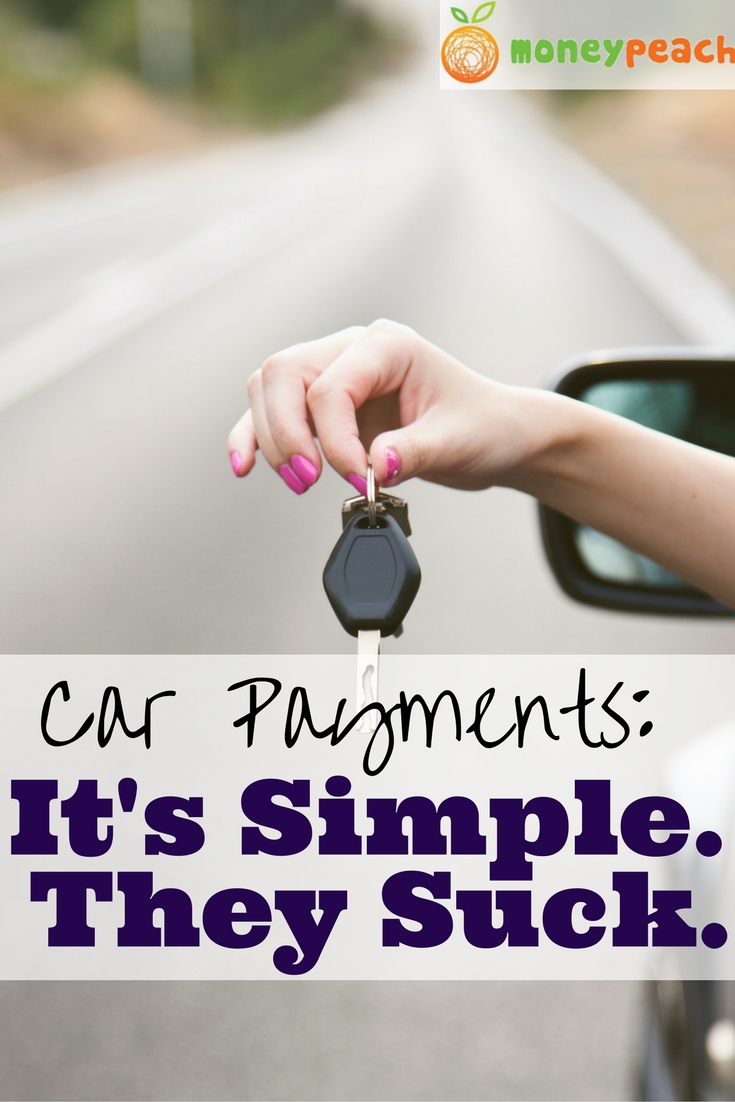 With that said, let's look at some FUN FACTS about car payments:
• Average Car Payment in 2015: $482/ month over 67 months at 4.5% interest
• Average Price of New Car Financed in 2015: $32,352
• Value of car 48 months later: $12,800
• Amount owed on car 48 months later: $8,850
Over the next 48 months, you would have paid $23,136 for the car and you still have 18 more months of payments. This is also right around the time where our love for cars creates car fever and we end up needing a new car because the "Check Engine" light came on. We start believing car payments are just part of life.
Poor me. Whah, whah, whah. I guess I'll just never get ahead. Whah whah whah.
Have an Auto Loan with a High Interest Rate?
You could try getting a lower rate to pay that thing down faster

Upside Down in Car Payments?
Download the Entire Step-by-Step Guide to Getting Out From Underneath Your Upside Down Car
Start Thinking Differently
It's time to choose a new direction with your money. The truth is car payments don't have to be a way of life. I am here to tell you that this belief is simply garbage and you don't have to put up with it anymore! I tell this to people all the time during our seminars and one-on-one coaching sessions. And, guess what? It's beginning to catch on 🙂
Here are some real-life stories of those who finally decided to take a stand against car payments and completely change the trajectory of their financial lives. This is what I often refer to as Awesome.
Meet the People who Kicked their Payments to the Curb
Jeff and Jillian pay off 3 vehicles and add $10k/year to their Budget
They saved $860/month when they paid off 3 vehicles. They are now on their way towards debt freedom much faster because they no longer have $10k/year going out in the form of payments. Hello!
We went from 3 car loan payments to ZERO in 7 months. No car payments= more cash flow ?. More cash flow=better quality of life! Thanks for all your financial guidance Chris Peach!
Esteban and Stacy add a Paid For Car and $388 into the Monthly Budget
You know what they call a car after you make your last payment on it? Yours. Every night when they park the car in the garage, they know it is all theirs and no one can come take it from them. They own it. Oh yeah, they also just got a $4,600/year raise!
We want to thank you for all the great financial advice. The Garzas read and love your blog. Since we have come across your blog, we have implemented a budget that works great for our needs today, tomorrow and our future. We paid off this car in August and are proud to say we are debt free. Also, we have a sinking fund!!! That fund is fun!!! Once again, thank you for your wonderful blog!!!
Pam and Gunnar Get the Title to her Car and add $315/month towards their Debt Snowball
When I met with Pam and her husband, she had no idea how close she was to paying off her car. Sometimes when car payments are just a way of life, you almost forget that they can one day go away. She sent off her last payment and now she is the OWNER of a 2006 Mitsubishi Endeavor and the recipient of an extra $315 each month to throw at her Debt Snowball. Insert Virtual Fist Bump Here.
Thank you Money Peach for guiding us through our plan of attack for paying off debt! You truly made what I thought was going to be horrific and painful actually turned into feeling like a 10 ton weight lifted off! One of the greates eye openers was seeing that I could pay off my car within the first month! Talk about a catapult into getting this party started!! Your enthusiasm and love for empowering others with their finances is second to none!
Jason goes from a $21k Truck Loan to a nice Paid For Car in 10 Months
Jason owed $21k and four more years of $500/month payments on his Toyota Tundra. Luckily he was able to sell his truck for just about what he owed on it and paid off his loan on his Tundra. He found a used Chrysler 300 for $4,500 and took out a smaller loan to buy it. His new payment is now $110/month, however he continues to make the $500/month payment he was used to. By selling his truck and buying a used car, he will have gone from four years of truck payments to a paid off car in about 10 months. Not too shabby!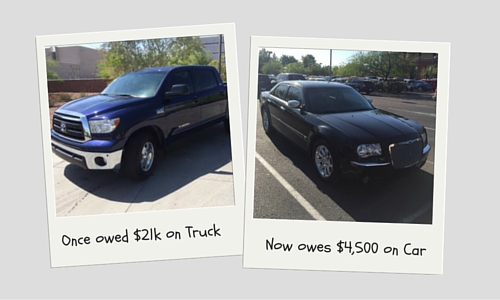 Ansel and Sheryl wipe out $32k and save $1,100 every month
They sold his truck and wiped out $32k in Debt in one transaction. Then they did the unthinkable: They purchased a 2004 Lincoln and created an extra $1,100 in their Budget each month! Basically, their family just created an extra $13k every year to throw at debt and they are driving a car that isn't dropping in value like a rock! Yes, the black truck is going to impress more people at the next stop light than the Lincoln. However, apparently Ansel would rather save $1,100 a month than impress a stranger for 7 seconds at the next traffic light. Choices can be fun….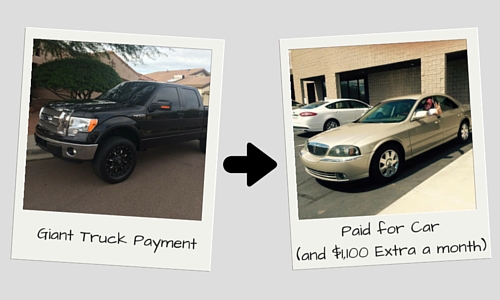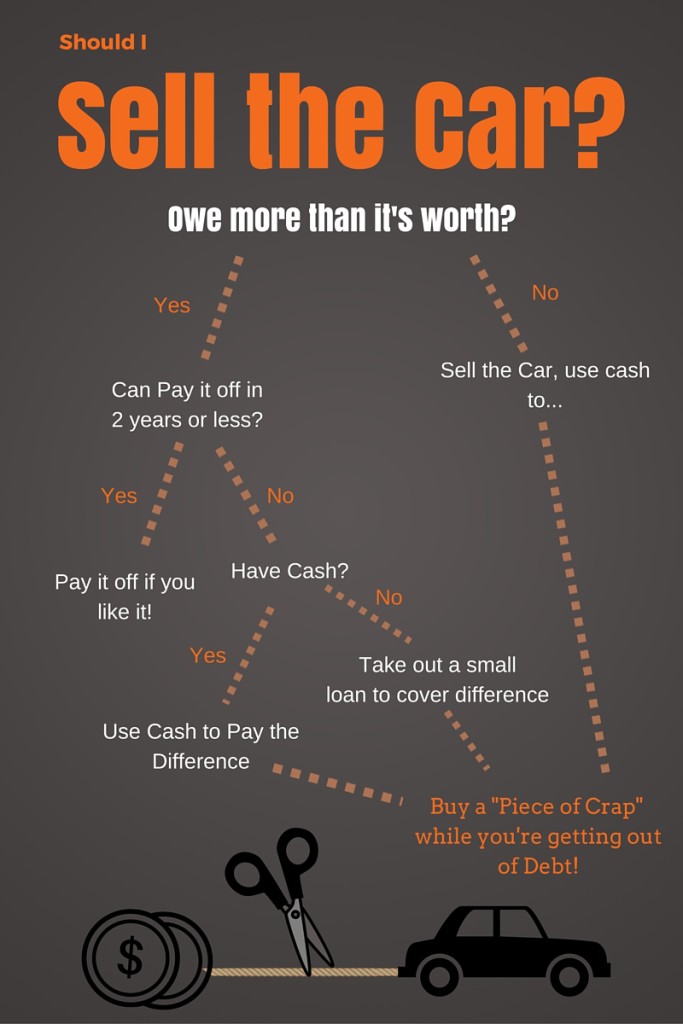 Are You Next?
If these people can go from ordinary to awesome, why can't you? What gets in the way is our behavior. Some of us even have this in our minds:
"How will I possibly get out of bed without the car I am driving now?"
You get to make the choice to get out of debt, stay out of debt, and build wealth. Think about that – you get to choose. If you are ready, the best time to get started is right now. Cut away the car payment that is dragging your life down and free yourself from the chains of debt. Forever.
If You Like it, Please Share it!
As always, I first want to thank you for reading this blog because this means you are reaching for awesome with your money! I will keep putting content out there for anyone to gobble up and implement right away, however if you could help me out by sharing this post on your favorite social media platforms, it would mean the world to me! Just click on any of the social share buttons at the top or bottom of this post and you'll be giving me a virtual fist bump, high-five, and a pat on the back. Thank you again and again!
-Chris Peach