Wouldn't it be nice to actually be able to save money each month?
Believe it or not, we actually are doing better than we ever have when it comes to personal savings rates.
If you start looking back to the 1960s, America had a personal savings rate above 13%. Then we dipped down all the way to just under 3% in 2004. However, after a recession in 2008 and a pandemic in 2020, Americans learned their lesson and have a personal savings rate of 33% today!
Now that we are officially saving money, what is the best way to save the money?
The answer: Sinking Funds
What is a Sinking Fund?
A sinking fund is an individual savings account that is specifically earmarked for something you are saving up for.
One of the most-common financial mistakes people make is they only have one big savings account. Inside that savings account is a little bit of vacation, a little bit of Christmas spending, some leftover for emergencies, and a little bit more for your next big purchase.
However, sinking funds take this big pot of savings and splits it up into smaller savings buckets for each savings goal.
The best part — you can label each savings bucket anything you want.
The first sinking fund everyone will need is an emergency fund. Studies show that everyone will experience a devastating financial emergency within any 10 year period. It's not a matter of if, but a matter of when.
But what about the other sinking funds?
Open Your Sinking Fund: Open your first sinking fund today and start saving!
The Most Popular Sinking Funds
Saving money should always be exciting. Maybe not as exciting as making extra money, but saving more of your hard earned money is a close second.
Over the years of teaching the sinking fund principle as a great way to save money, here are the most popular of those using sinking funds today.
The Vacation Fund
We all work hard so we can play harder — and then we have to pay for it.
The normal way of paying for a vacation is coming home from the vacation, looking up how much you spent, and then freaking out. This is a reactive way of managing your money and poor people are reactive with money. On the other hand, wealthy people are proactive.
Instead of bringing your vacation home with you in the form of payments, you are going to pay for the vacation before it even begins.
To do this, determine how much money you can afford for vacation this year. Then divide the total amount by 12 (months) and save that amount into your new Vacation Fund each month.
Example:
You determine you can afford $6,000 per year for vacations. This is equivalent to $500 per month, which means you will set up your sinking fund with $500 monthly transfers into it.
The Christmas Fund
You know when you finish your Thanksgiving dinner and then the stress begins? That stress is because you just realized Christmas is less than a month away and you forgot to set aside any money for it.
Ironically Christmas is on the same day every year and we still forget to set aside any money, until now.
Now, let's assume you will need $1,000 for Christmas spending. Simply divide $1,000 by 12 months and start saving $84 every month into your Christmas Fund. Your next Thanksgiving dinner will be amazing and you won't be stressing out before dessert.
The Back to School Fund
Until I had my own kids in school, I had no idea how much of a burden expense this was going to be.
Back to school shopping represents 20% of total retail sales for the year and Americans will spend on average $510 as a family for supplies, clothes, gadgets, and the latest thing kids will need.
Open up a Back to School Fund and transfer $45 every month into it. You will be amazed out how enjoyable back to school shopping is when money is not the issue.
The New Car Fund
The biggest separator in wealth between the rich and the poor is rich people put their money towards things that go up in value and poor people put money towards things that drop in value.
One thing that continues to drop in value like a rock are automobiles. In fact, new cars lose value so quickly that often you are "upside down" in your vehicle when it's time to get a new one.
And since no one thought of saving up in advance for a new (or replacement) car, the finance department is one of the most profitable areas of the car dealership.
But what if you made a car payment to yourself each month? Instead of paying interest, you would be earning interest, right?
Open up a sinking fund and label it the The New Car Fund and start sending your car payment to yourself each month instead of sending it to the bank with interest tacked on.
The "Big Purchase" Fund
Goodness gracious, do you like "stuff" too?
We are all human and we all want more stuff. We want a bigger house, nicer furniture, better backyard, shinier jewelry, and a dress that takes off 20 pounds the moment you put it on.
One certainty in life we can count on — stuff costs money.
Retailers also know you want stuff and they assume you don't have the money to get it right now. This is why over the years retailers have morphed from a storefront with stuff inside to a finance department with stuff inside.
Have you ever been anywhere in the last few years where you weren't offered the ability to sign up for the store's credit card program?
And don't forget, you also get $50 store credit for getting a new card!
Ditch the store credit card idea and avoid the temptation to finance a new dress for the next three years at 21% APR.
Instead, open up your new I Want Stuff Fund and start saving for more stuff today.
The Necessary Sinking Funds
After diving through the enjoyable sinking funds, now let's talk about the sinking funds you won't get excited about but you'll be more thankful than ever when it comes time to use them.
The Emergency Fund
You and I, your best friend, your sister and brother, the neighbor next-door and everyone else you know will experience a devastating financial crisis every ten years.
We know it's going to happen so the only option is to prepare for your next financial emergency with an emergency fund. When you hit a financial crisis and your emergency fund is waiting for you, life feels much different.
For most people, a financial crisis is just that — a crisis. But when you have your emergency fund, it becomes a hiccup instead of a crisis, you write a check, and you go on with your day.
Open Your Sinking Fund: Open your first sinking fund today and start saving!
The Car Repair Fund
Who would have ever thought cars would break down and need repairing? Or that cars would eventually need tires, a new battery, or maybe even an alternator?
The car industry is well aware of it and they have a great product for you — an extended warranty. But did you know only 11% of those who purchase an extended warranty are actually able to use them?
Most of the time the warranty doesn't cover everything you thought it did or you realize you have to go to battle with the warranty company to get them to cover your repair.
Instead of overpaying for an extended warranty and then fighting to get your repair covered while your car sits idle, why not just save up cash for the inevitable repairs? A Car Repair Fund is a perfect solution.
Medical Co-Pay Fund
If you're not using a Health Savings Account (HSA), then you should open up your Medical Co-Pay Fund.
You and I can agree we will never enjoy paying that much for medical care, but we are sure glad we have the ability to pay for it when the cash is there. Open up a Medical Co-Pay Fund and start transferring the amount of money you think you'll need for future health care costs.
The "Big Expense" Fund
Is your air conditioning unit on the fritz and you know it's only a matter of time? Or is your roof leaking and you have been putting bandaids on it for the last few years?
These are the big ticket items we never enjoy spending money on but we wish we had the money when the bill is due.
Open up your next New A/C Fund, your New Roof Fund, or whichever big expense fund you know is around the corner to help jumpstart your next big expense in your life.
How to Use a Sinking Fund the Right Way
The number one rule when it comes to sinking funds is they must be at a separate bank. You of course still have access to the new bank, but it's not where your everyday checking account is located.
Why?
Because we are human and if we constantly see money growing next to our checking account, we will rob ourselves from our sinking funds each month.
Open up your first savings account at your new bank and label it whatever you'd like to call your sinking fund.
Next, set up automatic recurring transfers into the new sinking fund. You can do this monthly, bi-weekly, weekly, or however often you prefer to fund each sinking fund.
Once you have your account opened and your automatic transfers initiated, just sit back, relax, and watch your sinking fund(s) grow.
Why Sinking Funds Work So Well
The reason why Sinking funds work so well is because they are out of sight and out of mind. Most people go into debt over a period of time — a death by a thousand cuts.
However, the opposite also applies. Most people save up large cash reserves over time. Instead of death by a thousand cuts, it's wealth by a thousand small recurring deposits.
Think about this; a bi-weekly deposit of $50 is $1,300 at the end of the year. A $150 car payment to your sinking fund is $9,000 in five years. A little bit now always ends up being a lot over time.
Where to Open a Sinking Fund
The most important piece of opening your sinking fund is to never open your sinking fund at your current bank. You must make sure these sinking funds are out of sight and out of mind.
I highly recommend using an online bank, a local bank or a local credit union. Stay away from the big four national banks — they will eat your savings up in the form of fees.
The reason I love small local banks, credit unions and online banks is because they want your business and they will do more for you to earn it.
With smaller banks and online banks, you won't pay ridiculous fees and you can often open as many savings accounts as you would like. Your monthly balance can be zero and small banks and online banks won't charge you fees like a big national bank will for a low monthly balance.
Best Bank to Open a Sinking Fund
A savings account at Radius Bank is my absolute favorite online bank to set up your sinking funds because they have among the highest savings rates and you can also link a Radius checking account to your sinking funds to access your money.
However, if you choose to go local, I love credit unions because you're a member/owner of the credit union versus a customer of a bank.
If you live in Arizona, check out OneAZ Credit Union — the credit union I personally use and love for my sinking funds.
Sinking Fund Mistakes to Avoid
The key thing to remember is sinking funds are savings vehicles, not spending vehicles.
They are designed to slowly save up for big purchases or expenses that you only withdraw from a few times per year.
Also, as mentioned above, you never want to open a sinking fund at your current bank. Sinking funds must be out of sight and out of mind for them to grow.
Lastly, just start with one sinking fund and add more as you time goes on. A big mistake I see people make is they open ten sinking funds and try to save into each one. They are then disappointed when the savings in each sinking fund wasn't quite enough when they needed it.
Start with your emergency fund and add from there.
Final Takeaway
The first step to any good financial plan to measure the money coming in and out of your life. We can all agree what gets measured gets managed, and therefore you must create a budget before you do anything else.
After you have created your budget, the next step is to start saving using sinking funds. Opening up your first sinking fund is so simple, yet it is such a powerful tool for your finances.
Imagine next Christmas when you have plenty of money before you start shopping. What would it feel like to enjoy the entire vacation because you're not worried about money? Or think about a life where financial emergencies are instead financial hiccups.
It's a simple option and all you have to do is take the next step. Open your next sinking fund today.
---
Open Your First Sinking Fund Right Away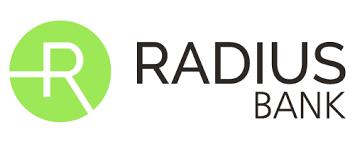 Now that you have taken a look at how a sinking fund works and why they work so well to save money, it's time to open your first sinking fund.
My favorite online bank for sinking funds is Radius Bank because they have both savings accounts (sinking funds) and a checking account to attach to each your future sinking funds!