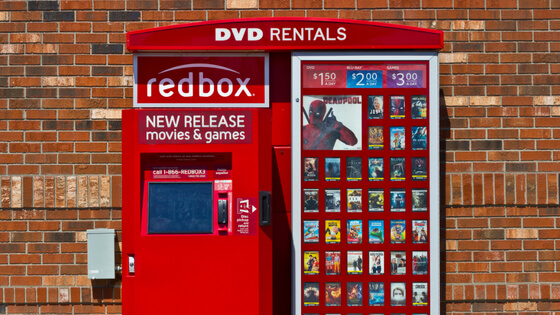 Maybe you're old enough to remember going to the video store to rent a movie for the weekend. Although your town probably doesn't have a video rental store anymore, there's at least one Redbox machine in its place. Although Redbox codes are the most popular way to watch new movies for free, there are many ways using Redbox benefits your wallet.
Your local Redbox kiosk is no longer exclusively for renting new release DVDs. There are also Redbox codes to save money on Blu-Ray and video game rentals too. And, Redbox continues to continuously roll out new features so you can finally ditch your cable plan and even your current movie streaming plans too!
Finally, Redbox is a two-way street when it comes to making money. While many people pay Redbox to rent movies and games, you can turn the tables and make Redbox your ultimate side hustle.
Try These Redbox Codes to Rent Movies for Free
Some people use Redbox to rent new releases and stream on-demand content on another platform. Even though you're not paying movie theater prices, movie rentals can still add up.
There are several codes you can try using to get free Redbox DVD rentals. Other codes can help you get discounts on Blu-ray and video game rentals.
Most of these codes can only be used once and are linked to your credit card or email address. For the rental to be free, you must return your rental the next day by 9:00 PM local time to avoid the next day rental fee.
Most Redbox locations are in high traffic areas, you can easily drop your movie off on the way to work or sports practice, so it's easier to return the movie by 9 PM than you think.
12 Free DVD Rental Codes
Most Redbox codes are for DVD rentals. These are the cheapest and most common rental which means more codes. Some of these codes can work at any Redbox kiosk, while others are location-specific for a particular store or restaurant.
These codes should work at any Redbox kiosk:
BREAKROOM
DVDONME
DVDNIGHT
REDBOX
RENTONME
Input these Redbox codes when you're at a specific store or restaurant. For easy reference, the codes follow the name of the store.
HEB Grocery: REDBOXHEB or RDBOXHEB
McDonald's: DVDATMAC
Sonic Drive In: DRIVEIN
Walgreens: DVDATWAG or WALGREENS
Wegman's: DVDATWEG
If you can use all of these codes, that's 12 free movie rentals!
Text Redbox Codes to 727272
Texting the following codes to 727272 can help you score a free movie rental too. For these codes to work, you will first need to text SIGNUP to 727272 to join the Redbox Text Club. The club is free to join and you might even get a free rental just for signing up!
Once you join the club, you can begin texting these codes to get a free or discounted rental:
GAMEKIDS (Free one-day video game rental!)
APPNOW
DEAL
EMAIL
FREEBIE
MOVIE
MOVIE TIME
PUSH
As a Redbox Text Club member, you might occasionally receive other free codes via text message to use. These promo codes only work on the day you receive them so you will need to act quickly.
Join Redbox Perks
The Redbox Perks loyalty program lets you earn points for every Redbox rental or purchase. For example, you earn 100 points per night for every DVD rental and a free rental costs 1,500 points. You will earn more points for Blu-ray and video game rentals.
You will earn reward points with each rental:
DVD: 100 points per night
Blu-ray: 125 points per night
Games: 200 points per night
On Demand: 75 points per purchase
Your rewards points can be redeemed for one-night DVD, Blu-ray, or video game rentals.
Periodically, Redbox may send you an exclusive code via email for free rentals and other discounts too. Loyalty has its benefits!
Get Two Free Redbox Rentals When You Join Redbox Perks
The real reason to consider joining Redbox Perks is the opportunity to get free DVD rentals during your birthday month and when you initially join the club.
By renting at least 10 movies a year, you also qualify for complimentary Blu-ray upgrades and triple points earning days. Even if you don't rent 10 movies a year, you still enjoy the free birthday movie every year.
As a Redbox Perks member, you can also get additional discount codes for renting multiple movies or games at the same trip.
Tip: Check out our list of over 150 free items on your birthday to go with your free birthday movie rental!
Visit the Redbox Website for Price Drops
Sometimes, discounts are in plain sight. Redbox has several scrolling banners advertising their current promotions. One banner might  let you rent an on demand movie for only 99 cents! Most on demand movies cost $1.99 for older movies and $4.99 for new release.
These price drops help you save money on rentals and purchases without using a rental code. You only have to complete the purchase before the promotional period ends.
Scour Your Entertainment Book
If you like to visit restaurants or local attractions, an Entertainment Book can pay for itself every single year. A book only costs $12 and it includes more than 75,000 coupons for local and national companies. The Entertainment Book can help you save money on movies and has included a "Rent One, Get One Free" Redbox coupon in previous editions.
Buy Discounted Redbox Gift Cards
Another backdoor way to get free Redbox movies is to buy discount Redbox gift cards. Search for Redbox gift cards on Gift Card Granny. The savings can help you watch movies for free when you don't have a code to use.
You can also use discounted gift cards to save money on other online and in-person purchases too including restaurants.
Use a Redbox Code Sharing Site
This option isn't as surefire as the other suggestions, but it can still be worth a try if you've already used the other codes mentioned above.
When you're ready to checkout, visit the Redbox Reddit thread to see if anybody is sharing their unused codes. These codes are single-use only so hopefully another user left a comment to say it's been redeemed so you don't waste precious seconds.
As a way of paying it forward, Redbox Perks members will share the codes they don't use so they get used by someone else. The codes can be for a free movie rental while others are for a discount.
If you're a Reddit user, please do other visitors the favor and leave a comment so they know the code has been used.
The Latest and Greatest from Redbox
Maybe the last time you used Redbox was when you could only rent DVD movies. Now, they offer Blu-ray and video rentals plus on demand streaming. You can even buy used movies and games from their kiosks too!
If you haven't realized it yet, Redbox has come a long way from its humble origins in 2002.
Rent DVDs and Blu-Rays at Local Kiosks
Redbox is probably the best place to watch new release movies. Although streaming sites like Netflix or Hulu get some new releases immediately, it usually seems like you need to wait an eternity for many new titles to become available.
With Redbox, you can get virtually every new title immediately. You still need to wait for the movie to reach DVD, $1.75 a night is a fraction of the price you'll pay for seeing it in theaters. With the Redbox codes mentioned earlier, it's possible to see the movie for free!
If you prefer a high-quality picture, Blu-ray rentals cost $2 per night. Redbox offers many titles in Blu-ray, but still has a higher availability in regular DVD quality. At select locations, Redbox is also beginning to rent 4K movies too which is more advanced than DVD or Blu-ray.
To get the exact release dates of upcoming titles, visit the "Coming Soon" menu.
Rent Video Games
It's also possible to rent video games on a nightly or three-night basis for these three platforms:
Redbox is also renting Nintendo Switch games in six cities in the United States. You can expect this number to grow as their Switch game library grows.
You can see when Redbox will add new title by clicking the "Coming Soon" button.
Play an Entire Video Game for Only $7
Three-night rentals are the best value and perfect for games that only require a long weekend to beat and have minimal replay value. Most new video games cost $60, and you can pay $7 for a three-night rental. You play the game and save $53 in the process, that's a win-win no matter how you look at it.
Maybe there's a serious gamer in your life that blocks off a long weekend to play an entire game from start to finish. Refer them to Redbox so save some dough and maybe you can share a gift code too!
Most video game players probably have a large collection of games they paid full price to buy only to play through once. With Redbox, you no longer have this problem of overpaying for games that collect dust after the first week of gameplay.
Stream Movies and TV Shows On Demand
Cord cutters rejoice! One of the newest Redbox features is streaming movies and tv shows on demand. If you don't benefit from a monthly streaming plan, Redbox's a la carte digital rentals is an excellent alternative.
TV shows must be purchased on a per episode or complete season basis. Single episodes cost $1.99 and an entire season usually runs $17.99. Because you own the tv show, you have unlimited playback capability.
Movies can either be rented or purchased in standard definition (SD) or high definition (HD). If you choose to rent, the title remains in your library for 30 days. You have 48 hours to finish the movie once you begin watching it. It costs $4.99 to rent a new release SD movie compared to $1.75 to rent the DVD.
On-demand movies can be the more cost-effective option if you can't return your DVD within one day and you want to save gas money.
It's also possible to cancel your Netflix subscription by using Redbox on demand too. Instead of paying a monthly subscription, you only pay for the content you want to watch. If you don't watch a lot of tv, spending a few dollars is a lot cheaper long-term than $10 a month for unlimited streaming you don't use.
Rent Older Titles for $1.99
Redbox is known for their new releases, but the one downside is that you cant rent older movies that are kiosks. With the brand-new Redbox On Demand feature, you can stream the films you can't find at your closest kiosk. If your kiosk is "sold out" of the most popular new release, you can also stream it for movie night too.
There are films from almost any decade that you can stream on Redbox including modern 90s classics like Speed or My Cousin Vinny. You can search their video catalog by typing the name of the movie into their website search bar. Their catalog is surprisingly large and will make you rethink your current $10 monthly streaming subscription.
This option can also be cheaper than the $5 movie bin at Walmart too. If you don't want to clutter your house with movies you only want to watch once, Redbox On Demand is your new best friend.
Purchase Used DVDs
Redbox only stocks new releases at their kiosks. Because new movies are constantly being released they need to sell their older titles to make space.
You might choose to rent from Redbox because you only watch most movies once. If there's a movie you want to watch again, you can purchase it for $8.99 at a local box for the DVD or Blu-ray.
This option can be cheaper than buying a brand new title from Walmart or Best Buy and paying $20 just to get an unwatched copy. If you don't care about having the original DVD case or being able to tear off the shrink wrap, buying your movies from Redbox is another crafty way to spend less on entertainment.
You can browse the selection on the Redbox website in the "Movies for Sale" button. After choosing the title you're interested in, find a nearby box to pick up your title.
Buy Used Video Games
Just like Redbox sells older movies to make room for the newest releases, it's also possible to buy used video games for $14.99 or less. These games might not be the newest releases, but certain games are timeless and can be played repeatedly.
Instead of paying full price, you wait and scoop up a bargain. It's that simple! Because new games cost $60, getting the same title used can save you a lot if you enjoy video games.
Download the Redbox App
To save time and get exclusive Redbox codes, you should download the Redbox app. In addition to free rentals, you can also watch on-demand programming in the app. You can also find your closest kiosk and reserve movies in advance.
Use the Redbox Alexa App
It seems like one of the latest digital trends are Alexa apps. If you have an Amazon Echo, you can download the Redbox skill. Once your Alexa device has the skill, you can say, "Alexa, open Redbox."
Alexa can research new movies and games to decide what you want to watch or play tonight.
This app is still relatively new and doesn't have as many capabilities as the mobile app, but you can expect future improvements.
Making Money with Redbox???
The first two sections show you all the ways you can watch movies or play video games with Redbox, but this section shows you how to make money with Redbox.
Redbox is constantly hiring full-time and part-time employees. Part-time positions are available across the entire United States because Redbox has kiosks in nearly every American city.
If you need a job with flexible hours so you can take care of the family or go to school in the other hours of the day, Redbox provides many opportunities that help you make money without working a traditional, rigid job.
Restock Redbox Kiosks
Fairies don't magically restock the 41,500+ Redbox kiosks while you sleep.
As a part-time side hustle, you can work as a Field Support Representative to restock the kiosks in your local area. You will use your personal vehicle to maintain your route. Some of your responsibilities include:
Maintain adequate inventory in each assigned machine
Keeping records of movies you remove and deposit
Perform basic repairs
Provide customer service to store owners and customers
Input information into a computer database
You must also have a vehicle with 50 cubic feet of storage space and the ability to life 50 pounds. This can be a perfect side hustle if you don't want to be stuck in a cubicle and you like being active. Redbox also requires you to live within 10 miles of a Redbox kiosk.
Open positions are listed at Redbox Jobs. In case you've seen somebody stocking a Redbox kiosk before, their journey started by applying online.
It's also possible to find other part-time Redbox jobs too if you can't commit to being a Field Support Representative at the moment. Some of the other possibilities might include working in their warehouse or customer service department.
You know your strengths, so pursue the path that's best to make extra money while having fun!
Buy Redbox Gift Codes
Giving away freebies is a creative way to attract new customers to visit your business or website. Even if you're thinking about starting a blog, keep this idea in your back pocket to build your audience.
A unique idea might be having a Redbox codes giveaway where people gain entry by joining your email list, following you on social media, or referring friends to follow you too. Digital gift codes can be purchased for DVD, Blu-ray, or video game rentals in five code increments.
You can give the gift codes to one winner or split them between several contestants. No matter how you cut it, people get free movies and you get more people interested in your brand.
Redbox also offers gift cards that you can give as a gift for a personal friend too. Their eGifts can be given for business or personal reasons.
Get a Redbox Kiosk For Your Business
If you already own a successful business, you might consider getting a Redbox kiosk installed. To be honest, the application process is quite rigorous but well worth it.
You will need to have at least 15,000 weekly visitors and you need to have a prime real estate location. If you meet these two basic qualifications, you can contact Redbox and ask them to install a machine at your place of business. Make sure you include your weekly traffic numbers to ensure your query gets considered.
Redbox currently has 41,500 kiosks across the country. A few years ago, there were only 36,000 kiosks! Redbox is still a growing company and your storefront might be their next kiosk home.
A Few Random Facts About Redbox
Maybe you use Redbox on a regular basis or you're on the other side of the spectrum and have only seen their red machines and never rented a movie.
It doesn't really matter how many times you use Redbox each month, there are many ways to watch movies for free.
Right now Redbox has more U.S. locations than McDonald's and Starbucks combined? It's true! Redbox currently operates more than 46,500 kiosks across the United States.
There's a good chance there's a Redbox kiosk at your favorite grocery store, restaurant, or pharmacy. If you haven't used Redbox in a while, here's their current prices for kiosk rentals:
DVDs: $1.75 per night
Blu-Ray: $2 per night
Video games: $3 per night
You won't pay a monthly subscription and you only pay for a rental based on the number of nights you rent a movie or game. Redbox can be cheaper than renting the same on demand movie from your cable provider, and it certainly costs less than going to the movie theater.
Summary
Now that you know where to look for Redbox codes, it's time to start using them to watch free movies. With a constant opportunity to watch free movies, you may truly never have to pay for a movie rental again!
We Need Your Help!
If you have tried any of these codes and they no longer work OR you found some new ones, please share them with us in the comments below so we can keep this updated for everyone! Thank-you!
---