You like your cable television, do ya? I know: lots of cool stuff available to watch if you have cable TV. There are the enticing cable television series offerings such as Game of Thrones and The Americans.
There are the hugely addicting cooking/food channels and home improvement channels (my personal obsessions are Fixer Upper and House Hunters).
And of course, there are the sports packages which, from what I'm told are a "necessity" to most every guy in the modern world.
Cable TV is fun. It's also expensive. I checked prices on the local cable TV provider website for the most popular provider in the major metropolitan area near where I live.
The cheapest package they offer is $40 per month. That's before all of the mega taxes and fees they add on. The most expensive package, the one with all of the extras? Over $100 per month!
Now, $100 a month may not seem like a lot of cash, but for a family that's lived without cable television for nearly five years now, the thought of spending $100 or more a month to watch television makes my stomach hurt.
Yep, we haven't had a cable subscription for nearly five years, and it feels wonderful!!
The $45 a month we are saving by not having cable TV (we had the cheapest package at the time) now goes directly to our debt freedom fund.
And although $45 a month might not seem like enough to make a difference, it is helping to speed up our race to debt freedom.
Forty-five dollars per month is $540 a year, and $2,700 over five years. And that's not including the compound interest we've saved by paying extra on our debts.
What would you do with an extra $3,000? Put it toward your mortgage so you can kick that ball and chain to the curb a few years earlier?
Go on a tropical vacation? Donate the money to suffering people in the world or to a kid who wants to go to college but needs some financial help?
To tell the truth, there are many options for watching television that cost less than a cable TV subscription.
Check out these cable TV alternatives and start pocketing the cash you've been paying for cable TV so you can use it for something more exciting.
Here are 9 cable TV alternatives that can save you big bucks over the long haul.
1. Netflix
This is the one TV subscription we pay for at our house. For just $10.73 including taxes, we have thousands of movies and shows (over 18,000 according to the Netflix website) to choose from in all sorts of different genres.
Netflix even has their own coveted line of original series shows, such as Marvel's Defenders and Fuller House.
My kids love Netflix for its endless episodes of My Little Pony and Barbie's Life in a Dream House. My husband loves it for the wide range of show genres, from action movies to documentaries to their Faith and Spirituality section.
Netflix has three different subscription options available:
The Basic Plan for $7.99 a month, which allows viewing on one screen at a time
The Standard Plan for $9.99 a month which allows viewing on two screens at a time (this is the plan we have)
The Premium Plan for $11.99 a month which allows viewing on up to four screens at a time
No matter which package you choose, Netflix is a viable and affordable alternative to cable.
2. Hulu
Whereas Netflix offers TV show episodes after the series' season is done, Hulu does a one-upper in that it shows most TV series episodes (with the exception of CBS shows – more on that later) just a day after they air.
Hulu also offers a wide variety of movies as well as its own original series programs such as This is Us and The Handmaid's Tale. How much does it cost to have Hulu?
The Basic Plan is $7.99 a month
The Basic Plan with No Commercials is $12.99 a month
Hulu with Live TV starts at $39.99 a month, and gives you immediate access to live streaming
You can also get any one of the plans Hulu offers and then do premium channel add-ons for HBO, Showtime and Cinemax.
The add-ons cost between $9.99 and $14.99 a month per add-on, but then you're getting close to cable TV package prices.
I recommend Hulu Basic without an add-on for the biggest monetary savings.
3. Amazon Prime Video
Amazon Prime Video is a streaming service similar to Netflix that is offered to members for an $8.99 per month subscription fee.
Worth noting is that if you are an Amazon Prime member, you are eligible to get Amazon Prime Video for free.
The Amazon Prime membership can be more expensive or less expensive than the stand alone Prime Video Membership, depending on what payment option you choose.
The monthly payment option for Amazon Prime Membership (which includes Amazon Prime Video) is $10.99 per month.
However, if you purchase a yearly subscription to Amazon Prime and pay in advance, it's only $99 per year – or an average of $8.25 per month.
That's an awesome deal because along with streaming for thousands of movies and TV shows, you get free 2-day shipping on all Amazon orders and a host of other benefits as well such as their free music streaming service and unlimited Kindle book reading.
If you're a big Amazon user this might be the best cable alternative for you. However, you should know that although they do offer lots of free movies and TV shows on Amazon Prime, they also have a large selection of available movies and shows that they charge an additional fee to watch.
This is the one reason we haven't made the switch from Netflix to Amazon Prime, but we talk about doing so at least once or twice a year.
4. Sling TV
Sling TV is kind of like an affordable cable TV subscription. With Sling TV you get a choice between two packages.
The Sling Orange package costs $20 per month and offers over thirty channels such as ESPN, Disney, HGTV and CNN.
The Sling Blue Package costs $25 per month and offers over forty channels such as FOX, NFL Network, FX and more.
The two Sling packages show different channels, so you do have the option of getting both packages for a discount of $5 a month, which would mean a $40 per month subscription.
Sling might offer more channels than your basic local cable TV package, which would probably cost about the same. Sling also offers add-on packages if you want HBO or similar cable channels.
Read Full SlingTV Review here.
5. YouTube
You likely know about YouTube. Millions of videos on just about every subject, and TV show and movie episodes as well.
YouTube is free, but can cost money depending on what movies you want to watch. In our experience they generally charge $2 to watch a movie. Not a bad cable alternative as long as you watch just a few paid-for movies per month.
6. HBO Now
HBO Now is a stand-alone streaming service that gives you unlimited access to all of HBO's original shows, along with a variety of movies, documentaries, sports and exclusive comedy specials.
For $14.99 a month (provided you have an Internet provider that is compatible with the HBO Now program – they currently have twelve Internet providers listed on their web site as compatible) you can get access to all of the HBO original series episodes and more.
If you're a big HBO fan but don't care too much about the rest of the television world, this could be the right streaming choice for you.
7. Showtime Streaming Service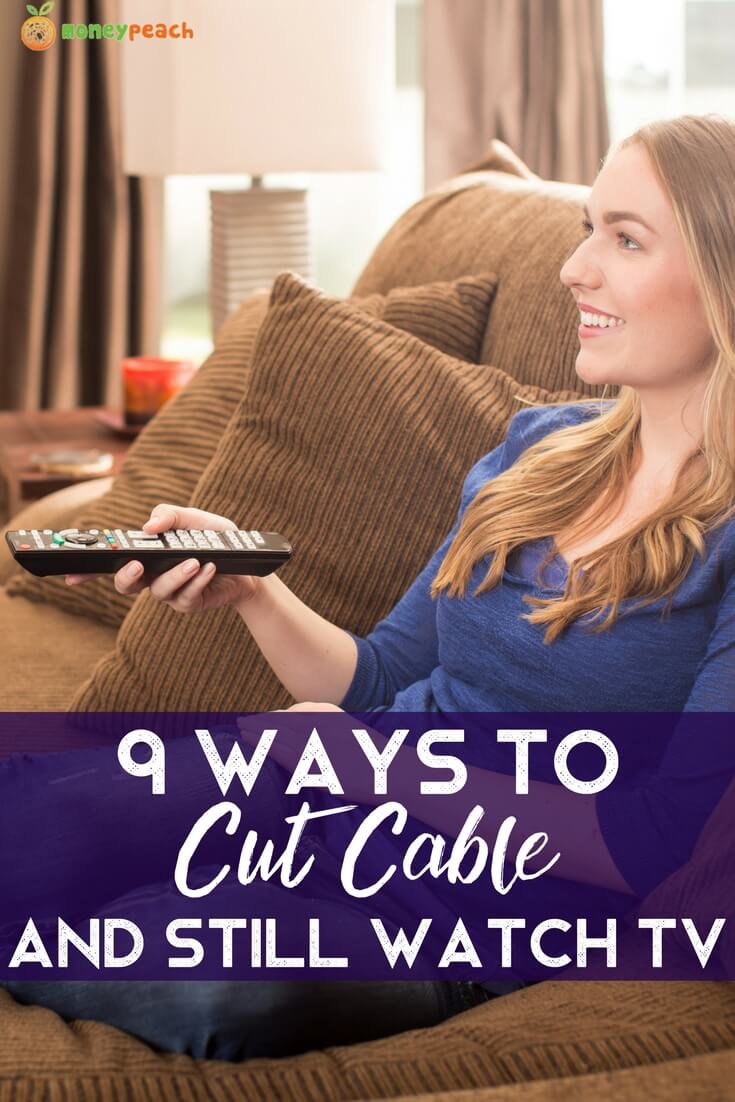 Showtime's streaming service is very similar to HBO Now. They offer streaming of all of their original series show episodes as well as documentaries, comedy specials, sports, and more.
Like HBO Now, Showtime's streaming service works through specific Internet providers. However, Showtime's streaming service costs less than HBO Now.
Showtime charges $10.99 per month for a subscription to its streaming service, or $109.90 for a full year paid in advance (that breaks down to $9.16 a month).
They also offer an extra benefit for Showtime streaming service subscribers: the Showtime Anytime app, which allows you to stream Showtime from any phone or other portable device.
Cost for the app: free if you are a Showtime streaming service subscriber.
8. CBS All Access
The reason Hulu doesn't stream CBS shows is because CBS cornered the market on their shows with their own streaming service: CBS All Access.
CBS All Access is a super affordable streaming service for those who like a lot of CBS shows.  At only $5.99 per month (and they offer a 7-day free trial as well), you can watch any CBS show, past or present, including CBS aired football games live when they air.
You can also get the service with a commercial free option for only $9.99 per month. The CBS streaming service also has its own set of original TV series shows.
One complaint some reviewers seem to have about the CBS streaming service is that some series shows are only sharing a few episodes at a time as opposed to others that offer the entire series of episodes.
If you're a big CBS fan, this could be the way to go for you.
9. Local Channels via HD Antenna Use
I was surprised to find out just how many local television channels most major metropolitan areas have available for people who have installed an HD antenna in or on their home.
If you go to a site called Antenna Web, you can find out how many local TV channels there are available in your area.
When you go to the site they'll ask you to enter your zip code, and then check a box if your antenna will be installed more than 30 feet off the ground. I left the box unchecked since that wouldn't be the case for our home.
I was shocked to learned that there were 47 local channels available in our area. We can't view most of those channels now (we can currently view about twenty). However, if we bought an HD antenna, we could view a lot more.
What Kind of HD Antennas are There?
Indoor or Outdoor
HD TV antennas come in both indoor and outdoor models. The general rule is that an indoor antenna will work fine as long as the broadcasting stations are located within twenty miles of your home.
If they're further away than that, you'll want to go with an outdoor antenna if possible.
Directional, Multi-Directional and Omni-Directional
There are three main types of antennas available for purchase. Which one will work best for you depends on a couple of things.
If the broadcasting stations near you are all located closely together, you can get away with a directional antenna.
If the stations are located in the same general direction from your home but not located close together, you can use a multi-directional antenna.
Finally, if the broadcasting stations are located in different directions from your home, you'll want to go with an omni-directional antenna.
Here are a couple of antennas that have good reviews on Amazon.
Indoor Antenna
Outdoor Antenna
The cool thing about using an HD antenna as an alternative to cable TV is that once you purchase it that's the only out-of-pocket cost you'll have. You own the antenna and it's yours forever.
Summary
So the next question is, why are you still paying for cable???  Just kidding: the Money Peach blog is a judgment-free zone. 🙂
However, if you are interested in spending less so that you can have more (more freedom, more fun when you're not weighed down by debt and more money to spend on things that are really important to you), think about ditching your cable subscription and using one of the alternatives listed here instead.
It's been five years since we bid sayonara to our cable subscription. I'm still convinced it's one of the smartest money moves we've made.
What's your favorite way to watch TV?