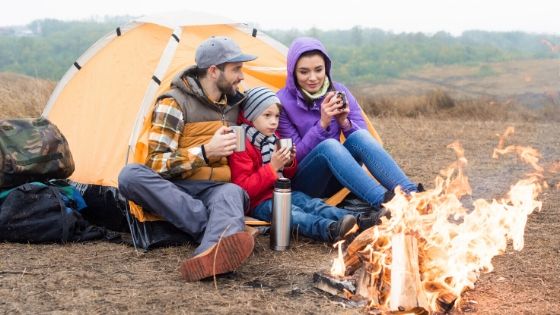 A timeless summer pastime for many families is camping in the great outdoors. Camping is a fun way to escape the hustle-and-bustle of our modern world while building memories and relaxing. Free camping means you can go more often and your only two expenses are gas and food; which can be reduced using our tips too!
No matter which neck of the woods you live in, you can find a free camping spot near you and start a new inexpensive hobby. Free camping isn't exclusively for broke Millennials, campers of all ages can join in on the fun.
Free Camping? What's the Catch?
Where do you go camping? If you're like most people it's a campground–private or state park–which charges a nightly rate that might only be a few dollars if you're tent camping in the off-season or up to $200 for a full-size RV; most hotel rooms are cheaper than that!
While there are many places all over the nation to camp for free, there are a few things you need to be aware of.
Depending on how many years you have been camping, you have probably seen your fair share of changes at campgrounds in the past few decades. Camping in 1998 is a lot different than camping in 2018 where many private campgrounds now offer free wifi and other conveniences that were exclusive to resorts and hotels.
Free camping isn't always as glamorous if you're used to these 21st-century creature comforts. But if you're ready to "rough it" and go without the following campground conveniences, you can have the time of your life for free.
When you find a free camping spot, you shouldn't expect the following amenities:
Electric or water hookups
Restrooms
Picnic tables
Trash pickup
Campgrounds charge you a fee so they can provide these amenities. You will need to come prepared to camp at a primitive site, but don't worry, you can still have a campfire and roast marshmallows at most of these recommendations.
Where to Look for Free Camping
Primitive camping doesn't bother you? Great!
Now that you know you can camp for free, you simply need to find where to pitch your tent for the night. You can bring your camper or RV too, just make sure you come with a charged battery and full tank of propane.
Some places won't come right out and mention free camping sites. They might call it one of these three phrases instead:
Backcountry camping
Dispersed camping
Primitive camping
Keep in mind that sometimes you're required to pay a permit fee even if the campground uses one of these three terms mentioned above.
If you want to backpack for multiple nights in a national park (backcountry camping), you might have to file a permit so the National Park Service knows how long you will be camping and can send a search party after you if you don't sign out on your intended departure date.
Use a Map
You can get free maps from visitor centers that can show the free and paid camping sites, but these maps are free for a reason; they only give you the minimum amount of information to get you to the primary landmarks.
If you plug the GPS coordinates into your GPS, you might not know which way your device will route you. Some apps don't map the minor roads and you're on your own once you get into the park and hope you don't miss your turn. Investing in an atlas like the Benchmark Road and Recreation Atlas give you a hard copy of all the known roads in the state.
Even if your GPS thinks your on Mars, you still have a premium paper map to help you find your camping spot on federal lands and state lands.
It might be 2018 and we're all glued to our smartphones during our daily life, free camping takes you back to the simple life. Owning a paper atlas might be the only investment to become an outdoor enthusiast and never pay for a campsite again.
FreeCampsites.net
Possibly the quickest way to find a free place to camp is FreeCampsites.net. You can search by zip code or city and the list of free and paid campsites will populate on the map for your area.
You will want to look for the green icons on the map as these are the free camping locations. Clicking on the green icon provides more information about the name of the campsite, the number of sites, any on-site amenities, the maximum stay length, and any restrictions like not bringing an RV longer than 25 feet.
Previous campers might also leave helpful comments that can help you plan your visit too.
You won't be able to make reservations on FreeCampsites.net as most free campsites are "first come, first served" but you can find the phone number and website to find more information for sites that require payment.
When I performed a search for my local area, I discovered seven free places to camp in our nearby national park and national forest. There were also a few paid sites maintained by the Park Service and Forest Service too.
While there were two private, full-service campgrounds listed, this site does an excellent job of keeping the "chain" campgrounds off the listings so you won't be bombarded with all the locations you're trying to avoid because you want to camp for free.
Ultimate Campgrounds
Ultimate Campgrounds lists over 32,000 U.S. and Canadian campgrounds that you can search for free on their website. The Ultimate Campgrounds team does an excellent job of finding the various shelters and listing their costs (if any), restrictions, and camping season dates for easy reference.
They also code each map icon so you can quickly identify who maintains each site. For example, NP means National Park, CP means County Park, and COE means Corps of Engineers.
Because Ultimate Campgrounds lists the various locations that charge a fee, you will have a more difficult time finding the free locations compared to other free camping directories, but their map is still easy to navigate.
For a small fee, you can also purchase their Android or iOS mobile app and you can also purchase their POI database to install on your GPS device too.
AllStays
Of the websites that list all of the free camping locations, AllStays is possibly the most thorough because it's a premium app with a one-time $9.99 fee. The mobile app is available for iOS devices or you can purchases an AllStays Pro membership to access the information on your computer or mobile device.
This is a favorite app for many frugal campers that value time as much as money. AllStays basically pays for itself the first time you use it to find a free place to camp.
Because AllStays is a premium service, you can filter results by managing department–National Park Service, Bureau of Land Management, etc.–and also by permitted camping vehicles and amenities such as pull-thru lots for RVs or sites for tents and car camping only.
You can also access overhead Google Maps views and find sites with nearby amenities in case you need bathrooms, showers or a dump station.
Campendium
Another website that lets you look for free campsites is Campendium. When you're on their site, click the "Free Camping" button to search for a free site near you.
You can also filter your results by the following types of parks if you decide to pay for a site instead:
National forests
National parks
RV parks
State parks
Some of the search results even list if you can get cell phone reception and cellular data at the campground. Even though you are probably looking for a primitive site to escape our digital world for a brief respite, there are times we still need to remain in contact for and can't go back in time to a true 1998 camping experience when cell phones were still a novelty.
Bureau of Land Management
For select Bureau of Land Management (BLM) campgrounds in Arizona, you can camp for free for up to 14 days in a single 28-day period. You will need to look for public lands that allow "dispersed camping" and don't offer any developed amenities.
The BLM also maintains developed campgrounds that cost between $4 and $10 per night through much of the western United States. It's not free but it's still a very reasonable rate and can still be cheaper if you have the cost of gas to get to the free dispersed camping site costs more than driving a shorter distance and paying the fee.
National Forests and Grasslands
If you plan on visiting a national forest, you can also visit the U.S. Forest Service website to find the managing ranger district and any current alerts or warnings that can affect your camping agenda.
You can locate the free campsites on the third-party websites, but they might not let you know about "acts of nature" like wildfires or flooding that might temporarily close a camping area. You can quickly spot any potential travel restrictions on the right-hand side of the webpage for the forest or grassland you are planning to visit.
Here's an excellent reason why it pays to sometimes get your information directly from the host. We were planning on visiting a national park last summer, but the area we were planning to visit was closed indefinitely because a highway bridge needed to be replaced.
After driving to the park only then to discover the bad news, the closure was listed on the National Park Service website but not on the directory we used because it popped up first in our search results.
State Parks
While you can find free state-maintained campsites in an online directory, you can also look on the official state park websites too. Some sites are always free and other states sometimes offer free nights on select days of the year. Each state has different policies but you won't always find free camping opportunities if you don't look for them.
Walmart Parking Lots
In many instances, free camping means going to a remote area where it's you, the trees, and the stars. But, did you know that you can also camp for free in most cities at your local Walmart parking lot?
Camping in parking lots is also called "boondocking" or "dry camping" as you camp without any hookups. By staying at a Walmart at least, you have 24/7 access to a bathroom and any essential supplies you forgot at home. And, there are usually plenty of parking spots for RVs.
Despite having more than 5,000 U.S. locations, approximately 900 Walmart stores will prohibit overnight parking. Walmart Locator has put together an interactive list of locations that don't allow RV camping. Also, take a second to read the comments for the state you plan to visit to find a decent alternative so you can still avoid paying a nightly fee.
Harvest Hosts
If you have a self-contained RV or camper, you can also camp for free at wineries, farms, and attractions. You can find these hospitable hosts with Harvest Hosts. Since you're going to be visiting the place anyway, what's cooler than staying there so you can be the first in line when the doors open and save a few bucks in the process.
There are more than 590 hosts located across North America; maybe you've driven by many of these places before and never knew it!
RV Golf Club
Fore!
If you never travel without your golf clubs, RV Golf Club lets you camp at golf courses for free in your RV. You do have to buy an annual membership that starts at $99, but the membership can pay for itself before you ever warm up at the driving range.
In addition to free RV camping, you can also get discounts at golf courses or food and have access to additional amenities including full-service RV hookups for free!
Truck Stops
Pulling into a truck stop isn't as popular of a free camping option as it used to be. This is because there are more truck drivers on the road than in previous years and there are not enough overnight spots at truck stops and travel centers for every driver.
As a courtesy to the truckers, staying overnight at a truck stop might be your last choice.
Some truck stops prohibit RVs from staying overnight but don't lose all hope, some of these travel center brands that offer designated RV camping spots at select locations:
Searching on the website for these three brands can help you find an RV-friendly travel center. Of course, it might not hurt to call ahead to verify you can park overnight too.
Cabela's and Bass Pro Shop
Some RV travelers are also able to boondock at the Cabela's and Bass Pro Shop sporting goods stores. Before setting up camp, ask the store manager for permission as not every store allows overnight parking.
Camping World
As a national RV dealership, Camping World has been known to offer free camping at their locations if they will be servicing your RV the next day. You usually have to ask permission to stay overnight and each dealership has their own policy. Your odds of receiving permission to camp at Camping World is greater if you purchased your RV from a Camping World dealership; now that's a loyalty bonus.
Become a Seasonal Camp Host
If you're not afraid to work for your free campsite, you can become a camp host–or workamping– to camp for free and make some extra cash.
You might have to ask the individual campground or apply online through a staffing agency like Recreation Resource Management, KOA, or through the state park system.
Being a camp host is a fun side hustle if you want to spend a month–or the entire summer camping season–at the campground of your choice. This can be your summer to finally find a way to visit a state or park you've never seen before because you couldn't afford to go.
Many campgrounds like to hire couples, but you can also apply as a single person too. Even families with children are camp hosts and get a "free" summer vacation out of the deal!
You have most likely been to a campground before and have seen a sign for the camp host's cabin or RV spot at the front of the campground. In case you've always wondered how they got that job, now you know.
Tips for Free Camping
Camping for free might be a completely different experience than you're used to, even if you only do primitive camping at a regular campground where you still have a picnic table and access to a dish washing station.
There are a few cardinal rules you need to follow so that you and others can enjoy free camping for years to come:
Leave No Trace
Why do you see No Dumping signs on vacant pieces of land in the middle of nowhere? Because a few people are too lazy (or stingy) to take their trash to the landfill and dump it in somebody else's field instead. While signs won't keep people from dumping their trash on other people's property, law enforcement can fine you if they catch you in the act.
The same principle applies to free camping. If too many people trash the sites, the state or national park authority will close the camping area.
It's also just courteous to leave a clean site for the next person too. You don't want to pull into a place that's littered with trash and spend your entire weekend cleaning up the site instead of enjoying nature and relaxing.
When you leave the campsite, leave it as clean or cleaner than you found it; make it your goal to make the next camper feel like they are the first person to ever stay at that site.
Here are a few examples of leaving no trace behind:
No trash
Don't cut down live trees
Only camp in the designated camping areas
Leaving no trace behind also deters bears and other critters from invading the camp site. Some people prefer camping for free because it means they are away from the "city slickers" that practice bad habits that invite wildlife into places they don't belong.
Know Campfire Regulations Before You Burn
Some campgrounds prohibit all campfires during the summer months and periods of drought to prevent wildfires. If you were planning on cooking all your meals over an open flame, you will need to either bring a gas grill, find different food to eat, or move to another campground with a more lenient burning policy.
Other agencies also require you to obtain a burn permit. This permit can be free or you might have to pay a small fee.
Also, take the time to familiarize yourself with the firewood policy. Deadwood on-site can be collected for personal use but you might not able to bring any of your own wood. This restriction minimizes the spread of invasive species that hitch a ride on your kindling.
Don't Overstay Your Welcome
Most federal and state camping areas let you camp up to 14 days. After that, you need to move at least 50 miles away from your current spot to camp again.
If you're camping at a place of business, you might have to leave before peak business hours or arrive later in the evening too. Boondocking at a business can be a better option if you only need a place to crash for a few hours and aren't going to enjoy the amenities of a paid campsite.
What Type of Road Do You Have to Take Access Free Camping Sites?
Some free campsites are free for a reason; they are extremely tough to access unless you have a four-wheel drive vehicle and you're only going to be sleeping in your tent or car.
Several of the websites mentioned above include the type of roads you need to take to arrive at the free campsite. Some sites are immediately off paved roads or maintained gravel roads, but others can only be accessed from fire service roads that aren't RV or travel trailer friendly.
Essential Camping Supplies You Need
Unless you're staying at a travel center or Walmart parking lot, most free camping sites are located in the middle of nowhere. That means you need to follow the Boy Scouts motto and come "Always Prepared."
This brief checklist ensures you don't forget any of those essential supplies you can't walk down to the general store to get:
Toilet paper
Soap and Cleaning Supplies
A shovel
Food
Water or water filtration supplies
Extra gasoline, propane, or cooking fuel
Flashlights, lanterns, and headlamps,
Extra batteries
Trash bags
An imagination 🙂
If you buy your camping gear online, don't forget to shop using Honey to activate coupon codes and Ebates to get up to 40% back on every online purchase.
Where Are The Most Common Places for Free Camping?
The most common places to camp for free are public lands including:
National forests
National grasslands
National recreation areas
State parks
State forests
These locations are usually remote and not cost-productive to develop. They might only be open seasonally, hard to access, or only have a few of spots. Unlike paid campsites, you won't be able to reserve a spot but will have to arrive first to claim your spot.
What About Camping in Parking Lots?
If you're going to camp in a parking lot, Walmart should always be at the top of your list. Walmart's are almost everywhere and they are the most RV-friendly. Staying at a Walmart is probably a better option as an intermediate stop before you finally get to your final destination to camp, but it's still cheaper than a hotel room.
Can You Camp Outside The Designated Free Camping Spots?
Every campground only has a finite number of spots, but some camping areas are larger than others. Some camping areas are the equivalent of a wide roadside shoulder or a small clearing that only fits a few vehicles. If these spots are full, you need to keep driving until you reach the next campground.
Other sites that are more expansive, like the camping areas in the western United States, gives you more liberty to where you can camp as long as you abide by some of the following rules:
At least 200 feet away from a running stream or lake
Adhere to current campfire regulations
Properly dispose of your waste
Do not go onto active hunting grounds
One reason why you might be camping for free is that you're hunting on public land. For the safety of you and your fellow hunters, only camp in the designated camping area and stay out of the hunting areas.
If you're not a hunter, pay attention to the hunting season as you might not want to camp next to an active hunting ground for the weekend.
Benefits of Free Camping
Here's why you should give free camping a try at least once.
Camp With Complete Privacy
Campgrounds are a fun way to camp but you're surrounded by lots of other people. Even if there are "quiet hours," they might not be enforced by the camp host and you'll hear loud music or the grinding noise of RV diesel generators for the entire night.
Free camping in a remote area means you can have your own private site where you don't have to wear earplugs to tune out your noisy neighbor. And, you'll also be able to see every star in the sky, enjoy some of the most breathtaking sites like a roaring river or a scenic plateau.
If you slept at a regular campground, you would have to fight the crowds to drive into your local state or national park to see a similar beauty and only for a brief moment. Instead, you get to enjoy it for your entire stay!
Have Fun for Little Money
When you camp for free, you only have to pay for gas and food. If you fish or hunt, you'll have to buy a license which is still a minimal expense. A natural offshoot of camping for free is enjoying the great outdoors by hiking, bird watching, or resting at the campsite. Why pay $100 a night to camp when you can go directly to the park and camp at the trailhead to save time and money?
You Can Camp for Free in an RV Too
You might think free camping is only possible for backpackers and tent campers, but you can camp for free in an RV. If you plan on camping in an RV, you will have the most success finding free spots with a 25-foot RV.
It's still possible to find free camping spots in the great outdoors with a full-size RV that can be as long as 45 feet. Be prepared to stick to campsites that are accessible by paved or maintained gravel roads only. Don't forget about Walmart or travel center parking lots too as you might have a hard time booking a stay at a hotel if a paid campground doesn't have vacancy for the night.
Downsides of Free Camping
It's not for everyone and if any of these things pertains to you, it may be your best bet to stay away from free camping.
Your Camper or RV Is Too Big
One of the most common reasons you can't camp for free is because your camper is too large to fit in the spot or the road is too rough to traverse.
There Are No Amenities
Just like there are many different types of hotels that cost less than $50 or above $1,000 per night, camping can also be as cheap or expensive as you make it.
Free camping probably won't be an enjoyable experience for somebody used to sleeping in a hotel or camping out in an RV with satellite tv and the complete party setup with tiki torches and strings of lights that require electricity to turn on.
Even if you can't completely rough it for free, many improved state and federal camping areas can still be cheaper than a private campground. You're still in the thick of nature but have access to bathrooms, running water, and electricity.
Summary
Free camping isn't for everybody but it can be the experience of a lifetime if you want to save money and enjoy the pristine natural beauty you might not see if you stay at a regular campground. And the best part is that anybody from a backpacker to an RV owner can camp for free all across the country.
---