For the past 10 months, I have been wanting to write today's post.
What Changed For Us
Over the past year, Andrea and went from saying we were followers of our Christian faith to actually putting action into our belief. Looking back, we were "Sunday Christians" meaning we attended Church around the holidays, prayed only when we wanted something to go our way, and did the absolute bare minimum so we could get into Heaven 🙂
Last Spring, we together decided to make some financial changes in our lives. We made the decision to become active in our faith.
We were re-baptized, became members of a church, joined a small neighborhood group, started actively talking to our kids about God, started volunteering in the church coffee shop, and then we did what I had always been reluctant to do in the past.
We started giving 10% of our gross income to the church.
This Was Our Why
One of the main reasons we wanted to get out of debt was so we could have the ability to generously give our money to those in need. I remember reading stories of people who were unbelievable financial givers, and we both wanted to experience those same things.
We wanted the ability to give to a family in a financial crisis.
We wanted to leave the $200 tip for the pregnant waitress working the week of Christmas.
We wanted to help purchase the expensive therapy equipment needed by a child with special needs.
We wanted to help send a friend on a mission trip to Bulgaria to re-build a school.
We wanted to donate to a widow who was just starting over in life.
Simply put; we wanted to witness the blessings money could have on others if managed the right way.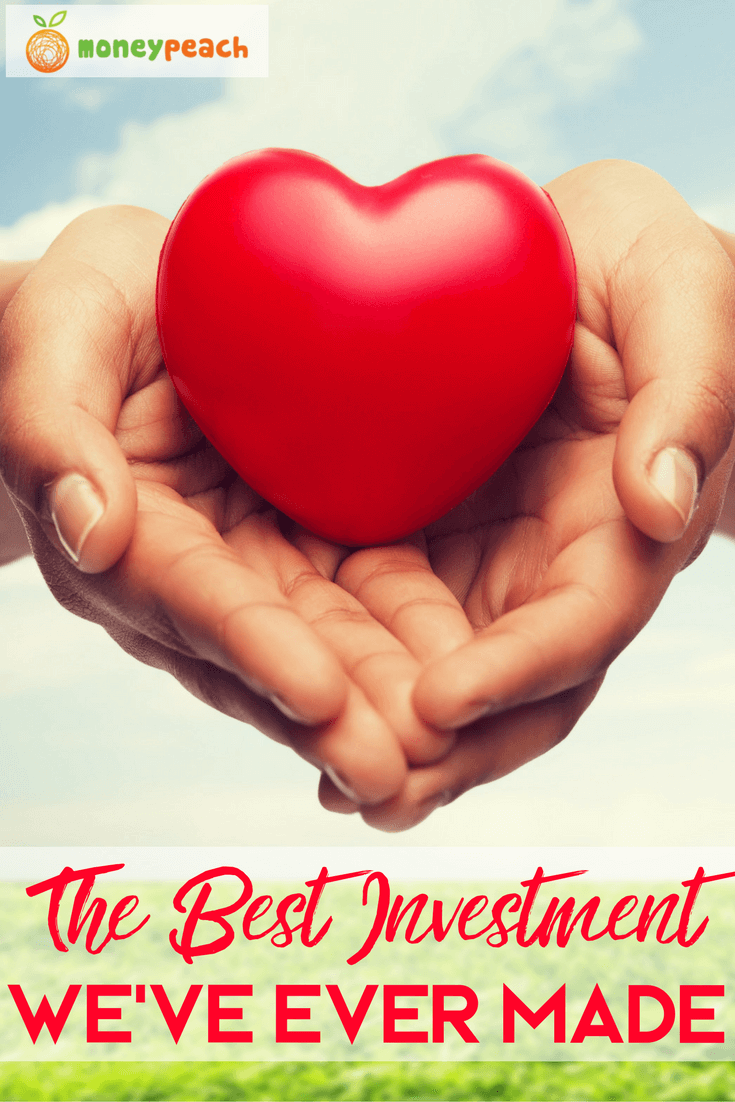 Is it Really Our Money?
This was the question that stuck in our minds. Is it really our money? I believe the answer to that question may be different for many people, but for us the answer became a definitive "no".
We look at everything being His, including His money.
We realized if we couldn't live off of 90% of our income, then we couldn't really live off 100% either. 
Therefore, when we understood God only wanted 10% of His money back, the decision we made together to start writing out those weekly checks became a reality. We started tithing, or giving a tenth of our income to our church. However, this time our giving was different; we didn't see the immediate effect of what we have always seen in the past in terms of giving. Instead, we were sending our money to the church based on faith.
Was it Difficult?
Truthfully, it was very hard in the beginning to decide to take a tenth of our income and willfully give it to the church and then let them decide where it goes. We initially felt we were losing a little bit of the control we have enjoyed with our life and our money over the past five years, and that was hard to get our minds around.
Since 2011, we had paid off our debt, built an emergency fund, and invested on a monthly basis into retirement and our kids college.  Our financial lives have been running on autopilot and it was awesome! We knew where every dollar was going, had a good idea of how much we would have at retirement, and how much each kid would have to start college. It felt like bada-bing-bada-boom, and we loved it!
However, once we made the decision to tithe, all of this was going to have to change. We were giving up control and putting it all in His hands. If I told you this was easy, I would be lying.
A Year Later
Just like anything in life, if you do it enough times, it will become a habit. For us, giving 10% to the church has become habit – a good habit.
I am sure you are waiting for the cliché story of the family who started tithing to the church and became blessed with thousands more and this ends up being the moral of the story. Unfortunately, this is not the way it works 🙂 But, I will share with you what Andrea and I have both received from simply sending 10% of His money back to Him.
We Worry Less
The moment we decided to start writing the check to the church, we erased a little bit of the stress we didn't realize was there. It doesn't make sense to give up a little bit of control and then worry less, but faith isn't always dependent on what makes sense or what you can see. It's what you believe.
We See More
In the moment we didn't see it right away, but looking back over the past year, we see more than we ever had in the past. They say hindsight is always 20/20, and this couldn't be more apparent in our lives. Too many coincidences have happened for us to believe they were merely a coincidence. We now know they were blessings.
We will never know if it is a direct result of faithfully sending out our tithe, but the return we have had on our investment in His kingdom over the past year has been beyond coincidence. The relationships we have created within our community, the people that have entered our lives, the blessings we have both received at work, and the tremendous growth this blog has had, have all been too much to simply look at as coincidence.
Financially, We Feel the Exact Same
It doesn't quite make sense, but financially we haven't felt a thing. We cut back 10% of our income from our budget and we are still here today to talk about it. As a money-nerd who utilizes a spreadsheet for every aspect of life :), it completely boggles the mind. How could we cut out 10% and not feel a thing? Remember, faith doesn't have to make perfect sense. This is why it is called faith.
Related: Start your own Monthly Budget
Oh Yeah…We Pay Less to the Government
Part of being good stewards of money is managing your money responsibly. Our goverment allows us to deduct our tithe to the church, so we will definitely take the deduction! Remember, we aren't just managing our money, we are managing His money. It is our responsibility to make certain we are managing it well, and this includes taking the dedcution 🙂
Related: The 48 Tax Deductions You May be Forgetting About
My Message to You
I truly don't believe you can buy your way into Heaven by giving a tenth of your income to the church. In fact, I don't believe you should have to give any money at all to the church….unless you feel you want to.
This was the greatest misconception that had weighed on my shoulders for the longest time. I believed the church wanted their money and they were eventually going to shame it out of me.
What first needed to happen for Andrea and I, was we needed to have faith. Not just the show-up-to-church-on-Sunday faith, but a belief in something bigger than ourselves. We believe things happen in life (and in order) for a reason, and for a moment in the Spring of 2016, we both came to the realization we wanted to be faithful financial givers to the church. We wanted to give up complete control of this financial security blanket we had built, and we were going to rely on something we couldn't exactly make sense of, but we could believe – faith.
Andrea and I feared for a long time that sending 10% of our income to the church would wreak havoc on OUR financial plan.
The reality is: it wasn't really OUR plan in the first place. It was His, and His plan is better.
What about you?
What do you believe? I would love to hear your thoughts on this post, on your life, and what you agree and disagree with.
Please post your comments below.
Thanks for reading the Money Peach Blog,
-Chris Peach