Bruce and Andy have an unbelievable story. They once had a car payment that was bigger than their house payment and today they are completely debt free! This turn around happened in only 7 months! How can a family go from living in a trailer, carrying debt, and then having financial freedom quickly afterwards? The answer: they made that choice!
So if we back up a little bit, I'll tell you their story. They were normal just like you and I, and everyone else. They got married, bought a house they really couldn't afford, liked stuff, had two kids, liked even more stuff, and slowly created a large problem that revolved around – DEBT. After they lost their home to a short sale, they did what any of us would do – they bought a trailer and moved into Mom & Dad's backyard with their two boys.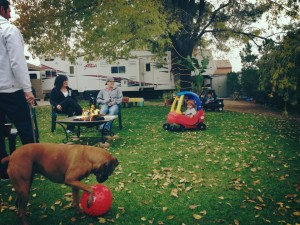 I knew Bruce when this was going on and I remember saying to myself two things: "Is this really happening?" and "Wow, his wife is cool"
They were living in a trailer because they were willing to sacrifice A LOT now to win later. They were going to start their new journey, however they were starting off in a mountain of debt. They had two auto loans, a credit card, and their trailer they were living in. All together this added up to $75,000. However, they had a great plan. They were going to sacrifice a lot now to win later. My hat goes off to them for having this hope, but the only problem was they didn't have a map on how to get there. I have said this before, but if you wander around aimlessly, you will go directly nowhere in a hurry. Unfortunately for the Ptacek family – that's exactly what happened.
"I can honestly say the lowest point of our marriage was when we sold our house to move into a trailer and we still couldn't pay off anything or save big at about 5 months in. When we needed to do our first budget I had a melt down. How did we get like this? It felt like everything was crumbling around us and we were failing" 
They had lost hope. Nothing seemed to be working for them. Why did everyone else seem to be doing so well and they were struggling so badly? None of their friends were pulling their house up to the pump out station once a week and why did Andy's closet look like the size of a briefcase? They needed a change and finally were willing to let go of their way and learn how to really handle their money. They took the first class we hosted through Dave Ramsey's Financial Peace University as a last ditch effort to gaining control of their money. However, they were still one foot in and one foot out until they heard the joke in one of the lessons that goes:
"If your truck payment is bigger than your house payment – you might be a redneck"
Ouch! It finally hit Bruce. It him hard. I remember having this conversation with him: "I pulled up in my parents' driveway in my $30k truck. When I stepped out of the truck and was walking through the backyard gate, I stared at the trailer which my wife and kids had called home for a year. Then I looked back at my truck. At that moment I said to myself – What the hell am I doing?"
Sometimes we do dumb stuff with our money. We also used to do it quite frequently, and every time – it sucked. But, the best part of doing dumb with money is what we get to do to reverse the dumb into awesome. Bruce and Andy created a budget and started doing it together for the first time in their marriage.
They sold the truck and bought a used Bronco for $4k. Then they took their tax return and paid off her car, and quickly knocked out their credit card balance. They saved up 4 months worth of expenses for their emergency fund. Finally, after 1 year and 1 day, they moved out of the trailer and into an affordable rental house. Soon afterwards they sold their trailer and became debt free.
In only 7 months, they paid off $75,000 in debt!
They didn't owe anyone a dime. Can you imagine the feeling they must have had? They went from living in a trailer in their parents' backyard, deeply in debt, looked at by their friends as if they had a giant sign on their forehead that said "Please Ridicule Me", and feeling hopeless! I truly think they were supposed to go through these challenges so they can share their story and help others win with money!
Where Are they Now?
"Our marriage is stronger every day. Marriage takes teamwork all the way around. When it comes to finances, we've finally got the same play book. There's no blame, there's no feeling like it's all on one person's shoulders. We're a strong team all the way around and the kids notice it too."
Bruce and Andy are awesome. Period. They are humble, they have huge hearts, and they want everyone to know there is a better way to live. They now have money to give to those in need. They recently were able to go on a mission trip to Mexico to build a house for a family in need – how freakin' cool is that?!– and have generously given to others that were hurting. They are able to buy things they need – and want – because they don't carry debt. DUH!
Today they are still in their rental home and socking away large amounts of cash each month for a giant down payment on their forever home. This home is going to be different: it's going to be on a 15 year mortgage with 20% down, it's going to be the result of all their hard work and sacrifices over the past few years, and it's going to be a blessing.
They never were able to take a honeymoon when they first were married because they were broke. They are planning a trip to Hawaii for their 10 year anniversary. What an awesome story!
If you have questions, want to throw a shout out, or simply want to give these two a virtual fist bump – Leave a Comment below!
Do You Know Someone Who Needs to Read This?
As always, I first want to thank you for reading this blog because this means you are reaching for awesome with your money! I will keep putting content out there for anyone to gobble up and implement right away, however if you could help me out by sharing this post on your favorite social media platforms, it would mean the world to me! Just click on any of the social share buttons at the top or bottom of this post and you'll be giving me a virtual fist bump, high-five, and a pat on the back. Thank you again and again!
-Chris Peach