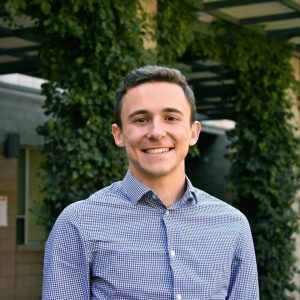 My Guest on the Show…
Jonathan Barkl is the Co-founder and CEO of AirGarage, Inc., a new app connecting homeowners and businesses to those looking for affordable parking.
Jonathan is also 20 years old…
I asked Jonathan to come on the show to share his incredible story of how he went from creating a $500 per hour side hustle in high school to then attending college AND starting a business which has already changed the trajectory of his life forever.
Jonathan explains how he went from a problem he personally had with parking on college campuses, to creating a solution, and then providing an incredible new opportunity for everyone involved.
The broke college student can now find affordable parking, the homeowner can now generate income via their own driveway, and AirGarage generates revenue by connecting the dots.
How does it exactly work, what does Jonathan do everyday that very few (including college students) do, and what does the future look like for AirGarage?
You are going to hear it all and be absolutely amazed and inspired by this 20-year-old's drive for success.
Are you enjoying the podcast?
If you do, would you be willing to leave a review for the show here? The more reviews the podcast receives, the more people will learn about it!
---
The Money Peach Podcast is brought to you by my #1 online program for showing you how to budget, how much to save, how to manage your debt payoff, when to save for retirement, what to teach your kids about money, and how to build a legacy to last beyond your lifetime.
If you find yourself continuing to live paycheck-to-paycheck and wondering where all the money went at the end of the month, it's time to finally make a positive change. Welcome to the class they forgot to teach you about money – Awesome Money Course.

Mentioned in this Episode
---
Episode 42 with George Laughton
Episode 52 with CEO of Trim, Thomas Smyth
The Economist Espresso App (iTunes)
The Economist Espresso App (Google Play)
Recommended Books and Audio
---
Hackers and Painters by Paul Graham
The StartUp Podcast by Gimlet Media
The Pitch Podcast by Gimlet Media
Show Notes
---
Who is Jonathan Barkl [2:44]
Making $500/hour in high school [5:42]
The idea for AirGarage [10:33]
Surveying the audience first [14:46]
The Chris Peach testimonial for AirGarage [21:35]
AirGarage parking costs [22:30]
Making money with AirGarage [24:51]
Creating AirGarage after a walk on Mill Avenue [26:07]
CEO vs CTO [28:32]
Managing full-time school and full-time business [37:40]
Using Google Ad Words to market [42:14]
Jonathan's daily routine [49:19]
---