I am going to walk you step-by-step so you can officially start a budget by the end of this post. Yes, budgets can be a little scary if you're not sure how to start or what to actually do. Therefore, let's walk through a step-by-step path towards getting your money on the right track with a simple and easy-to-use budgeting system.

Here we go…
#1: Start With Your Take-Home Pay
What is your monthly take-home pay or average monthly take-home pay if you get paid in waves? This may be extremely easy for you. However, some of you get paid in all different ways, and trying to figure out what you get paid each month may take some effort figuring out.
All I want you to determine is how much hits your checking account AFTER taxes.
Bada-bing, bada-boom!
#2: Determine Where the Money Has Been Going
Get ready for a nice little reality check! It's time to look at what has really been going on….and it may sting a little.
Look back over the last 90 days of your bank statements. You are going to go through each expense and drop them into the following categories:
The Fixed Expenses
These are the expenses that are the same amount each and every month
| | |
| --- | --- |
| Mortgage/Rent | |
| Cell Phone | |
| Cable/Satellite | |
| Internet | |
| Insurance Premiums (Auto, Life, etc.) | |
| Car Payment(s) | |
| Student Loan Payment(s) | |
| Credit Card Payment(s) – min only | |
| Monthly Services (Lawn, Pool, etc.) | |
| After Tax Retirement (ROTH, IRA, etc.) | |
| | |
| --- | --- |
| Anything else on a monthly basis? | |
| Other Debt Payment(s) – min only | |
The "Up and Down" Expenses
These are the expenses that can fluctuate each and every month
| | |
| --- | --- |
| Groceries | |
| Fuel | |
| Dining Out & Entertainment | |
| Clothing | |
| Home Expenses | |
| Health & Beauty | |
| Other Categories Not Here? | |
| Blank | |
| Blank | |
| Blank | |
#3: Start Using the Spreadsheet Budget
This is my all time favorite budget tool and the same exact one our family has used since 2011. It's clean, simple, easy, and it's FREE. If you have ever used a spreadsheet before, then this is going to be extremely painless and easy for you.
If you haven't and still want to try it out, I will even send you a video on "How to set it up" and "How to get it on your Phone" so you can enter stuff in your budget like an app! Just click on the button –  "Download the Spreadsheet Budget"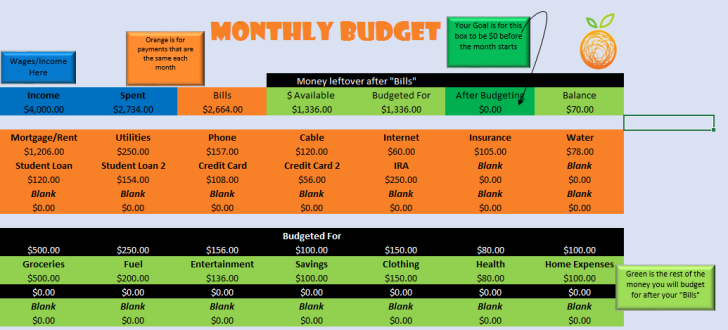 #3b: Try the PDF Version
90% of the Money Peach readers love the spreadsheet budget, however if you're not the spreadsheet type, I have you covered with a very basic budget, The Pencil and Paper Budget.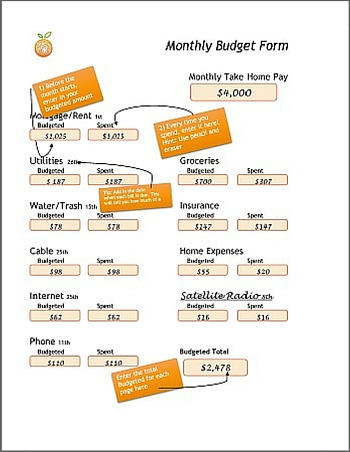 Simply enter your income in the top right of the first page in the Income box. This is your starting point. This is how much you have to spend, this is how much you are going to spend, and you cannot go over that number.
Think of it as gas in your car and you are planning a road trip. Your car can go 350 miles on a tank of gas. Make sure where you are going is 350 miles or less….or eventually you'll be walking! With personal finance, you can replace the word walking with bankrupt-ing.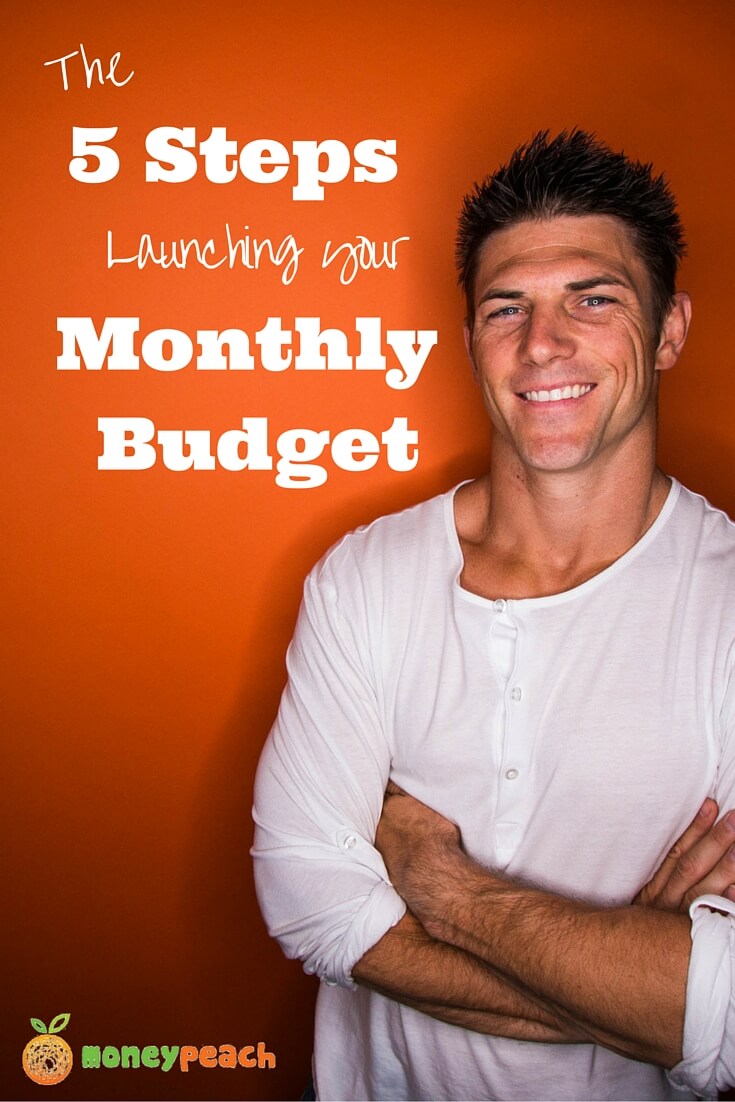 #4: Within Each Category, Determine What You Will Spend for the Upcoming Month
The number one habit of highly effective people is that they are proactive. They create a plan, stick to the plan, and they happen to life (instead of life happening to them).
You are going to become proactive with your money by planning for the upcoming month. On around the 27th or 28th of every month, you are going to do prepare the upcoming month's budget. I want you to have a plan for your life and money on the first of every month and you do this by creating the budget before the month actually starts.
Then I want you to STICK TO THE PLAN! This is your life and your money. Don't just wing it.
Give Every Dollar a Job
Now that you have your income determined, it's time to start allocating where your money will be spent. You went to work, you earned the money, therefore YOU get to decide where it's going to be spent. Period.
Start entering the numbers from Step 1 and Step 2 into your budget. The categories provided for you inside your budget spreadsheet (or PDF version) should look very familiar 🙂
Give every dollar a job before the month begins. Some of the dollars will go towards the Rent/Mortgage, some of it will go to Food, some of it will go to your car payment, and the rest will go wherever you tell it to go.
[clickToTweet tweet="Guess what happens when you don't give your money a job? It leaves you & goes to someone else who will. – Chris Peach" quote="Guess what happens when you don't give your money a job? It leaves you & goes to someone else who will. – Chris Peach"]
Pro-Tip: If you are downloading this budget mid-month, just go back over the last 2 weeks bank statements and enter what you have spent so far in your budget for this month. Next month you can start off with a fresh new month, but let's use this month as a great starting point!
#5: Fixing the Budget
More than likely you may have over-budgeted for the upcoming month.
This is 100% normal and is also the whole entire reason why you are starting a budget – to gain control of your money. Now is where you are going to go back and trim the fat from budget.
This part is going to be painful at first because we are finally telling ourselves "No" to something.  "No" is a powerful word. It is a sign of maturity. It is a sign that you are on your way to winning with money. It will set you free.
"No, I am not going to live paycheck-to-paycheck the rest of my life"
"No, I don't want to eat dog food in retirement" or
"No, I don't want to be slave to car payments for the rest of my life" or
"No, I would rather have a greater net worth than know who won the Bachelorette Season 41".
Once your expenses are all added up and equal to your income, you are done creating the budget!
Stick to the Budget
Now you need to stick to the budget. This will not work unless you stick to YOUR plan. You created it, you built it, and you decided where your money is going next month. This takes discipline throughout the month. Every time you make a payment or spend money in a category, you must keep track of what you spent.
BONUS Budgeting Strategies
Always get a receipt and take it home with you – this will help you remember what you spent and for which category it is coming from
You are not going to be perfect the first month. You are not going to be great the second month. You are going to be okay the third month. It usually takes 60-90 days to really become awesome with your budget. That is normal so don't be discouraged. You weren't very good at driving your car when you first sat behind the wheel either
You are going to have 37 emergency budget meetings the first month. This is normal – it is difficult to plan for everything in the beginning, so don't freak out
Leave a buffer in your checking account! We are going to spend all of our money on paper before the month starts, but you'll need to leave a buffer in your account so you don't overdraft. A trick here is to put a date next to each category for when the money will leave your account. There is always going to be a week in your budget where most of you money comes out. Be prepared for it
Don't over complicate things. We are using 5th grade math. Are you smarter than a 5th grader?
Use cash for 3 categories: I recommend – Groceries, Entertainment/Dining Out, & Clothing/Shopping. When you pull out $500 for groceries, you only need to enter $500 into your budget once. Then, just spend what you have taken out in the form of cash. Studies have shown you will save a ton of money by using cash.
You are now on your way to doing an actual budget! Congratulations, you just boarded your flight to financial freedom!
[clickToTweet tweet="If you don't Budget-it, you can't Manage it! – Chris Peach" quote="If you don't Budget-it, you can't Manage it! – Chris Peach"]
Lovin' this Stuff?! Please Share it With Yo' Friends!
As always, I first want to thank you for reading this blog because this means you are reaching for awesome with your money! I will keep putting content out there for anyone to gobble up and implement right away, however if you could help me out by sharing this post on your favorite social media platforms, it would mean the world to me! Just click on any of the social share buttons at the top or bottom of this post and you'll be giving me a virtual fist bump, high-five, and a pat on the back. Thank you again and again!
-Chris Peach