Before doing this Sling TV review I found this interesting statistic: cable and satellite TV providers have lost over 1 million subscribers to those who are cutting the cord?
I am one of them.
Just a few years ago we were doing our monthly budget and we finally decided television had become way too expensive.
Our cable bill was $129/month.
We weren't ready to go completely minimalist lifestyle and completely forgo television – we have kids! But, we also knew there had to be a better option versus the cable and satellite television route.
An Honest Sling TV Review From a Real User
Unless you are brand new to the internet, we have all heard of the Netlix and Hulu streaming services. While Netflix does not offer live television, Hulu does have live streaming. Hulu is a great option in the form of streaming, but I have noticed their prices are creeping up just like cable and satellite started doing years ago.
With that said, my first choice is SlingTV when it comes to streaming live TV.
What is Sling TV?
Sling TV was launched on February 9th, 2015 by Dish Network as an alternative to cable television. The average cable bill in America today is $120/month with those annoying annual contracts.
Sling TV's basic package offers 25+ channels for only $25/month and NO contracts.
SlingTV also has a 40% off special right now. You can start your first month of SlingTV for just $15 and no contracts.
How Does it Work?
Sling TV streams live channels to your television over the internet. No more cables throughout your home or waiting for the cable guy to show up between the hours of 8am – noon the next day. I can't stand that crap! When you order Sling TV, it appears on your television instantly.
Since Sling TV streams through the internet, this means you can take your channels with you wherever you go or wherever there is an internet connection. You can stream Sling through any television, video player, mobile device, gaming console, laptop, or computer.
What Channels Can I Watch?
Sling TV has three different packages depending on what channels you want to watch and how much you would like to spend each month.
Your two most affordable packages are going to be the Sling Orange and Sling Blue which both cost $25 a month. If you subscribe to both packages, you can get a $10 monthly discount and only pay $40 a month.
In addition to these core channel lineups, you can also add extra packages that start at $5 a month.
Sling Orange Package ($25/month)
In the beginning, this was the only package Sling offered, but now this has changed to their entry level package at only $25/month for over 30 channels. The channels offered are: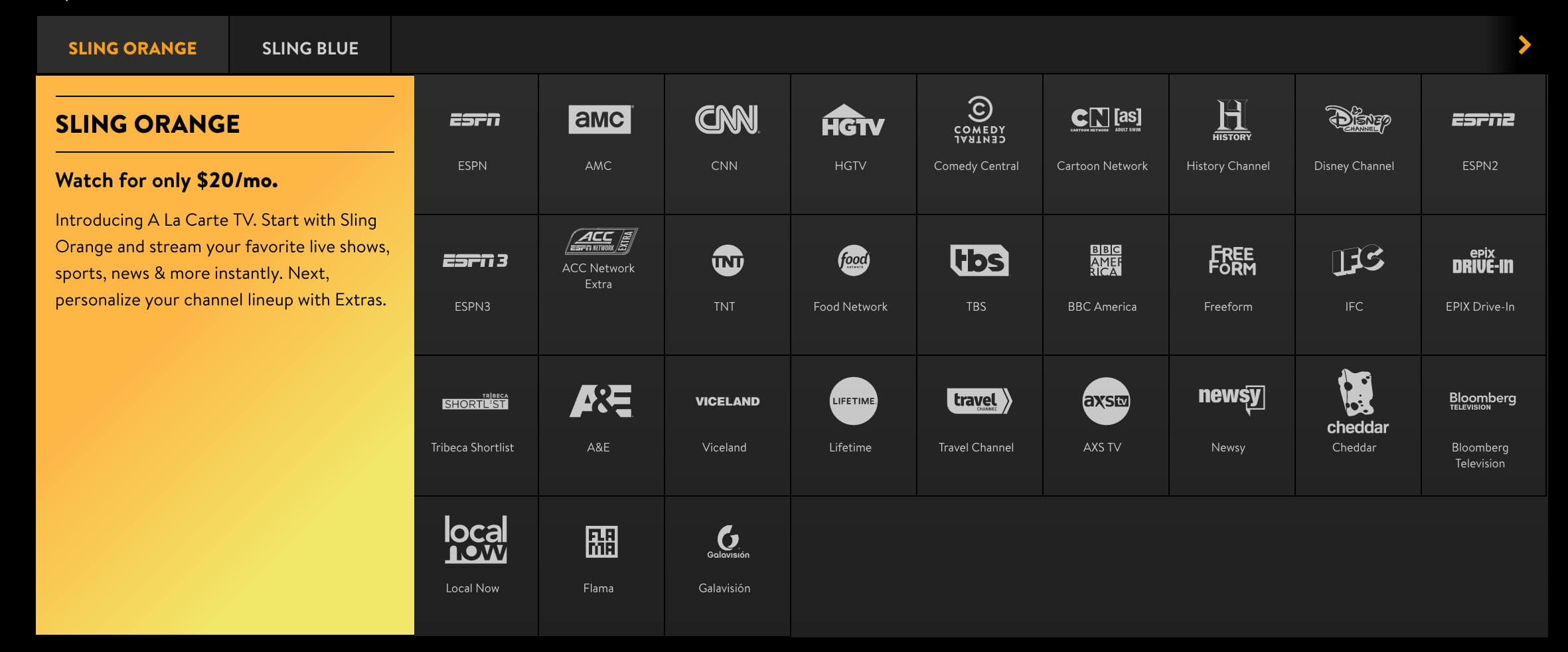 ESPN, AMC, CNN, HGTV, Comedy Central, Cartoon Network, History Channel, Disney Channel, ESPN2, ESPN3, ACC Network Extra, TNT, Food Network, TBS, BBC America, Freeform, IFC, EPIX Drive-In, Tribeca Shortlist, A&E, El Rey, Viceland, Lifetime, Travel Channel, AXS TV, Newsy, Cheddar, Bloomberg Television, Local Now, Flama, and Galavisión.
Sling Blue Package ($25/month)
This is the next tier at only $25/month for 45 channels. The channels offered here are: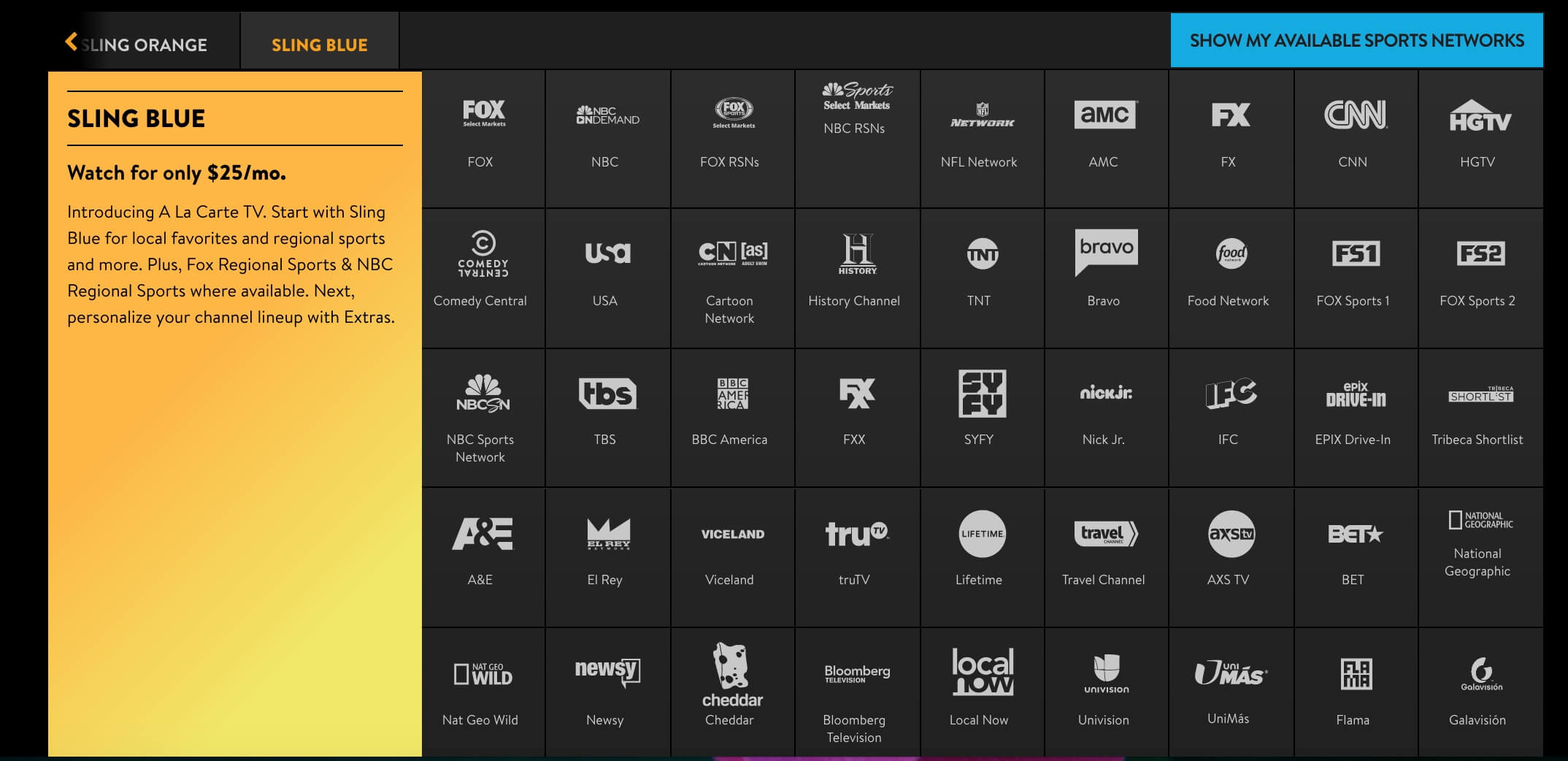 FOX (Local), NBC (Local), FOX RSNs, NBC RSNs, NFL Network, AMC, FX, CNN, HGTV, Comedy Central, USA, Cartoon Network, History Channel, TNT, Bravo, Food Network, FOX Sports 1, FOX Sports 2, NBC Sports Network, TBS, BBC America, FXX, SYFY, Nick Jr., IFC, EPIX Drive-In, Tribeca Shortlist, A&E, El Rey, Viceland, truTV, Lifetime, Travel Channel, AXS TV, BET, National Geographic, Nat Geo Wild, Newsy, Cheddar, Bloomberg Television, Local Now, Univision, UniMás, Flama, and Galavisión.
The main differences between the Orange and Blue package is the Orange has ESPN, Freeform (formerly ABC Family) and the Disney Channel, while the Blue package drops those three and picks up 18 other other channels including all the FOX Sports and the Nick Jr. Channel.
If you're not going to watch Disney or ESPN, Blue is the better package. You can stream your local market channels. Plus, sports fans can still access FS1, FS2, NFL Network, and NBC Sports. Sling also gives you access to your regional Fox Sports network too.
You can stream on up to three different devices at once with this package.
Combine Orange + Blue Packages ($40/month)
Sling TV also offers all of their channels together for only $40/month. This is a total of 70+ channels for less a third of the average price of cable.
You can also stream on up to four devices simultaneously.
Add Ons
Sling TV also has 34 extra add-on packages for $5-15/month, including a Sports Package, a Kids Package, and a Best of Spanish TV package. One add-on package Sling offers is HBO for $15/month or Cinemax for $10/month.
With the HBO and Cinemax packages, each channel will have the same On Demand features as HBO GO and Max GO. This means you can watch each season of Game of Thrones and Banshee.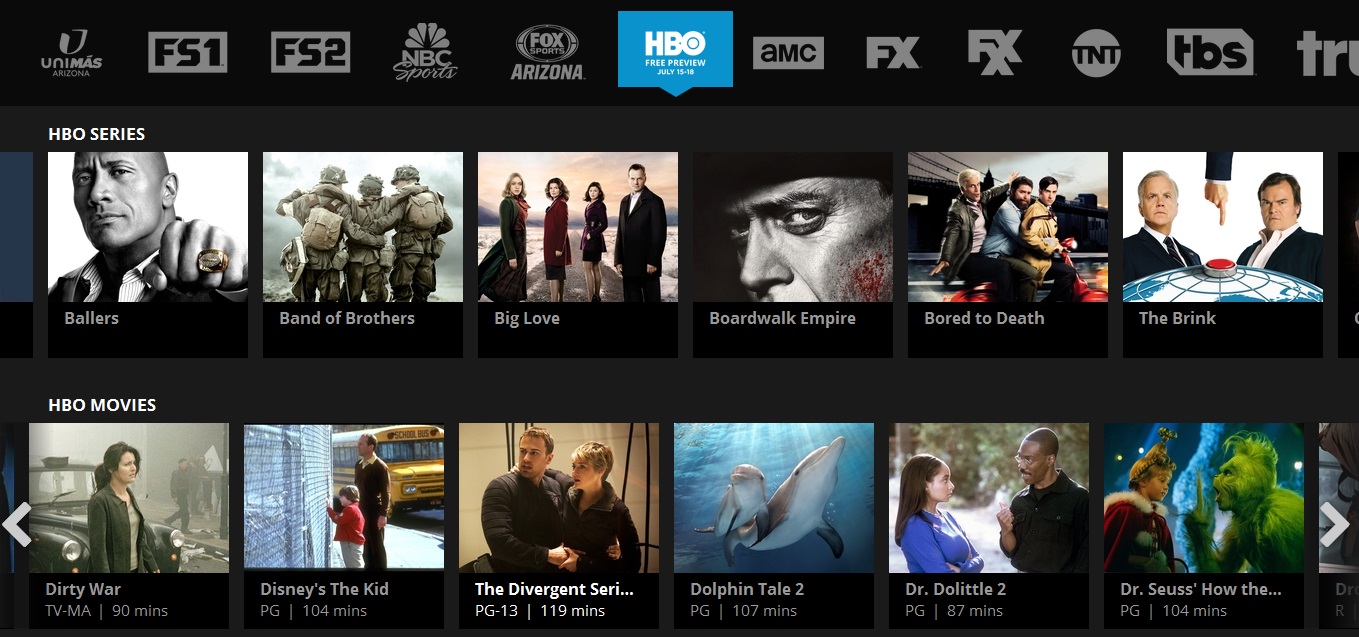 You might also like Sling's 4-Extras Deal that slashes the price from $20 to $10 by combining theses four extras:
Kids Extra
Lifestyle Plus Extra
Comedy Plus Extra
News Extra
Now, you can stream Hallmark, Disney Jr., Disney XD, Boomerang, TV Land, and DIY Network to name several options that don't come with the Blue or Orange packages. Even if you subscribe to Sling Orange and add the 4-Extras Deal, you're still only paying $35 a month for cable tv. That's still a real bargain.
What Devices Do I Need to Stream?
Sling TV works with a variety of different TVs, players, phones, tablets, gaming consoles, and computers. If you're currently streaming Netflix or another free movie app, you can most likely stream Sling TV.
This includes Apple TV, Roku players, Amazon Fire TV players, Smart TVs, and Chromecast.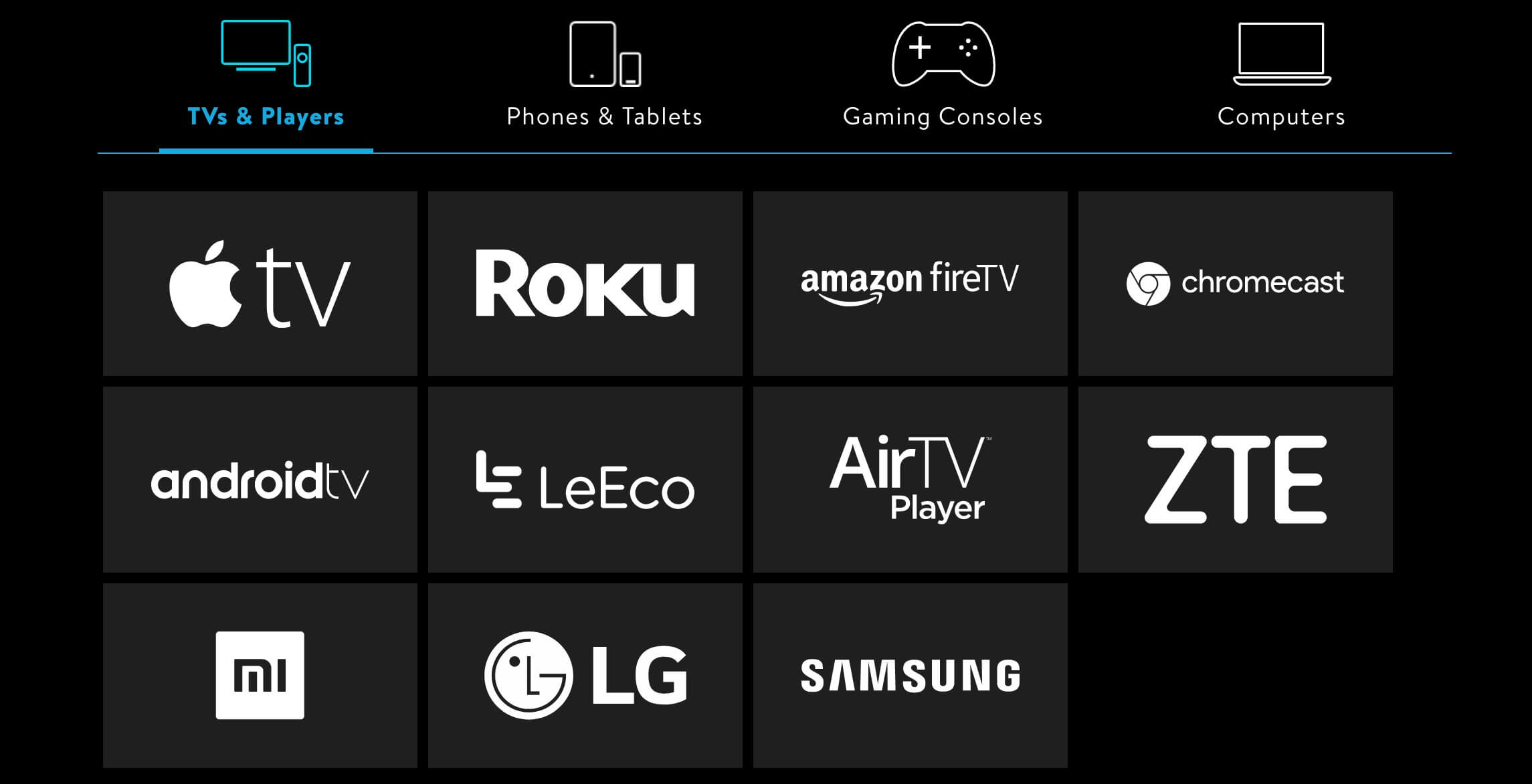 You can also watch Sling TV via a mobile device streaming to your television.

XBOX ONE Game Console is also an option for Sling TV.

You can also watch on your computer.

You can download the app to watch Sling TV from a PC or Laptop, when viewing the list of devices, or simply get the app at the bottom of their website here: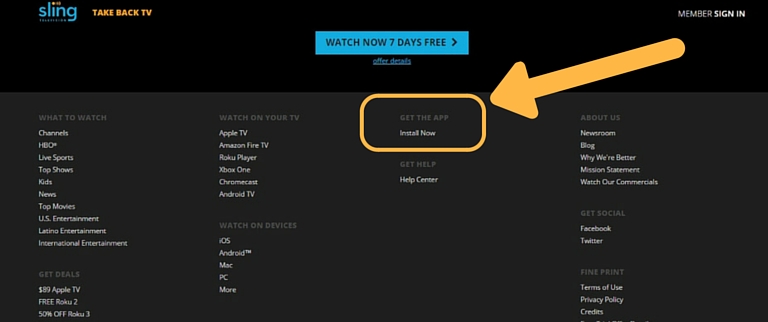 What About Local Channels?
When purchasing the Orange package, you will not have access to local channels via Sling TV. However, if you have the Sling Blue or the Sling Blue+Orange package, you will get local channels in most of the major cities in the United States.
For those who do not have access to the local channels, Sling will send you a FREE HD Antenna.
Is there a Contract?
Sling TV does NOT have contracts. You can watch month-to-month and cancel at any time without a paying a penalty. To start or cancel service, all you need is your phone or desktop. You don't have to call to cancel and can cancel instantly online.
Any Special Offers?
Yes, and they're actually really good offers.
40% First Month
SlingTV offer 40% off the first month. This means you will start your SlingTV service for $15 and then will move to $25 if you continue to stay with SlingTV.
Other Offers
You can also find a bunch of other offers for free or discounted streaming devices, like a Roku Express, Amazon Fire TV Stick, and more on the bottom of their website.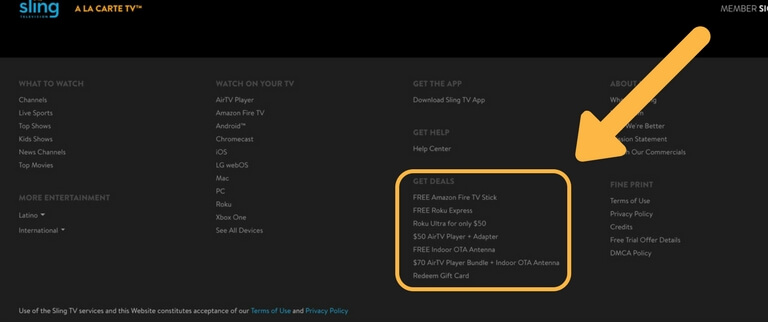 What is their Cancellation Policy?
I will tell you that I have had Sling for over a year and I will never leave them. However, if you need to cancel, you can do so over the phone or online. Remember, there are NO CONTRACTS, so cancelling is really simple.
The Problems with Sling TV
Just like with anything, there is the good and the bad. Here are some of the issues I see with SlingTV.
Multiple Devices at a Time
The first downfall of Sling TV is if you choose to purchase the Orange Package, you can only watch Sling TV on one device at a time. This is also the case if you have the Orange Package plus extras.
However, if you purchase the Blue Package, you can watch Sling on up to 3 devices at the same time.
Or, if you purchase the Orange + Blue Package, you can stream on up to 4 devices at the same time. This is because you get the combined number of streams from both packages. Pretty cool, right?
Regardless of which package you choose, you can stream HBO Connect on three devices simultaneously. Even if you can only have one stream with your Sling Orange packages, your HBO Connect extra supports three streams!
Limited News Selection
SlingTV does not offer any of the Fox or Fox Business news channels.
Frequently Asked Questions
Here are some of the questions you will want answers to before you sign up for Sling.
How fast does the Internet have to be?
Sling recommends at least 3MB/s for watching Sling on tablets and phones, 5MB/s for watching a single stream of Sling on television, or 25MB/s for households where multiple streams or devices will be using the internet connection at one time.
Personally, I would recommend 25MB/s for your internet speed. I have found that to work best for our family after using the service for over a year.
Will Sling TV work outside the United States?
Unfortunately no. Sling is currently only offered inside the United States.
What about the NFL Games?
Most NFL games are available on local channels with your antenna. Games simulcast on NBC will be available in markets where NBC is offered with Sling. The NFL Network on Sling Blue offers pre- and post-game analysis.
Can You Pause Live TV?
Most channels let offer pause and rewind capability. Some local channels and sports channels don't. But if you need to pause to get a snack or take a quick phone call, you can quickly catch up and even fast forward through the commercial breaks you missed.
Does Sling TV Have DVR?
Yes. Sling offers a DVR add-on that costs $5 a month for 50 hours of cloud storage. If you want to record multiple programs to watch later, you now have the option. It's even possible to DVR your local channels using your external OTA antenna too!
Not every channel has DVR capability, specifically any ESPN or Disney Channel. You will either need to watch these channels live or catch the on-demand the next.
Is Free On-Demand Programming?
Thankfully, most channels have on-demand programming. If you can't watch your favorite show live, you will most likely be able to catch up the next day when you have a convenient time to watch.
However, you will still need to act fast as most on-demand programming is only available three days after the air date. Some channels let you watch a show or movie up to seven days later. If you're going to be traveling or extremely busy during the week, you will want to consider adding the DVR add-on for at least the next month.
If you don't want to pay extra for Cloud DVR, the on-demand programming adds substantial value to Sling. Possibly the largest tradeoff with the on-demand programming is that it's virtually impossible to skip the advertisement breaks. To have enhanced fast forward and rewind capability, you need the Cloud DVR add-on.
Can I Watch Shows on Cable Channel Apps?
Many cable channel apps let you watch the on-demand programming on their app when you log in with your Sling TV account information. The channel has to be included in your current subscription to stream, but this hack can be more convenient than loading the Sling app at times.
Does Sling TV Offer Every Cable Channel?
You will find some channels missing on Sling TV. In most cases, you probably won't get every local or regional channel. That's why it's crucial to get an antenna if the local channels are important to you.
Because Sling is offering cable tv at a steep discount, you won't find some national cable-only channels either. The list can always fluctuate depending on contract negotiations, but make sure you check the extras if you don't see a channel you enjoy in the Orange or Blue packages.
Summary
Now you can see why cable and satellite have lost over 1 million subscribers to streaming services.
The average cable bill alone is $120/month. If you simply start out with Sling's Orange package, you will be saving $100/month. Over the next 3 years you've saved $3,600, and over the next decade you've saved $12,000!! Again, why is anyone still paying for cable?
Watch your favorite shows and save money. Get Sling TV.
---
You May Also Like