Many of us are looking for ways we can trim a little fat from your budget. Have you thought about how you can save money on A/C?
No, I'm not talking about being miserably hot this summer to save a few bucks. I am talking about something you can do today to start saving you up to 33% each month and even cooling your house more. It all happens at your thermostat.
Save Money at the Thermostat
Here in Phoenix, Arizona, where the sun is out 99% of the year and the average temperature in the summer months is over 100°F. It is literally so hot, you can crack and egg in the street and it will cook (please don't eat it).
Last fall I stumbled upon this wacky idea about cooling my house down to 74°F and saving money!
Since I think I know everything, I decided to try it out to prove my informer wrong. Not only was I mistaken, but I was completely shocked with our savings from this same time a year ago. Check out my actual bill from June 2015 below: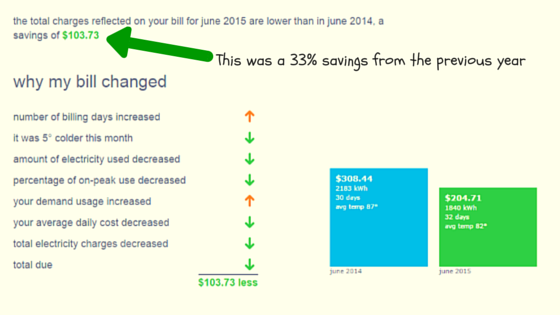 How to Save Money on Air Conditioning Bill
Step 1: Call Your Utility Company
Call your utility provider and ask about time advantage plans. Many of you already are doing this, but if not, call and ask about a plan available for on peak versus off peak times. Here's how a typical plan works:
The plan is billed on an off-peak and on peak basis
off-peak hours are weekdays from 7 pm to noon and all day Saturday and Sunday, as well as 6 major holidays (these times will vary depending on where you live)
on-peak hours are weekdays from noon to 7 pm (these times will vary depending on where you live)
electricity used during off-peak hours is billed at a lower rate
We are on the Noon – 7:00PM Time Advantage Plan offered from our utility provider in Phoenix. This means we are on peak for those 7 hours, so we limit the usage of our major appliances.
I know what you are thinking, "What about A/C in the Summer?". Don't worry, it's coming.
Step 2: Set your Thermostat
Better Option – Set your thermostat to 80°F from Noon – 7:00PM and 74°F from 7:00PM until Noon the following day.
Best Option – Buy a programmable thermostat – These things used to be pricey, but you can find them the cheapest on Amazon. They are also extremely easy to install, but just in case you may want to make friends with your handy neighbor (the one with all the cool tools).
Step 3: Save Money
If you would like an easy and colorful Thermostat Guide you can print off and hang up as a reminder on how to do this, I will email one to you. It will make your life easier when you are away from this blog post and can't remember exactly what to do. Click button below.
How Does This Actually Save Money on A/C?
A friend of mine in the cooling and heating business explained this to me so I could understand it. Here is what he said:
"A jet airliner burns the majority of its fuel during takeoff. This is also true for your A/C unit. Every time your unit starts up, it draws a bunch of electricity to power on the compressor. The less your unit turns on and off, the more money you'll save."
The goal is to get your unit to turn on and off less.
You just did this by adjusting your thermostat to the settings above. The unit turns on after sunset and runs for a while. Your house was at 80°F and it's bringing it down to a cool 74°F. This may take a while, but remember it's going to be on continuously.
The next day at noon, your thermostat goes back up to 80°F. For the next seven hours, your unit may only turn on once because your house will slowly warm up to 80°F. Also, this is the most expensive time of the day (on peak), so this is double savings – not powering up as often and staying off during the most expensive time of day.
Three Other Utility Tips
Why we are on the topic, here are some things you should be trying out to save money and to make your life easier.
Equalizer – Most utility companies have a program where they average out your monthly usage over the year and then use that average to keep your bill the same every single month. This will help you out tremendously when you are trying to do your budget.Before we did this, we would have to look back from the previous year and guess on how much electricity we would use for the upcoming month. Now we know to the penny how much our bill will be each month. When you are using the Money Peach Spreadsheet Budget, utilities are now moved into the orange part of the budget that remains the same each month. I like simplifying my life and money.
Phantom Users – Phantom power users are devices which are using power 24 hours a day whether they are powered on or off. They may be powered so they can be turned on by a remote control or a timer. Individually, they are merely interesting to talk about in terms of saving you money, however an article printed in Forbes Magazine explains:
An individual product draws relatively little standby power, but a typical U.S. home has forty products constantly drawing power. Together these amount to almost 10% of residential electricity use.
If you are looking to save money and cut back on CO2 emmissions, unplug what you aren't using. Television related equipment (cable boxes, DVRs, DVD players) and computers draw the highest percentage of electricity – start there.
Look for the Energy Star – If your appliance is working fine, there is no sense in buying a new one. I am trying to save you money. However, if you NEED a new washer, dryer, hot water heater, oven range, or refrigerator – look for the energy star. These appliances were designed to save energy consumption for the environment, with a side effect of saving you money as well. Double win!
The Takeaway
There are many ways to save quite a bit of money on your utility bill, and this thermostat trick is one of my favorites. Remember to contact your utility provider to determine which plan is available in your area and then set your thermostat accordingly. Even if you don't have a time saver plan in your area, you can still save up to 10% per year by adjusting your thermostat 7 to 10 degrees for 8 hours per day. This alone could save you hundreds of dollars per year.
KPHO CBS 5 and KTVK in Phoenix, Arizona asks Money Peach how "Super Cooling" Saves Money.