I don't know about you, but until I did my research for this article I had NO idea I could shop at my favorite dollar store online – right from my own home!
Yes, I know – common sense would indicate that if other stores have online shops that dollar stores would too, but the dollar store often has such great deals that I just didn't think they'd make it any easier for me to save money by offering to let me shop their selections online.
Lucky for me – and for you – dollar store owners know that an online shop is much more cost efficient to run than a brick-and-mortar location. So, they've followed the lead of so many other stores by creating lots of websites for you to get your dollar store deals at.
Here's a list of some of the most well known dollar stores that have online shops. And bonus: some of them even offer free shipping!  Check out the list below and see which online dollar stores might be able to put more money in your wallet.
Is Your Favorite Dollar Store Online?
Some of these stores are old favorites, others may be new to you. Either way, you can usually find at least some great deals when you shop at a dollar store, and it's always better when you can do it from the comfort of your own home.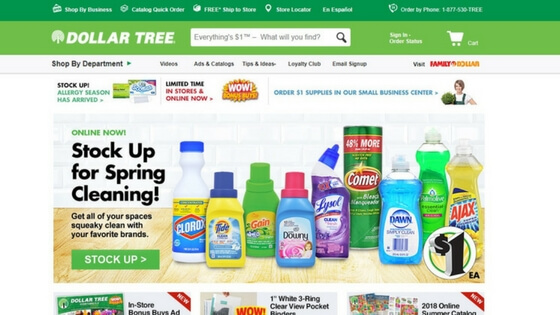 The Dollar Tree stores are probably the most popular dollar store chain in my neck of the woods. In fact, Dollar Tree has over 14,000 store locations in the contiguous United States, so they probably have one near you as well.
One of my favorite things to buy at the Dollar Tree are party favors. If I go to the local party store I'll pay $3 or $4 for mylar balloons to decorate for one of my kids' birthday parties, but I can get them for a buck at the Dollar Tree. Same goes with wrapping paper.
I was so excited when I found wrapping paper and party decorations for my daughter's 18th birthday celebration for a total of $9 plus tax. Dollar stores don't necessarily have the best prices on everything, but for party supplies they're the clear winner.
The online Dollar Tree store offers merchandise in a variety of categories including:
Kitchen and Dining
Floral and Home Decor
Food, Candy and Drinks
Office and School Supplies
Health and Beauty
Household and Pet items
And they carry other items as well. The website can give you more details on that.
Dollar Tree will also ship your online order to your local Dollar Tree store free of charge, or you have the option of having your items shipped directly to your home if you're okay with paying shipping and handling fees.
If you are going to be in town anyway doing other stuff, it won't be much of an inconvenience to have your stuff shipped to the local store and just do a quick pick up of the box while you're doing other errands anyway.
And it's probably faster to order everything online than it is to shop at the store location.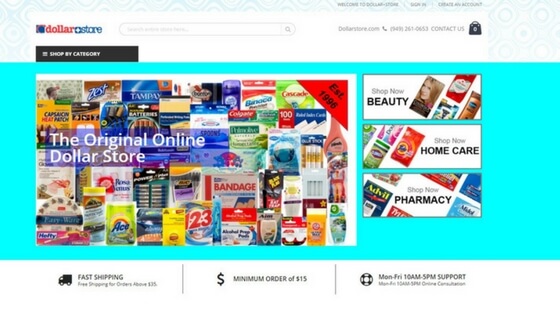 The Dollar Store also has great $1 deals, but check the prices. yYu'll also find stuff on this site in other price ranges – from $0.50 up to just about any amount.
The Dollar Store calls itself The Original Online Dollar Store. Along with $1 deals, you can find deals on bulk items as well, similar to what you may find at Costco or Sam's Club.
Although you will pay for shipping, The Dollar Store promises fast shipping. When you shop at this dollar store online you do have to purchase a minimum of $15 worth of merchandise, and just so you know there's a 20% restocking fee for returned items.
They also have a customer service center that can answer any questions for you or give you authorization to return items if need be.
Note: there is a page on their website that says the minimum order is $1500 (it's missing the decimal), but I double-checked and the true minimum order dollar amount really is just $15.00. 🙂
This online store carries merchandise in a bunch of different categories such as:
Accessories and Apparel
Baby stuff and Beauty stuff
Grocery and Snack items
Hardware and Housewares
Office and School Supplies
Party supplies and Paper items
And more. They even have pet items available such as dog, cat and fish food.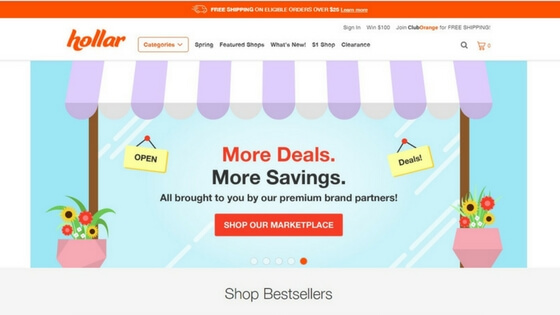 Hollar says it offers "gazillions of awesome stuff starting at just $1". With a tagline like that, how can you not take a look around?
Among the categories of stuff at Hollar:
Tech and Office
Grocery and Household
Home and Kitchen
Movies
Baby, Kids and Pet
Automotive and Outdoor Items
And other categories as well. Granted, you won't be able to get all of this stuff for a dollar, but I did find some great deals as I shopped, such as a pack of 8 Thank You notecards for 75 cents.
Hollar has some great shipping deals too. Normally, you as a customer would pay for shipping with your order, which has to be a minimum of $10 when you shop on Hollar. However if you spend $25 or more shipping is free.
Or, you can join their Orange Club for $2 a month and get free shipping on any order, along with access to exclusive club member deals.
Note: with this and most other online dollar stores, merchandise offerings change on a regular basis. This means that if you find something for sale one day you won't necessarily find it for sale again on a site.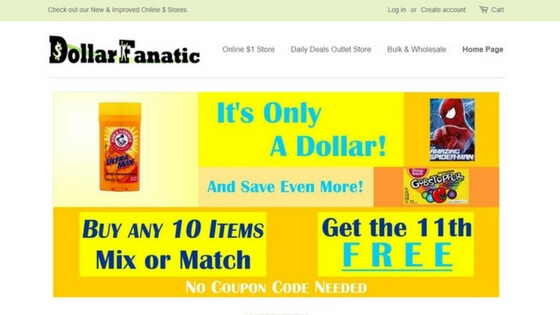 Dollar Fanatic is a true $1 store in that it only offers stuff for a dollar. As a bonus, they were having a deal when I checked their website where if you bought 10 of one item you'd get the 11th for free.
I couldn't find a specific "categories" section when I looked on this site; just loads and loads of $1 stuff. However they do have a search bar on the site if you're looking for something specific.
Among the stuff they had for sale on this site when I checked? Baby camo pants, school supplies, girls' tights, office supplies, accessories such as hair styling items, beauty products, household items such as hardware and cleaning supplies, and more.
Dollar Fanatic has a minimum order requirement of $5, and they charge a flat fee shipping rate of $4.95 for economy and $9.95 expedited.
Note: they will do an economy ship for free if you order at least $50 worth of stuff. No returns or refunds with these guys, however.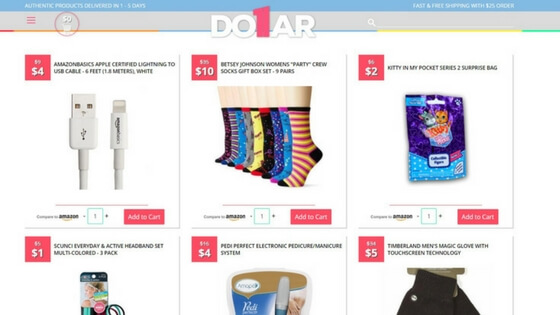 Dollar 1 sells products for $1 and up in several different categories. You'll find items in categories like:
Apparel
Beauty
Kitchen
Baby items
Jewelry
DVDs
Toys and Games
And more. Although many items on this site sell for up to $10, you can go directly to the $1 bargains category via the left sidebar on the website. In the $1 bargains category I found a nice variety of items such as health and beauty stuff, school supplies, party favors and even home products such as shower hooks.
Their website says they offer fast, free shipping with orders of $25 or more.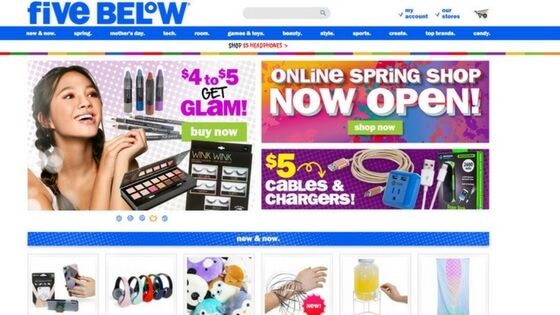 Five Below sells stuff in several different categories, and everything costs between $1 and $5. Some of the categories they offer merchandise in includes:
Tech stuff
Room (home decor)
Games and Toys
Beauty
Style
Sports
New and Now
Candy
And more. For instance, when I was checking online at this site, I found an NBA basketball for sale for $5. You can buy stuff at this site individually or in bulk, although I didn't see any cost savings for buying in bulk on most of the items I looked at.
I did like this store for the simple fact that it seems as if most of the items they were selling were of good quality. Some dollar stores seem to only sell junk. Five Below does charge for shipping; rates are dependent on how much you spend.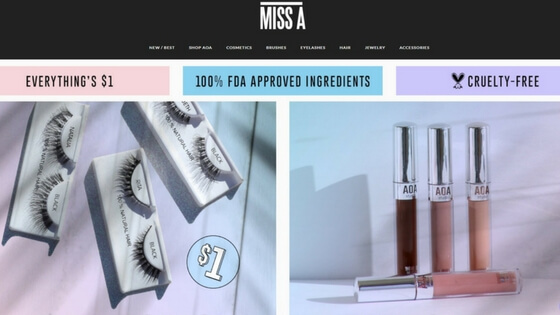 Okay, Miss A is a beauty supply site that says everything is just $1. However, they did have several items on the site that were clearly more than a dollar, but they had many $1 items as well.
The quality of most of the stuff here looks pretty good, and their products are certified animal cruelty free by the People for Ethical Treatment of Animals (PETA).
You've find a wide variety of items here such as makeup, makeup brushes, hairpins and other hair accessories, nose rings, key chains, jewelry and more. Even their $1 section had a lot to offer as far as great looking stuff in all categories of beauty products.
Bonus, they offer free shipping on orders over $35.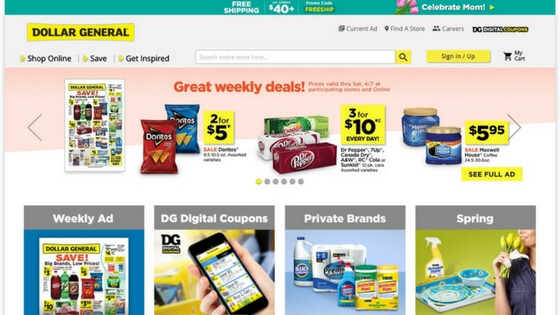 Dollar General is a well known dollar store that has over 14,000 store locations in 44 states across the U.S.
This online store sells items in categories such as cleaning supplies, health, beauty and personal care, household items, pet items, office and school, toys, party supplies and more.
Some stuff is $1 here, but other stuff costs more. For instance you could get three bars of Ivory soap for $1.65.
One cool thing about this site is that it regularly features both in-store as well as online specials. One of the specials they had when I was checking out the site was a coupon for $5 off any purchase of $25 or more for online shoppers.
That's an amazing deal considering you're already paying only a dollar (or a few dollars) for the stuff you buy there.
As of this writing, Dollar General was offering free shipping on orders of $40 or more when you entered their designated promo code at checkout.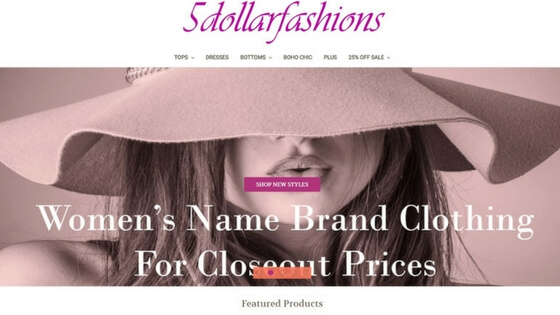 I had to mention this store not because everything is a dollar, but because they have great deals on clothing. Nearly every clothing or accessory item they sell is priced between $5.99 and $6.99.
On top of that, when I was perusing the site they were offering an additional 25% off selected styles, which means you could purchase some stuff for as low as $4.50.
This site could be worth checking out if you want cute clothing for cheap. Shipping starts at just $2.99.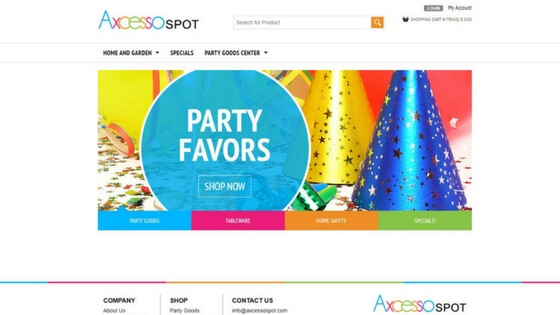 Axcesso Spot (the website address reads 99 cent dollar store) focuses on selling stuff in three basic categories at great prices:
Party Goods
Home and Garden
Special Deals
Luckily, the Specials category encompasses a large variety of items for sale at super low prices. Although I wouldn't necessarily refer to this as a dollar store or 99 cent store like the web address reads, they do have some pretty great deals on stuff.
They also have some stuff that seems like it costs more than it would at a regular dollar store. Some of the items they sell include baby and home safety stuff, such as outlet plug protectors, bath tub anti-slip mats that come with built in heat alerts that change color when the water gets above a certain temperature, and surge protector power strips.
The website doesn't share anything about shipping fees, however they do accept returns for up to 14 days after you received your order.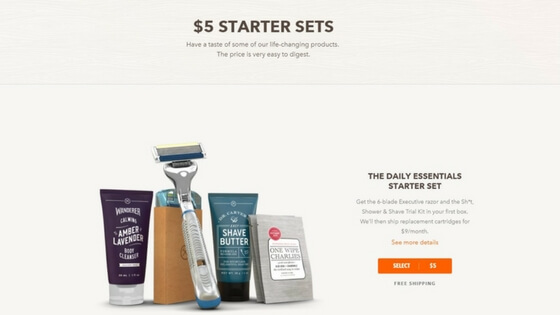 I thought I should mention these guys since "dollar" is in their name. 🙂 This is another specialized store being that they only offer shaving supplies such as razors, replacement blade cartridges, shaving creams and lotions, etc. in a way that is proposed to be easy, convenient and cost efficient.
If you're a regular shaver, this could be a great way to make sure you never run out of shaving supplies. FYI, they also offer other products like hair gel and pomade, but you'll definitely pay more than a dollar for their stuff.
Dollar Stores That Sell in Bulk
If you are looking for dollar stores that parallel the likes of Costco and Sam's Club, here's the top ones we found and researched for buying in bulk on a budget.
H & J Closeouts has thousands of items for sale at rock bottom prices, according to their website. But they also have a specific dollar store category just for $1 stuff.
The cool thing about their dollar store section is that there are LOTS of items featured there for much, much less than a dollar.  For instance, pens for $.15 or party favors for $.05.
Note: you have to buy items by the case here, so it's probably a better shopping choice for people who run or manage businesses, or if you're planning a big party like a wedding or large birthday party.
Let's say you're putting on a conference for your employer and need to order small gifts for all attendees – this could be a great place to shop for them. Or if you run an Etsy store out of your home and need to buy supplies for customization – you may be able to buy them in bulk here.
So, not for your typical dollar store shopper, but it wouldn't hurt to take a look around; you might find something you need or want to buy in bulk. Also, they do offer free shipping to the continental U.S.
Dollar Item is a wholesaler that sells a large variety of items for pennies on the dollar. Prices range from a few cents up to a few dollars, but you do have to buy by the case. A case can mean a few items, such as a dozen, or hundreds of items – there's usually several options available for each product.
The types of products they offer is pretty expansive. Here's a short list:
Tech gadgets
Candy
Health and Beauty
Household
Kitchenware
Party supplies
Stationery
Toys
 Pet items
Novelties
And more. Again, these bulk stores where you can buy stuff for a dollar or less (and sometimes more than a dollar) are best for buying things you use really often, such as foil pans, or if you're hosting a conference or other large party or event where you need several of certain items.
Another example of an item that might be best purchased at these bulk sites would be party favors or table favors for weddings.
Dollar Days is another warehouse store that sells items in bulk at super low prices. Like H & J Closeouts, you'll find amazing deals here, but again you have to buy items by the case. For instance, you can buy flip flops for $1.50 a pair, however you need to buy a box of 50 to get that price.
Again, best for those who are buying in bulk for a work event or large scale party or gathering of some sort, or for a business owner wishing to resell. They offer free shipping for orders over $499.
What Should I Buy at the Dollar Stores?
Although it might seem like everything offered for sale at dollar stores has to be a good deal because it's "only a dollar", the truth is that dollar stores, like warehouse clubs, have some offerings that are a good deal and some that aren't.
Here's a list of some of the more popular items many dollar stores sell, and whether or not these things are a good deal at their one dollar price.
Party Supplies
I mentioned this before, but I love buying party supplies at the local dollar store by our house. Where most party supply stores are selling balloons for $3 and $4, I can get a helium filled mylar balloon for just $1 at the dollar store. Those types of savings really add up, especially if you're buying a bunch of balloons.
And honestly, I don't find the quality of the dollar store balloons to be any less than the quality of the party store balloons. The same goes for napkins, paper plates, streamers and other party items.
I'd highly recommend checking out party supplies when you're shopping online at dollar stores or shopping at your local dollar store. Whether you're throwing an annual birthday party for one of your kids, or having a party for a parent's or spouse's milestone birthday, dollar stores can be a great place to get party favors, decorations and other party supplies for cheap.
The same goes for other types of parties such as weddings, showers, going away parties, etc.
Kitchen Gadgets and Dishes
Dollar stores are notorious for selling kitchen dishes, serving ware and other types of kitchen gadgets such as measuring cups and spoons, spatulas, aprons, etc.
Whether or not dollar stores has great deals on these items really depends on the store. We have a set of measuring cups we bought at a dollar store that we've had for years and they're still in great shape, but I know that's not always the case.
I'd suggest either checking out the items in person before you buy, or getting familiar with the brands offered online.
If you're finding kitchen gadgets with brand names you've heard of before that are sold at big box clubs, you might have found yourself a great deal on closeout items that the dollar store buyer happened to come across.
This has happened to me a few times. Other kitchen gadgets sold at dollar stores aren't worth anymore than you pay for them and fall apart quickly, so shop carefully.
The same can go for dishes and serving dishes sold at dollar stores. On one hand they can be a really good deal and you can get a set of twelve for much cheaper than what you'd pay at a traditional store.
Or, dollar store dishes can be a great deal if you don't need a set of twelve and just want, say, four of each item, you aren't forced to buy a ginormous set.
Many times the quality of dollar store dishes is okay as well. I have a couple of serving plates my kids bought me at the dollar store when they were younger and didn't have access to much money.
They're still in great shape and I still use them today, after a decade of owning them. It helps that I'm gentle with my dishes, but the quality is fairly good too.
Office and School Supplies
We often buy office supplies and school supplies at the dollar store. Not everything in these areas is a good deal, but they often have things like notebooks, stationery and folders at great prices.
Stationery is a biggie for me. It's not uncommon to be able to get a pack of 8 notecards for a dollar, whereas you'd likely pay two or three dollars at a big box store.
When we have to buy thank you cards for kids' presents, for instance, we'll often pick up a pack of cards at the dollar store. Legal notepads, pens and other office supply items can sometimes be a great purchase at dollar stores as well.
Cleaning Products
Dollar stores regularly sell things like dish soap, sponges and scouring pads, toilet bowl cleaners, window sprays, etc. Sometimes these things are a good deal at the dollar store and sometimes they're not.
I suggest checking the size of the product with a similar size and brand at your local big box store. As an example, I've found dish soap at the dollar store in a certain size, but the big box store will sell it for 97 cents.
Three cents might be a big deal to you and it might not, but I can tell you from experience that every penny adds up when it comes to managing money, whether you're saving money or spending money.
I know this because my husband and I literally nickeled and dimed our way into over $60k of consumer debt.
So the pennies matter to me now, and I'll take the 97 cent bottle of dish soap over the $1 bottle of dish soap any day.
Okay, back to the cleaning products. Again, it really depends on the item, both the size and the quality, so shop thoughtfully. Feel free to try out off brands too. Some may not work as well as the more expensive, name brand products.
But other off brand cleaning products may just be the name brand stuff housed in a different bottle.
Kids Toys
This is one area where my kids and I used to battle in regularly. Most dollar stores have shelves filled with kids toys, and it's tough for kids – especially younger ones – to face all of that new and shiny and not be tempted.
The problem is that many – or dare I say "most" – dollar store toys have a pretty subpar quality. There've been several times my kids chose to buy dollar store toys with the money they earned only to have them break the same day they bought them.
This disappointed them and broke my heart, but it was also a good lesson for them to learn about quality versus quantity. Each of my four sweethearts eventually learned that it was usually better to save their dollar, put it together with other dollars and buy a higher quality product.
Unless you're buying a toy that is expected to be somewhat subpar in quality, such as a toy you just want to last on a long car trip or a small party favor for a kid's birthday party, I usually recommend not wasting your money on dollar store toys.
Household Decor
Believe it or not I've found some great deals on household decor items at the dollar store. I tend to find the best deals around holidays such as Easter, Thanksgiving or Christmas.
One time I got a set of those little houses and other buildings – you know the ones people set up at Christmas time with fake snow and lights – and I only paid 75 cents for each one. They're not the quality of the super spendy ones, but they're simply adorable and I get compliments on them every single Christmas season without fail.
Dollar stores also tend to carry a pretty large selection of fake flowers and plants. Some of them tend to look cheesy, but others can be really pretty nice looking. I personally love buying "artificial" flowers and plants for the house because many flowers and plants are toxic to cats and dogs, and we have both.
So since real flowers are often not safe in our home, I buy the artificial ones that look great so I can at least pretend we have refreshing, oxygen producing plants and flowers scattered throughout our home.  🙂
Seriously though, it's worth checking out a dollar store's selection of home decor stuff, especially the artificial flowers and plants.
And if you're decorating tables for a wedding or other party, you can save a bundle by purchasing vases or other containers for the super cost effective artificial flowers you'll find at the dollar store.
Beauty Products
Dollar stores often have an abundance of beauty products available for sale. My personal opinion is that while I'm okay with buying hair accessories at the dollar store, I try and stay away from makeup, nail polish and other items there.
The reason is that you just can't know what's in them, and you're putting this stuff directly on your skin. I recommend sticking with your tried and true makeup products from bigger name brands that have some ethics standards behind their names. But that's just me.
The Takeaway
Another thing to know about shopping at the dollar store is that it's easy for spending to get out of hand when everything is "only a dollar". When I didn't have a clear handle on my spending priorities, it would be easy for me to go there and say to myself "Okay, I'm not spending any more than $10 today (or $15, or whatever).
Seeing all of the great bargains (or perceived great bargains) can be tempting when you can walk out of a store with ten new things for only ten dollars. So shop carefully and think about whether your purchases truly add value to your life before handing over your hard-earned cash.
Have you ever shopped at a dollar store online? Or in person? What are your favorite things about shopping at dollar stores? And your "not so favorite" things. Let us know in the comments section.
---