I met Jessica through one of our classes and this is what she said:
"I am recently divorced, I am the sole provider for my two kids, and I am $316k in debt. Oh yeah, I am also a teacher."
In the divorce she ended up with:
$275,000 House ($1,450 payment)
$3,500 on a credit card
$22,000 Car (payment $570)
$2,000 in medical debt
$13,000 in school loans
$1,000 personal loan to mother-in-law
TOTAL: $316,500
Let that sink in for a second. It took me a second to take it all in as well.
At first glance we thought – you're bankrupt. How can anyone dig out from underneath that much debt on a teacher's salary? This isn't fair – why is she facing this? Why is anyone facing this? What happened?
She Made the Choice and Took Action
Jessica had the opportunity to win with money, it just wasn't as obvious as she would have liked. This was going to be a battle, but opportunity would come knocking on her front door. She rolled up her sleeves and went to work.
She sold just about EVERYTHING except the kids and dog. This allowed her to quickly achieve her starter emergency fund of $1,000. You see, when you are facing a battle like she was, she needed something to defend her from Murphy (everything that can go wrong will go wrong). The $1,000 emergency fund was her Murphy Repellent.
This was the start of her awesome. She was a new single mom on her own and now had $1,000 saved up for emergencies. Can you imagine how awesome this must have felt? This was proof she was actually going to take control of her life.
The next step was to create a budget. I helped her start her budget and she took over from there. She understood what it meant to start winning with money, and her map to getting from where she was now to where she wanted to was her budget. I have said this over and over, but if you're not creating a budget each month and actually doing the budget, you probably won't make it. You might, but why not use the odds in your favor and get on a budget?
Cutting (way) Back
She sold her car and bought something used that she could afford. Cutting out the car payment allowed her to take the money she was paying towards the car note, and re-direct it to her DEBT SNOWBALL. She was able to knock off everything but the house and student loan in the first six months!
People thought she was crazy. She wasn't just crazy, she was weird. Remember, normal is broke and living paycheck-to-paycheck, and impressing people you don't know or don't like with a car dragging around a $488/month payment over 82 months. No thanks.
She didn't stop there.
She got rid of her house phone, her cable, and even her internet! She was on a mission to win with money, and none of this stuff mattered anymore. Then she took it to the next level – she sold her freakin' house! This allowed her to put 20% down on a house she could afford and now she only had her student loans left! However, since Jessica is awesome and teaches special education in a low-income school, she can work two more years at the school and her loans will be forgiven.
#boomshakalaka
Jessica's Turn!
(I asked Jessica a few questions about her amazing journey and this is what she shared with me)
Chris Peach: What made you decide to get out of debt?
Jessica: I had to gain control of my situation. I needed to know I could support my children. I needed to get out of the hole I was in and learn how to live a life I could afford and be happy with.
Chris Peach: What was one of the hardest things you had to do during your debt free journey?
Jessica: Probably the hardest thing was learning to say no to my kiddos. This was hard, there was a lot of "mom guilt".
Chris Peach: What is life like now without debt?
Jessica: It is amazing! I have sinking funds for a vacation, and house projects. I am finally at a point where I can start thinking about being able to save for my Master Degree, and save for retirement besides my pension.
Chris Peach: What advice will you give someone who is just starting?
Jessica: DO IT! Make a plan. Get rid of everything!!! I got rid of cable and it has been the best thing for my family. We play board games and play outside, we talk, and we find everything free to do. The kids are currently trying out ice hockey free of cost for a month.
For me, once I set a goal and had a plan I was set for success. The other big thing was to have a community that believed I could do it. I was quiet about it at first, I didn't tell many of my friends or family what I was doing. When I started really gaining head-way on my debt snowball, I gained confidence and enthusiasm. I finally saw the light at the end of the tunnel and I had friends that cared enough to celebrate my success with me.
Chris Peach: Anything else?
Jessica: My ex-husband said two things that would change me forever. The first, "You can't survive on your own." The second, in reference to why he left, "I need a change of scenery."
These two phrases play over in my mind often. I know I can survive independently, and I know there is no other scenery I would rather have than being able to be there for my children every day. I raise them with respect and the knowledge that they will be able to be successful and independent also. If I did not have the lessons and knowledge of your class in a time when I desperately needed it I would be in a very different place. I cannot say thank you enough for helping me take my life back and not just survive but thrive.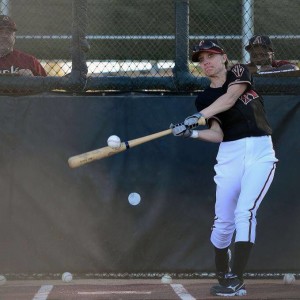 ---

---
Financial freedom is simply a choice.
Jessica had every reason to give up and become another statistic. She CHOSE to create her own life that no longer involved debt. You can too! I want you to win with money. I also know you can – if you choose to.
I hope this story helps motivate you. Some of you may be teetering on the edge to take that next step towards financial freedom. If this story is the one, then throw Jessica a little virtual fist bump in a comment or email and I'll make sure she gets them.
What About Your Story?
Imagine if you no longer were living paycheck-to-paycheck, you have $10,000 in the bank for emergencies, and you could finally get rid of any and all financial stress in your life. Each week I host a FREE LIVE Webinar called Stop Living Paycheck to Paycheck…and Just Live. In this webinar, I share our own story of paying off $52k in 7 months and teach you the step-by-step system to creating a plan and living it out.
I would love for you to join me on our next webinar.
If You Like it, Please Share it!
Thank you in advance for helping spread Jessica's amazing story!
-Chris Peach