Tired of your cable or satellite bill slowly going up each year? Wondering if you really need 1,024,982 channels to choose from? Looking for an actual way to save money on television?
Well, your problem is solved! I have spent an incredible amount of time figuring out the best way to save money and still watch the channels I love watching! Here is a step-by-step guide to getting rid of your $120 cable/satellite bill once and for all.
The Absolute FREE Way to Watch TV
Getting an HD Antenna is a one time fee of $37 or less and you are on your way to watching a bunch of channels for FREE. That's right ladies and gentleman, I just said FREE.
You will get all of your local channels and a few of the channels you didn't realize were FREE too! The quality is truly High Definition and I promise you CANNOT tell the difference between an HD Antenna and HD Cable/Satellite. HD is HD.
The first thing you want to do before you purchase an HD Antenna is to determine if there are towers within reach of where you live AND whether you need and indoor or outdoor antenna.
Once you type in your address, it will show you where to point your antenna and how many miles away you are from the television towers. From my experience, if you are farther than 30 miles away I would recommend an outdoor antenna and if you are within 30 miles, you can get away with an indoor antenna.
The antennas are both close in price, however the outdoor antenna does require a little handy-man work to mount onto your house. You also may want to purchase the Mounting Bracket for HD Antenna
which is a post that mounts to your house and holds your antenna up. **The one Amazon recommends doesn't actually fit the antenna, so buy this one.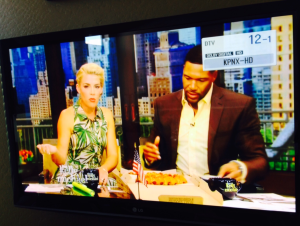 HD Antenna is really HD Quality
The Next Step Up
Netflix and Hulu each $7.99/month
Netflix and Hulu allow you to stream your favorite shows and movies to your television via an internet connection. If you have a SmartTV, chances are one or both of them are built into your television. If you don't have a SmartTV, you're still in good shape through streaming devices such as AppleTV, Roku, Playstation, and Xbox. Hulu is better for television shows – your favorite shows will often be on Hulu the next day whereas Netflix will give you the whole season after the season airs. Netflix is better for movies with over 100,000 movie titles to choose from. As far as kids, both Hulu and Netflix are loaded with tons of your kids' favorite shows.
Sling TV Review
Two years ago I tried Sling TV and I will NEVER turn back. Sling TV basically took our favorite cable channels we could not possibly live without and put them all in one place for $20/month. To watch SlingTV, you'll need to stream them through devices such as Roku, Amazon Fire, Xbox One, or Nexus Player. However, if your TV is a newer Smart TV, chances are the SlingTV app is already built inside.
The Good
SlingTV offers a ton of channels for $20/month
Month-to-month and NO contracts
There are upgrades if you're looking for more than the base package
There are saved shows for each channel (similar to a DVR)
The Bad
Only one device can stream at a time
If you have a poor internet connection, TV may freeze periodically
What Channels Do You Get?

Note: One great promotion to note is if you purchase 3 months up front ($60) of SlingTV subscription, they will include one of the following:
• FREE Roku 2 Device (reg $69.99)
• 50% Roku 3 Device (reg $99.99)
• $50 off the New Amazon Fire TV (reg $99.99)
Watch Live Sports on Sling TV Free for 7 Days
The Breakdown
Average Cost of Cable: $120/month (Not Cool)
HD Antenna Only: $40 one time and $0/month
HD Antenna and Netflix OR Hulu: $40 one time and $7.99/month
HD Antenna and BOTH Netflix AND Hulu: $40 one time and $15.98/month
HD Antenna and Netflix OR Hulu AND SlingTV: $40 one time and $27.99/month
HD Antenna and Netflix AND Hulu AND SlingTV: $40 one time and $35.98/month
How many of your cable or satellite channels do you really watch? Is it worth the $120/month or can you do without?
I have met many people who are living paycheck to paycheck and stressing about money up to their eyeballs. When I look at their budget I notice they are sometimes paying $150 in cable! If we took them down to simply and HD Antenna, they just put $1,800 in their pocket each year.
Take a look at your cable bill and ask yourself if you are ready to save money on television? In a culture where the normal American watches 5 hours of television a day, 35 hours a week, and over 1,800 hours per year, it is safe to say no one is ready to get rid of their TVs just yet (we obviously weren't either). However, wouldn't it feel better to save thousands of dollars over the next few years and still watch your TV?
What Do I Personally Use?
The Peaches have an HD Digital Outdoor HDTV Antenna
, Netflix and SlingTV for $28/month.
We have more television that we could ever need or want. I get my ESPN, Andrea gets her Food Network and Travel Channel, and the Kids get their Disney shows. We watch the local news and all the best shows on FOX, CBS, NBC, and ABC all for $28/month. Hey, I feel like we are living high on the hog….that's because we are!
Lovin' This Plan? I Bet Others Would Too!
I would be super thankful if you could pass this on ONLY IF YOU THINK IT IS GOOD 🙂 If you believe this post is going to be helpful to you or to anyone you know, be a pal and SHARE THIS to your social media with the buttons above.
I remember when we first started getting on a financial plan, we were overwhelmed and really didn't know where to start. This may get the ball rolling for you or someone you know because you are actually doing something for the first time with your money. If you decided to share, thank-you! If not, no worries either 🙂
Lastly, I want you to know that I am an affiliate with Sling TV which means they pay me a small commission if you click on any of the Sling TV links on this page and sign up for service. It's their way of telling me thank-you for referring them to you. If you are okay with this, great! However, if you're not okay with this, then simply close out this browser and open Sling.com in a new browser – I would rather you save money than not at all 🙂
Be good to yourself, your friends, your love, and BE GOOD TO YOUR MONEY!