Did you know the current Coinstar fee is 11.9?
That means for every $100 you have in change, you are left with about $88 after Coinstar collects their fee.
But, did you also know there are some great ways to completely bypass the coinstar fee so you can use the machine for FREE?
What is Coinstar?
Coinstar was created to save you the time and effort of counting and then rolling your coins. If you have ever sat on the floor of your bedroom and rolled countless coins, then you remember thinking to yourself — there must be a better way.
This is why you now see those giant green machines found near the checkout of just about every grocery store in America.
Now instead of counting coins, simply dump all of your loose change into the machine and it will count your change for you in a matter of seconds!
But What About Coinstar Fees?
Right now Coinstar charges a convenience fee of 11.9%. That means for every $100 of coins you put through the machine, you only get to keep $88 of it.
However, below I am going to share with you 23 different ways you can completely bypass any and all coinstar fees.
How to Bypass the Coinstar Fees
If you want to bypass the high coinstar fees that come with using Coinstar, there are few hacks you need to know about.
Instead of choosing to get paid out in dollar bills, you can choose to get paid out in eGift cards and bypass the fees associated with Coinstar.
Here are the current participating eGfit cards to wipe out the coinstar fee:
| Retailer | Minimum Amount | Maximum Amount |
| --- | --- | --- |
| AMC Theatres | $10 | $100 |
| Amazon Gift Card | $5 | $1,000 |
| Apple Gift Card | $10 | $500 |
| Applebee's Restaurant | $5 | $500 |
| Cabela's | $5 | $500 |
| Chili's Restaurant | $5 | $100 |
| Domino's Pizza | $5 | $100 |
| DoorDash | $15 | $200 |
| GameStop | $5 | $500 |
| Gap (Old Navy, Banana Republic, Athleta) | $10 | $500 |
| Hotels.com | $10 | $500 |
| iHop Restaurant | $5 | $200 |
| Lowe's | $5 | $1,000 |
| Nike | $5 | $500 |
| Outback Steakhouse | $5 | $500 |
| Roblox | $5 | $500 |
| Razer Gold (Online Gaming) | $10 | $500 |
| Red Robin Restaurant | $5 | $150 |
| Southwest Airlines | $25 | $500 |
| Starbucks | $5 | $500 |
| Steam (PC Games) | $5 | $250 |
| Texas Roadhouse Restaurant | $5 | $100 |
| The Home Depot | $3 | $2,000 |
As you can see, there are plenty of options when it comes to eGift cards. Therefore, if you know you will eventually be shopping at any of the above retailers, than turn your spare change into an eGift card.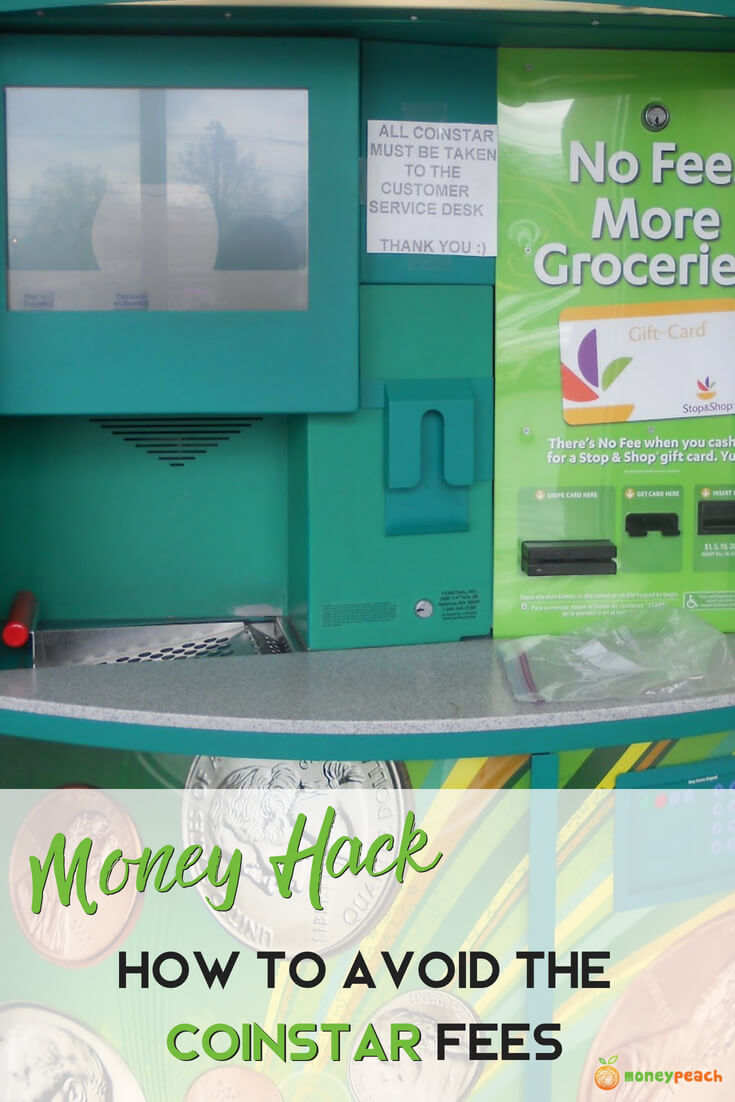 Donate Your Cash With Coinstar
While the nearly 12% coinstar fees still eat most of us, Coinstar does offer another positive alternative to using their services. You can now donate your coins directly to one of the seven charities they have partnered with.
The best part? They don't charge you the nearly 12% fee!
Not to mention you are donating to a cause you believe in. Plus, it's a tax write off so it's a win-win-win!
Charities That Partner with Coinstar
Here's a quick summary of the 9 charities that Coinstar has partnered with:
American Red Cross -An organization where people mobilize to help their neighbors during a disaster to provide support worldwide.
Children's Miracle Network Hospitals – They help as many kids as possible by raising funds for children's hospitals.
Feeding America – A nationwide network with 200 food banks that help fight hunger in the United States.
Make a Wish – An organization that creates life-changing wishes for children with critical illness.
NAACP – The National Association for the Advancement of Colored People is the largest and most pre-eminent civil rights organization in the nation.
The Human Society – An organization that rescues and cares for tens of thousands of animals each year, but its primary mission is to prevent cruelty before it happens.
UNICEF: This charity works in more than 190 countries to save and improve children's lives by providing health care, clean water, and nutrition.
United Way: Each donation helps fight for education, health, and financial stability for others in the community.
WWF (World WIldlife Foundation): This charity helps stop the degradation of the environment to help protect and restore animals natural habitats
Who knew that your spare change could be easily contributed to helping such great causes around the world?
One thing to note, not all of the charities listed above are available on every kiosk. Make sure to check online to ensure you can donate to the charity of your choice.
Also, make sure to keep your receipt. Donations like these one are 100% tax deductible and want to keep the receipt for your future taxes.
Lastly, you might not have noticed that there is one other option besides an Amazon e-card or certificate. If you're not a huge Amazon shopper or want to put your spare change to a good cause you have one other option.
How to Use Coinstar
Using Coinstar is pretty straight forward to cash in your spare change. At the kiosk, make sure to check e-gift card for Amazon, cash, or if you want to donate the money.
Add your coins to the machine and wait until it is done counting them.
If you have any coins that aren't accepted or foreign objects accidentally inserted, the coin dispenser will spit them back out in a slot below. Once the machine is done counting you will receive the cash, crypto voucher (see below) or an eGift card from the list above.
Make sure to not lose that receipt it's small and I'm not sure they have any way to help if you end up losing it.
Coinstar and Crypto Currency
Coinstar now allows you to turn your coins into crypto.
You will first need to create a Coinme account and then claim your free cryto wallet. Then purchase a crypto voucher for cash at any participating Coinstar machine.
Once you have your crypto voucher, then simply redeem your voucher at Coinme.
Here are the 8 current crypto currencies offered by Coinme at Coinstar:
Bitcoin (BTC) – As the world's first and most well-known cryptocurrency, the coin has maintained its status as the top coin by market capitalization since its inception
Ethereum (ETH) – Currently the world's largest programmable blockchain, Ethereum has served as a global leader driving force in the world of blockchain and cryptocurrency.
Litecoin (LTC) – A unique blockchain network that is highly similar to Bitcoin and born from its source code. Litecoin strives to provide a peer-to-peer internet currency that enables instant, low cost payments around the world.
Dogecoin (DOGE) – While Dogecoin was originally created as a joke, it has long-size the realm of levity and has become a major contender in the cryptocurrency landscape thanks in large part to celebrity endorsements.
USD Coin (USDC) – USD Coin, or USDC, is a stablecoin that maintains a fixed value equal to a single U.S. dollar and each USDC matches with an existing dollar held in a dedicated bank account.
Chainlink (LINK) – Chainlink was created to help advance smart contract innovation and adoption through a community of developers and contributors.
Polygon (MATIC) – Formerly known as Matic Network, Polygon aims to provide tools and solutions to improve transaction speeds and reduce costs for blockchain networks.
Stellar (XLM) – Stellar Lumens, or Stellar, aims to offer fast, low-cost transfers of money around the globe between any currency.
Is Using Coinstar Safe?
Machines never fail, right? Well, that's not always the case. When using any coin machine there is always room for error.
A story ran back in 2016 about a TD Ameritrade kiosk being off by $44 off from a $300 total. That's a huge amount of money you're not getting back!
Coinstar does appear to be the leader in the coin machine industry and released this statement after people began doubting the coin machines after the 2016 ABC investigation. Here's what they said:
"Its number one goal is to provide its customers with a satisfying and reliable experience…it has refined technology and implemented regular maintenance schedules to service, clean, calibrate and test the machines to ensure reliability and high accuracy levels…rigorous testing has delivered extremely accurate coin counting and more than 95% machine uptime."
Finding A Coinstar Near Me?
You can find Coinstar machine at most grocery locations but make sure to check out their locations page here.
Here is a list of the most common stores to help you find a coin machine near you:
Albertsons
CVS
Kmart Super Centers
Kroger (This includes a ton of brands underneath it including Fry's Food and Drug, Pay Less Super Markets, Ralphs, Food 4 Less, Foods Co, and others)
Lowes
Ray's Food Places
Target Superstores (these are bigger than normal Target stores and include a full grocery selection as well)
The Food Emporium
Walmart
Why Use Coinstar?
After reading about cashing your coins in a bank Coinstar takes away a lot of the frustration by making it simple and convenient. You don't have to roll up your coins and make a separate trip to the bank. You can save gas money and combine the experience with a normal trip to your store.
The Banks
Did you know that not all banks actually accept coins anymore?
Yes, a government-backed entity like a huge bank doesn't always accept your legal tender! How crazy is that? Is it even legal? I didn't go too far down that rabbit hole but this seems ridiculous.
While some banks do have coin cashing machines in the lobby, they are usually reserved only for account holders. Typically, you have to enter your debit card and PIN before it will actually allow you to get cash for your coins. Even if they do have a coin machine it might not always be free, even if you bank with them!
Then there are banks like TD Bank which charges you a fee to use the machine. It's hard to believe it's so much effort to get cash for your coins even at banks.
Banks That Accept Rolled Coins
As you can see the list of banks that don't accept coins that aren't rolled isn't many! Most banks choose to only accept them if you have them properly rolled.
This usually means you have to buy the device to help roll or do it manually. Most of the banks will provide wrappers for free but some of the banks will still charge a fee!
1. Bank of America
No fees for Bank of America customers
No fees for non-Bank of America customers
2. Chase Bank
No fees for Chase Bank customers with an unlimited amount
No fees for non-Chase Bank customers until $200. Anything above there are fees which weren't disclosed online
3. BB&T
Fees vary for BB&T customers. They are free for under $25; 5% for more than $25
10% Fees for non-BB&T customers (Yes, 10% at a bank!)
4. Cape Bank
No fees for Cape Bank customers
No fees for non-Cape Bank customers (and uncapped total amount unlike others on the list)
5. Citibank
No fees for Citibank customers unless you live in the state of Illinois in which there is a 5% of the total amount
No fees for non-Citibank customers unless you live in the state of Illinois in which there is a 5% of the total amount (Sorry Chicago readers)
6. Home State Bank
No fees for Home State Bank customers
10% Fees for non-Home State Bank customers. Yikes, might as well head to Coinstar or a credit union for that price
7. JBT
No fees for JBT customers
5%fees for non-JBT customers
8. Manasquan Bank
No fees for Manasquan Bank customers
5% Fees for non-Manasquan Bank customers
9. Shelby Savings Bank
No fees for Shelby Savings Bank customers
5% of the total amount for non-Shelby Savings Bank customers
10. U.S. Bank
No fees for U.S. Bank customers
No fees for non-U.S. Bank customers
11. Wells Fargo
No fees for Wells Fargo customers
No fees for non-Wells Fargo customers
12. People's United Bank
No fees for People's United Bank if you're a customer
Unknown fees if you're not a customer
13. Umpqua Bank (Pacific Northwest)
If you're a customer they do not charge and coins don't have to be rolled.
Unknown fees if you're not a customer
If you don't have any luck finding one of these locations near you, make sure to search for smaller banks and credit unions.
Credit Unions
If you're not familiar there is a big difference between credit unions and banks, especially big banks like Chase and Bank of America. While banks have customers (and sometimes shareholders), credit unions are membership based. Once you get accepted based to the affiliation of the credit union you can become a member.
Credit unions tend to have more personalized service and don't give you as much grief for want cash for your change! If you are a member, most of the bigger credit unions won't charge you any fees. This is definitely one of the biggest perks of using credit unions!
And some credit unions have Coinstar type of machines that will allow you to give them your change without having to spend time rolling them.This is a huge time and money saver for you.
Some credit unions do allow non-members to take advantage of their kiosks but they charge around 9-10%. Still a high rate but ultimately lower than Coinstar if you want cash.
Credit unions are also a great fit if you've had problems getting loans or credit cards due to a low credit score. They are much more likely to work with you than big banks.
If you don't want the work of rolling your coins and finding a bank or credit union it's time to learn about Coinstar.
Other Ways to Use Your Spare Change
If you're not a fan of rolling coins, using Amazon, or paying 12% in fees, there a few lesser known options to best utilize your spare change.
Acorns App
Acorns is the free app that takes your spare change and not only saves it for you, but invests it for you using roundups from use on any of your debit or credit cards.
If you would like to see exactly how it works, you can check out our Acorns app review which explains in detail how Acorns works and why microinvesting is becoming wildly popular.
Self-Checkout to Pay for Normal Items
This is a method that you might love or hate. Personally, I always get frustrated when people using self-checkouts and are slow. To me, it kind of defeats the purpose entirely.
But, this method does let you save money so I understand. Instead of having to roll your coins for the bank or lose money to Coinstar, just pay for items with coins in the self-checkout.
You won't have to pay any fees and can easily use self-checkouts at most grocery or retail stores. Maybe keep the total to a minimum not to hold up the line with $50 of spare change.
Find and Sell Rare Coins
I'll admit this step requires a little more and is kind of a side hustle as much as anything else. Before you decide to use one of these options for your coins, double check to see if you have rare coins.
Sometimes you will be able to find coins that are of more value than the actual amount! Again, I want to preface that this will take more effort on your end and certainly not for every reader.
Here are some of the most common coins you can look for and potentially earn some extra money:
A buffalo nickel (this has a Native American and a buffalo on either side of the coin)
A penny made before 1982. This means the coin is 95% copper and worth more money!
A quarter, nickel, or dime minted prior to 1964. If it is prior to 1964 that means the coin contains silver and worth more money.
Plus if you have any older coins you can always go to a dealer and see if they are worth more to you than sitting in storage.
Donate to a Local Charity
If you don't want to make a separate trip to find a Coinstar or don't like the limited options you can always choose to donate your change. Religious institutions, community center, and the Salvation Army are among a few that will accept your donations. If you have international coins from your travels some of these places will also accept them as well.
Final Thoughts
Back in the day, this wasn't something you needed to ask. Instead, you could just go to your local bank, get cash, and go about your day. Sadly, it's just not the case anymore when it comes to trading your spare change for cash.
While getting money is always nice, it's getting harder and harder to get 100% of your change converted to cash. With banks, machines, and high fees, you normally only get a fraction of your money. A lot of cases you only get around 90% of your "free money" after expenses!
It's a shame that banks and our financial system have made it so difficult for people to get money for legal tender. What's the point of having a piggy bank if you can only collect 90% of what you save? Probably not a great example from our financial institutions to teach our youth.
Maximize Your Change
But there are some alternatives to help you maximize your change for the full amount. This article will help you minimize those fees and find the best ways to get started.
Start clearing out your couch cushions, car consoles, and every random area of your house. With these methods, you can finally start using that change for something you actually need!
In today's digital world coins and cash seem to be used less and less. Inevitably you will end up with spare coins that you need to cash out eventually. Besides, it's not like you're collecting interest on coins that are scattered throughout your life.
There are plenty of options to get started. Whether you roll your coins and take them to your local bank or take the fees and use Coinstar. And for quick purchases at the grocery store you can always carry your spare change with you. While it is a little of bit of work, every penny counts when it comes to meeting your financial goals!
Hopefully, this helps you deal with coin machines, fees, and the other hassles when finding a coin machine. Make sure you remember to check your Coinstar in 2022 so you can use your spare change to help you pay for your monthly bills.
What method do you use for dealing with spare change? Do you prefer the old school method of rolling them or the convenience of Coinstar?
Let us know in the comments and happy free coin rolling!