Are you having a baby? Did you just have a baby? Or, do you know someone who is having or has a baby?
There are all sorts of reasons to take advantage of the many ways to get free baby stuff — especially with the recent high prices of just about everything and not to mention the recent baby formula shortage across the nation!
Whatever may be the case for you, here is our latest list of all the different ways to score free baby stuff.
1. Get Free Formula
With the recent news of a national baby formula shortage, we will start here.
Now, while breastfeeding of course offers the cheapest way to feed milk to your baby, it's not always doable or desireable for everyone.
Here are some ways you can get free formula for your baby.
Similac Strong Moms Rewards
When you join Similac's Strong Moms Rewards program, you can get up to $400 in gifts and savings. It's free to join, and you'll get access to an abundance of useful information for raising your baby.
And Similac customizes your free gifts and rewards to your individual needs and situation.
Enfamil Family Beginnings
The Enfamil Family Beginnings program also rewards you with up to $400 in free gifts. Some of those gifts and rewards include free formula samples, discount coupons and product offers.
When you sign up for the program, they'll ask questions about you and your baby. Those questions help Enfamil to tailor their rewards to your individual situation. And yes; it's free to join!
Nestle Baby Club
Nestle also has a baby formula product, and a club membership you can join for free. When you join you'll get expert advice on child-rearing, and a welcome kit from Nestle.
2. Get Free Diapers
Anyone who's ever used diapers or went shopping for diapers knows that they're very expensive. The average family will spend $70 to $80 a month per child on diapers until they're potty trained.
Fortunately, there are some ways to get free diapers for the babies in your life.
The Honest Company
The Honest Company is a company that focuses on selling chemical free, quality products. They sell baby products, beauty products, vitamins and more.
The company also offers a diaper subscription service, and you can get free and discounted diapers when you sign up.
Also, always check for a coupon code using the Honey app, a free app that will apply the best coupon at checkout.
The Huggies Rewards Program
The Huggies Rewards Program helps you earn free diapers by earning points that can help you save up to $100 in diapers. For each Huggies purchase you make, you get a certain number of points.
You can use those points to get free diapers or other items. When you go to redeem your points, just choose a gift card option. The rewards program has gift cards to Walmart, Target and other stores that sell diapers.
Note: Huggies partners with Fetch (using the Fetch app) for their rewards program.
The Pampers Gifts to Grow Rewards Program
The Pampers Gifts to Grow Rewards Program gives rewards points to members as well. For every Pampers purchase you make you earn rewards points.
You can use your rewards points to get coupons for discounts on diapers or other rewards too. Other rewards include charitable donations, gift cards to stores, and toys and other items.
The National Diaper Bank Network
The National Diaper Bank Network is an organization that distributes free diapers for needy parents. The NDBN ships the diapers to local charitable organizations around the country.
Those local organizations are then responsible for handing out the diapers as they see a need. To find free diapers for those in need in your area, go to the NDBN website.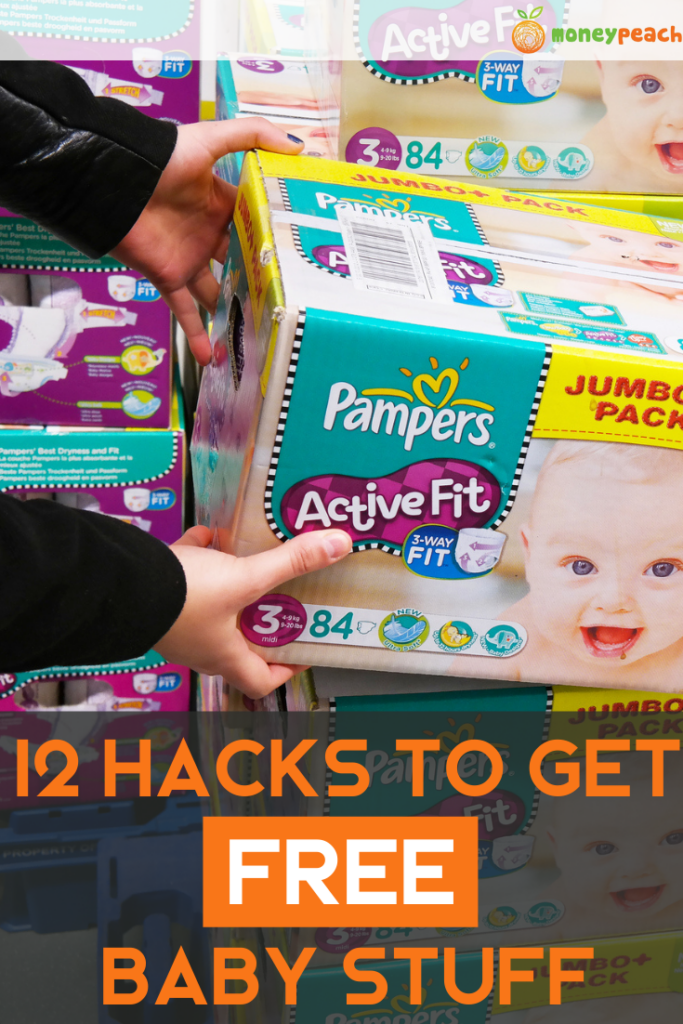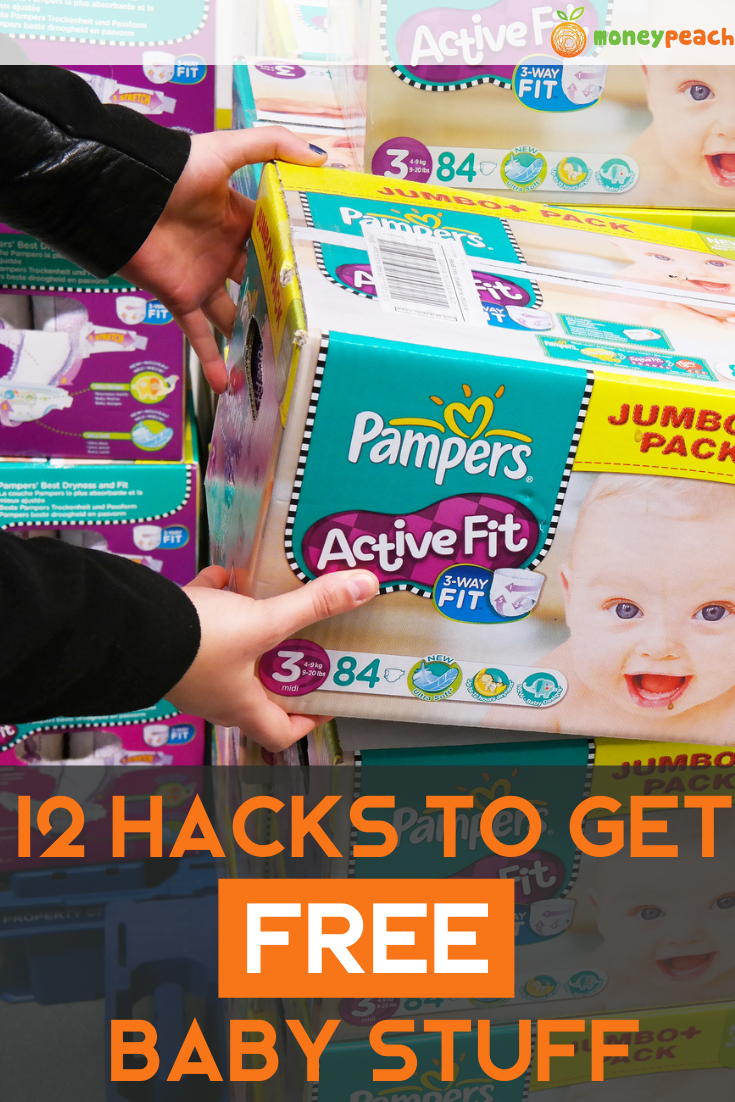 3. Register for Baby Gifts
When you register for your baby at certain stores, they'll often give you a welcome kit. The welcome kit will include a variety of free samples and free products. Many times you'll get free money in the form of discount coupons for baby products as well.
Walmart, Target and Amazon are arguably the most popular places for registering for your baby. Here is some information about each of the "big three" baby registries.
Amazon
When you register on Amazon for your baby, you get a free welcome box full of baby stuff. You also get a chance to win $2,500 worth of baby items. That's a lot of free stuff! Some of the other benefits of registering with Amazon include:
A surprise box of items for parents and baby valued up to $35
Enjoy a 10% completion discount on items left on your registry (Prime members receive 15% off)
Universal registry that allows you to add registry items from other sites
Free 365-day returns
And with the biggest selection of baby items, Amazon offers some great reasons to register.
Related: How to Earn Free Amazon Gift Cards
Walmart
Every person that registers with Walmart Baby Registry gets a free Welcome Box for their baby. Your welcome box might include diapers, formula or other stage-appropriate baby items.
Other benefits of registering your baby with Walmart include:
Free returns on everything
The Walmart Price Match Guarantee (if you find a lower price on a baby item on your registry, they'll match it)
Access to the Walmart registry app, which allows you to work your registry anywhere there's Internet access available
One benefit to registering at a brick-and-mortar store like Walmart is that you can choose your items in person. Registering online is convenient, but some prefer to see items in person before they choose.
Also, stores like Walmart and Target have thousands of store locations throughout the U.S. If you've got loved ones that don't like to shop online, this could be the way to go.
Target
The Target Baby Registry has one of the most popular baby registries around. Here's what you can expect with the Target Registry:
Free welcome kit valued at over $100
A 15% discount on everything left on your registry after the big day
One year of exclusive deals and coupons
Group gifting capabilities for when people want to go in together on something
Also, Target has universal registry capabilities too. That means you can add items from other websites to your Target baby registry.
With all of the available benefits, why not register at all three places and potentially get three welcome kits?
Or, if the above "big three" aren't enough, there are other stores you can register at as well. Some other places you can register for your baby include:
Baby registry programs are hugely beneficial to those who want free baby stuff. Check out websites or store locations near you for more information.
4. Register with Baby Care Companies
Many companies have membership programs that allow you to qualify for free samples of care items. The free samples they offer vary based on the company you sign up with. Here are a few suggestions.
Gerber
Gerber, the maker of Gerber baby foods and other items, has a program called My Gerber. When you register, you get free samples of baby foods, baby cereals and more.
Depending on the promos that are running when you sign up, you could get free bibs or other items too. Go to the MyGerber website to register; it's free!
Johnson and Johnson
You know Johnson and Johnson, the makers of baby shampoos and more, right? When you sign up for their Care Club Rewards Program, they'll send you discounts and coupons.
Bonus: You'll also get trusted advice through parenting and baby articles they send.
5. Get Free Baby Shoes, Clothing and More
There are several companies that will send you free NEW baby clothing items when you use the Money Peach code. Here are some cool freebies.
Free Baby Leggings
If you go to the Baby Leggings website, you can get 5 free pairs of baby leggings! You'll only need to pay for shipping.
Just go to the Baby Leggings website. Add five pairs of leggings to your cart (totaling $50). Enter the discount code Moneypeach1. You'll get $50 off your order and pay for shipping only!
Free Nursing Pillow
Nursing pillows are wonderful for helping you keep comfy as you nurse your baby. With this special offer from Money Peach and the Nursing Pillow company, you can get $40 off at checkout.
Just shop and enter the discount code Moneypeach1, and your $40 discount will be applied at checkout.
Free Baby Moccasins
The Little Wanderers company sells the most adorable baby moccasins. And with your Money Peach discount code, you can get one $60 off at checkout!
Just enter Moneypeach1 at checkout and the discount will automatically be applied.
6. Get Free Baby Shower Supplies
Looking for free baby shower supplies? Here are some of the supplies you may have forgotten about.
Free Thank You Cards
If you're having a baby shower, or just want thank you notes to have on hand to send, look no further. Homemade Gifts Made Easy has free printable thank you cards.
Free Baby Shower Invitations
Greetings Island has a few free, downloadable, printable baby shower invitations on their site. Just go to the site via the link above, choose your design, customize it, download and print.
7. Get Other Free Baby Goodies
Here are some other freebies you may be able to take advantage of. Of course it depends on where you live, as each company resides in different areas. But they could be worth checking out!
Free Gymboree Class Pass
Gymboree, the cute kids' clothing store, holds baby/parent classes at many locations. The classes are geared toward children aged 0 to 5.
They provide fun music and play interaction between babies (or toddlers) and their parents. Click here to get access to a free pass for one Gymboree class.
Free Baby Sign Language Chart
Interested in teaching your baby sign language? Many people swear by sign language as a great way to communicate with your baby.
The Tiny Signs website has this free printable chart that shows you how to do common baby signs. It also includes tips on getting started with signing, and online video instructions.
Free Product Coupons From Babyganics
Babyganics sells baby products that are made with wholesome ingredients. Some of the items they make include sunscreen, baby wash and detergent.
When you visit the customer service website, you can ask for free money-saving coupons for their products.
Babyganics products are sold at Amazon, Walgreens, Publix, Kroger, Target and more.
8. Check with Family and Friends
Another way to get free baby stuff is to check with family and friends whose babies are getting bigger. Lots of families that are done having babies are happy to give away clothes and other items.
Don't feel comfortable asking? Be a bit passive and send out a note on Facebook asking if anyone has any baby items they'd like to give away.
Or, ask if they'd be willing to trade baby items for something you have at your house that you no longer want. You could also trade and get free baby stuff for services such as house cleaning or babysitting.
You might be surprised at how many people you know that will eagerly give you free baby stuff just so they can declutter a bit.
9. Check out Local Garage Sales
Garage sales that feature baby stuff often have a box or separate area designated for free stuff. The free stuff might be a little worn or have a stain or two (that can be removed with Shout).
Another option is to hit garage sales on their last day or within the last few hours. Sellers are usually super eager to get rid of stuff at that point. Therefore they'll be more likely to give stuff away so they don't have to haul it to the thrift store.
10. Check Craigslist
Craigslist (and other similar sites like Craigslist) have free sections on their websites. Those free sections often include listings for free baby stuff.
You might find smaller items such as baby clothes on the free page. I've also seen larger items such as cribs (in great shape, too) and toys on the Craigslist free page.
Why would someone give away such valuable items for free? Some people just want it gone. Others want to do good and be a blessing to others. Either way, you can benefit from these free baby items when you find a good deal.
Check the sites often because you never know what might pop up.
11. Look on Facebook Marketplace for Baby Freebies
Have you ever shopped on your local Facebook Marketplace site? If so, you may have noticed that there's a box on the left sidebar. It says "Only show free listings".
If you check that box and then check "Family" under categories, you'll see some subcategories. Check the "baby and kids" subcategory and you'll get a list of all of the free baby stuff on Facebook.
When I checked in my large metropolitan area, there were dozens of baby items people were giving away. And many of the items were in great shape. Some of the things they had for free on my Facebook Marketplace site included:
A stroller
An infant swing
Onesies
Baby toys
Baby shoes
New, unopened infant formula
Breast pump parts
And more. I'd highly recommend looking on your local Facebook Marketplace site to see what you can find.
12. Earn Money to Get Free Baby Stuff
If all else fails, you can always earn a little cash to get free baby stuff. There are several ways to earn money right from home that can get you free gift cards. You can use the gift cards to buy baby stuff such as diapers, formula, clothes and more.
Check out these options for earning rewards points that will get you cash or free gift cards.
Survey Junkie
Survey Junkie is a company that will give you free gift cards you can use to get baby stuff. After you join (it's free) you might get asked to participate in some surveys if you qualify.
Or you might be asked to join a focus group to try out new products. For each survey, product test or focus group you participate in, you'll earn rewards points.
You can redeem your points for e-gift cards or for a deposit to your Paypal account. Then you can use your gift cards or cash to get free baby stuff. And, you're influencing tomorrow's consumer products at the same time.
Inbox Dollars
Inbox Dollars pays people like you for giving their opinion on products and services. They'll pay you for taking surveys, watching TV and videos, shopping and more.
If you sign up at the right time, they'll even give you a sign-up bonus. After you've earned a certain number of points, you can trade your points in.
Payment options include merchant e-gift cards to stores like Amazon and Target. Or, you can request to be sent a check.
You can use the check or the e-gift card to get free baby stuff for your baby.
Swagbucks
Swagbucks pays you points for doing simple tasks such as playing video games, taking surveys and more.
You can also earn points by searching the Net or shopping online. One of the cool things about Swagbucks is that most activities only take a few minutes.
This means you can earn points while you're sitting on the couch watching TV. Or while you're at the dentist office waiting for your appointment.
With the points you earn you can get gift cards to Amazon, prepaid Visa cards or Paypal deposits. Then you can use your money to get free baby items. Too good to be true? Swagbucks has paid out over 260 million dollars in gift cards and Paypal deposits to date.
As you can see, there are several ways you can get free stuff for your baby. And with the variety of free baby stuff out there, you could significantly cut your child-rearing costs.
Doing so means you can keep more of your money for other stuff such as early retirement or debt freedom.
Or, you could save it for your child's college degree. I'm sure there are dozens of financial goals you have that could benefit from some extra cash.
Bonus: Renting Baby Gear?
Did you know there is an entire online marketplace that allows you to rent baby gear?
BabyQuip behaves just like Airbnb, except instead of renting out a room, it's renting out baby equipment and gear.
In fact, right now BabyQuip is the #1 baby equipment rental service and marketplace serving over 900 cities across the United States and Canada!
So, whether you're traveling and need to rent gear or maybe you would like to generate extra income each month, BabyQuip may be exactly what you are looking for.
Summary
As you can see, there are plenty of ways to get free baby stuff and save hundreds of dollars each month by just knowing where to look. Whether you're looking for diapers, formula, or baby equipment — there are plenty of options out there to choose from.
Have you ever tried any of these above? Are we missing anything?
Drop us a comment below and let us know!