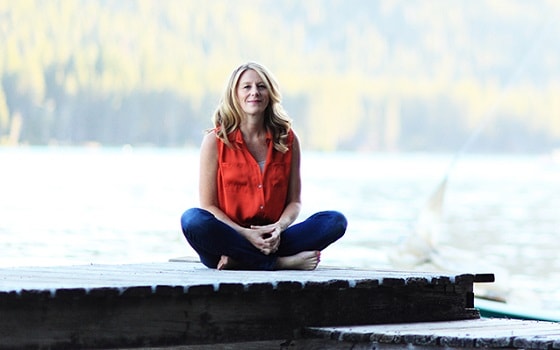 My Guest on the Show…
Leisa Peterson from Wealth Clinic shares her story of tragedy to a life of abundance.
Leisa shares how she was working her way up the corporate ladder and how a life-changing moment changed her decision making forever. This moment caused her to leave her career on the way up the corporate ladder and instead go after her dreams as an entrepreneur – both as a business coach and money coach.
As she is telling the story, it will literally leave you speechless (during the recording I was also speechless but my producer did a great job of editing the awkward pause out of the show).
One of the ways she was able to get through two separate tragic events in her life was through daily meditation.
I have NEVER shared my own meditation practices publicly, but Leisa put me on the spot and we go deep with the how, what, and why of my own daily meditation practices.
We also hit on why we continue to do it daily and the results we have each seen and felt in our own lives.
BONUS:
Leisa is giving away her WealthFlower Assessment for being a listener of the show. I highly recommend this tool to walk you through the step-by-step method of finding exactly what you want in both life and money and how you will create a plan to achieve it. Best part – it's FREE!
Now, I have a few questions for you all…
What are some of your questions you would like answered on the show? Simply leave a comment at the bottom and let me know or you can contact me here and ask anonymously.
Are you enjoying the podcast? If you do, would you be willing to leave a review for the show here? The more reviews the podcast receives, the more people will learn about it!
---
The Money Peach Podcast is brought to you by my #1 online program for showing you how to budget, how much to save, how to manage your debt payoff, when to save for retirement, what to teach your kids about money, and how to build a legacy to last beyond your lifetime.
If you find yourself continuing to live paycheck-to-paycheck and wondering where all the money went at the end of the month, it's time to finally make a positive change. Welcome to the class they forgot to teach you about money – Awesome Money Course.

Mentioned in this Episode
---
The Reno shooting Leisa was part of
Tony Robbins breathing routine
Show Notes
---
Who is Leisa Peterson [02:07]
The moment that changed Leisa's life forever  [03:03]
Meditation [14:02]
My own meditation practices [17:52]
Leisa's meditation practice [29:09]
Leaving the corporate world [36:49]
Leisa Peterson business coaching [42:40]
The 3-5 year window in your business [51:33]
BONUS: Leisa's giveaway to Money Peach listeners [56:48]
---