Wondering what is the best way to sell your used car?
Of course there are other options such as selling to a dealer or trading it it, but then you're sharing that sale with that third party. You will always get the most money for your used car is you sell it yourself.
With that said, selling a car on your own can be confusing, overwhelming, and even a little scary. Therefore, before you decide to sell your car, here are 7 easy-to-follow steps to make sure you're ready to sell the car, the process is as smooth as possible, and both you and the buyer are happy with the outcome.
The Best Way to Sell Your Used Car
The biggest mistake people make is rushing the process of selling their car. When this happens, they often sell at the lower end and the buyer will get the best deal. However, if you are willing to take the extra minute to get your car ready for sale, the difference could be hundreds to thousands of dollars.
Here are the steps recommended by those who buy and sell cars professionally or as a lucrative side hustle.
Step 1: Know the Market and Price Your Car
Before you decide to sell your car, you first need to find out what your current make and model is selling for. There is a difference between what your car may be valued at and what the car is actually selling for. This doesn't necessarily mean the car is selling for less than the reported value, but rather has to do with how much of a demand there is for your current vehicle. If there are a lot of people wanting that car, it will drive your selling price above the current value! If no one wants your car (a Pinto) then your car is only going to sell below what the current value is set at.
The best places to check the value for your car are sites like Kelley Blue Book, Craigslist, AutoTrader, Edmunds, and NADA Guides.
One thing to keep in mind when pricing your car, is to determine how fast you would like to sell it. Depending on the reason you're selling your car will have an effect on the price of the car.
Example:
You are currently paying a $500 car payment and need to get rid of your car as soon as possible to free up money inside your budget. The current make and model of your car is selling between $19,000 and $20,000.
You could price it on the high end and possibly make the sale within the first 1 -2 months, keeping in mind you're making a $500 car payment each month. Or, you could price it on the low end and get rid of the car right now and save yourself from making another monthly payment.
Before you price your car, ask yourself this:
"How fast do I need to sell this car?"
Your answer will determine the price.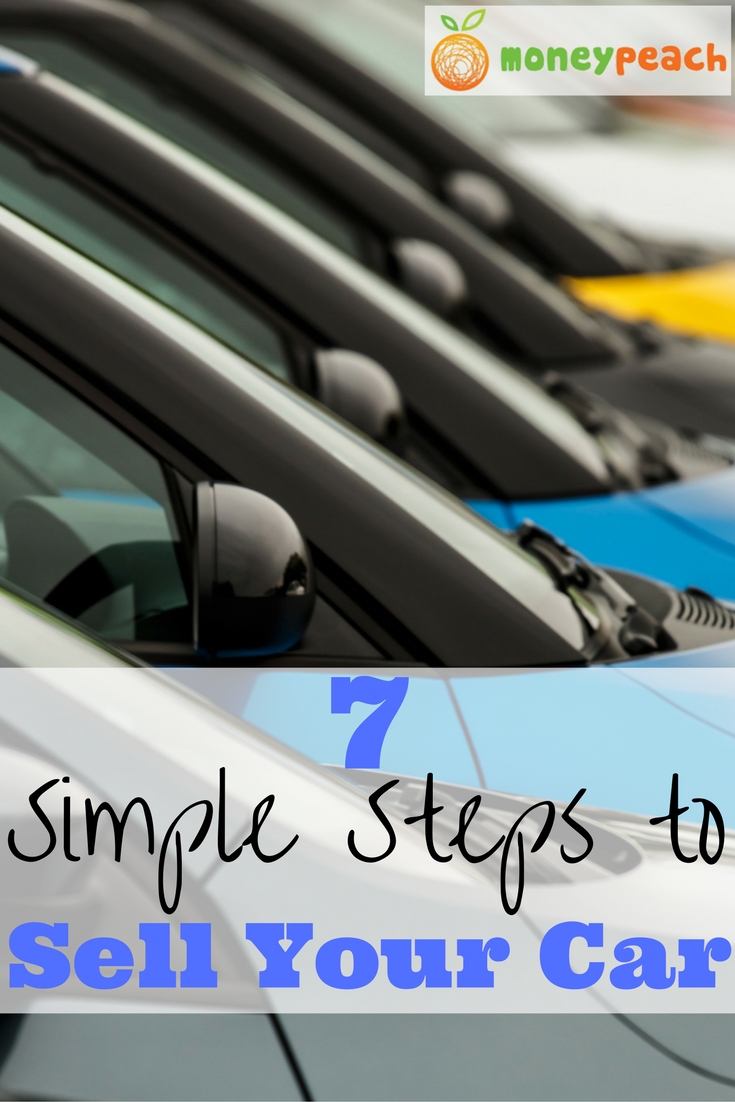 Step 2 – Get the Title Ready
If you're selling the car, you either own the car and have the title, or the bank has a lien on your vehicle and you'll need to release the title to the new buyer.
Selling the car without a lien on the vehicle
A lien simply means a financial institution or an individual owns the rights to your car's title. If you own the car without a lien, then the process is very simple.
First, you will want to have the title ready for the buyer once you receive payment.
Depending on the state you live in, you may need to have the title notarized in order for the transaction to be valid. To find out, simply search your state's DMV (or MVD) site or call the motor vehicle department in your state.
Once you (the seller) have signed over the back of the title and recorded the current odometer reading on the title, the buyer now has taken ownership of the vehicle. This means you have received and verified payment and the new owner is free to drive away in your sold car.
Selling the car WITH a lien on the vehicle
If are selling your car with a current lien, there are a few more steps in the process.
First you will want to find out what the current payoff amount is on your vehicle. This amount will allow you to identify if you can sell the car for more than you owe on the lien, or the opposite, meaning you are upside down in your current car loan.
If you can sell the car for more than you owe on the lien, then your best bet is to finalize the sale of the vehicle at the bank where you have your current auto loan. The bank can collect payment from the new buyer, release you from the loan, and then transfer the title over to the new buyer.
Once the transaction is completed, you will then need to immediately notify the MVD of the sale of your car to protect you from any fishy business the new owner is involved in.
What if my bank is out of state?
This is very common and shouldn't be a problem at all. Simply get on the phone and ask your out-of-state bank what your best option is. Many times, the out-of-state bank will use an escrow service to collect payment from the new buyer, transfer the title to new buyer, and send you a check if there is an amount owed.
After the Sale
After the sale is complete, you will then need to immediately declare a sold notice through your state's DMV (you should be able to do this online in most states). This protects you just in case the new buyer gets in an accident, is ticketed, or has any other criminal activity involving your former vehicle.
Lastly, depending on the state you live in, you may be subject to a refund on your paid registration for the car you just sold. If your state doesn't allow for the registration to transfer to the new owner, you will want to request a refund as soon as possible, usually within 30 days of selling your car.
Step 3 – Get Your Car Ready for Sale
Most likely you found dozens of your make and model for sale when you were searching for your car's current sale price. With that said, make sure your car looks better than what you are seeing currently for sale
Clean Your Car (Really Good)
I have a friend in the car business and he estimates a used car will sell for 10% more if the car is immaculate and well-maintained versus an ordinary looking car for sale.
If you don't think you can do an amazing job on cleaning your own car, then I would highly recommend having your car detailed for $150 – $200. You want the car to shine on the outside, you want the engine to look brand new, and you want the tires to sparkle when the potential buyer pulls up.
When the buyer takes your car for a test drive, the interior shouldn't smell like you, it should smell like heaven! The time or money you spend getting your car ready for sale will be money back in your pocket.
Maintenance Records
A car will always sell better when it is well-maintained with proof of maintenance records. Show the potential buyer how often the oil was changed, any major repairs, and the mileage on the tires. Also, if there was a major repair, you need to be upfront with the buyer and re-assure them with proof the repair was done properly.
Get the CarFax
You can get a CarFax for $40 and this just helps ease the wonder of the buyer when it comes to accidents or any major repairs.
Scam Alert! Please be careful and only use reputable vehicle history report scams. The FTC recommends only three sites (with CarFax being one of them) that are safe for you to use. Many scammers are creating fake websites and asking you to get a vehicle history report from these websites. As soon as you pay them, the scammer disappears.
Step 4 – Advertise, Advertise, Advertise
There are a ton of options for advertising your car and you should be taking advantage of at least a few of them.
Sign on Car – This is simple, old fashioned, but still very effective.
Facebook Marketplace – Facebook will even give you a range your car should sell for
OfferUp – One of the safest ways to sell anything online and avoid scammers.
Craigslist – The listing fee is only $5 and will allow you to add up to 12 photos and run your ad for up for 30 days
Cars.com – You can list your car for free on Cars.com with a few different upgrade options for $20 – $50 more to add exposure, length, and pictures to your ad.
AutoTrader – You'll get better exposure here, but the cost to post an ad starts at $25 and includes 3 photos for a 30 day listing
Ebay Motors – You will get a pretty large exposure here, but I would be careful going this route since Ebay starts at $125
You can also find a list of similar websites to Craigslist that are also great for selling vehicles.
Step 5 – The Perfect Neutral Location
Rather than sell your car from the driveway of your home, it may be a better idea to meet on neutral turf. Choose an area where you know there will be bystanders nearby and try to conduct the sale of your car during normal business hours (selling a car at 3am is a no-no).
My favorite location for meeting a potential buyer is in the grocery store parking lot. Other options could be near a shopping mall, a nearby park, or any place where you and the buyer won't be there alone.
Step 6 – The Test Drive
Your buyer is going to want to test drive the vehicle, and you should by all means allow them to. However, before you give the thumbs up on the test drive, you'll want to have a few things in place first.
Test Drive it Yourself
Before you have someone else jump in your car for a test drive, you should test drive it yourself. Make sure there is plenty of fuel in the car, the tires are filled up all the way, the lights are all working, and all simple fixes are addressed. The last thing you want is for the buyer to point out any little flaw to help drive your asking price down.
Double Check Your Insurance
In almost all states, your auto insurance covers your vehicle even if someone else is driving it. However, it still wouldn't hurt to pick up the phone and double check with your insurance agent about your policy and the rules for the state you live in.
Be the Passenger
During the test drive, it is a good idea for you to tag along . This gives you the opportunity to answer any immediate questions the driver may have during the test drive, allows you to further discuss some of the features of your car, and ensures your car won't drive off and never come back!
Have a Pre-Planned Route
Determine a route in your area that gives the current buyer the opportunity to test drive your car for 10-15 minutes. Have a route planned that will take the buyer through both low and high speeds, and also allow your buyer access to the highway if you live near one. You want to make the test drive as convenient as possible for both you and the driver.
Step 7 – Their Best Offer
The chances are extremely high the buyer is going to come in with a lower offer than your asking price. This is simply part of negotiating and you not only need to be ready for it, but you need to accept it. Don't take anything personal if you feel the offer is too low and have a number in mind that you aren't willing to go below.
Tips and Tricks of Negotiating as the Seller
The Silent Pause: If you aren't comfortable with the offer, simply say "no" and pause……..keep pausing……a little longer……..almost there…….keep going….you get the point. The silence is awkward, but it will cause that price to slowly climb back up into the selling range you're comfortable with.
The Proactive Rule: Instead of waiting for the buyer to ask you the lowest you're willing to go, you can simply ask the buyer what's the most they can go. This puts the ball back in your court and will allow you more time to evaluate if you and the buyer are going to able to come to an agreed-upon price.
The Walk Away Method: If you're not comfortable agreeing to their offer, you can always use the walk-away (or drive-away) method. The walk-away method will create scarcity with the buyer because it gives the impression the car is off the table and the buyer is missing out.
The Bottom Line
Always tell the truth, even it if may hurt the sale. Of course you want to do whatever you can to sell your car for the most possible, but never do so by deceiving a buyer. What goes around, comes around and the truth is always much easier.
With that said, f there was an accident, you must disclose it. If there was a major repair, you also need to notify the buyer. A good rule of thumb is to treat the buyer as if you were going to live next door to them after you sell them the car. Character matters, especially when selling your car to a complete stranger.