Do you know how much money you paid out in "grey charges" last year? A 2013 report by Aite Group can give you a good idea.
"Grey charges–deceptive and unwanted credit and debit card charges that occur as a result of misleading sales and billing practices–totaled more than $14 billion per year among U.S. cardholders, averaging roughly $215 per U.S. cardholder incurring these charges."
Trim Review: Helping Customers Save Money on Grey Charges
"Grey charges" aren't fraudulent charges. Instead, they consist of those often unwanted charges you may or may not remember having agreed to. Some examples of grey charges include:
Free trial subscriptions you meant to cancel but didn't
Service and luxury fees
Late fees
Unwanted auto-renewals
Payments on services you no longer use
And there are other fees that qualify as grey charges too. When Trim founder Dan Petkevich realized he was paying for a renter's insurance policy on an apartment he had moved out of a year earlier, he started looking into what other grey charges he had been paying.
Dan and his longtime friend, Thomas Smyth, sat down together to research what services that they were each unknowingly paying for, and the idea for Trim was born.
The two worked together to create a service software program that would search out members' grey charges and help them have more control over their finances.
To date, Trim has saved its members over $8,000,000 on unwanted fees and subscription costs.
How Does Trim Work?
The premise behind Trim is simple, yet genius. The company describes Trim as a "personal finance assistant". Here's how it works.
After you sign up for Trim, you enter your credit card and debit card information into Trim's secure system.
Since the company has the capability to work with over 15,000 financial institutions, it's highly likely Trim supports your bank or credit union. If your bank or credit union isn't on their list, simply email Trim's customer support center for help.
Once Trim has the information, the software analyzes the account history on each of the debit and credit cards you've shared with them.
The way the software is set up, it has the capability to recognize recurring payments. It already knows which merchants use recurring payments, so it can tell the difference between a subscription and a non-subscription daily or regularly occurring purchase, such as a coffee shop purchase.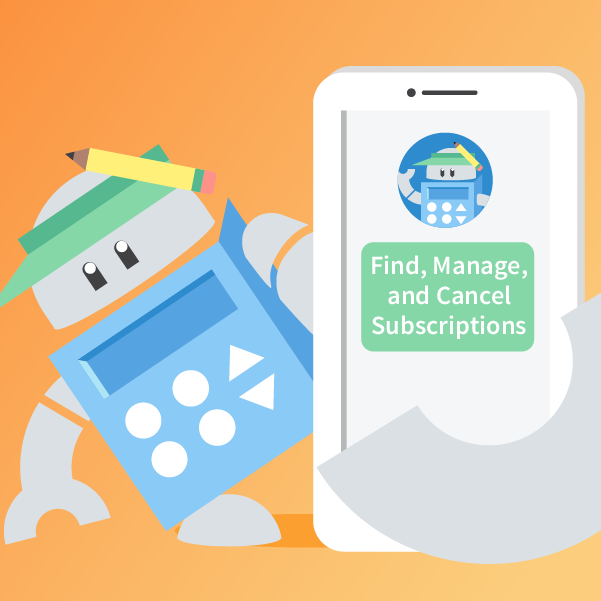 As the system recognizes recurring payments, it stores the information, allowing you to easily find, manage and cancel subscriptions.
The Trim system will also text you the information it finds and ask if you would like to cancel the subscription. If you do want to cancel, you can just text back "Cancel ____________" entering the name of the company.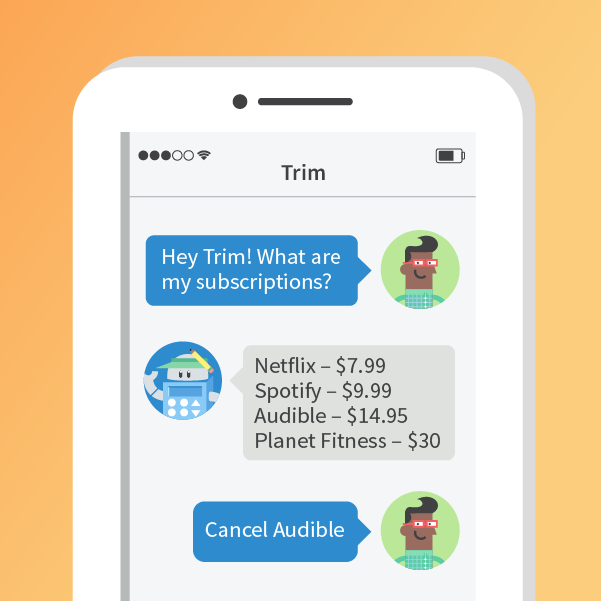 After it receives a cancel request, Trim will contact the company for you and get the subscription cancelled. They'll start by sending an email with your text authorization.
If the company doesn't respond, they'll continue to contact them through other methods such as a phone call or certified letter.
Trim won't stop working for you until the job is done, even with sometimes-difficult cancellations such as with gym memberships.
What Else Does Trim Offer?
The Trim program offers other useful features as well.  With just a quick text, Trim can show you what your balances are on the credit cards you've shared with them.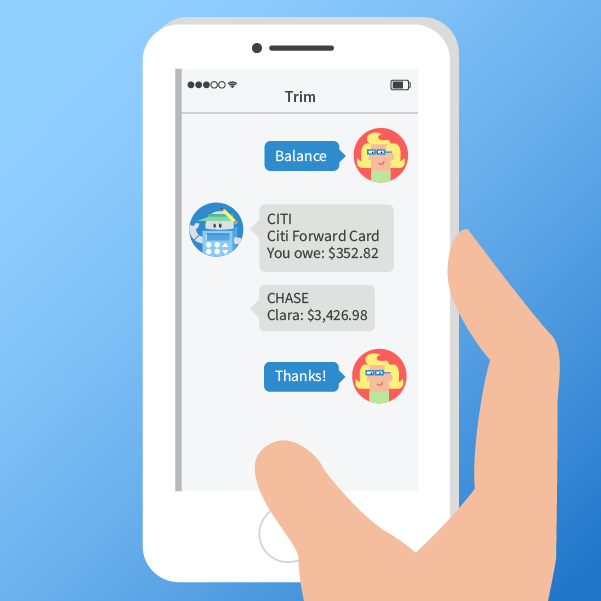 Trim can also show you how much money you have been spending on individual vendors or merchants.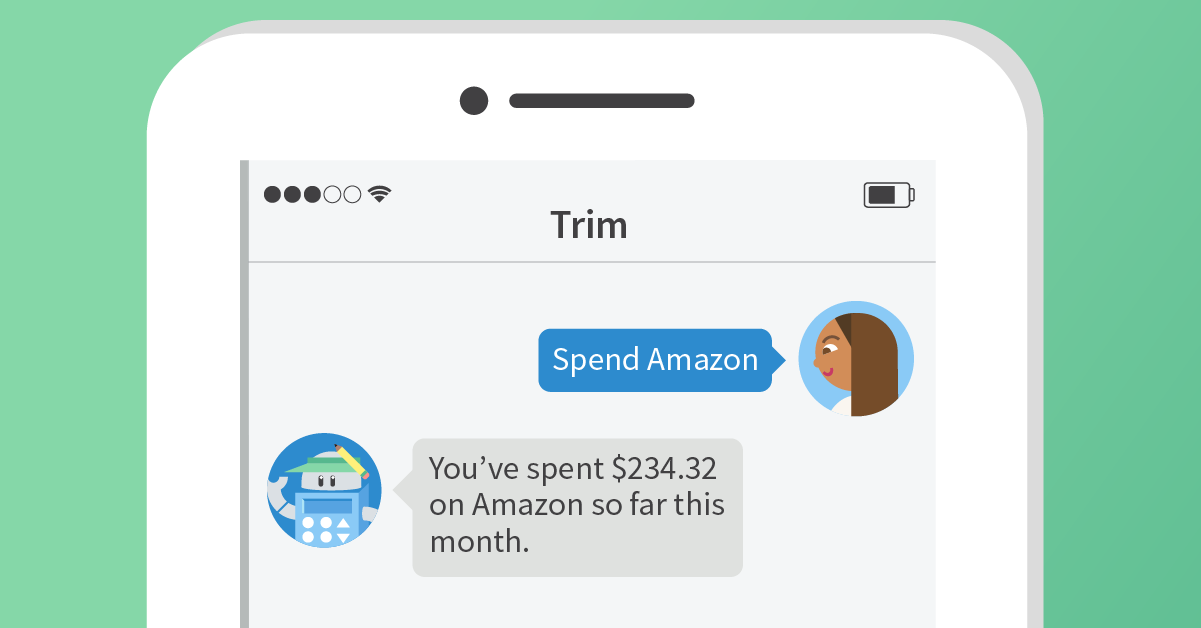 These features can help you manage your spending and stay within your desired budget even when you aren't using a traditional budgeting spreadsheet or budgeting program such as Personal Capital.
Price Negotiation
Trim's software program also has the capability to negotiate prices on recurring bills on your behalf. It will contact your cable provider, your insurance company and more in an effort to help you pay less for the services you want to keep.
How Much Does Trim Cost?
Trim doesn't charge any sign up fees or monthly service fees to its members. And when it cancels subscriptions for you that service is free as well.
However, Trim will take a percentage of the money they save you when they are able to successfully negotiate a lower monthly payment on a recurring bill, such as your insurance bill.
The company makes money with the percentages they take from lowering your recurring bills and from third party partners such as credit card companies. This is how they are able offer the service for free to customers.
How Secure is Trim?
Trim promises bank-level security for its customers. They use 256-bit SSL encryption for the website as well as the server-side databases.
They also use two-factor authentication when you register for services, when you sign in from a new device or if your security token has expired.
Also, Trim promises not to sell or share your data with anyone, or use it for any other purpose without your permission. The company will only use your information to help you save money.
Your Own Personal Finance Assistant – For Free
With all of the money being lost to grey charges for services that are no longer needed or wanted, it makes sense to consider "hiring" your own personal finance assistant and put the Trim system to work for you.
Although those sneaky recurring charges might seem like they won't make an impact on your financial goals, you might be surprised to know that you can potentially build a fortune with that seemingly small change.
In other words, don't discount the debt that can be paid off – or the wealth that can be built – from the money you might not even realize you are spending.
Stop giving your hard earned cash to companies that aren't giving you every dollar's worth of benefit for the services you pay for.
Instead, put systems such as Trim in place to help you capture every wasted dollar, and put each saved dollar to good use as you create a more secure financial future for yourself or your family.