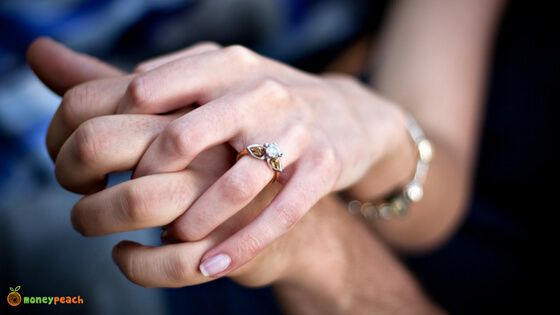 When it comes to shelling out for engagement rings, celebrities, apparently, spare no expense: Justin Bieber reportedly just spent $2 million for model Hailey Baldwin's sparkler. SNL comedian Pete Davidson shelled out $93,000 for Ariana Grande's custom-made ring. And Joe Jonas might've paid up to $150,000 for Sophie Turner's.
As for the rest of us? Old-fashioned etiquette would have you spend the equivalent of one to three months' worth of take-home pay, while a 2017 survey from The Knot indicates that spending $6,351 is about average.
But no matter what your budget is, ask yourself these questions before you spend thousands in the name of love.
What's my financial situation like?
Given that money is the biggest relationship stressor, the 21st-century rule of thumb is to do what's best for your financial situation. If you're battling high-interest credit card balances or haven't established a solid emergency fund, going into more debt to impress your future spouse is a good way to kick off married life with unnecessary financial stress.
A much better idea is to start tackling your goals now so that you're on sturdier ground when it's time to make the big purchase.
Should I finance it?
Ideally, you'll pay for the ring in cash, but we get it: Life happens, and waiting until all your financial ducks are in a row to get married may seem unreasonable. Financing the engagement ring could be a viable alternative, but there are a few big caveats.
Opening a store credit card is one option, as many jewelers offer promotional rates. But think hard before pulling the trigger. At Zales, for example, you can buy an engagement ring with no money down and special, limited-time financing, but after that, you'll pay a whopping 30-percent interest. Finding a bank credit card with a 0-percent promotional rate—that you'll still pay off before the deal expires—is a much better way to go.
Am I willing to think outside the box?
Another key finding from The Knot study is that the average wedding costs more than $35,000. So it's no wonder more couples are steering away from tradition and embracing planned elopements.
Have an open and honest conversation with your partner about your long-term goals beyond your engagement and wedding. Remember: It's your experience, which means you can tailor it in whatever way that feels right for you both.
This may mean opting for a budget-friendly ring—maybe with a different gemstone like morganite, which has become a popular alternative, instead of a diamond—or waiting until you're financially ready to purchase the engagement ring of your partner's dreams. Or forgoing the blingy engagement ring altogether and putting the money you saved toward your future goals instead.
This post originally appeared on Grow.
Related:
It's Time to Ditch the Engagement Ring Tradition
Yes, Having a $0 Net Worth is Something to Celebrate
What is a Flexible Spending Account?
---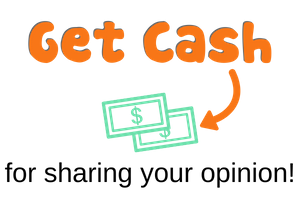 You can get paid for sharing your opinion with Survey Junkie. With a TrustPilot rating of 8.7 out of 10 and over 3 million members, start earning cash today with Survey Junkie!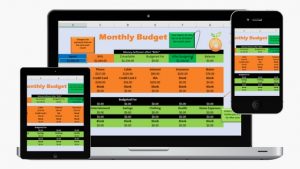 It's Extremely Simple to Start Today
You Will Get Help Along the Way!
Step-by-Step Video Directions to Get Started!
100% FREE
To Pay Down Debt and Start Saving, click here.
https://www.moneypeach.com/wp-content/uploads/2018/07/Blank-Photos-Test-560x315-2-1.jpg
315
560
Chris Peach
https://www.moneypeach.com/wp-content/uploads/2016/06/moneypeachLOGOhomepage.png
Chris Peach
2018-08-02 00:20:15
2018-07-31 07:02:21
How Much Should You Spend on an Engagement Ring?