Just in case you haven't checked into the new premiums and deductibles released for 2017, they are now officially unaffordable for the middle class. A good friend of mine in Phoenix, Arizona contacted me and said this:
I just looked up a quote for our family of five on the open exchange and was only offered one plan with a $1,550/month premium with a $14,000 deductible. This is a 300% increase from what we currently pay each month and the deductible is almost double!
For many of you who are self-employed or who don't get health care benefits through your employer, you may be thinking you are out of options. The government has forced you to get health insurance when you can no longer afford it, and if you resist, you are going to be faced with some steep penalties come tax season and the higher risk of remaining uninsured.
The good news is this: You have better options.
Why Health Share Programs are the Better Option
What is it?
First off, I want to be completely clear that health sharing  is NOT health insurance.
Instead, health sharing is a group of like-minded individuals who have joined together to share in their medical costs. Members of health sharing ministries believe they have both a biblical and ethical obligation to help each other with unexpected healthcare costs, share in the responsibility, and advocate for healthier lifestyle.
This approach to paying for health care is exactly why health insurance was first adopted in the late 1800s. It wasn't until the 1930s when big business realized the opportunity and transformed the health insurance industry into what we have seen up until the Affordable Care Act went into action in 2014. Now we are facing costs like we have never seen before, hence the latest nickname for Obamacare; the unAffordable Care Act.
The Liberty HealthShare Program
There are four major health sharing groups to choose from, and Liberty Healthshare stands out as the best option in my opinion. Therefore, to demonstrate exactly how health sharing will work for your family, I will be using Liberty Healthshare as the example.
Related: Compare the main HealthCare Sharing Ministries
How Does Health Sharing Work?
Again, I want to reiterate that health care sharing ministries are not health insurance.
Instead, the members of Liberty HealthShare pledge to make monthly share contributions into what they refer to as a ShareBox. This ShareBox is your online account. You are able to specifically see how your funds directly help other members with their expenses. And when you need help you can see which members are helping you. This automated system provides for equal sharing in medical costs across the 75,000 health sharing members within the Liberty membership community.
When you visit the doctor, pay for a prescription medicine, go to the ER, have surgery, or participate in any healthcare activity, most doctors will will submit the bill to directly to Liberty HealthShare.  Or you can pay the bill and have it reimbursed later so long as the expenses are eligible. Liberty reviews the bill and then pays the cost of your bill using the ShareBox sharing system.
The monthly share amounts range from $107/month for individuals and increase to a max of $449 month for families inside the premium tier health share program. You can compare all three of them below:
Liberty Complete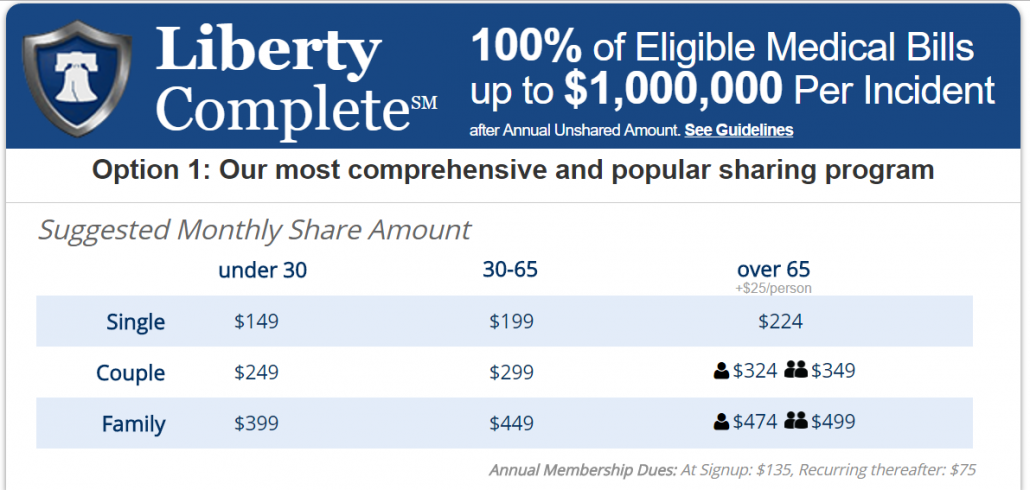 Liberty Plus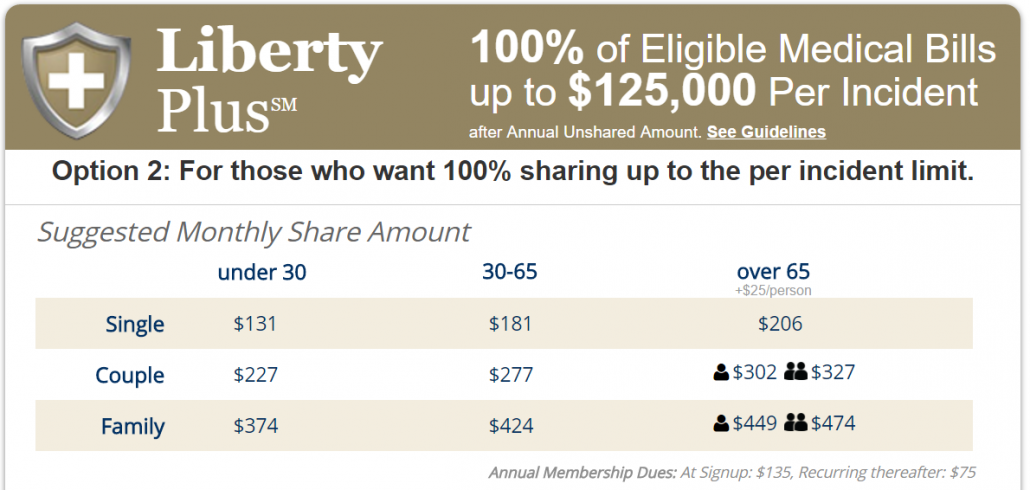 Liberty Share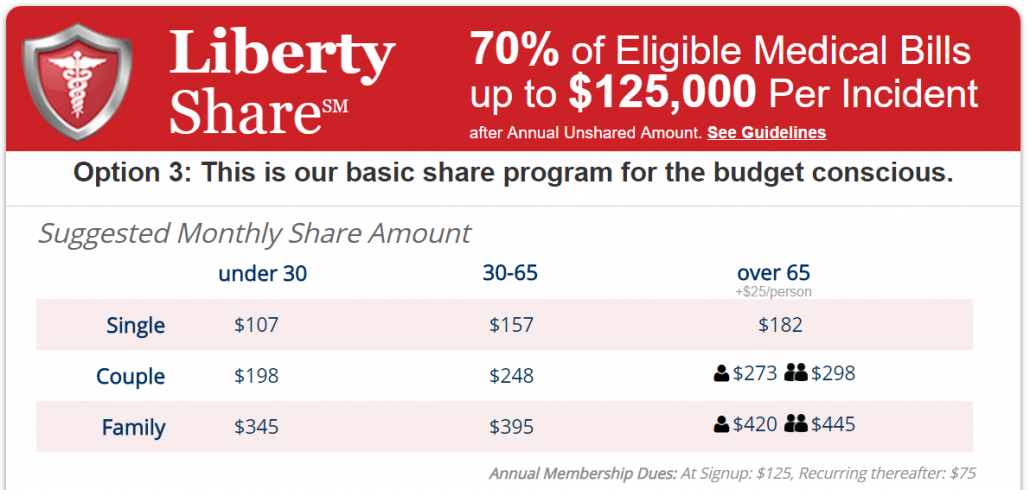 Annual Unshared Amount (AUA)
In addition to your monthly share amount, there is also the Annual Unshared Amount (AUA). This is the amount you are required to pay each year out-of-pocket for your personal expenses before other members start sharing your medical bills using the ShareBox system.
The monthly share amounts above differ from program to program, but the annual unshared amount (AUA) remains fixed for everyone inside each program.
Annual Unshared Amount (AUA) Tiers
Single: $500
Couple: $1,000
Family: $1,500
Do I Still Pay a Penalty if I am Part of a Health Share Ministry?
No, you are exempt.
The penalty for skipping out on enrollment into Obamacare was $695/person for up to 3 people in your family or 2.5% of your modified adjusted gross income in 2016. Therefore, if you were a family of 3 making $50,000/year, the penalty would be a minimum of $2,085. If you were a family of 3 making $100,000/year, the penalty would climb to $2,500 and you still wouldn't have insurance.
However, when the Affordable Care Act when into law, there were certain groups immediately made exempt from the ACA:
Member of Congress (shocking)
Native American living a Federally recognized tribe
Homeless making less than $10,000/year
Illegal alien
Amish or Mennonite
Incarcerated prisoner
Member of recognized health share ministry
Therefore, if you become a member of a health share ministry, the government labels you exempt from the large penalty come tax season.
What about pre-existing conditions?
One of the main reasons health insurance has become unaffordable for the middle class is because health insurance companies are forced to ignore pre-existing conditions. I completely understand the moral and ethical responsibility to take care of everyone, however this is also what has caused the increase in monthly premiums to the amount where most people can no longer afford to pay for it.
All health sharing ministries are allowed to look at and identify pre-existing conditions. At Liberty Healthshare for example, they adhere to the following:
A pre-existing condition is any condition at the time of enrollment that has evidenced symptoms, or received treatment or medication in the past 24 months. Depending on the severity of the condition here is how you might be treated.
They may share in pre-existing conditions according to the following schedule:

First year of membership – Not eligible for sharing
Second year of membership – Up to $25,000 is eligible
Third year of membership – Up to $50,000 is eligible
Fourth year and following of continuous membership, the condition is no longer considered pre-existing

They may accept you, but refer you to our 'HealthTrac' program which is designed to help those individuals with pre-existing conditions.
In rare cases a prospective member may be rejected. Applications go through a simple pre-qualification process. No money is charged prior to acceptance.
There is Help for Pre-Existing Conditions
Liberty HealthShare is an advocate for health and therefore does a have program called HealthTrac to help you move towards a healthier lifestyle with the use of a health coach. The fee is an additional $80/month added to your share amount to pay for an assigned health coach to help you move towards a healthier lifestyle.
HealthTrac is there to help individuals with diagnoses such as: diabetes, hypertension, cancer, heart disease, high cholesterol and obesity, as well as tobacco users, who are willing to work towards a healthier life. Once a member's goals are achieved through HealthTrac, the $80 coaching fee is removed from the monthly share amount.
This Sounds Too Good to be True, Right?
This is a question I hope you are asking and it is the same question I asked as well. After doing extensive research and interviewing an expert on health sharing, here is why health sharing is affordable:
Health share ministries are non-profit organizations (Liberty HealthShare for example has a target operating budget of only 12% revenue which is extremely low)
They have a very "health-conscious" membership who do not use tobacco, they do not abuse alcohol, and they do not abuse legal and/or illegal drugs.
Only medical costs are shared versus actuarial tables that are created inside the insurance world, thus keeping costs lower
Since they are exempt for Obamacare, the don't have to share in all medical expenses. Here is a brief list of some of the things they do NOT share in:

Abortion unless it is to save the mother's life
Breast implants
Dental
Hair Loss
Mental Health Services
Sex changes
Infertility treatments
Surgical sterilizations
Non-emergency transportation
Listen to an Expert Explain How Health Sharing Works
Questions You Probably Have
Is There a Monthly Premium?
No. Monthly premiums are for health insurance, and since Liberty HealthShare is not medical insurance, then there is not a required monthly premium. However, there is one time fee of $135 to enroll as a member and then you commit to send in a fixed monthly sharing amount that varies depending on the program you choose and whether you enroll as an individual, couple or a family.
Is There a Deductible Amount?
No. Liberty HealthShare does not have deductibles or co-pays because they are not insurance but rather a medical cost sharing ministry.
There is a however an Annual Unshared Amount (AUA) which represents the amount you pledge to pay out of pocket before the health sharing kicks in. These amounts are $500 for singles, $1,000 for couples, and $1,500 for families. Once you pay your AUA, the members share up to 100% of your medical bills depending on the program you choose (Must be eligible expenses as per their guidelines – see above).
When Can I Enroll?
Anytime.
Unlike the Affordable Care Act or health insurance via your employer, open enrollment for Liberty HealthShare is always open. Many people may work a job they don't like simply to get health insurance or while waiting until open enrollment is available. Through health share ministries like Liberty, you can plan out your year on your terms and become a member at any time.
Are There Any Other Fees?
Yes.
There is a $135 enrollment fee the first year and then $75 fee every year thereafter.
What About Natural Treatments and Alternative Medicine?
Yes.
This is based on the health sharing ministry's guidelines, and Liberty HealthShare does share in both natural treatments and/or alternative medicine with some restrictions. Please see the guidelines for details.
Does Everyone Qualify?
No.
Once you begin the enrollment process, you will have to fill out a health assessment. Depending on your responses to the assessment will determine if you will qualify for membership. This is also one of the reasons why the health sharing costs are extremely low.
What about PPO/HMO and Out-of-Network?
There are no PPOs, HMOs, or out-of-network stipulations because once again, this is NOT health insurance. Therefore, you can share medical expenses anywhere in the United States.
Do I Have a Membership Card to Show My Doctor?
Yes.
When you visit your doctor, you provide your membership card to your doctor. If there are questions from your doctor, there is a phone number they can call on the back of the card. The worst-case scenario is you need to tell your doctor you are self-pay patient, ask for the "cash discount", and then send Liberty HealthShare your bill to be reimbursed so long as the expenses are eligible as per the guidelines.
What are the Cost and Savings with Health Sharing Ministries?
Everyone is going to be a little different, so you should do your own comparison. Medical Cost Sharing is not insurance so it's not apples to apples. I have some personal friends that are saving thousands this year, but you do the math for your own situation and see what you think. Make sure to get well educated on the programs and see if it will work for you.
See For Yourself
If your health care premiums are unaffordable, your deductibles are downright scary, and you are looking for relief, then please take the time to look into health sharing as a better option. It's time to take back control of your life, money, and now your healthcare costs. How much money will you be saving every month, every year, and as long as the Affordable Care Act is in place?
Full Transparency
I am an affiliate partner with MedicalCostShare.com and I receive compensation by referring visitors to them. It doesn't cost you anything extra, but instead they send me a thank-you referral for sharing their program with Money Peach readers. If you for whatever reason don't agree with this and you still would like information on Liberty HealthShare, simply close out this browser and visit their site in a new page.
I only allow tools and resources on Money Peach that provide value and help you make the best decisions with your money. Therefore, if you are okay with the this arrangement, I would greatly appreciate it.
Help Your Friends and Family do the Same
How many people do you know who are concerned about the rising costs of health care? Please share this on your social media pages and help spread the awareness about health sharing as a better option.
Thanks for being a loyal reader of the Money Peach blog,
-Chris Peach