Everybody messes up now and then and it's what makes us all human. So, if you spent more than you planned to on a night out, a new outfit, or whatever, stop beating yourself up. Trust me, I've definitely been there.
#nojudgement
But when you've given in to an unplanned splurge, you shouldn't give up on budgeting altogether, just move on. But how do you do that? Here are some ways you can bounce back after an unplanned splurge, and get your budget back on track.
1. It Happened – Face the Facts
The sooner you admit you went over your budget, the sooner you can fix it. You know that cliché that says admitting the problem is half the battle? Well, it's actually the truth 🙂
Feeling guilty about the splurge is only natural, but agonizing over it is simply a waste of your time. You'll still have to face it at some point. If you ignore it, you'll compound the problem, and you can't undo what has already been done. Therefore, stop putting it off, look at the bill, and figure out the damage to your monthly budget. This is what Peach refers to as behaving like a real-life adult.
Related: How to Start Your Budget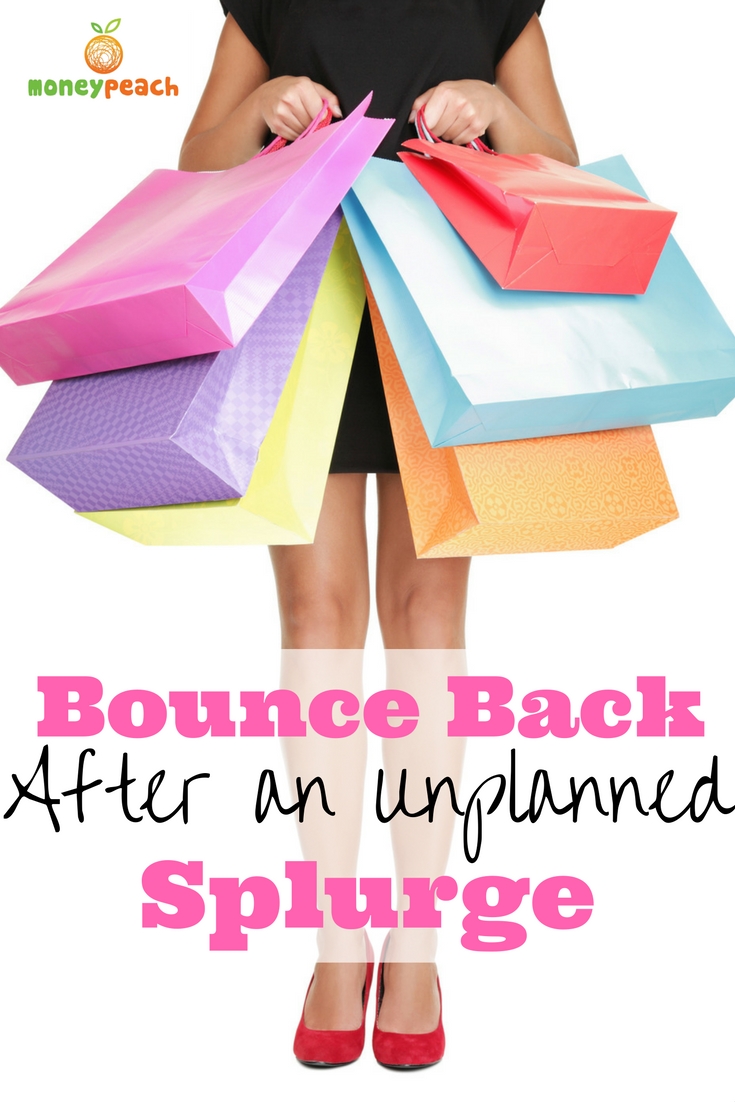 2. Create a Plan of Action
Depending on your budget and the amount of money you just overspent, you have choices. You can cut back in a few places in your budget, or you may have to do a budget makeover. It all depends on how bad the splurge was!
Here are some ideas to get you jumpstarted:
If you have cable, you could turn off the extra channels and keep the absolute basic plan. Or you could do the unthinkable and cut cable off all together! You might find that you don't miss it that much since there are so many cheaper alternatives available out there to keep your TV on at a fraction of the cost of cable.
Related: How to Save $100/month for Live Television
However, if you just can't live without your favorite show and it's not available on streaming services like Netflix, Hulu, etc., you can still make cuts in other ways. Stop paying for your gym membership and exercise on your own. Or, stop spending money in restauants this month. Put that money toward paying off the bill you owe and when it's paid off, bank that same payment amount for future unforeseen expenses or splurges so it doesn't happen again.
If you spent more money than you can absorb within your budget, could you find a way to make some extra money. Some options include getting a second job, selling things you no longer need or use to cover the added expense, or taking on some other type of side hustle.
Related: 80 Side Hustles to Make Money NOW
3. Create a Sinking Fund for Next Time
Now that you've figured out how you are going to take care of your budget blow out this time, how can you prevent it from happening again? Have you though about opening a savings account for future splurges?
This would be separate from your emergency fund as splurges are NOT a true emergency. Set aside just a little money each month and you'll be surprised how quickly it adds up. Better yet, you could create a sinking fund to allow you to cover for a splurge every now and then that's expected instead of unexpected. However you choose to address it, you should make saving a part of your regular budget so you don't end up in the same situation again when the next unplanned splurge happens.
Related: Peach, What the Heck is a Sinking Fund?
[av_promobox button='no' label='Click me' link='manually,https://' link_target=" color='theme-color' custom_bg='#444444′ custom_font='#ffffff' size='large' icon_select='no' icon='ue800′ font='entypo-fontello' box_color=" box_custom_font='#ffffff' box_custom_bg='#444444′ box_custom_border='#333333′]
Chris Peach Pro Tip

I'm sure you think that this Chris Peach guy has never overspent, splurged, or gone off the rails on the budget before because he is the Money Peach!
Ha! Believe it or not, life happens to Andrea and I just like life happens to you. I'm not talking about true emergencies, but I am talking about those moments when you simply lose a little bit of control on Amazon or my absoulte favorite: We tell ourselves we deserve it right now because we work so hard.
Yeah, we've been there…..way more than we like to admit.
The "Blow" Fund
No, this has absolutely nothing to do with a bad drug habit 🙂 This is the category we have in our budget each month that protects ourselves from that little voice in our heads that tell us to, "Buy it, you are so special, you work so hard, and you deserve it."
What's our "Blow Fund" look like?
$60 Cash
[/av_promobox]
Now that you have taken care of your current unexpected splurge and developed a plan to break the cycle, you should be in a better financial position the next time you give in to an unplanned splurge. Yes, being human, you might falter again. (I've definitely given in and bought shoes I didn't need more than once since I started budgeting.) But if you do, use the same principals to fix the problem and plan for the future. The sooner you start, the better your tomorrow will be.
What's the last thing you splurged on? How did you take care of the extra spending?
-Kayla
Lovin' this Stuff?! Please Share it With Yo' Friends!
As always, I first want to thank you for reading this blog because this means you are reaching for awesome with your money! I will keep putting content out there for anyone to gobble up and implement right away, however if you could help me out by sharing this post on your favorite social media platforms, it would mean the world to me! Just click on any of the social share buttons at the top or bottom of this post and you'll be giving me a virtual fist bump, high-five, and a pat on the back. Thank you again and again!
-Chris Peach