Staring down any amount of debt can feel overwhelming. But when it's in the six figures, it can be hard to imagine even getting back to zero, much less building up your savings, too.
If you're looking at a mountain of debt, let these stories inspire you. The three couples below not only paid down six figures of debt, but now have a net worth in the six figures. Here's how they did it.
"Two years ago, we had $107K of student loans. Today, our net worth is nearly $150K."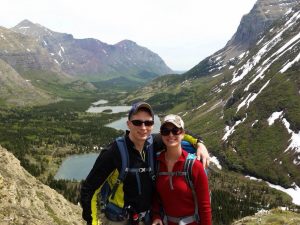 John, 30, and Rachel M., 27, U.S. Coast Guard officer and stay-at-home mom in Cape Cod, Mass.
"When my wife and I tallied up our student loans in 2015, we learned we were more than $107,000 in the hole. We knew we needed to do something—fast. The idea that making some big changes in the way we managed money today could lead to financial freedom in the future was the motivation we needed.
Getting started: We started tracking our spending carefully, which highlighted wasteful expenses that we eliminated. We went on fewer trips, stopped buying expensive groceries, gave up alcohol and put off big purchases we wanted, like a boat. With some work, we were able to set aside about 50 percent of our low six-figure income—and upped that percentage even more when we got raises.
We also picked up side jobs: Rachel sold handmade items on Etsy and I started a landscaping business, which brought in a few hundred extra per month. Eventually, we were contributing an average of $3,500 per month toward our loans.
We didn't put every extra penny toward debt, though. It was important to us to work toward a positive net worth at the same time as we lowered our debt, so we invested. After about eight months of aggressively paying down debt, we began prioritizing our retirement contributions, ultimately maxing out our employer-sponsored plans and IRAs.
Crossing the finish line: In just about two years, we've wiped out about $80,000 of student loans, which has freed up a ton of money. Not only does that allow us to invest more, but it's given my wife the freedom to stay home with our newborn.
We do still have about $23,000 of debt to pay. But since the interest rate is about 3 percent, we've consciously slowed our progress in order to make our money work harder for us in the stock market. Today, our assets exceed $170,000—about $142,000 in retirement accounts, $26,000 in regular investment accounts and a small cash emergency fund—and we're looking forward to growing it.
Their advice for others: Learn how to invest—you owe it to yourself! It's the best way to build long-term wealth."
"Downsizing to a tiny home helped us wipe out $200K of debt."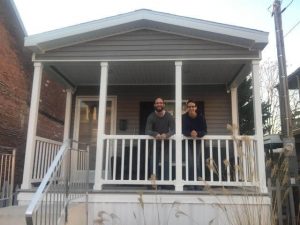 Claudia, 32, and Garrett Pennington, 35, a marketing specialist and sales specialist in Lancaster County, Penn.
"Our debt 'aha' moment was realizing we couldn't pay off $16,000 of debt before the no-interest period on our credit card expired back in April 2015. We knew then we needed to turn our finances around.
We started by putting everything on paper. It was shocking to see all our debts in black and white, but it was also a relief to finally face it. In addition to the credit card debt, we had $36,000 in student loans and a $156,000 mortgage. (I know most people don't consider mortgages "bad debt," but we'd spent thousands remodeling a home we didn't love and were overwhelmed by how long it'd take to own outright.)
Our net worth was somewhat offset by a small cash savings and some retirement funds—but we were essentially starting from scratch.
Getting started: We ruthlessly slashed daily expenses and put our home on the market—eventually eliminating the $1,000 mortgage payment—and put 10 percent down on a $70,000, 500-square-foot tiny home. We donated or sold about 80 percent of our stuff, earning hundreds from Craigslist buyers—all of which went toward debt.
We also substantially increased our incomes. I left my part-time nonprofit job for a full-time marketing gig—doubling my salary. We also began an SEO consulting business, which brought in $1,700 per month in its first year alone.
Thanks to the one-two punch of cutting costs and making more, we made massive monthly payments—anywhere from $900 to $7,000 per month.
Crossing the finish line: We paid off our credit card debt within six months, then started aggressively paying off our new mortgage. By November 2016, we owned our tiny home outright. That freed up enough cash to zero out the rest of our loans—and finish paying off all our debt—by March 2017.
My one regret during this time is not saving, which I admit is risky, or investing more. But since being debt-free, we've been saving and investing thousands per month. Our net worth now exceeds $100,000—between our home, retirement investments and cash—and we're working toward our next lofty goal: financial freedom. For us, that means creating passive income streams that cover our annual expenses.
Their advice for others: Set SMART goals, which are specific, measurable, actionable, realistic and time-bound. Knowing where you want to go will make it easier to create a plan to cut expenses and increase income."
"Realizing we couldn't afford a family vacation, thanks to $109K of debt, was our wake-up call."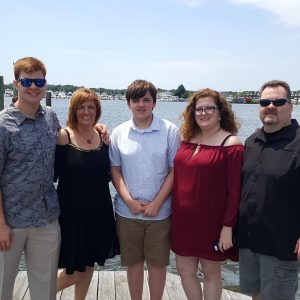 Brian, 47, and Lynn Brandow, 46, IT project manager and retail associate in Long Island, N.Y.
"Back in 2010, Lynn and I were planning a family vacation. But when I tried to swipe our five credit cards, we didn't have enough credit available to pay for the trip. I asked the banks to increase my credit limits without any luck.
Though this was our rock bottom, it gave us the motivation to start learning about good money management and how to pay down our $109,000 of credit card debt. While we had some retirement savings at the time, we also had an underwater mortgage—so we had our work cut out for us.
Getting started: Our first step was creating a lean budget and cutting back on things like eating out and entertainment. Lynn also went back to work as a part-time retail associate, earning $600 to $800 per month.
We ultimately utilized a free debt management program through our credit union, which helped us negotiate reduced or waived interest rates. This didn't discharge any debt, but getting a break here was an incredible springboard to begin repaying debt.
Crossing the finish line: Over the next four years, we funneled as much as $2,200 a month, or about 30 percent of our take-home pay, toward our credit card debt. (We also built up a small emergency fund of $1,000.) By September 2014, we'd paid it all off.
Debt freedom has brought our family peace of mind. Lynn and I continue to regularly communicate about money, which is an important part of being good financial role models for our kids.
Now we're focusing on building our wealth. Our net worth is currently $366,000 between retirement accounts, cash, cars and our home (which is no longer under water). Every dollar we put toward debt is now saved or invested.
Their advice for others: Define your 'why.' Ours was to better provide for our kids, travel more, share experiences and build memories as a family. Keeping this in mind made it easier to take the necessary steps to dump our debt."
 This post originally appeared on 
Grow
.