My Guest on the Show…
Jason Beck is the founder and CEO of Tyr Tactical, a company on the cutting edge of developing tactical gear for both military and police.
I first met Jason at the gym (many of my relationships were either started or formed at the gym) and over the last few years I have developed a ton of respect for Jason.
For starters, he is a man of incredible faith. He doesn't talk about it in the podcast, but from what I can tell you about Jason, he puts the Lord first and foremost. He talks the talk, walks the walk, and is very involved in the church, community, and dedicates much of his time and effort to Streetlight – an organization restoring the lives of adolescent girls, who are victims of child sex trafficking.
Secondly, he is an incredible family man. He and his wife Jane have five children who are all part of the Tyr Tactical family as well. He shares much of the behind-the-scenes of his very unique family and way of life on his Instagram handle @tyrtactical.
Lastly, Jason is a gifted business man and is the reason why I wanted to bring him on the show. He took an idea, implemented it, and has created a multi-million dollar business from the ground up. In 2016 Tyr Tactical did over $20 million in revenue and provides jobs for just under 300 families.
In the episode he shares way more than I would have hoped for, including some things from his past he rarely talks about.
Behind the scenes: After Jason and I finished recording he felt the need to actually apologize for going as deep as he did in the interview. I assured him there was no need to apologize and actually told him I would omit anything he didn't feel comfortable with.
After the interview I had joked with him about people thinking he is an "overnight success"….just 30 years in the making. He texted me later with this response: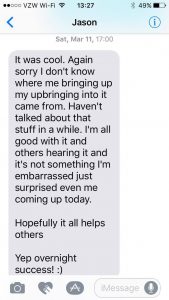 Favorite quotes from this Jason Beck:
"The world and situation in your life is what you make of it"
"It's the person who guts it out and really tries to find smarter people to help them through the process"
"Be the best thief in life – steal the good traits from every single person you like and respect"
"You never know who the smallest guy is to affect your business the most"
Now, I have a few questions for you all…
What are some of your questions you would like answered on the show? Simply leave a comment at the bottom and let me know or you can contact me here and ask anonymously.
Are you enjoying the podcast? If you do, would you be willing to leave a review for the show here? The more reviews the podcast receives, the more people will learn about it!
---
The Money Peach Podcast is brought to you by my #1 online program for showing you how to budget, how much to save, how to manage your debt payoff, when to save for retirement, what to teach your kids about money, and how to build a legacy to last beyond your lifetime.
If you find yourself continuing to live paycheck-to-paycheck and wondering where all the money went at the end of the month, it's time to finally make a positive change. Welcome to the class they forgot to teach you about money – Awesome Money Course.

Mentioned in this Episode
---
The Soup Kitchen, Springfield Missouri
Good to Great by J. Collins (Book)
Tools of Titans by Tim Ferriss (Book)
CCV (Church Jason and I attend)
Show Notes
---
Learning to Sew [3:25]
The Story I ask Him to Tell (Humble Beginnings) [5:05]
The Operator's Shoe String [8:40]
Growing up Jason (refer to text message above) [9:35]
Jason is a constant student [17:40]
Mr. Marino and Father Kiefer [19:25]
The Big Breakthrough [24:25]
The Shelby Cobra Story [36:15]
Proudest Moment of Tyr Tactical [48:25]
Living Debt Free [50:25]
---