On the show today I bring on Justin, a PD S.W.A.T. officer and founder of the custom knife company MilMak industries.
Justin is also coming on the show because him and his wife recently went debt-free! He shares his story and struggles with debt, how they were able to finally pay it all off, and how he has managed to grow his business alongside all of it.
BONUS: I have Justin talk safety in terms of what we all should be doing for our families, and then I "forced" him to give a discount to money Peach listeners!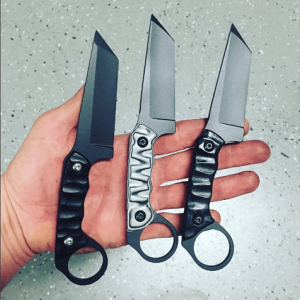 ---
Now, I have a few questions for you all…
What are some of your questions you would like answered on the show? Simply leave a comment at the bottom and let me know or you can contact me here and ask anonymously.
Are you enjoying the podcast? If you do, would you be willing to leave a review for the show here? The more reviews the podcast receives, the more people will learn about it!
---
The Money Peach Podcast is brought to you by my #1 online program for showing you how to budget, how much to save, how to manage your debt payoff, when to save for retirement, what to teach your kids about money, and how to build a legacy to last beyond your lifetime.
If you find yourself continuing to live paycheck-to-paycheck and wondering where all the money went at the end of the month, it's time to finally make a positive change. Welcome to the class they forgot to teach you about money – Awesome Money Course.

Mentioned in this Episode
---
Show Notes
---
Justin loses his Dad at age 10 [10:18]
First impressions of money [13:20]
The most important aspect of your money [15:01]
Why he became a police officer [17:02]
The breakdown of a S.W.A.T. team [19:08]
Creating High Quality Custom Knives [27:10]
The 5 Things You Must Do to Protect Your Family [31:50]
Justin Offers 10% Off for Money Peach Listeners with this Code [39:08]
---