Did you know in 1960, Americans had over a 10% savings rate? Did you also know the latest savings rate for Americans was a dismal 2.4% in 2017?
Look, we all know we need to save more money. However, the numbers show that knowing what to do and actually doing it are completely different things.
And, I am sure you have tried over and over to save more and it just doesn't work, right? No matter how hard you try, the savings part just isn't working for you.
Digit Review: Why People are Flocking to Digit
Digit is a microsavings app that automatically helps you save small amounts of money using AI to monitor your current spending and saving habits. They take away the "pain" of saving and thus help you create a new habit of saving. For anyone to create a good habit, the habit needs to start out without pain or effort.
This is where Digit comes in.
What is the Digit App?
Digit is an app that will help you save more money painlessly and effortlessly.
The app uses an AI algorithm that works for you based on YOUR current financial habits. Instead of everyone falling into the "cookie-cutter" mold of saving money, Digit takes your uniqueness into consideration.
Not only did I go through Digit for myself, but I also sat in on a conversation Peach had with a current Digit user to find out exactly how and why it works. Digit is something very unique in the personal finance space, and I think you will agree with me once you see what I have to share with you.
Overall, if you are someone who struggles with saving money, Digit may be just the app for you and your money.
Digit Review: Automating Microsavings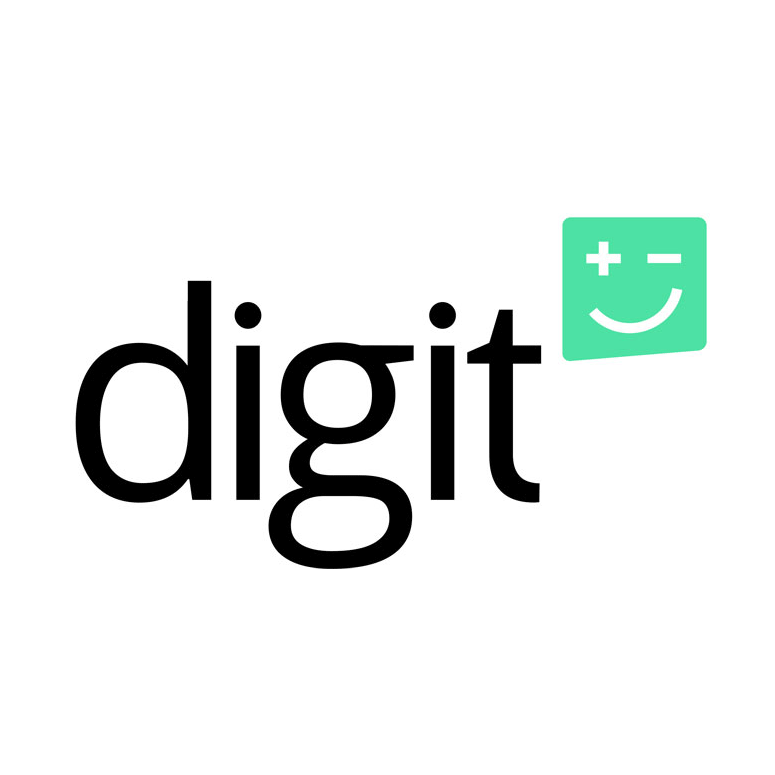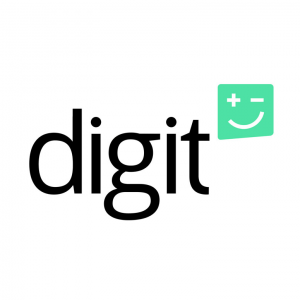 Name: Digit
Description: Digit is a microsavings app that automatically helps you save small amounts of money over time. The app uses AI that bases the amount you save on your current spending and saving habits. All of this is done automatically for you so you don't have to worry about saving enough money.
Ease of Use

Savings Options

Cost
Summary
Breakdown of Digit
Pros
Saving is effortless
Digit's annual 1% savings bonus
No outside savings account required (all through Digit)
Cons
$2.99/month is expensive to start saving
Only available to U.S. residents
Getting Started
We'll start with the basics. As I mentioned above, Digit is an app for both Android and iPhone.
Here's how it works:
First, you sign up for Digit.
Second, you connect your bank account.
Third, Digit uses sophisticated algorithms to learn how your spend.
When Digit sees you have extra money, it transfers the money to your Digit account.
You save money without even realizing it.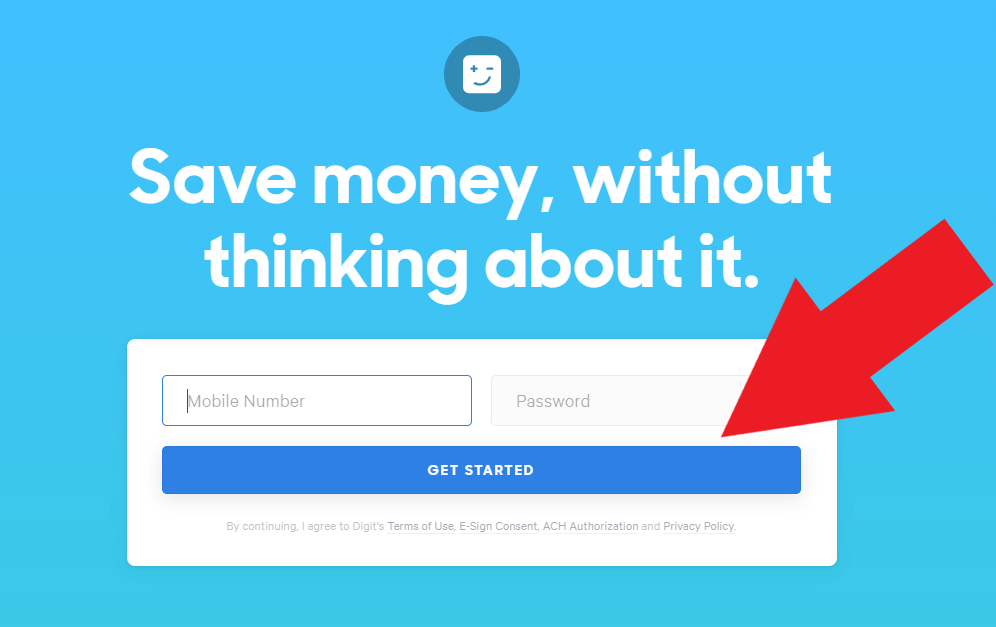 Seriously, it's that simple. But let's go over the process Digit uses in more detail. Then you'll know exactly how Digit works.
Sign Up for Digit
Signing up for Digit is super easy. Just pull up the app in your app store or go directly to the Digit website. You'll hit the "Sign Up Now" button and create an account by entering your phone number and creating a password.
After you sign up, Digit will ask you to set an account balance minimum for withdrawal. This is the minimum balance your bank has to have before Digit starts transferring money to your Digit account. Digit calls this your Rainy Day Fund.
Digit suggests you set your minimum at $200, however you can choose any minimum amount you want.
For example, if you have $205.43 when Digit checks your account, Digit won't transfer any more than $5.43 on that day.
I like the idea of the $200 minimum because that way Digit won't transfer money out when your funds are getting super low. But you have to determine what number you're comfortable with for the minimum balance withdrawal amount.
How Digit Works
Okay, so you've got your Digit account all set up. What happens next?
Digit uses a specialized algorithm to assess your income and your spending habits.
The app looks at four factors as it determines withdrawal amounts:
Your current checking account balance
Recent spending habits
Upcoming automatic bills (based on account history)
Projected upcoming income (based on account history)
Digit checks your account every day, but they only withdraw money from the account two to three times per week.
Note: that this is an average estimate and because of that the number of times Digit withdraws money from your account may be different.
The average account withdrawal for Digit users is between $10 and $30. Again, this amount may differ for you depending on the income and spending patterns Digit sees in your account.
The Digit website says you should see your first Digit withdrawal in two to three days after you set up your Digit account. The nice thing is that Digit puts each withdrawal into your Digit account, while you save up money with very little effort. You don't have to do that work yourself.
And there's another nice little feature you might like about saving with Digit too: Digit gives you the ability to create savings goals in your Digit account called "Goalmojis"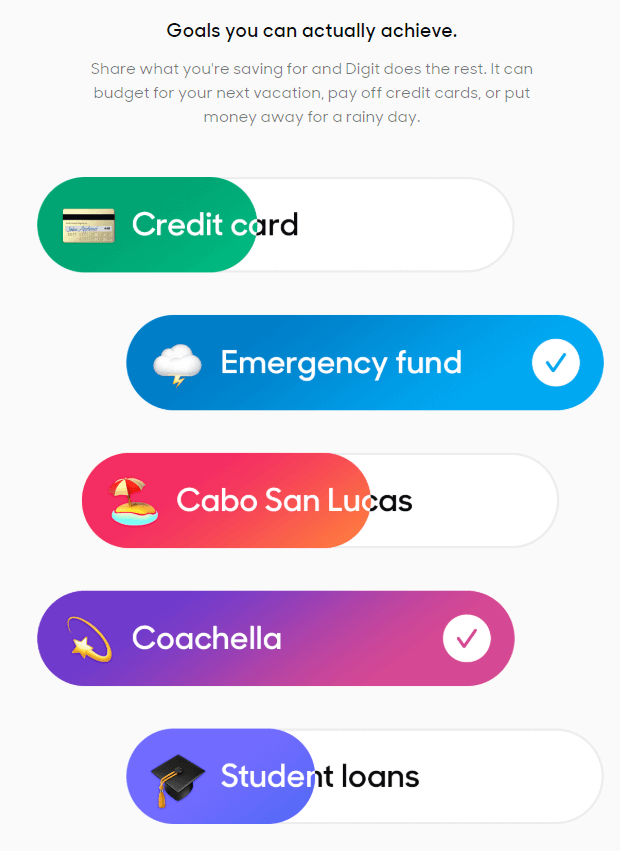 Digit Goalmojis
Digit can also help you save for specific savings goals you may have. It does this by allowing you to create specified categories within your Digit account called Goalmojis. You can set up your Goalmojis by name, such as:
Vacation fund
New car fund
Debt payoff fund
Credit card payment fund
Or whatever fund you want.
Notice that I had "credit card payment fund" on that list. You can also set up the ability to have your credit card paid automatically from your Digit account.
If you're having trouble remembering to pay the bills, this could be a great feature for you. But back to the Goalmojis.
All you need to do to set them up is to go to your Digit home page. Hit the "Try Adding a Personal Goal" button under where you see your Digit Rainy Day Fund balance.
Give your goal a name, and if you want, choose an emoji that corresponds with your goal.
When you set up your Goalmojis, you can specify a target dollar amount and target "save by" date if you want. However, you don't have to. And if you do set a target dollar amount or save by goal, you can change it at any time.
Digit will use its algorithms to determine when it's safe to pull money from your Rainy Day fund and put it into your goal accounts.
In addition, you can always add directly to your goals from your bank account. You can withdraw money from your goal too, just like you can from your Rainy Day fund.
The "Goals" feature is a nice feature for if you want to set up specific reasons to save.
Frequently Asked Questions About Digit
Before you get started with Digit, make sure to read through the most common FAQs below.
Is Digit Safe?
So, you might be wondering if Digit is safe? I mean, after all, you are giving them access to your checking account.
You'll be happy to know that Digit has several safety and security precautions in place. First, they use 256-bit encryption to protect their data transmission. According to their website, that's the same level of security as the military uses.
Second, their system anonymizes your information to make it doubly secure. Digit also has other security and safety measures in place, which shall remain nameless. The point is that they work hard to keep you safe as you save.
In addition, the money you save in your Digit money is FDIC insured. This is the same type of insurance banks have in order to protect your money from bank failure.
Know that Digit itself isn't FDIC insured because it's not a bank. However, you're still covered because Digit keeps your money in a bank that is FDIC insured. This is called a "pass-through" insurance.
Your Digit funds are insured up to $250,000, so you don't have to worry about ever losing your money with Digit.
Where is Digit Available?
Digit works with over 7,000 banks and credit unions in the United States. You can contact Digit's Help Center to find out if Digit is compatible with your bank.
However, if you have your bank account with a larger, nationwide company, you can be fairly certain it's compatible with Digit.
Will Digit Overdraw My Account?
You get two free overdrafts covered by Digit.
You might be wondering what happens if Digit gets a little overzealous in helping you save. This is a perfectly understandable concern. I mean, after all, they do have the capability to transfer money to savings whenever the algorithm sees fit.
This is one reason why Digit gives you the ability to set a minimum balance that has to be met before they transfer money to your Digit savings.
The higher the minimum, the less chance Digit withdrawals and your incoming bills will cross paths and cause an overdraft.
However, in the rare event that an overdraft does happen, Digit promises to cover any overdraft fees for up to two occurrences. And remember that the Digit algorithm works hard to analyze past spending habits, so it has a good idea of how and when you spend.
This feature will help ensure that overdrafts don't happen.
Can I Ever Hit the Pause Button on Digit Withdrawals?
Absolutely.
Digit has a "pause" feature that allows you to stop Digit from withdrawing from your account for a specified time period.
Can I Connect My Digit Account to Multiple Bank Accounts?
No, you can't connect your Digit account to more than one account. However, one workaround I found is you could open multiple Digit accounts so that each bank account is covered.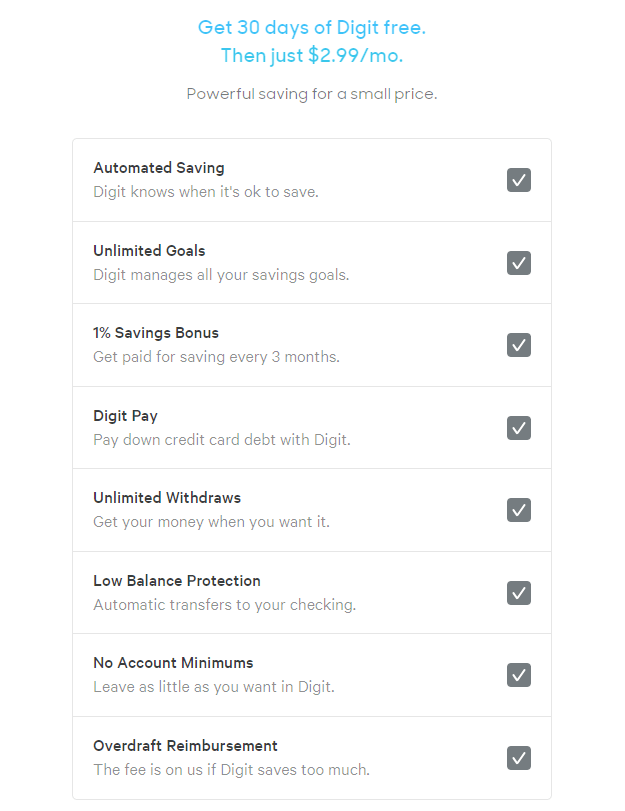 How Much Does Digit Cost?
$2.99 per month but there is also a way around it.
Come again?
Yes, here's how that works…
The really good news: the first 30 days with Digit are free. This means you can try it for a month without paying a dime, just to see if you like it.
But what about after the three months?
Even after the first month, Digit is still extremely affordable at only $2.99 per month. Remember, that's less than three bucks per month to have Digit help you save more money each month.
So then what about the way around the fee?
Does Digit Have a Referral Program?
Many of today's fin-tech apps have referral programs, and Digit is no different. When you refer a friend to Digit, and they sign up for Digit using your referral link, you'll earn $5.
And you can earn $5 for every single person that signs up using your link. There's no limit on the number of referral bonuses you can earn. Not a bad way to increase your savings even more.
Digit's Top Feautures
Digit does a lot of cool things, but here are some of the highlighted features to expect when using the Digit App.
The Digit Savings BONUS
Digit doesn't pay interest because it's not a bank. However, you can easily offset the monthly $2.99 cost for Digit with their 1% annualized Saving Bonus.
The savings bonus is activated after your Digit account has been active for three months. The interest paid is retroactive based on your average balance for the last three months.
So, what would you need to have in your Digit account in order to make the Savings Bonus offset the cost of Digit?
If you can maintain an average balance of $3,600 in your Digit account, you'll earn $36 per year from your Savings Bonus. This would be enough to offset the $36 per year cost for Digit.
Obviously, you're not going to have that much money in your Digit account right away. After all, Digit is made to take bits of money here and there from your checking account.
If it took an average of $300 per month from your account, it would take you a whole year to save up $3,600.
If you're looking to offset your Digit $2.99 per month cost right away, however, you could make a manual deposit into your Digit account as soon as you open it.
That way you'd earn the right amount of Savings Bonus right away.
But let's be honest for a second…$3 per month?
C'mon…why are we really even talking about this? If you save $3 more a month with Digit than without Digit, then it's a non-issue.
Looking for another reason to use Digit? There's another way you can earn extra money with Digit besides the Savings Bonus: The Digit Referral Program.
The Digit Pay Feature
Digit has a feature called Digit Pay, which makes automatic payments to your credit card for you. The funds come from whatever you have saved inside your Digit account. This is a great feature if you never want to miss a credit card payment again. However, the Meet Tally App is still our favorite when it comes to managing credit card debt.
A Real-Life Digit Testimony
We wanted to talk to someone who has used Digit over the long term to see if it really works. So, we interviewed a guy named Brent.
Brent Sleeper, 48, is a software engineer living in San Francisco. Brent was doing great at saving for big goals like retirement, mostly because it is an automated process. But he was having trouble saving for smaller goals like vacations, etc.
Brent also felt it was painful and tedious to move money from checking to savings every month. He's a busy guy with a lot to do.
He wanted to save more money but didn't want the work of doing so. So he signed up for Digit.
"I was a little nervous about signing up for Digit because I didn't quite know what to expect or how much they would take out. Now, I don't even feel the money going into savings and I am saving 10x more than I ever was before." – Brent Sleepe
Brent said that at first he was nervous about using Digit. He'd check his checking account several times a week to see what Digit was taking from his account.
Over time, however, Brent just forgot about it. He just let the app do its work. That's when the real magic kicked in. Brent started using the Goals feature on Digit. He set up specific goal accounts for what he needed to save for. Now Brent is kicking it at achieving his non-retirement savings goals.
In fact, Brent estimates he is saving 10 times more than he was saving before he got Digit. Wow!! That is a huge jump in savings! How much more money could you save if you were able to multiply your savings by ten times what you're saving now?
Brent says the automated process is what really makes Digit shine. Their specialized algorithm along with the automated savings process has been a winner for Brent and his savings accounts.
Digit's Better Business Bureau Rating
I checked Digit out (it's officially called Hello Digit) on the Better Business Bureau website, and they do have a rating.
The BBB says Hello Digit was established with them in 2015. Their current rating is a B+. There were four ratings on the BBB website when I checked Digit out: two were positive and two were negative.
There were 33 complaints on the site. All were marked answered or resolved. Of the ones I could read, most centered around overdraft issues and inability to transfer funds back to checking accounts.
The overdraft issue should be able to be avoided fairly easily if you keep $200 as the minimum for withdrawal from your checking account as suggested by Digit. As far as money not transferring from a Digit account to a checking account, Digit seems to be on top of handling these occasional issues.
The reviews I found were all answered and resolved by Digit.
Who Digit Works If…
So, is Digit for you? I would say there are a few questions you could ask yourself to determine if Digit might be a benefit for you.
Digit Helps You if You Have Trouble Saving Money
If you have trouble saving money, Digit could be good for you. It can be real easy to just spend the money you have in your checking account simply because it's there.
If you use a budget, you can counter that temptation. But if you're not into the whole "budget" thing, Digit can help you save money anyway.
Digit is Good if You Want Effortless Extra Savings
Another reason you might want to use Digit is if you want to accumulate extra savings with little or no effort.
Digit is akin to putting your spare change and $1 bills in a jug every day. However, unlike the Acorns App, Digit does not invest your spare change for you. Instead, it takes little bits of money here and there and sets them aside as the algorithm sees fit. You can then use that money for whatever you would like -it's still your money!
That means more money in savings for you with very little effort on your part. All you have to do is to make sure to note the withdrawal on your checking account register in your checkbook.
Digit is Good if You Have Several Specific Savings Goals
Digit is also good if you have several specific savings goals you want to reach. Let's say you want to save for a vacation, to pay off debt and to save in advance for Christmas presents.
Digit can help you save for all three of those goals at the same time. And it uses money you might have otherwise wasted.
Even if Digit doesn't help you reach those goals completely, it can help you make serious advances toward those goals.
Who is Digit Not For?
So, you can see that Digit offers advantages for people in the majority of financial situations. However, there are a couple of situations where Digit might not be your best choice.
Digit Isn't for You If Your Money is a Hot Mess
Are you having trouble keeping your checking account in the positive each month? If so, Digit may just cause more trouble.
If you have trouble keeping your checking account from overdrawing each month, Digit's automatic withdrawals may hurt you.
However, if your money is a hot mess, you need to start saving money more than any other group. This is why Digit has the suggested $200 minimum balance for withdrawals.
They want to make sure you've got enough money to survive before they take money to put into your Rainy Day fund. I've read on comment threads about people being angry because Digit overdrew their account.
However, often times these people set low minimum thresholds for withdrawal. One person said they set a minimum threshold of $10 and then was angry when Digit overdrew their account.
If you can set the minimum balance for withdrawals as suggested by Digit, the possibility of overdrawing your account is minimized.
Just make sure you're keeping track of the withdrawals in your account so you really know how much money is in your account.
Digit will do great things for you if you are willing to combine it with an effort to get a better handle on spending and budgeting.
Digit Won't be Much Help in Saving for Huge Goals
If you're looking to save for a house or start investing, Digit won't be a huge help. After all, Digit works to help you save more by finding little bits of money here and there.
But, all large goals should have smaller goals as steps to getting to to that larger goal. When you take you large financial goals and separate them into smaller, more achievable goals, then Digit is a great fit.
Final Thoughts on Digit
The bottom line is that Digit can be a terrific way to save extra money. Since they just take little bits of cash at a time, you likely won't even notice the money missing from your account.
Most people easily waste $100, $200 or more each month on spending that brings them little value. Drive thru runs, unplanned grocery trips and little "extras" at the big box store can eat your money up quickly.
Digit helps you to combat that type of wasteful spending by sneaking little bits of your cash out of checking into your Digit account. Over time, you can, like Brent, increase the amount of money you're saving exponentially.