Did you know that prior to 2009, student loan debt ranked number 5 behind Mortgages, Credit Cards, Auto Loans, and HELOCs? This means in only 6 years, student loan debt has climbed so rapid that it has now higher than all other debt besides mortgages. To add insult to injury, every other debt went down since 2009! This is what we call a Student Loan Crisis. Today, Student Loan debt is hovering at $1.2 trillion. Let me give you a visual:
$1,200,000,000,000
If this number doesn't shock you, something is wrong. But, just in case you need to see a little more, here are some other Fun Facts:
• 1 out of 7 Americans has a Student Loan
This means 1 out of 7 of your friends, family, and neighbors is carrying part of this $1.2 trillion
• Average Student Loan Debt at Graduation: $38,000
• 66% of Student Loans are carried by those age 30 and up
• 29% of borrowers are actually paying down their loans
• $60 Billion is owed by those age 60 and up
My goal isn't to scare you into thinking the world is coming to an end (okay,maybe a little bit). Instead, I want you to start thinking about your student loans and how you are going to pay them off as soon as possible. If you know me, I hit on the Debt Snowball pretty hard and truly believe it is the very best way to pay off debt. However, what about making your student loan smaller before you pay it off?

Refinancing Your Student Loan
Most people don't believe they even have the option to refinance their student loan. I am here to not only tell you that is completely wrong, but to also provide you with a resource I highly recommend that is saving borrowers thousands of dollars in student loan interest. Before we go any further, let's dispel a the common student loan myth.
Myth: I Can't Refinance a Federal Student Loan with a Private Company
Answer: This is plain wrong
Myth: I Can't Refiance my Federal Student Loan w/ a Private Company. Truth: This is Plain WrongClick To Tweet
This is going to sound confusing, but follow along (it may save you thousands). If you have a Federal Student Loan and you choose to do a direct loan consolidation, it does NOT save you money. Instead, you are taking the weighted average of all your current student loans and consolidating them into one "easy" payment. The interest is averaged out which doesn't save you any money at all. You do have the option to make your payments lower, but all you're doing is extending the term and thus paying more in interest than before. So, in my opinion it's a waste of time to do a direct loan consolidation with your federal student loan.
However, when you choose to take your federal student loan and do a Private Loan Consolidation with a private lender, you actually get to lower your interest rate which will save you money. Here is the difference:
Direct Loan Consolidation
• Created by the good ol' U.S. Government to help you consolidate all of your federal student loans into one easy payment.
• The new Interest rate is the weighted average of all your loans. This doesn't save you any money.
• You have the option of decreasing your payment, but keep in mind you are extending your payment over a larger period of time and thus paying more interest.
• Not a great plan at all.
Private Loan Consolidation
• When doing a Private Loan Consolidation, you are actually refinancing your student loans.
• Depending on your current financial picture (job, debt, income, credit score, etc.), you are likely to receive a new lower interest rate.
• There is a nasty myth out there, that you cannot refinance your federal student loans into private student loans. This is false – absolutely you can.
Meet Social Finance Inc. – SoFi
When I was at FinCon 2015 in Charlotte, I met the guys from SoFi and started to realize why they are the the largest and number one student loan refinance lender in America. There are many private lenders out there, however I immediately noticed something very unique about SoFi: They actually care about people with student loans.
How is this? Let me explain why:
Free Unemployment Insurance
If you lose your job to no fault of your own (meaning you didn't quit), then SoFi allows you to put your loan in deferment for up to a year while you find work. SoFi will also work with you and get you connected with resources to help find you a job during that time. All of this is free of charge. No one else is doing this.
Entrepreneurship Program
This a program where they allow the member to put their loan on deferment for up to 6 months so you can focus on growing their own business. In addition, SoFi connects borrowers with mentors, investors, and networking events.
Here are some Frequently Asked Questions about Student Loan Refinancing through SoFi:
Who Should Refinance?
Graduates who are currently working (or have a job offer), have high interest rates, unsubsidized Direct Loans, Graduate PLUS Loans, and/or private loans are the perfect match for qualifying and saving money with SoFi.
Is SoFi a Reputable Place to Refinance My Student Loan?
Yes! They have funded over $5 Billion in Student Loan Refinancing and secured $1 Billion in series E funding in September 2015.
What are SoFi's Student Loan Refinance Rates?
1.90% – 7.24% Variable and Fixed Rate.
What are SoFi's Student Loan Refinance Terms?
5, 7, 10, 15, and 20 year terms.

What is the minimum I can refinance?
$10,000 is the minimum, however some states have legal requirements that cause the minimum to increase. Also, refinancing is unavailable to those living in Nevada.
I currently have a grace period, will SoFi honor that?
Yes, they will accept any current grace period you have.
What are the origination fees of the new loan?
There isn't one. ZERO.
Will applying for a loan or checking rates affect my Credit Score?
No, SoFi utilizes a soft pull which will not affect your score.
I have already consolidated my loans. Can I still do a refinance with SoFi?
Yes. Whether you did a direct loan consolidation with your federal student loans or a consolidation with a private lender, you can still refinance with SoFi.
Are there Discounts Available?
Yes. If you enroll in Auto-Pay, you automatically receive 0.25% savings on interest rate.
Are there both Fixed and Variable Rates available?
Yes, but I highly recommend you lean towards a Fixed Rate Loan. Interest rates are extremely low, so in my opinion, interest rates have no where to go but up. A fixed rate doesn't move around (go up), which is why I would avoid a variable rate. However, if you are 1,000% positive you are going to pay the loan off early, then you may want to take a look at the lower teaser interest rate with a variable rate loan.
Anything Else?
Yes. SoFi now offers mortgages in 23 staes, and they do offer persoan loans to help lower your interest rate on things like your credit cards, which will help you pay down debt faster! Find out out more here.
To be Eligible to Refinance with SoFi, you will need to meet the following criteria:
You must be a U.S. Citizen or permanent resident and 18 years of age and live in the United States
You must be employed or have a job offer that is starting in 90 days or less
You must have graduated from one of the 2,200 accredited Title IV universities or graduate schools
You will need to be current and in good standing with your student loans
Must have a good cash flow system. I call this a budget.
You will need an above average FICO score. 700 isn't the magic number, but it will help. There are other financial factors they can look at if you are below 700.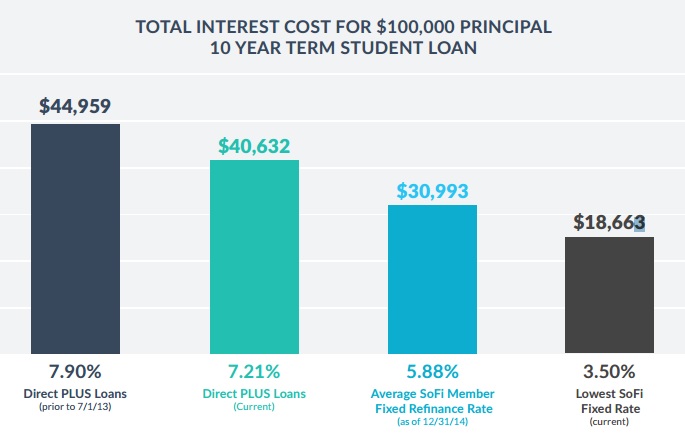 Photo Credit: Courtesy of SoFi.com
What Does this Look Like?
Example:
You have both federal and student loans total $110,000 over 25 years at an average of 7.0%. If you refinance with SoFi to 6% and lower your term to a 20 year, here are the results:
Current Loan (Before SoFi)
• Balance: $110,000
• Interest Rate: 7.0%
• Length of Loan: 25 years
• Monthly Payment: $777
• Total Interest: $123k
New Loan with SoFi:
• Balance: $110,000
• New Interest Rate: 6% (only 1% lower)
• Lower Length of Loan: 20 years
• Higher Monthly Payment: $788
• Total Interest: $79k
Results:
Savings of $44k and 5 years of being chained to Student Loan Debt.
Worth it?
Social Proof: Real People Saving with SoFi
I refied my student loans with Sofi last month. My rate went from 7.5% to 3.5%. My payment stayed the same, and I had…

Posted by Michele Brown Wellendorf on Friday, October 30, 2015
Considerations You Need to Make Before Refinancing Federal Student Loan
Forgiveness Programs – There are loan forgiveness programs out there, with the most common being the Public Service Loan Forgiveness Program (PSLFP) and the Teacher Loan Forgiveness Program. These are great planis if you plan on making payments on your loan for a long time. The loan forgiveness usually requires that you have paying on the loan for up to 10 years in some cases. The savings aren't always worth it if you had the opportunity to pay the loan off sooner with a lower interest rate. However, before refinancing out of a Federal Student Loan, make sure you weigh out the options.
Special Repayment Programs – The Federal Government does allow special repayment programs such as a graduated payment schedule (you pay more as time goes on) and a Pay as You Earn (PAYE) program which increases the term and then allows the remaining principle to be forgiven after 20 – 25 years. However, if you qualify for PAYE, it is important that to understand the borrower is usually going to pay more interest over time.
Deferment  – The federal government does offer loan deferment due to financial hardship. This allows the borrower to stop making payments on the loan during financial hardship, however, many times the loan is accruing interest during this time. SoFi offers the Unemployment Insurance, which allows borrowers to put off making payments on their student loan for up to a year while you search for a new job. In addition SoFi will help you find another job. The federal government does not do that 🙁
If you're ready to get started, you can check your rate and apply for a refinance by clicking the button below. It only takes about 15 minutes and you can do it all from your Smart Phone. Getting a quick quote doesn't affect your credit at all and you have an excellent shot at saving thousands of dollars on your student loan! No brainer, right?

Be good to yourself, your friends, your love, and BE GOOD TO YOUR MONEY!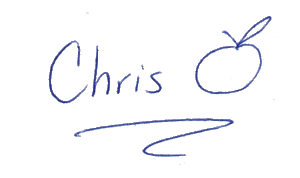 One more thing: I like to provide you with full transparency, so please be aware I am an affiliate with Sofi Inc. This means if you click on any of the links on this page and save money with SoFi, they may pay me a referral commission. If you are okay with this, great! If not, simply close out this browser and go to Sofi's website in a new window. I would rather you save money on your student loan than not at all 🙂
http://www.moneypeach.com/wp-content/uploads/2015/10/Fico-Free-Zone-560-x-315.jpg
315
560
Chris Peach
http://www.moneypeach.com/wp-content/uploads/2016/06/moneypeachLOGOhomepage.png
Chris Peach
2015-10-28 01:30:05
2016-03-31 14:42:11
Refinance Your Student Loan without Your FICO Score