Everywhere you look these days you see someone with a cell phone in their hand, texting, watching a video, or talking to someone. Almost everyone has one, and many people have smartphones with multiple features, which can drive up the cost of your monthly bill in a hurry. But there are ways to save on your cell phone bill. Here are 6 savvy <—- (I love that word) ways you can trim your cell phone bill so you can start doing better things with your money.
1. Track Your Usage
The first thing you should do is track your data usage. If your phone does not already do this in your settings, there are apps for this. Find out how much data you are using and if you are going over on your current plan. If you are going over, you could be incurring extra costs each month, which should also be reflected on your bill. Maybe you can cut back on your data usage by connecting your phone to the WiFi at your home or office. If not, check with your service provider to see if you can raise the usage on your plan.
On the flip side, you may be using way less than what you are paying for. This was the case for me. Once I quit my job to work from home, my data usage went way down because my cell phone is connected to the WiFi in my home and thus I don't use much data to run apps. I was able to save $20/month by lowering my data package.
Best App for Tracking iPhone/Android Usage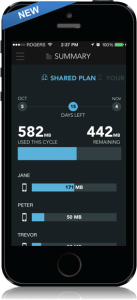 If you're looking for a easy-to-use FREE app for managing your data, try MyDataManager. The app allows you to customize the settings to fit your data usage, manage your daily usage, and keeps you up to date on where you are at in real time for your monthly usage. It's the same Data Manager our family currently uses, which is why I recommend it to you.
2. No Contract
If you are going over on your data usage each month, would it be cheaper to get out of the plan and pay any costs incurred so you can switch plans or do away with a contract altogether? It might take a little time to run some numbers, but it could also be worth your time and effort to check.
When my cell phone contract expired a few months ago, I was able to get a newer cell phone and save money. I lowered my data package, but I also decided to pay full-price for my phone instead of having a two year contract. When I penciled it out, it was much cheaper to go this route instead of having a contract and paying an "equipment fee" on my cell phone each month. However, to do this you will need to have several hundred dollars at your disposal to pay for your cell phone up-front.
Buy and Sell Your Used Cell Phones

The best place to buy and sell your used cell phones without having to worry about fraud, shady deals, and broken phones, is to use a place I trust: Swappa. They take care of the risk for you by becoming the team member between you and the seller. All transactions go through PayPal with a strict refund policy: Get what was delivered or get a refund. Period.
3. Check Out Promotions
Check with your carrier to see if they have any promotions you can take advantage of. If you are in a contract, sometimes you can still take advantage of them. It can't hurt to ask, and you could save some money each month.
You should also look at promotions offered by competitors. Once in awhile they offer promotions to buy out your contract if you switch carriers which is a good one to take advantage of if you aren't happy with your current service provider or if you can get a cheaper plan by switching.
4. Negotiate a Lower Rate
Many times a provider would rather lower your rate than lose you as a customer. Before you cancel your contract and switch to a new provider, let your current cell phone company know the bill is just too high. If you are kind and honest with the customer service representative, they will be more willing to work with you to help you lower your bill.
5. Roaming
If you do a lot of traveling for your job, or if you know you will be going on vacation, check on roaming charges with your service provider before your trip. If you are roaming frequently, you might even need to change providers to avoid incurring these costs on a regular basis. Some carriers simply don't have the coverage in certain areas of the country and you don't want these high costs adding onto your bill each month if you can avoid it.
6. Check Out "Alternative" Cell Phone Companies
In the last few years some new cell phone companies have popped up that operate on a different type of business plan than the "big" cell phone companies. Service providers like Cricket and Republic Wireless offer much lower rates and plans if you live in an area where they provide service. Unfortunately for me, they are not available in my rural area otherwise I'd definitely be giving them a try to save on my cell phone bill.
Yes, nearly everyone has a cell phone these days, which means everyone has a cell phone bill as well. But with a little work you can customize your plan, phone and provider to fit your needs and save some money in the process.
Can you think of any other ways to save on your cell phone bill?

If You Like it, Please Share it!
As always, I first want to thank you for reading this blog because this means you are reaching for awesome with your money! I will keep putting content out there for anyone to gobble up and implement right away, however if you could help me out by sharing this post on your favorite social media platforms, it would mean the world to me! Just click on any of the social share buttons at the top or bottom of this post and you'll be giving me a virtual fist bump, high-five, and a pat on the back. Thank you again and again!