By now you're probably familiar with the robo-advising platforms which have made it extremely simple and nearly free to invest in index funds.
But what about real estate investing?
Up until just a few years ago, it was nearly impossible for most of us to get started in real estate. Typically, you'd be looking at a single-family home, maybe a duplex, or even a vacation rental.
However, this is no longer the case. Today investors have access to crowdfunding real estate platforms.
And, one of the most well-known is RealtyShares.
Money Peach Realty Shares Review
RealtyShares is an online investment platform that specializes in purchasing shares of real estate investments. The investments range from smaller commercial properties to single-family home flips. As an investor, you have access to both equity positions and/or funding positions, which both offer great streams of passive income.
RealtyShares: Crowdfunding Real Estate with Higher Returns
Name: Realty Shares
Description: RealtyShares is an online investment platform that specializes in purchasing shares of real estate investments. The investments range from smaller commercial properties to single-family home flips.
Ease of Use

Available Properties

Investment Options

Fees
What is RealtyShares?
RealtyShares is an online investment platform that specializes in purchasing shares of real estate investments. The investments range from smaller commercial properties to single-family home flips. As an investor, you have access to both equity positions and/or funding positions, which both offer great streams of passive income.
Their platform brings together all stakeholders in the process. From borrowers, to investors, and even sponsors, all players conveniently come together on the RealtyShares website.
This use of technology is what allows RealtyShares to lower the barrier of entry for traditional real estate investing. By doing this, they are making it more accessible for investors to enjoy the similar returns while mitigating risk. In addition, the use of technology allows them to build a diversified financial portfolio very quickly and efficiently.
Since their start in 2013, over 80,000 investors have invested over $840 million into 1,100 investments spanning across 41 different states.
Isn't RealtyShares the Same as a REITs?
Yes and no.
How They Are Similar
Both RealtyShares and REITs provide the investor a way to pool their money together to raise capital. The capital is then used for either income producing property (rentals) and/or appreciating assets.
They also give investors the ability to further diversify their portfolio from the traditional stock and bond markets. Finally, they both allow investors access to passive income from real estate. You get to own a piece of real estate without the hassle of managing the asset yourself.
How They are Different
When you invest into an REIT, you are investing into the company that will then invest into real estate on your behalf. This means you don't have any control over what property your investment is going towards. Also, the barrier of entry is much smaller when investing into an REIT vs a RealtyShares property. Basically, anyone can find an REIT and invest.
However with RealtyShares, you are choosing which piece of real estate to invest into based on the properties RealtyShares pre-approves. Also, you must be an accredited investor, which increases the barrier of entry above that of an REIT.
However, in my opinion, the benefits of investing into RealtyShares outweighs those of a REIT.
Why?
One of the selling points for REITs is that it is a way to diversify from traditional stock market investing. However, over the past 15 years REITS have nearly mimicked the stock market. And over the past two years REITs have actually lagged behind the market quite a bit.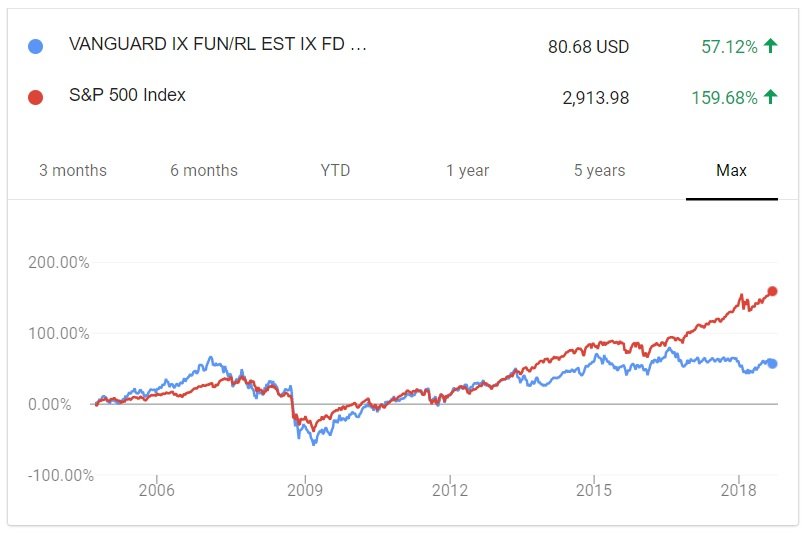 The Barrier of Entry with RealtyShares
If you want to get started with RealtyShares, you must be an accredited investor. Being an Accredited Investor means:
You have a net worth or joint net worth with your spouse of over $1,000,000. This cannot include your primary residence.
OR a yearly income of at least $200,000 in both of the previous two years, or a joint income of over $300,000 with your spouse.
This is a high barrier for the average person to get started because both the risk and reward is higher with RealtyShares. But, it also guarantees that RealtyShares is working with serious investors who can manage the risk appropriately.
In addition, there is a $5,000 minimum investment to get started with RealtyShares.
How RealtyShares Works
Seasoned real estate operators will reach out to RealtyShares who may need capital to improve and/or add value to a property. Each investment opportunity is then vetted, and analyzed by their team of experts. If the proposed property meets the standards of the RealtyShares team, the property will show up on their platform to investors.
Here is the process each property goes through before approval by RealtyShares.
Step 1: Business development team
The business development team is responsible for building relationships with real estate experts in specific markets. They source all real estate investment opportunities.
Step 2: Investment team
Next, the investment team identifies the most promising opportunities and will then analyze and assesses the proposal. They also negotiate the investment structure and fees for each proposed property.
3. Legal team
The next step is to pass through the legal team. Once the price has been finalized, their legal team drafts all necessary agreements. They also negotiate the pricing structure for maximum returns and higher protections for future investors.
4. Underwriting team
The underwriting team then conducts an extensive review of the property. They vet each property to ensure it meets the RealtyShares standards.
5. Investment committee
Once approved by underwriting, there is a final sign-off from senior leaders in every department.
6. Broker-dealer
The final step is to approve the offering materials presented to investors on behalf of North Capital Private Securities. They are the registered broker-dealer that works with RealtyShares for all investments.
As you can see, there is a very strict approval process for each property and per their website, only 10% of investment opportunities actually meet the required standards!
This extensive vetting process is not only a good thing for RealtyShares, but is also a great thing for you as the investor.
Using RealtyShares
Once approved, the investment becomes available online with all necessary information for investors.
Once live, investors can view the documents and risks associated with each approved property. The site dashboard also tracks the earnings history of the investment and provides necessary tax information.
As an investor, you also have several purchasing offers. You can buy a small piece, large piece or the entire piece of property. Investors can also choose to fund either equity investments or real estate loans (more about this later in this post)
One thing which is very unique is RealtyShares also allows you to introduce an investment of your choice. If you have a great investment opportunity, you can let RealtyShares know and they will vet it for you.
Opening a Free RealtyShares Account
Here's how you can get started with RealtyShares quickly and easily.
1. Open an Account with RealtyShares
Start a Free RealtyShares Account
2. Browse The Approved Inventory
You can start browsing available real estate investments immediately. However, you can't actually conduct any transactions yet as there is a 30-day cooling off period from RealtyShares.
Again, this is a good thing as it gives you the investor time to do the necessary research before actually investing with into a property.

3. View and Finalize Your Investments
Once the cool off period is complete, your investment can be in anything from a small bit of a larger investment to an entire single investment.
Once you find an investment that is right for your portfolio, you can access any and all information for that property. This will include all details about the property itself, financials, property management, and all legal documents.
4. Have the Funding Goal Met
The next step is finalizing the investment goal to 100%. Every property has to meet a funding goal before you can actually buy shares. However, if you choose to purchase 100% of the property, obviously you would meet 100% funding right away.
Once you find an investment you want to move forward with, you can E-Sign and send all documents online. Plus, you can transfer money from your bank account to RealtyShares directly.
All money is then held in a third-party escrow account. If the funding goal isn't met, all money is returned to investors.
5. Manage Your Real Estate Investment
Once everything has been processed, you can track everything online with a customized investment dashboard. This will show your earnings, legal information, and access to all necessary documents. Plus, each quarter you will receive updates on your projects and all tax statements the following year.
RealtyShares Investment Options
As an accredited investor, you have two choices inside Realty Shares; debt investment and equity investment.
Debt Investment
Lower Risk and Lower Expected Returns
With debt investing, investors' money is used as a loan to the company handling the project. Instead of the company going to the bank to get a loan, they are instead going to you (the investor) to get the loan to fund the project. Most often, the debt investment is used to fix up and flip the property and you are then paid back your investment plus interest.
The loan will be on a 1-3 year term, paid out monthly, and secured by the actual property under renovation.
Equity Investments
The second type of investment is referred to as their equity investment options. This will you give you indirect ownership of a property which means you are participating in the project's excess cash flow and any appreciation realized at the time of sale.
Equity investments are usually much longer contracts than debt investment with terms up to seven years . These projects have longer terms because these properties often require extensive renovations by the sponsor. If there are positive returns, investors get quarterly cash flow distributions as well.
Preferred Equity Investment
Moderate Risk and Moderate Expected Returns
Preferred equity deals have similarities with both debt deals and common equity deals (see below).
If you choose to invest with these offers, you have an indirect owner stake in the project but also increased protection. If the project goes under or declares bankruptcy, you will have much more security.
Preferred equity investment also pays out regular monthly payments. Of all three types of investments within RealtyShares, this one falls in the middle in terms of risk vs reward.
The standard term for Preferred Equity Investments are usually between 2-3 years.
Common Equity Investment
Higher Risk and Higher Expected Returns
With these investments, equity investors take on the first-loss position. This in turn makes it the riskiest of any type of investment that RealtyShares offers. While real estate has historically performed well over time, there are risks of downturns as well.
If the value of the property doesn't appreciate or generate enough cash flow to cover its debt, the common equity investor might have a negative return. On the flip side, if the property does make money, then common equity investors may receive a 7-10% return on average, paid out quarterly. If the property does appreciate over time, you will receive the appreciation value when it's sold in the future.
Just as with any investment opportunity, the greater the risk, the greater the reward.
RealtyShares Fees
While it's free to open a RealtyShares account and browse the available properties, there are fees depending on the type of property you invest with.
Equity Investments
RealtyShares usually charges a 1% annual management fee of the aggregate amount invested. When compared to a property management company on a rental property, these fees are significantly lower.
With traditional real estate investing, property management fees can average 8-12% of the monthly rent.
Debt Investments
With debt investments, RealtyShares also has a different fee setup.
There is a servicing fee based on the spread between the interest rate the borrower is paying and the rate paid out to investors up to a maximum 2%.
Investment Categories
Between debt and equity investments, there are additional investment categories as well.
Here is a breakdown of the big three categories to invest with:
1. Single Family Residential Property
Goal: 9% – 11% annual return
Term: 6 – 24 months
Risk: Lower
The first option is a single family, rental property. With this type of investment, investors will have the first position of the lien.
Terms range from 6 months to two years in general. All single-family rental properties will be paid out monthly and are the least risky of the three investment categories. Of all RealtyShares customers, close to 50% fall in this category.
2. Preferred Equity/Mezzanine Debt
Goal: 12% – 14% annual return
Term: 2 – 3 years
Risk: Moderate
The second category of investments is a loan for the sponsor renovating the property. The investment period is longer than single-family residential properties and is usually between 2-3 years. Instead of single family homes, these investments are mostly commercial properties.
The risk is higher but the expected rate of return is as well (between 12-14%). Roughly 25% of RealtyShare clients fall into this category of investing.
3. Joint Venture Equity
Goal: 10% – 16% annual return
Term: 3 – 5 year
Risk: Higher
The final investment category is a joint venture equity. These investments will make you an equity owner along with the sponsor. Once the preferred returns are reached, all investors involved will share the profits.
The expected returns are between 10-16% annually with quarterly payments versus monthly payments and the term duration is usually between 3-5 years. This category also comprises roughly 25% of all RealtyShares investors.
What We Like About RealtyShares
$5,000 Minimum: To get started there is a low minimum for most real estate investment platforms. And there are no ongoing amounts required per quarter or year as well.
Real Estate Diversification: Traditional real estate requires a lot of cash upfront. This is a great option to start investing in real estate without having the responsibility of being a homeowner or landlord.
Tax Advantages: Depending on your investment choice, you might have a tax advantage for depreciation, mortgage interest expenses and other homeowner write-offs.
Variety of Real Estate Offerings: Some crowdfunding platforms make you focus on large commercial properties. But with Realtyshares, you can do those as well as single family homes for even more diversification.
Choice of Investment Types: On top of a variety of real estate, you can also pick from three types of investment (covered above). RealtyShares is actually one of the few real estate crowdfunding services to offer all three.
What We Don't Like About RealtyShares
Accredited Investors Only: The high net worth and income requirements will make it unavailable for most investors. This is one of the biggest setbacks to new investors who are looking to get started.
U.S. Residents Only: Due to legal and tax issues you must live in the United States.
Capital Calls: Sometimes not all investments go as planned. In rare instances, investors will need to add more money if a project goes over budget.
Illiquid Investments: Everything happens on the RealtyShares platform. With no secondary market, there is no way to offload any investments earlier than the given contract.
No IRA Option: RealtyShares does not currently have the ability for a self directed IRA.
Tax Consequences: Since RealtyShares is in many states, you may have to file a separate income tax return for each state you invest in.
RealtyShare FAQ's
Here are some of the most common questions that investors will ask RealtyShares prior to getting started.
How secure is it to deal with RealtyShares?
RealtyShares uses SSL with 128-bit encryption security. This is comparable security to that used by the biggest banks in the world.
A third party security firm does review RealtyShares on an ongoing basis to protect investors. It's great to see RealtyShares have such extensive security to protect its investor's financial information.
Does RealtyShares Use a clearing agency?
Yes, RealtyShares uses North Capital Private Securities Corporation. They provide execution services in connection with equity and preferred equity investments.
North Capital also provides all compliance and regulatory oversight for RealtyShares. They are a registered broker-dealer and a member of both the FINRA and SIPC.
Does RealtyShares update me on investment performance?
RealtyShares provides periodic updates on equity and preferred equity investments, typically on a quarterly basis. However, additional updates happen when significant information becomes available. Information is available online and by email sent directly to you.
How does RealtyShare affect my taxes?
Realtyshares make it easy to help you with your taxes once you begin investing with them. They provide you with the necessary tax documents (IRS Schedule K-1 and/or 1099-INT) related your investments, prior to April 15th.
How long do I have to hold the investments?
This will depend on each investment opportunity. The terms will be open to the investor before they can purchase anything. Each investment has a holding period that ranges from six months to more than five years. After the time period is over though they can extend and create a new date as well.
How is RealtyShares different than a REIT?
While there are some similarities to a REIT, the main difference is that RealtyShares allow you to choose the type of property groups you want to invest in. You can choose a specific asset class or project-based location.
They also offer lower fees than most REIT's as well.  Plus, you can also choose single properties or groups of properties.
RealtyShares Wrap Up
RealtyShares is a great way to diversify your investments without purchasing a home or REIT. They have a ton of different investing options and low minimum investments as well. Plus, the maintenance fees are low, and the platform provides everything you need to start investing.
While the requirements are high, it makes sense when dealing with real estate. Real estate is expensive and they need people who can handle some risk and have the capital to back it up. If eligible, make sure to see if it's right for you.
If you don't think you will qualify as an accredited investor with RealtyShares, you should also look into Fundrise as they start at $500 minimum investment.