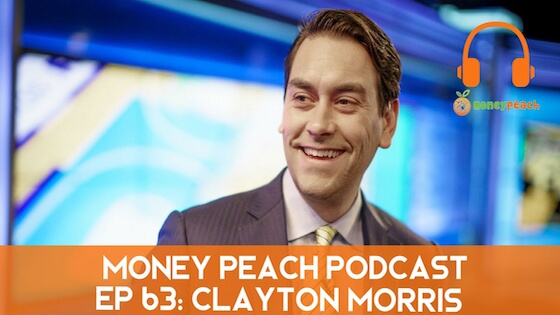 My Guest on the Show…
Real estate investor and co-host of the Weekend Edition Fox and Friends on the Fox Cable News Network comes on the show to talk about building passive income through turn-key real estate investment properties.
Believe it or not, Clayton and I record this episode one day after his farewell-to-television aired on Fox and Friends so he could pursue his true passion – showing people how to get started in real estate investing and building long-term wealth.
Clayton shares his story of how he jumped into investing in real estate before making it big in television, and how it has completely changed his life forever.  During our interview, we talk about:
Starting off in television and living below the poverty line
His first rental property and the sweat equity required
His major fail in the world of real estate and what to look for now
The flight to New Zealand that changed his life forever
Where in the country Clayton is currently buying and why
What size home does he recommend for highest return on investment
How he is currently helping others and generating income
How to determine your "Freedom Number"
Are you enjoying the podcast?
If you do, would you be willing to leave a review for the show here? The more reviews the podcast receives, the more people will learn about it!
---
The Money Peach Podcast is brought to you by my #1 online program for showing you how to budget, how much to save, how to manage your debt payoff, when to save for retirement, what to teach your kids about money, and how to build a legacy to last beyond your lifetime.
If you find yourself continuing to live paycheck-to-paycheck and wondering where all the money went at the end of the month, it's time to finally make a positive change. Welcome to the class they forgot to teach you about money – Awesome Money Course.

Mentioned in this Episode
---
Show Notes
---
Clayton celebrates his last day on Fox and Friends [2:34]
Working in TV doesn't mean you're rich [5:24]
How you truly build wealth [8:09]
The flight that changed his life [20:10]
Determining your freedom number [46:43]
---
https://www.moneypeach.com/wp-content/uploads/2017/10/Episode-Podcast-Cover-3.jpg
315
560
Chris Peach
https://www.moneypeach.com/wp-content/uploads/2016/06/moneypeachLOGOhomepage.png
Chris Peach
2017-10-05 00:20:03
2018-03-12 14:21:16
Episode 063: Building a Legacy of Wealth with Turn-Key Real Estate Investing - with Clayton Morris